6 am in the famed mountain city of Cusco: A Peruvian street food vendor passes a steaming cup of quinoa cereal drink and a freshly prepared corn tamal (Peruvian tamales) to a grateful client on the way to work. He rubs his hands together for warmth and perhaps rubs the sleep out of his eyes.
1 pm in the sweltering jungle city of Iquitos: Juane, a mysterious-looking parcel of food wrapped in a big leaf is handed to a hungry diner on a lunch break. The local eater washes it down with a cup of fresh aguajina refreshment, a typical local Peruvian drink made from the aguaje fruit.
8 pm in the bustling capital city of Lima: A giggling adolescent couple tuck into a generous serving of the authentic dessert called mazamorra morada, a dark-purple pudding made from purple corn. The sugar in the drink fueling their cheeky exchange.
These are examples of how people consume breakfast, lunch, and dinner in Peru. Street food culture is alive and well at all hours, every single day. In Peru, a geographically varied and socially complex country, street food plays a crucial role in society. The variety of foods sold by street vendors is a good reflection of the country's diversity. Let me take you on a journey to learn more about typical foods sold on streets and markets throughout this fascinating country.
Savory street delicacies
Let's start our journey with the meatiest part of the best Peruvian street foods: savory snacks and full meals. Our first stop is a staple South American street food found up and down the continent: tamal. Tamales (plural) are made from ground corn kernel dough stuffed with pieces of chicken or pork.
The meaty dough is then steamed in corn husks or banana leaves.
The tamales recipe dates back hundreds of years and is thought to have originated in Mexico. This hypothesis is supported by the fact that the word tamal comes from the word tamalli, meaning "wrapped up" in the Mesoamerican indigenous language Náhuatl. It's no surprise that it remains popular up to this day because it's simple yet scrumptious. Not to mention filling and nutritious.
The humble tamal is a food that even the most seasoned Peruvian (self-styled) cooks often don't know how to prepare. And preparation is a time-consuming business, so buying hot tamales from a tamalero is a win-win situation for both vendor and client.
If you like fried food, try some chicken fritters or fish nuggets, or even a fried pork sandwich. These all fall under the umbrella term of chicharrones, which actually means pork crackling, but in Peru is used when referring to several deep-fried dishes.
Another dish that features corn, the all-time Peruvian favorite ingredient, is choclo con queso. This street food snack (or home-cooked dish) is nothing more than a boiled cob of corn served with a slice of Andean cheese. But since the corn from the Peruvian Andes has an out-of-this-world taste, one does not tire of this simple, authentic Peruvian corn snack.
The Peruvian coastline measures over 1860 miles (3080 kilometers) which explains why seafood has a prominent role in its cuisine. The most common seafood dish sold on the sidewalks is undoubtedly ceviche. This spicy, fresh dish of fish marinated in lime juice and ají amarillo is the flagship of Peruvian cuisine.
Ceviche is popular throughout the country and abroad. It also fits easily into the street food category, being quick to prepare and served cold. No wonder there are thousands of ceviche carts doing business every day in the country.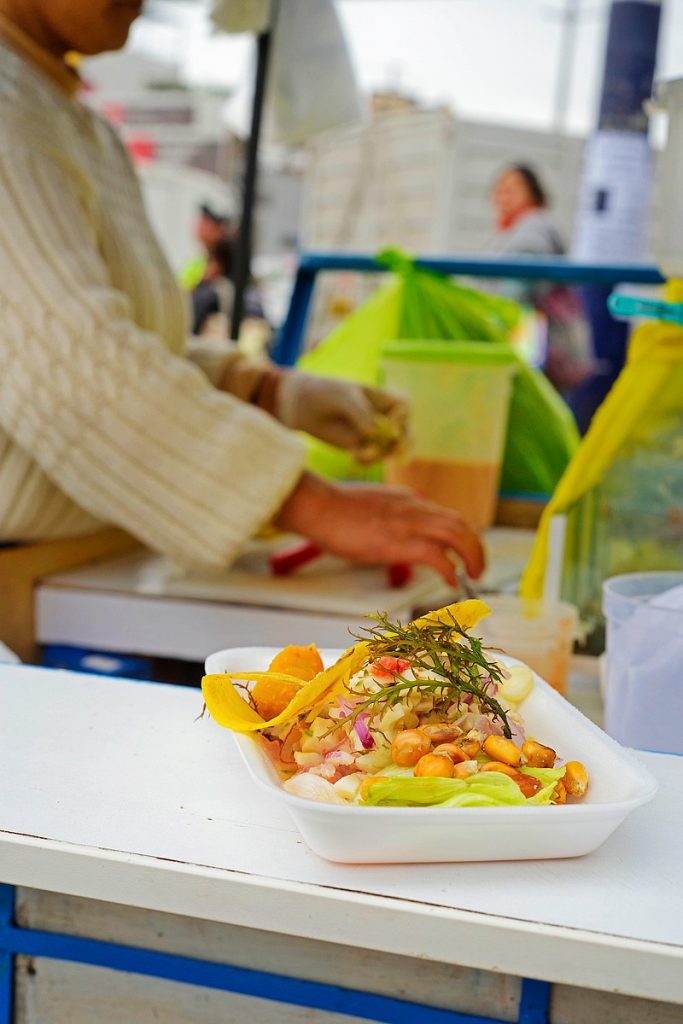 Now it's time to pull over to try our next incredibly popular dish: anticuchos. Simplicity is key yet again – anticuchos are seasoned pieces of meat on a skewer, swiftly grilled on a barbeque and served with a piece of boiled potato or sweet potato, and occasionally a drop of spicy ají sauce.
Legend has it that even the Incas enjoyed anticuchos made with llama meat. Nowadays you'll find anticuchos made with either beef heart or chicken heart. A national crowd-pleaser because it's tasty, easy to prepare and the ingredients are widely available.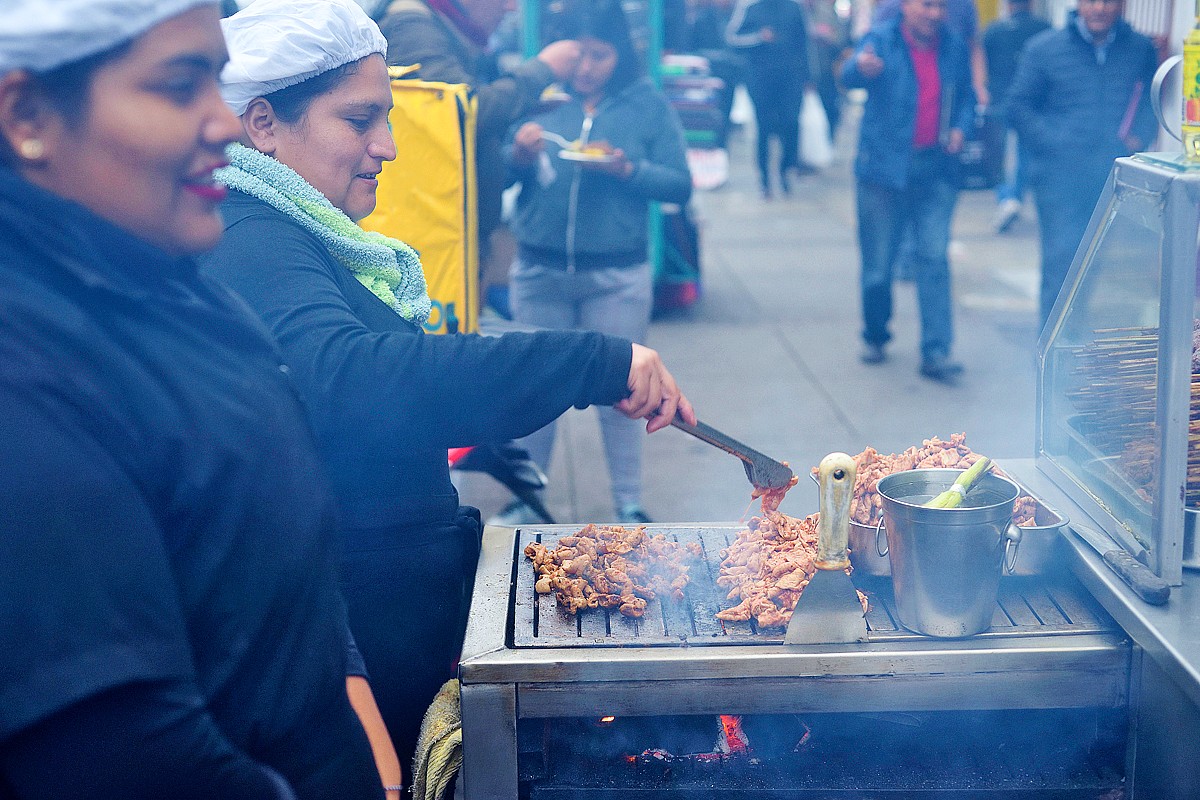 Most people unfamiliar with Peru believe the country to be all mountains and coast. But the Amazon rainforest covers 62% of the country's territory. The Amazon jungle is the next stop of our Peruvian street food journey (and exploration of Peruvian cuisine).
The unique Amazon delicacy on the menu here is the quintessential jungle dish, juane de gallina.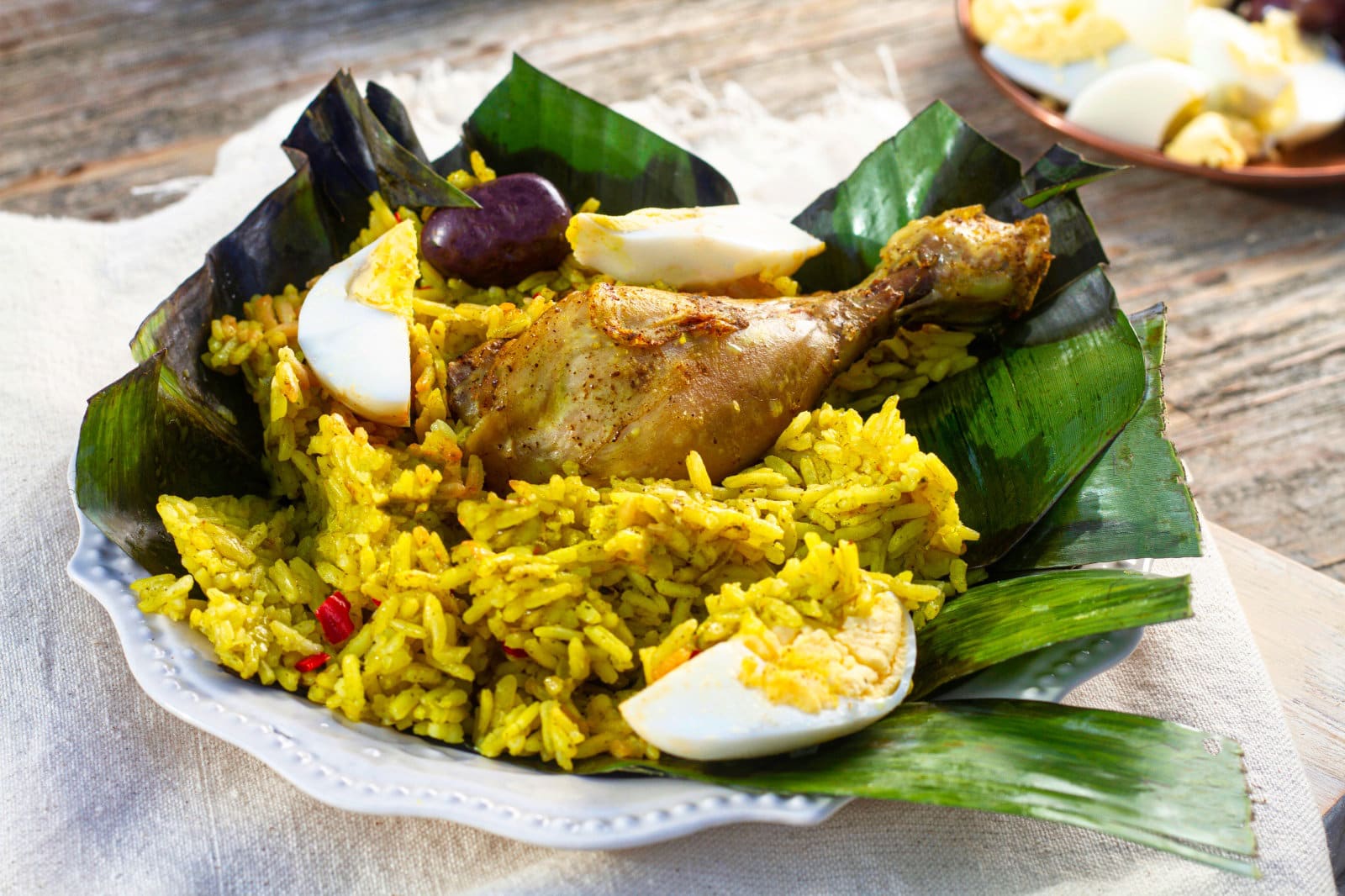 To make juanes, pieces of seasoned hen or chicken are placed in the center of a big ball of dough made of rice and/or yucca. The dough and meat are wrapped into a big leaf from the bijao plant and boiled.
Once boiled and wrapped in its eco-friendly leaf Tupperware, juane keeps for several hours without refrigeration (even in the scorching Amazon heat). This explains why it has long been a popular food for travelers.
A tasty savory dish you'll encounter on many a street corner from around 5 pm onwards is salchipapas. This firm favorite is simple to make: Get a plate of thick French fries, top it with fried Peruvian hot dog, and douse with generous lashings of your personal combination of hot sauce (ketchup, mayonnaise, spicy ají and mustard). Not the healthiest nor most creative dish out there, but it's so, so satisfying.
It'll come as no surprise that this dish is popular until the early hours of the night with customers suffering from "midnight munchies".
Papa con huevo is a simple and tasty dish that's usually consumed in the morning time. Pair several slices of boiled potatoes with a boiled egg and add a few dollops of the spicy huancaína sauce or green ocopa sauce. No nonsense, cheap and nutritious!
Read more about Peruvian breakfast food available from food carts on the sidewalks including empanadas and Peruvian chicken sandwiches.
Street Food Drinks: Peruvian potions
After trying (or salivating over) these dishes, you'll be thirsty. So it's time to stop for something to drink. The first stop in the drinks department is a Peruvian classic drink called emoliente. An emolientero (the Spanish word for someone who sells emoliente) is often found hunched over a cart of glass bottles filled with different mysterious-looking liquids ranging from dark red to an intense green.
These liquids are herb brews from medicinal plants mixed in different combinations according to the client's needs.
Emolienteros will suggest a specific combination if you're not sure what you need. Common ingredients include barley tea, linseed tea, aloe vera, and horsetail tea.
Emoliente is a prime example of the close relationship that Peru still has with its ancestral medicinal plants, and as long as you don't ask for too much aloe vera juice, it's tasty too!
Our next beverage also combines nutrition with taste and is very popular with children on their way to school: quinoa. "Wait", I hear you say, "quinoa is not a drink, it's a grain!". Yes, it is indeed a grain, but when boiled with apples, dried potato flour, and sugar it becomes a healthy, filling cereal drink, perfect for breakfast.
Quinoa is often accompanied by a bread roll with cheese or some of the delicious avocado from the coast.
Quinoa sellers sometimes sell a drink known as maca, which has maca root flour as its base but also contains other cereals. Both quinoa and maca are delicious with a drop of milk for extra creaminess. The way these drinks are consumed is pure 'street' – Sometimes sipped from a metal or plastic cup, but other times they're poured into a plastic bag for the client to take away. Eco-friendly alternatives, anyone?
If that sounds good, try pudding made out of quinoa and milk!
Back to the Amazon now to try an exotic refreshment from the jungle: aguajina. This is the name for a drink made from the pulp of the aguaje, the fruit from the moriche palm tree prevalent in the rainforest. Its flavor takes a bit of getting used to – it's got quite a peculiar taste – so you might start with aguaje popsicles which have more sugar.
An interesting fact about the aguaje fruit is that it's high in phytoestrogens, a dietary estrogen similar to the hormone estrogen. Ladies, this fruit can help regulate the menstrual cycle and ease menopause symptoms. One impressive palm tree! (Note: we're not doctors so please seek medical advice before changing your diet)
The last stop on our journey takes us back to the mountains and the coast where our next drink, chicha de jora, is a popular choice. Made of fermented corn, chicha de jora dates back to Inca times and is a kind of artisanal corn beer with a very low alcohol percentage (it varies in each batch, but the average is 3%).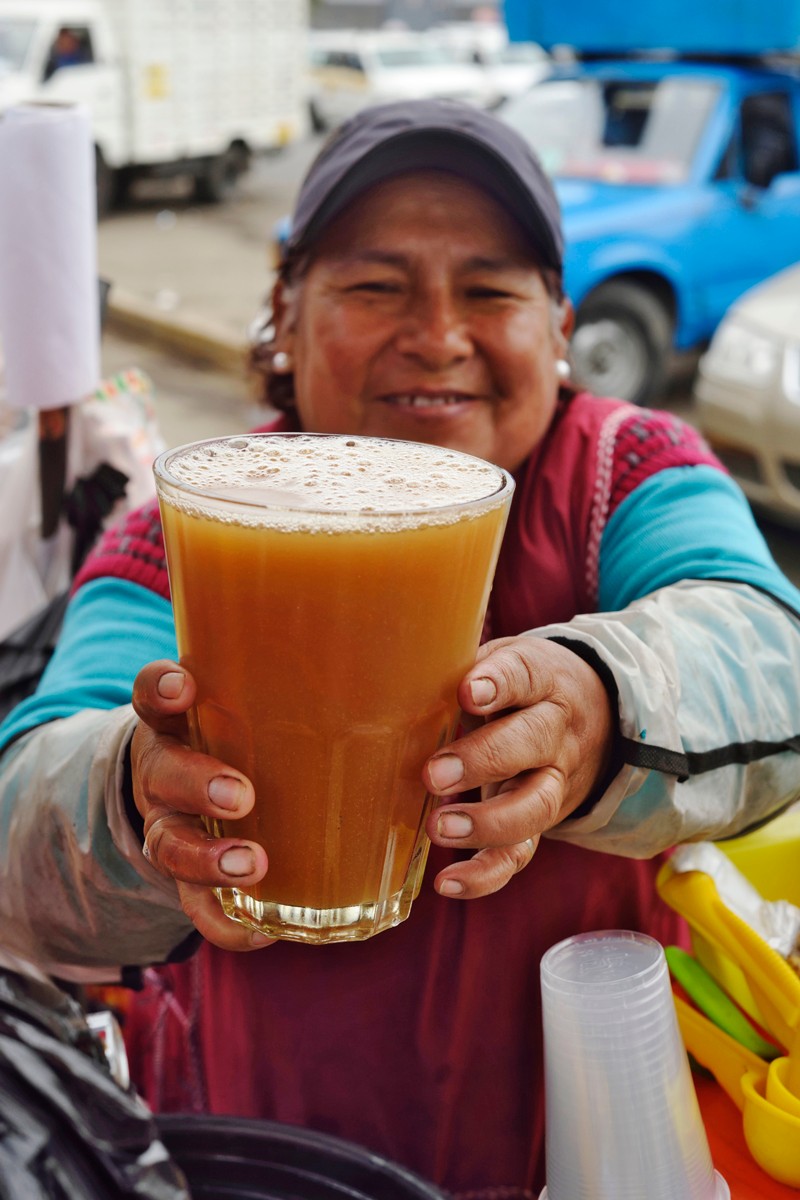 Sold for cheap on street corners and in traditional chicherías, this drink is a very important part of Andean culture (particulary with rural communities). After a long day of working on the field to harvest corn, potatoes or other crops under the strong Andean sun, sharing chicha de jora with fellow farmworkers is the Andean answer to drinks in the pub.
For those not born in the magical highlands or on the northern coast, chicha de jora is an acquired taste. It's not a bad idea to ease into the experience by first trying out its sweeter cousin, frutillada, made from a local type of strawberry. Or if you want to avoid the fermented type altogether, you could just go straight for chicha morada: a drink made by boiling purple corn and adding sugar and some lime juice.
This is the refreshment of choice for all ages and it's healthy and thirst-quenching, so what's not to love?
Desserts: Something to sink your sweet tooth into
They say the proof is in the pudding, and we're here to prove that desserts sold on the streets of Peruvian cities and towns can directly hit that sweet spot. Let's start with the most popular Peruvian street food dessert of all, featuring the purple corn that we learnt about earlier, mazamorra morada. This is a pudding made with cornstarch from purple corn and has a texture that can take some getting used to.
Mazamorra morada's texture lies somewhere between jelly and pudding. It has a sweet but not too sweet flavor, and combines perfectly with arroz con leche, Peruvian rice pudding.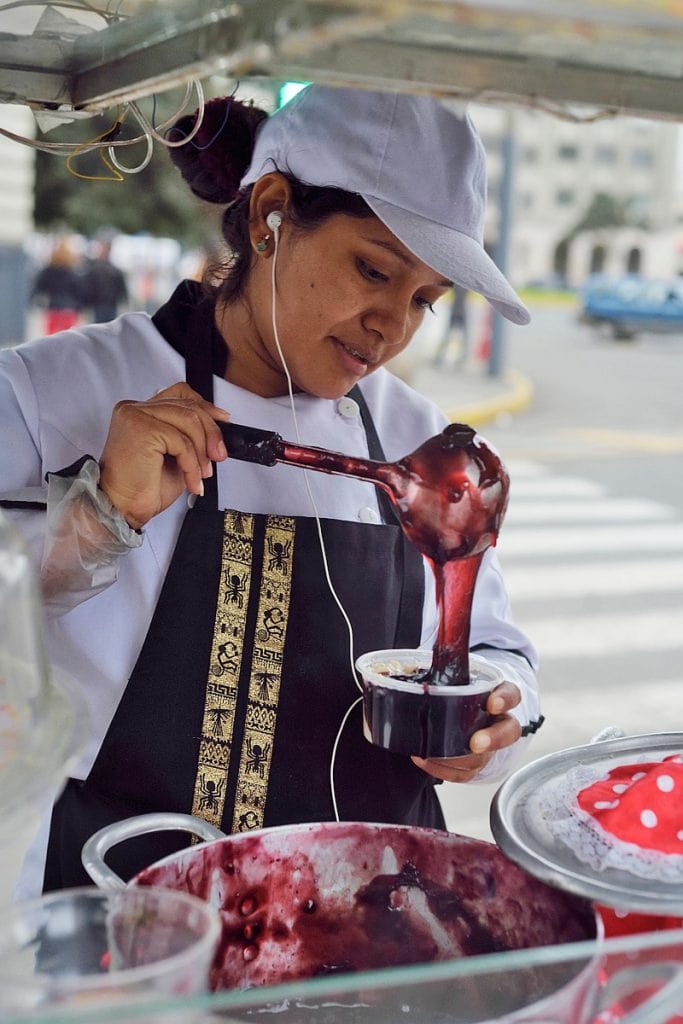 Much of Peru is tropical and its inhabitants enjoy a sweet snack that'll also take the heat out of the day. This is our next dessert stop: queso helado ice cream. It translates to frozen cheese, but there's no actual cheese in this ice cream hailing from the southern city of Arequipa.
It's made with a mix of fresh, condensed milk and dried potato starch beaten in a metal bowl and surrounded by ice cubes. This technique creates a deliciously flaky texture that's reminiscent of cheese, hence the name. Besides the flavor, what also makes it unique is that it must be prepared and eaten on the spot.

Some other popular desserts you can pick up on the go: picarones, suspiro de limeña, and alfajores. The latter is a treat sold by baker's assistants that go around on tricycle carts full of freshly baked Peruvian pastries. Don't miss the other sweet delights on these carts such as mil hojas, apple pie, lemon pie, and also savory baked goods such as empanadas.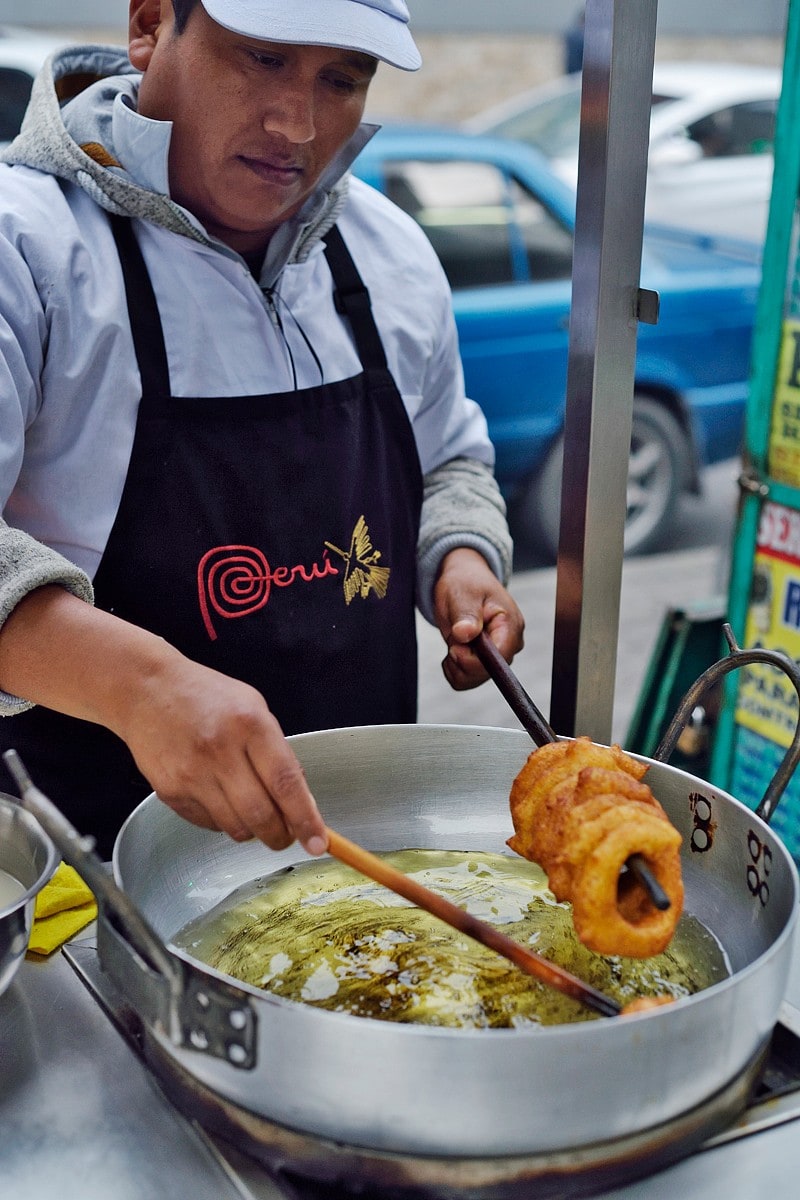 Going from street to chic
The recent rise of Peruvian gastronomy worldwide and the ever-enduring popularity of the country's delicious street food across social classes means that many of the foods mentioned in this article are now served in upscale establishments.
From hip food trucks to top restaurants in the country's fanciest districts and around the world, street food is now mainstream.
One place where several talented street food vendors have risen to fame and grown their business is at the (almost) annual Mistura food festival. This is a 10-day food festival held in Lima where hungry diners go to try out the best dishes from new and renowned chefs. It's an excellent opportunity for street food producers and aficionados to get more exposure and fans.

Full belly = happy heart
Our street food journey has ended and I hope you've enjoyed this exploration of many of the snacks and common foods loved by the people of Peru and further afield. Perhaps you'll now identify with the Peruvian saying that goes "barriga llena, corazón contento" (a full belly = a happy heart). I hope the many thousands of street food vendor heroes know their important role in society.
I take my hat off to them – and order another round of their delicacies to take away!
Looking for Authentic Peruvian food recipes that are easy to make and use easy to find ingredients? Check out this Chaufa De Pollo recipe or this Lomo Saltado dish. Want more? How about this creamy chicken stew recipe for one of Peru's best-loved traditional dishes. Provecho!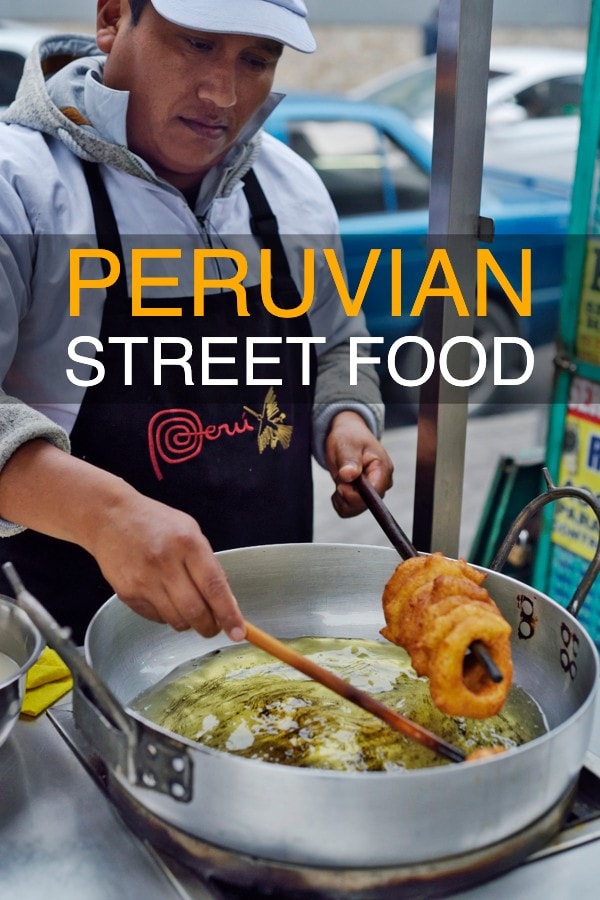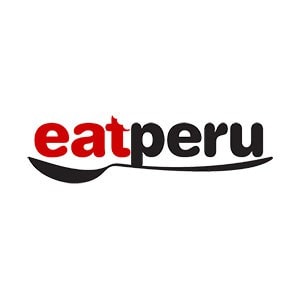 Peruvian foodie. I've been writing about the food of Peru for over 10 years. Read more about the Eat Peru team here