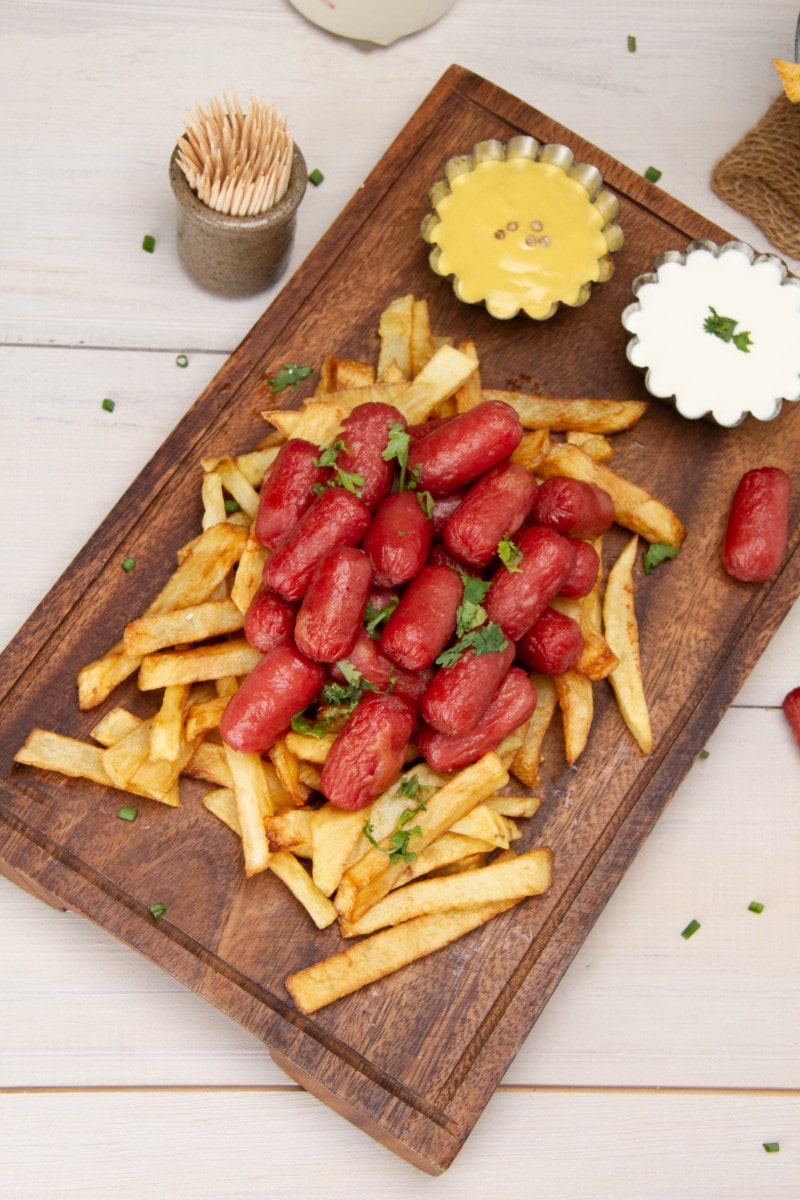 Salchi is a word for sausages and papa means potato in Spanish. Put them together and you get a word that is synonymous with fast food (but not in a bad way). The Salchipapa is one of the most popular savoury snacks on the streets of every town in Peru. Every Peruvian kitchen has seen its share of this simple, meat and fries snack. Salty, fatty, starchy, and packed with flavor, salchipapas is the ultimate food-on-the-go but it also works as a satisfying meal to share among friends. 
In English, we could call it "hot dog and french fries" but I think the original word sounds better. It's also shorter and suits the simplicity of this starter or snack. Serve tomato sauce (ketchup), mustard or aji amarillo sauce and you've got an incredibly tasty meal that's easy to make, inexpensive, and filling.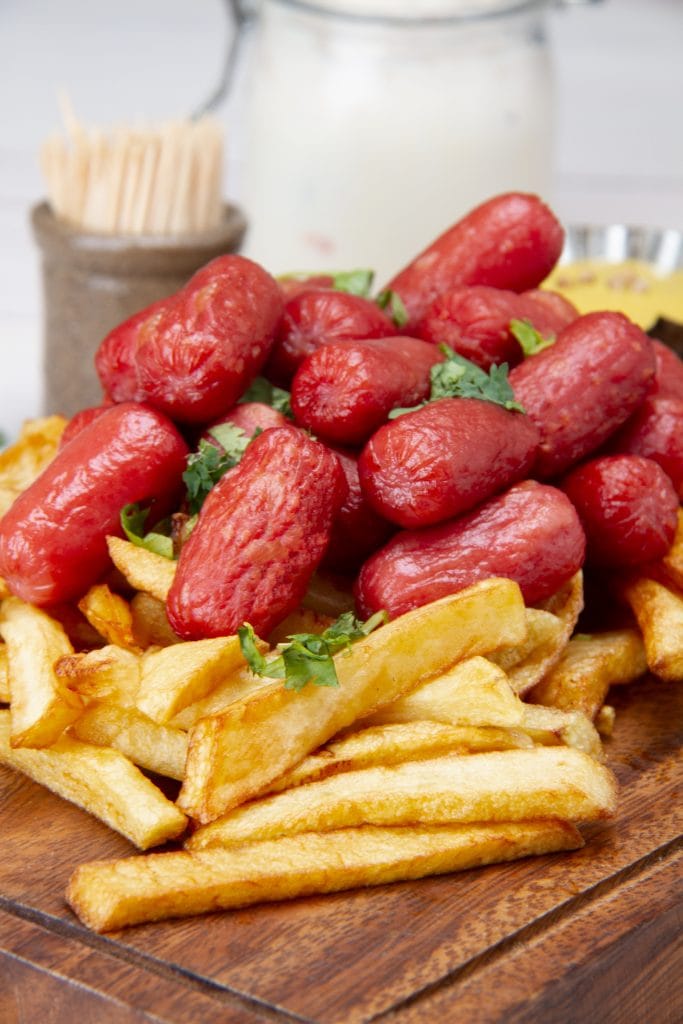 Walk around Lima, Peru in the late afternoon and you'll soon catch the scent of salchipapa from the stalls of street food vendors. In fact, the dish was born on the streets but you can also find it in markets, fast food joints, and some restaurants.
In this recipe, we used mini-Wiener sausages but you can use sliced hot dog sausages if you prefer the meat in smaller pieces.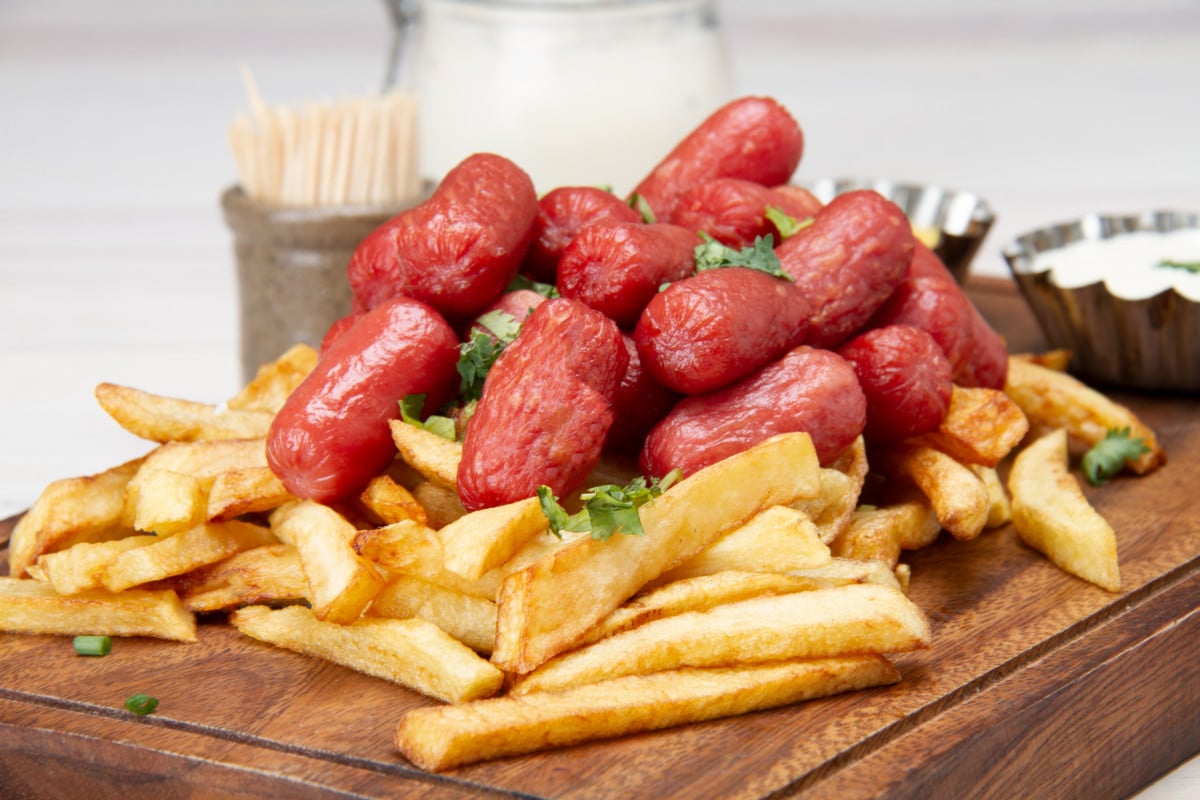 Salchipapa Recipe – Peruvian Sausage & Fries Snack
Salchipapas is one of the most popular savoury street food snacks in Peru. A latin version of hot dogs and french fries. Super easy to make and guaranteed to satisfy the hungriest of guests.
Ingredients
3

large potatoes

500 g.

2

cups

oil

250

g.

Wiener sausages

½

cup

mayonnaise

1

tablespoon

aji amarillo paste

¼

cup

tomato sauce

Optional

¼

cup

mustard

2

tablespoons

coriander

chopped

pinch of salt
Instructions
Wash the potatoes and peel them with a vegetable peeler. Rinse the peeled potatoes and pat dry with a tea towel. Place them on the cutting board, and with a long, sharp knife cut them crosswise in half.

Take each half and cut it into slices about 1 cm thick. Then take each sliced piece and cut 1 cm thick sticks lengthwise. While you are peeling the potatoes, immerse the sticks in water to prevent them from turning black. When you have peeled all the potatoes, and cut into sticks. Drain the water, pat dry, and add salt to the potato sticks.

Pour the oil into a skillet over medium-high heat. When you see small bubbles rising from the bottom, add the potato sticks. Make sure they are dry to avoid boiling oil bubbles that can cause injury.

Fry the potatoes for about three minutes, then carefully, with a kitchen spatula, flip the potato sticks until they are evenly browned on all sides.

When the potatoes are golden brown, remove them from the oil, let them drain a little on the kitchen spatula and then place them on a flat plate covered with absorbent paper.

Cut the sausages into pieces to your liking (or use small cocktail-style sausages) and fry them for about a minute in the still-hot oil where the potatoes were cooked.

Drain the sausages, and place them on a plate covered with absorbent paper.

Mix half a cup of mayonnaise with the aji amarillo paste. Stir with a fork until you have a completely homogeneous mixture.

Arrange the potato chips on a plate, add the sausages on top, add the sauces, and parsley to your liking.
Notes
Try to choose potatoes of similar size, this will allow you to cut the potato sticks of the same size, and thus they will be cooked homogeneously.
Nutrition
Nutrition Facts
Salchipapa Recipe – Peruvian Sausage & Fries Snack
Amount Per Serving
Calories 928
Calories from Fat 495
% Daily Value*
Fat 55g85%
Cholesterol 65mg22%
Sodium 1811mg79%
Potassium 1791mg51%
Carbohydrates 91g30%
Protein 22g44%
Vitamin A 289IU6%
Vitamin C 78mg95%
Calcium 111mg11%
Iron 7mg39%
* Percent Daily Values are based on a 2000 calorie diet.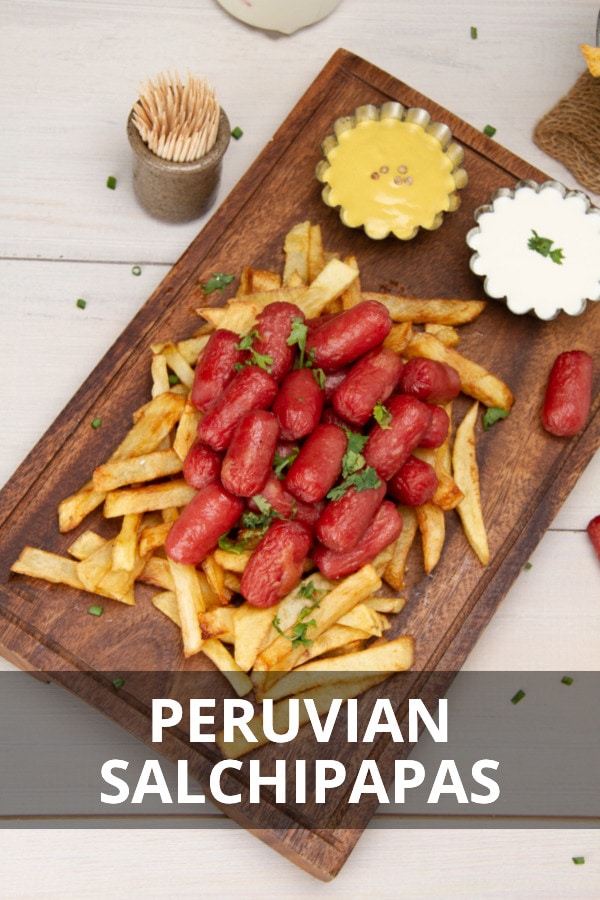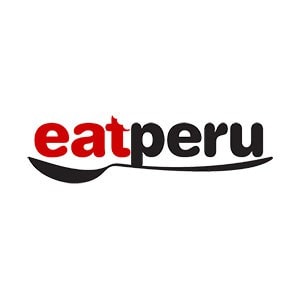 Peruvian foodie. I've been writing about the food of Peru for over 10 years. Read more about the Eat Peru team here