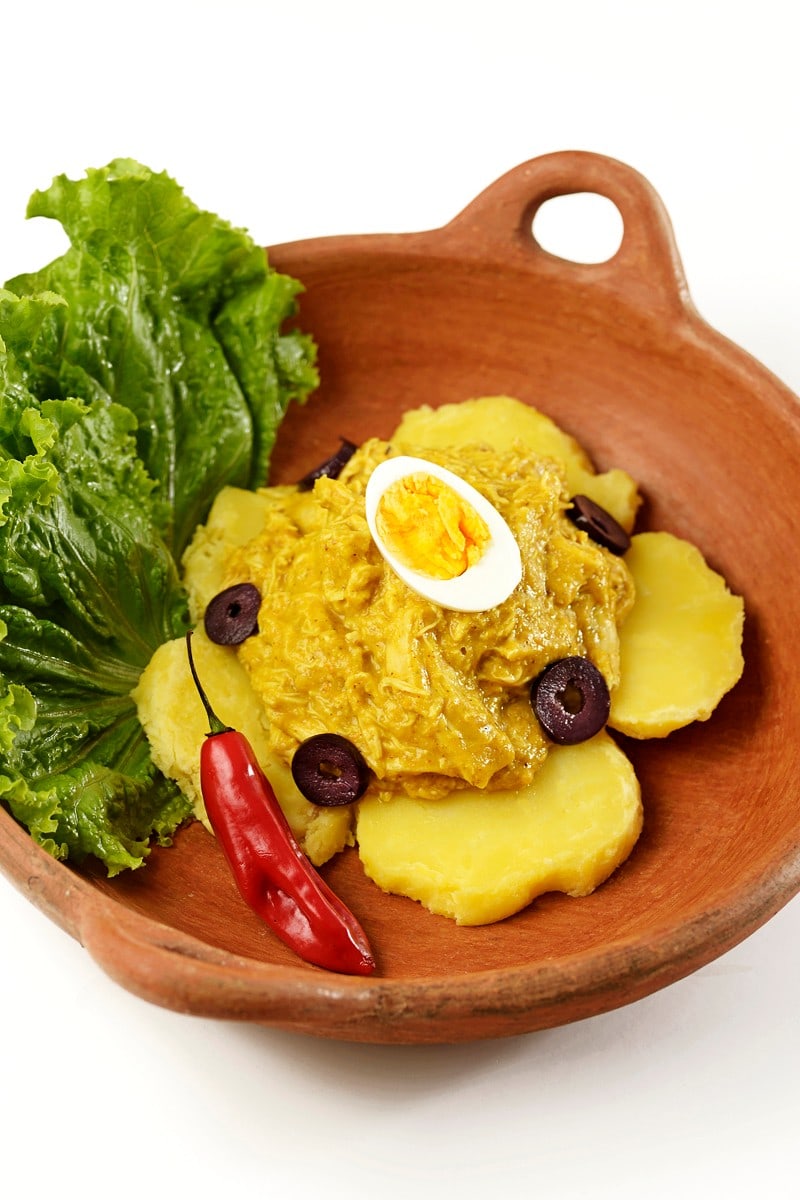 Whether you're new to Peruvian cuisine, or you've been eating it all your life, the creamy ají de gallina chicken dish is likely to tickle your taste buds. In all the right ways, every time. This super-classic chicken recipe comprises a creamy, somewhat spicy sauce made with shredded hen or chicken, ají amarillo chili peppers, minced garlic, pecan nuts, parmesan, and bread crumbs. Served with a few slices of boiled potatoes. There is literally no dinner recipe more typical of Peruvian cuisine than this one. And you'll find that many people will claim that their mother's recipe beats all others. Today it's your turn to try your hand at this simple but satisfying comfort food recipe!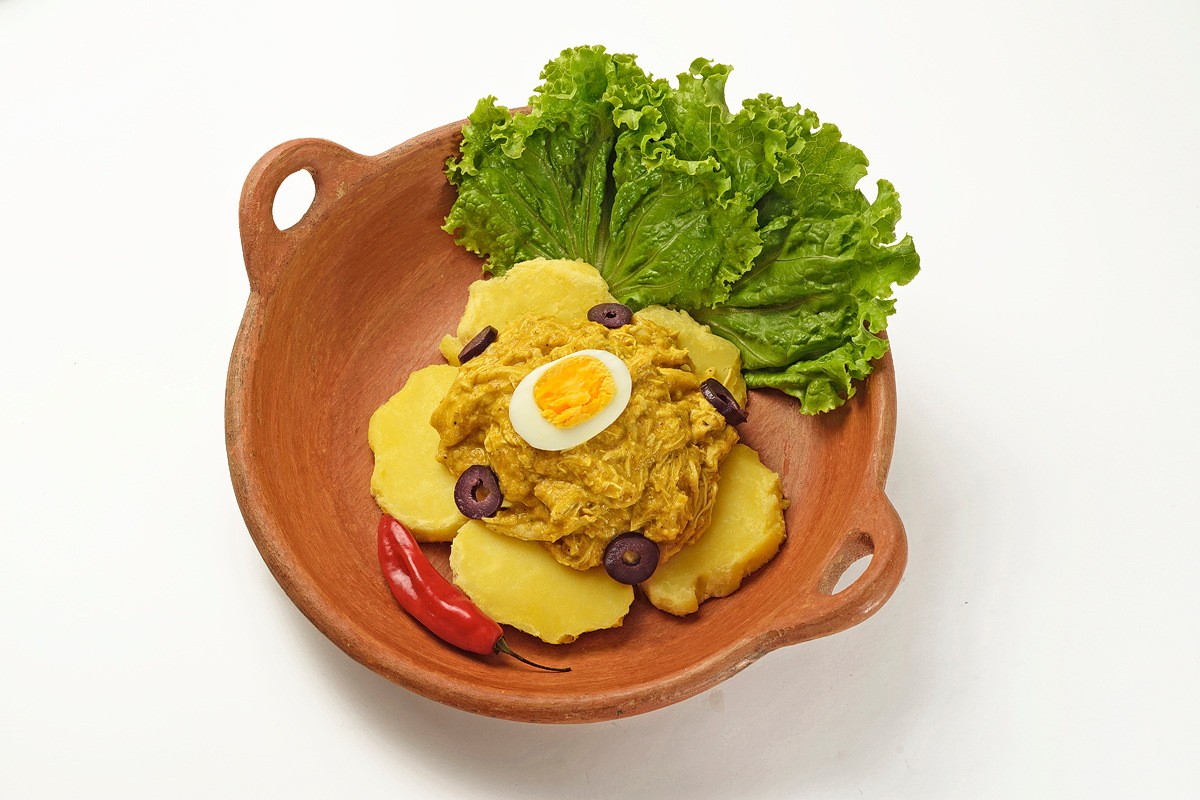 Ají De Gallina's Bittersweet origins
The origins of many Peruvian dishes bring to mind the proverb "necessity is the mother of invention". The simplest dishes made with at-hand ingredients are often the most enduring. And this is true of ají de gallina. The dish's origins may be traced to a dessert called menjar blanc from Catalan cuisine, from as far back as the 14th century. Brought to Peru by the Spanish conquistadors, the original Catalan food was a kind of sweet stew made with adult hen breast, almonds and sugar. It became the current-day recipe known as ají de gallina after incorporating the quintessential Peruvian ingredients of ají amarillo chili peppers and potatoes. The other ingredients include milk and slices of white bread (crusts removed) or breadcrumbs to give it the right consistency.

A perfect example of the power of simplicity. This easy cook recipe is always a winner and makes you look like a pro cook.
However, legend says it wasn't some ingenious Catalan or local chef that created one of the most popular modern-day Peruvian chicken dishes: the slaves of the conquistadors get the credit. These unfortunate people received just enough food to survive. So they resorted to picking off pieces of leftover chicken off the bone and mixing them with other scraps. At some point, these leftovers happened to be menjar blanc or manjar blanco.

This dish is a perfect example of the power of simplicity. The dish comes from such humble beginnings but now occupies an important place in the now world-renowned Peruvian cuisine. Nowadays the adult hen meat is usually replaced by the more tender chicken breast which renders a very similar flavor. But using more flavorful meats can render a tastier chicken stock. There's some debate about which type of nut to use: some use almonds, others walnuts, but the most common nut to use is pecans.  
A Variety of Ají to Suit Everyone
What makes cooking fun is that it allows you to experiment with recipes. It's always good to try out new options or to adapt them to a different dietary requirement. You've probably heard of empanadas, the savoury pastry usually made with cheese or minced meat (a ubiquitous snack in most countries across South America). Now imagine an empanada filled with ají de gallina! It's absolutely delicious.
Popular variations of this recipe include replacing the hen (or chicken) with tuna, vegetables or mushrooms. If you're lactose intolerant or vegan, you can omit the egg, milk and cheese, maybe adding some tofu to maintain the texture. For those on a gluten-free diet, substitute the bread or soda crackers with a gluten-free variety or you could replace it with soy or tofu.

Now, if you don't tolerate spicy foods well, it is possible to leave out the aji amarillo chili peppers, but it will certainly affect the flavor 🌶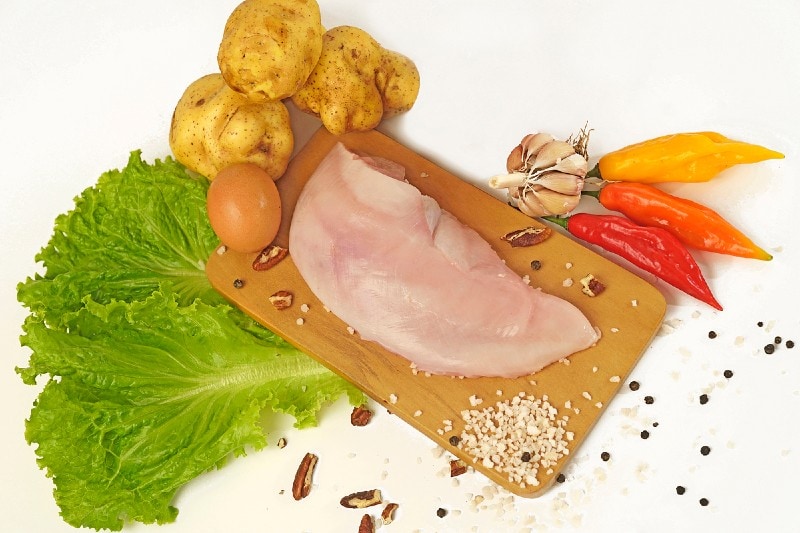 Ají de Gallina Chicken Stew
A favorite Peruvian chicken recipe of creamy, spicy sauce made with shredded hen or chicken breast, aji amarillo chili peppers, minced garlic, pecan nuts, parmesan, hard boiled eggs, and bread crumbs. All served over rice with a few slices of boiled potatoes.
Print
Pin
Rate
Ingredients
1

chicken breasts

shredded

1

onion

finely chopped, white or red

3.5

ounces

Parmesan cheese

grated

4

ají amarillo chili peppers

4

breadrolls

4

cloves

garlic

Black pepper and cumin

1-2

ounces

pecans

or ground walnuts

dash

evaporated milk

2

eggs

hard boiled

4

floury potatoes

2

cups

rice

(uncooked) optional

4

leaves

lettuce

4

kalamata olives

1

teaspoon

vegetable oil

Salt

to taste
Instructions
Fill a medium pot with sufficient water to cover the chicken breast and bring to the boil. Boil for about 25 minutes over medium heat. Remove from the pot and once it's cool enough, shred the hen. Set aside. Use the chicken broth or chicken stock to soak the bread rolls until they've absorbed enough and blend in a food processor to create a bread puree.

Cut the ají amarillo chili peppers in half and remove the veins (ribs) and seeds. Holding them with a tong, grill the peppers directly on a high heat flame until the skin is cooked and black in parts. Rinse the peppers and remove the skin, then chop roughly.

In a frying pan, add some vegetable oil and lightly fry the ají peppers, chopped onion, garlic and pecans. Transfer the mixture to a blender and blend.

Pour the contents of the blender into a frying pan and add the shredded chicken breast. Stir well and cook until it achieves the right consistency. Add the grated parmesan cheese and the evaporated milk just before turning off the heat.

Boil the potatoes, unpeeled and with 3 tablespoons of salt and leave to cool.

Boil the eggs until hard and leave to cool.

Place a lettuce leaf on the plate, followed by 4 generous slices of potato per serving and a portion of rice. Serve over the white rice and potatoes. Serve with one or two slices of boiled egg and black olives. 
Notes
If you can't find fresh aji peppers, you could substitute aji paste which you can find online.
Nutrition
Calories:
730
kcal
|
Carbohydrates:
105
g
|
Protein:
37
g
|
Fat:
18
g
|
Saturated Fat:
7
g
|
Cholesterol:
135
mg
|
Sodium:
589
mg
|
Potassium:
1308
mg
|
Fiber:
8
g
|
Sugar:
4
g
|
Vitamin A:
814
IU
|
Vitamin C:
88
mg
|
Calcium:
409
mg
|
Iron:
8
mg
If you like this recipe, share on social!