Peruvian-style grilled chicken is undoubtedly one of my favorite recipes, because of its simplicity and the delicious results. This is basically my home's staple recipe. I'm going to share with you the exact recipe I prepare at home for myself and my family.
The secret of this recipe is to choose good pieces of chicken with bone, but without skin, which I will elaborate on later in the ingredient list.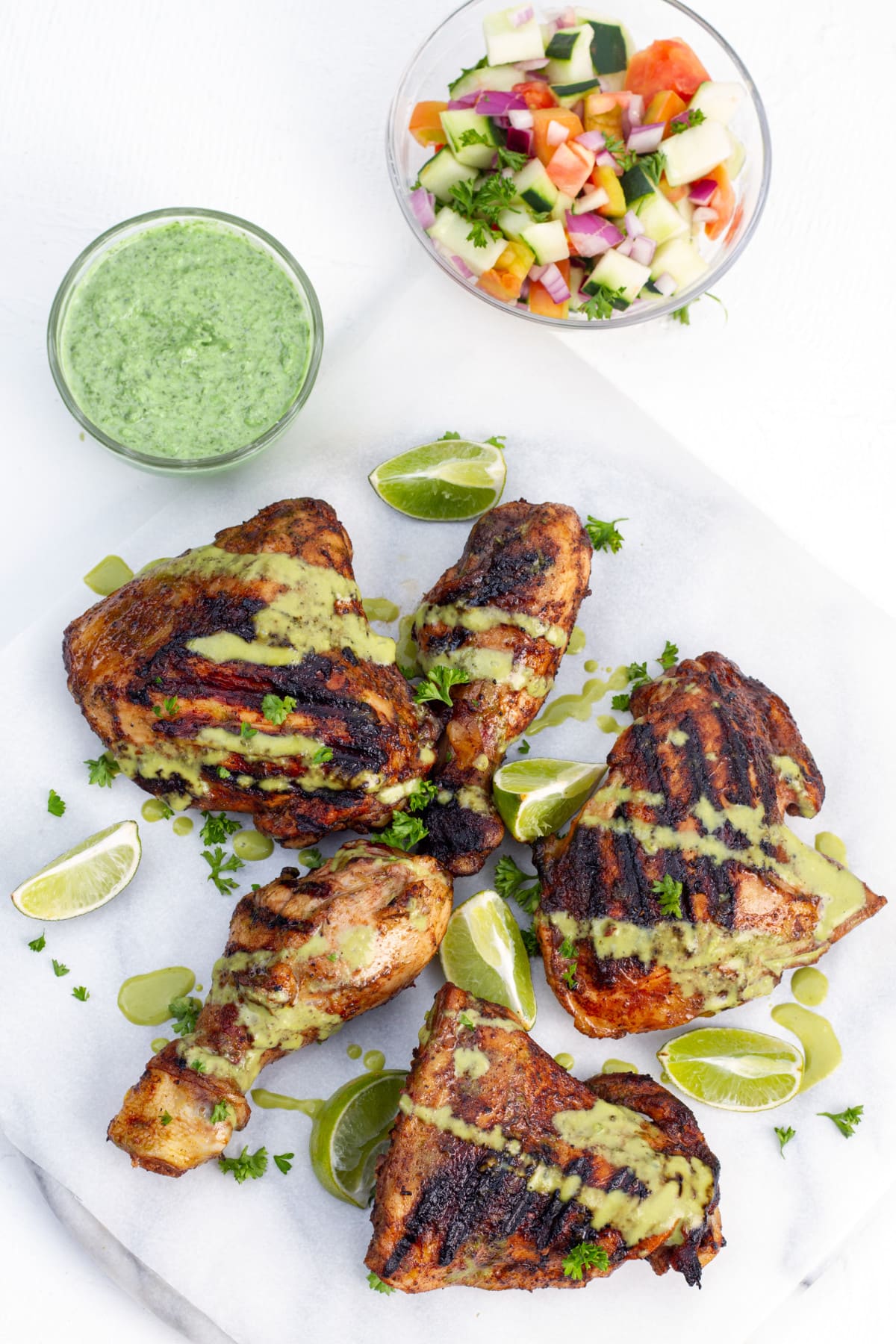 Differences between the grilled Peruvian Chicken and a Traditional Chicken Grill
At this point a typical question is, what is the difference between the Peruvian grilled chicken and a traditional grilled chicken? And the answer is simple, the marinade.
We use chili paste from traditional Peruvian chili peppers called ají amarillo, a kind of yellow (hence the "amarillo") and often orange-colored chili pepper, to impart a uniquely Peruvian flavor during the marination process. This process also contains an important ingredient: time. The chicken pieces must marinate for at least 6 hours to achieve the desired results; it can be longer, but never less.
Recommended accompaniments
Salsa verde (Green sauce)
Without a doubt, Peruvian chicken grill pairs well with Peruvian salsa verde. Salsa verde (ají verde) is a green, fresh and spicy condiment that complements many dishes from Peru but also goes perfectly for both red meat and poultry. Depending on your tastes, you can make it more or less spicy. I personally prefer the spicy taste and use green hot peppers (rocoto) in its preparation.
Lime is a very important ingredient in Peruvian cooking and this green sauce contains lime juice which I suggest you don't change. There's a certain zestiness, a sharp tang that only lime can bring, and it's one of the ingredients that elevates Peruvian green sauce to the next level. So what I'm saying here is that you should consider carefully before substituting this ingredient. Lime juice is acidic but refreshing and will make your taste buds sing.
Choclo (corn)
This is a unique type of Peruvian corn with giant seeds and white skin. It is used in many traditional recipes, but it can also be used as a substitute for regular corn. This variety is commonly consumed in Peru and can come in all sorts of preparations when used as an accompaniment or garnish to other foods, but the most basic way is to boil it.
Salad
A variety of salads can be paired with this dish. As such, we recommend using the vegetables you have available in your pantry, since a rich vegetable salad is always welcome. However, there are alternatives such as avocado, tomato, and cucumber salads, which are also great choices. You can also serve more complex salad accompaniments like salsa criolla or quinoa salad with avocado.
Step by step photos
For the chicken
Step 1: take the skin off the chicken. Chop the thighs into two pieces at the joint level after trimming off all excess fat. Set aside.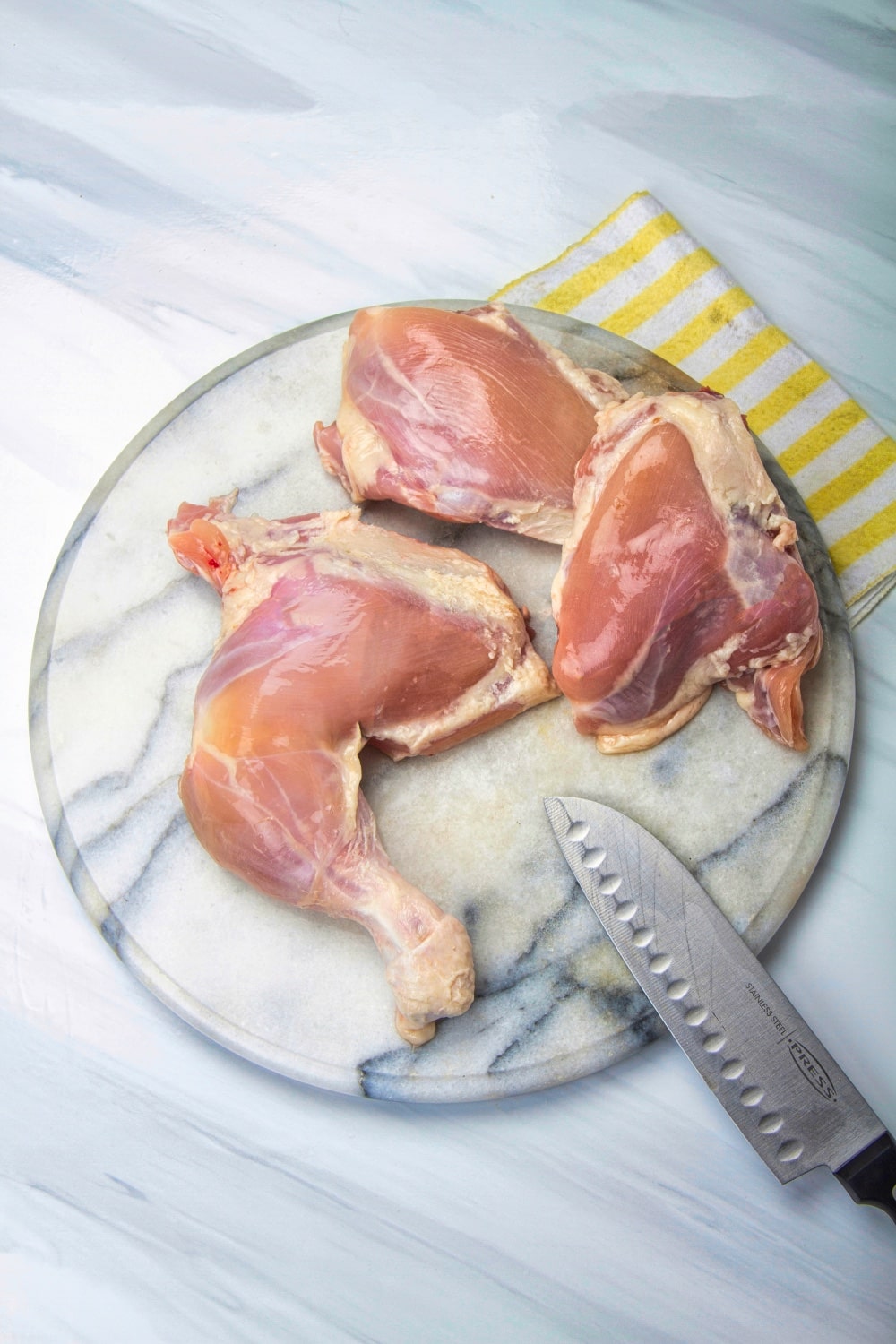 Step 2: the next step is to prepare the marinade. Combine soy sauce, dried parsley, ground cumin, amarillo chili paste, muscovado sugar, salt, and pepper in a large bowl. Stir everything well.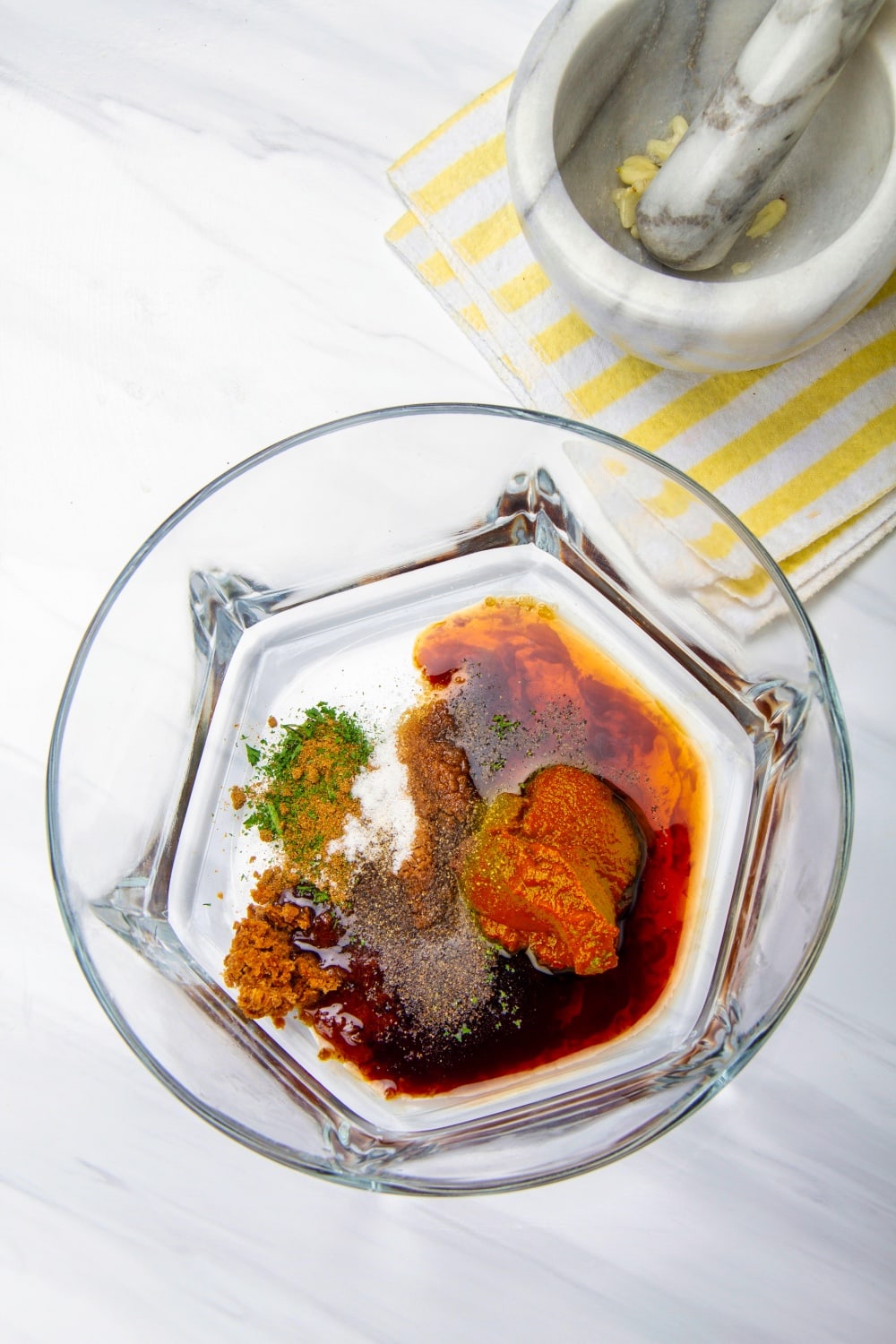 Step 3: Prepare the garlic by peeling and mashing it. Then add the garlic to the marinade. Make a smooth paste by stirring well.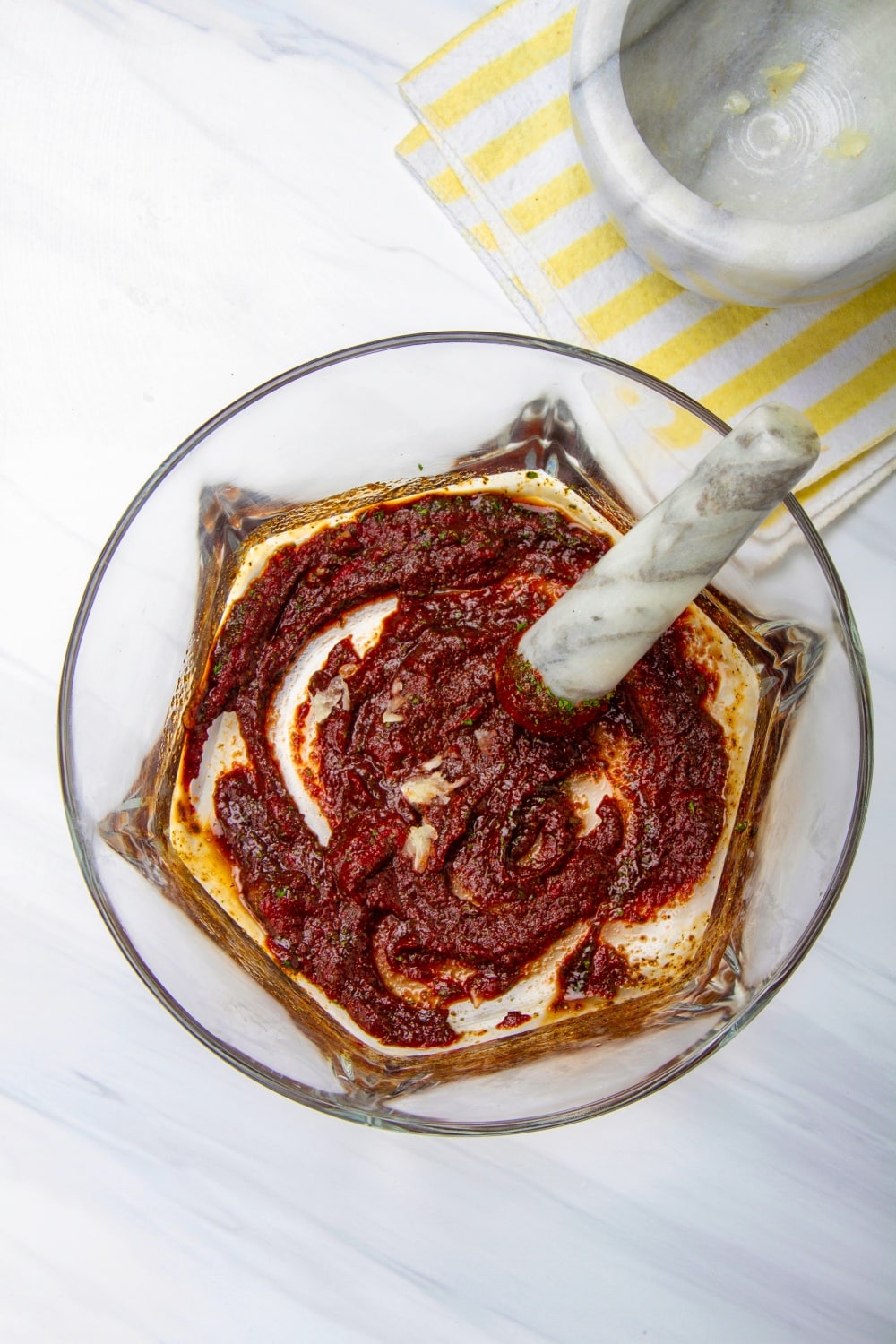 Step 4: In a bowl, place the chicken pieces (chicken thighs or wings are good), and then rub them with the seasoned sauce. All chicken pieces should be well covered. Rest the chicken for at least an hour.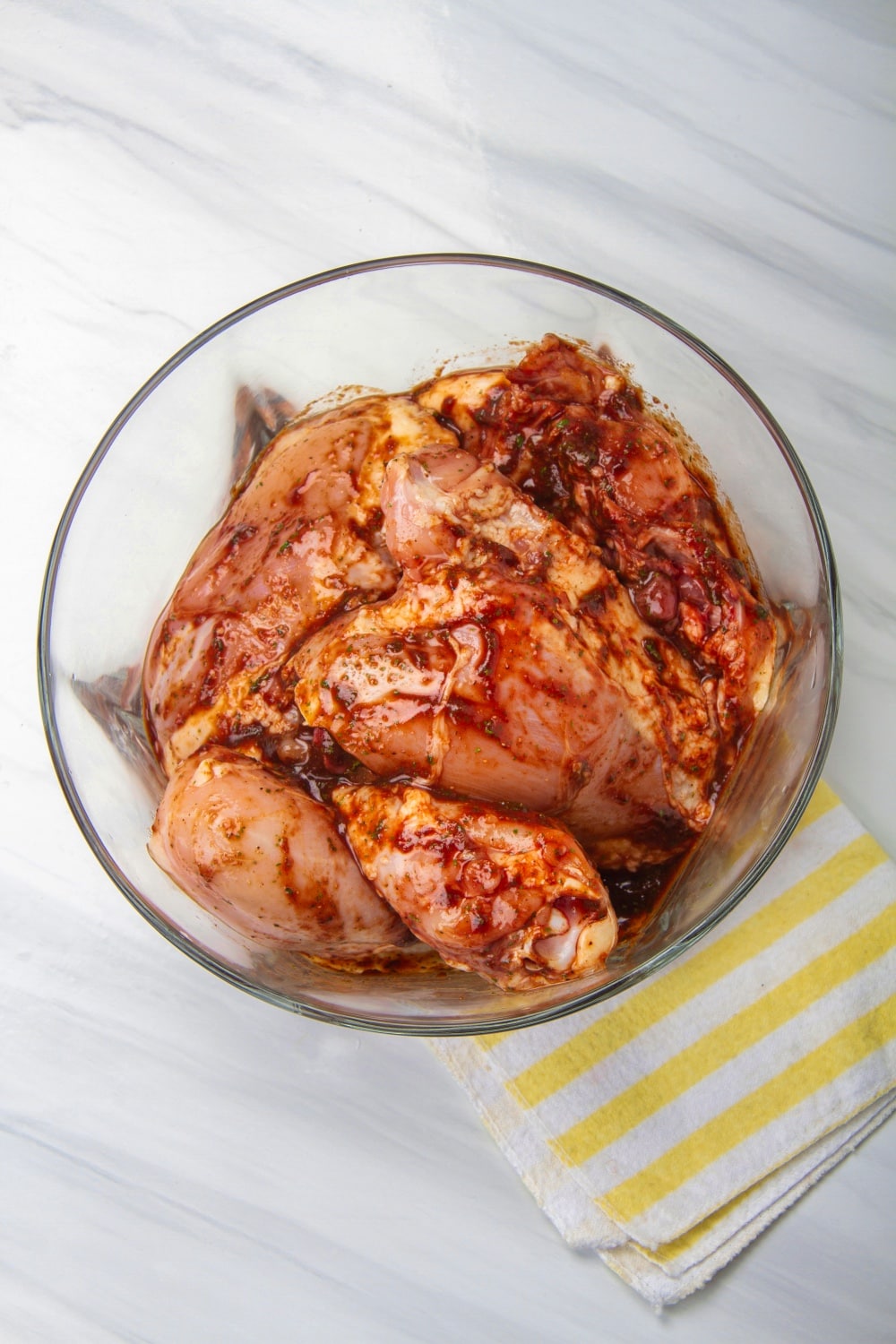 For the marinade
Step 1: Start by peeling the onion and giving it a rough chop into large pieces. Don't fuss over it too much; we're looking for flavor, not perfection.
Step 2: Chop the parsley and cilantro coarsely. Rough chops release fragrant oils.
Step 3: Remove the veins and seeds from the rocoto peppers. Or don't, if you like your sauce extra hot. (Let's add some heat to this party).
Step 4: Toss everything in the blender – coriander, parsley, onion, sour cream, vinegar, hot peppers, lime juice, salt and pepper – and give it a whirl. Blitz everything together for a few minutes until you get the desired consistency. Some like it smooth, some like it chunky.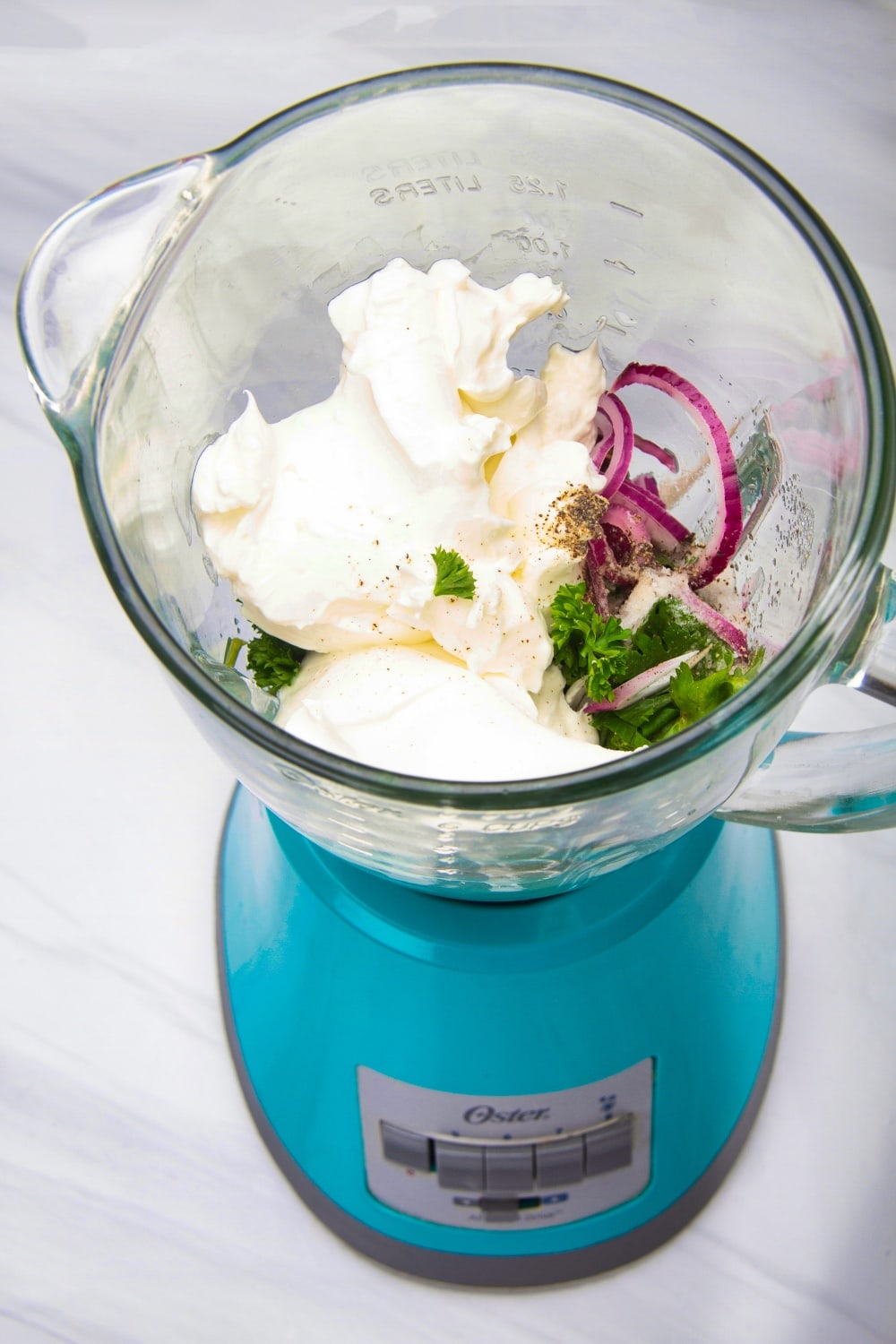 Step 5: Crank up the heat on your stove to full blast and wait until it's scorching (at least three minutes of preheating is necessary) before placing the chicken thighs or wings on the pan, meaty side down. Give them five minutes of intense heat, sizzling and caramelizing until golden brown.
Step 6: Flip the pieces over, reduce the heat to low, cover, and cook for another fifteen minutes to make sure the chicken is cooked thoroughly.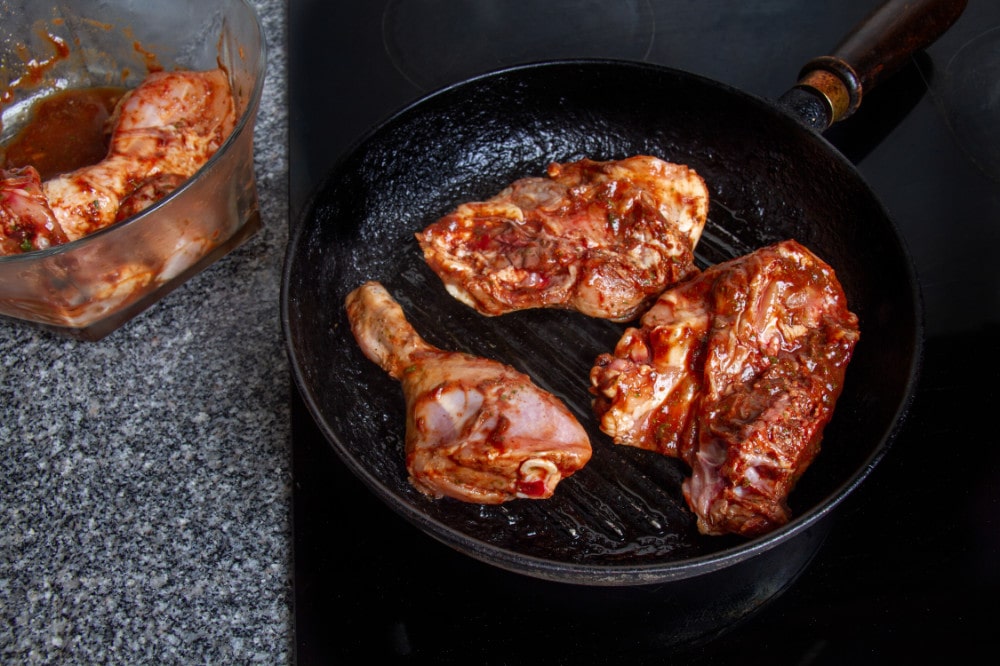 Step 7: Serve your Peruvian grilled chicken with a generous heaping of Peruvian green sauce and a side of crispy fried yuquitas. Enjoy this delicious recipe and let us know how it worked out for you.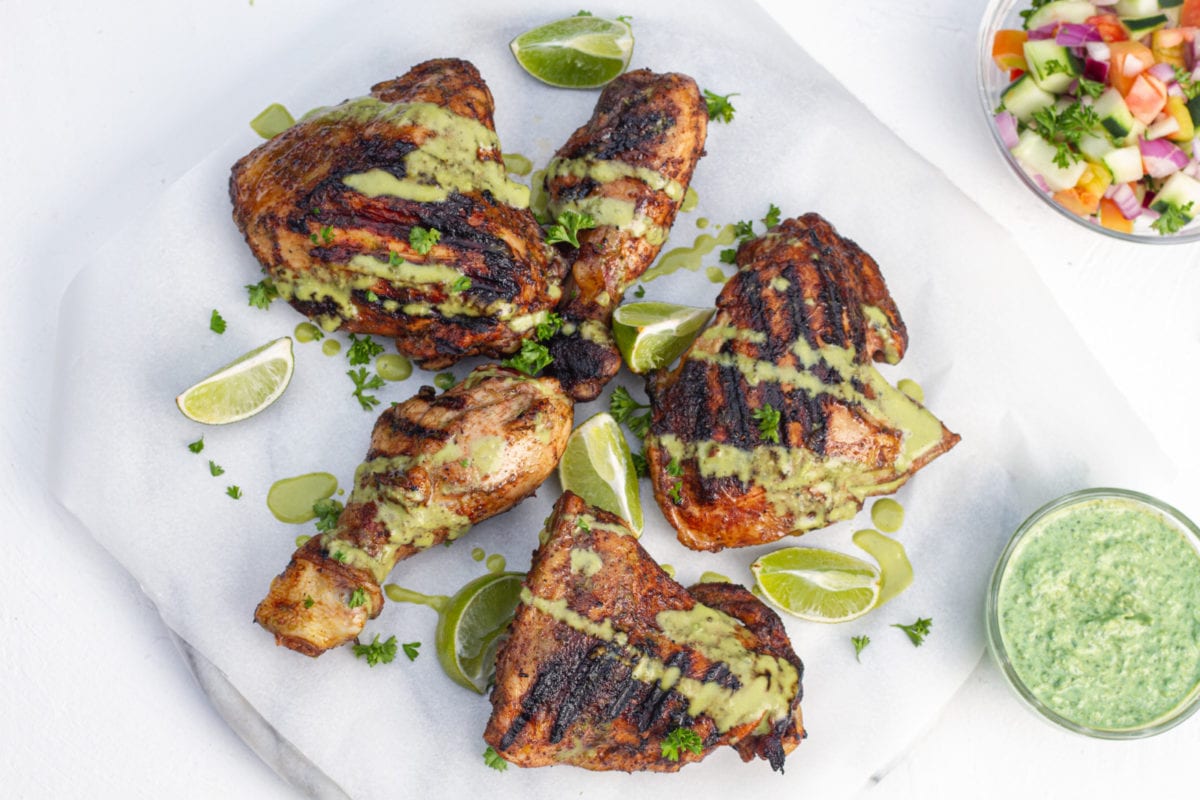 5 tips for a perfect grill
Proper marinating is important: It is the marinade that gives this chicken recipe its special flavor; the longer the chicken stays in the marinade, the more juicier and full of flavor it will be, so we recommend marinating the chicken for at least 6 hours. But even better is to leave it for about 12 hours, since it is worth the wait.
The dry chicken should be at room temperature, since if it is very cold it will not cook evenly and will dehydrate very quickly.
Clean the pan with oil (olive oil is a good, if expensive choice) rather than cleaning fluids or metal fiber. It is best done over medium heat, with long tongs and a cloth soaked in oil to avoid burns.
It is very important that the pan is very hot when you place the chicken pieces in it, otherwise they will not cook properly.
You should give the meat only one turn (or two if it is really necessary). After a side of the chicken has been cooked, peel it off the pan so the other side can be cooked.
Let the juices rest after cooking the chicken, you will notice that the flavor is much more intense.
Peruvian Grilled Chicken
Delicious food doesn't have to be complicated. Here's how to make this mouthwatering Peruvian Grilled Chicken at home. Tender Peruvian-style grilled chicken marinated in ají amarillo peppers and served with a spicy and creamy green sauce.
Ingredients
For the chicken
1.5

kg

chicken thighs

4

garlic cloves

2

tablespoons

soy sauce

1

teaspoon

dried parsley

1

teaspoon

ground cumin

⅛

cup

ají amarillo chili paste

1

tablespoon

muscovado sugar

Salt and pepper to taste
For the green sauce
1

cup

sour cream

240 g.

¼

cup

white vinegar

1

bunch

parsley

1

bunch

coriander

½

red onion

2

rocoto peppers

1

lime

Salt and pepper to taste
Instructions
For the chicken
Remove the skin from the chicken. Cut off all excess fat and then chop the thighs into two pieces, at the level of the joint. Put aside.

Next, prepare the marinade. In a large bowl, add the soy sauce, dried parsley, ground cumin, ají amarillo chili paste, muscovado sugar, salt, and pepper to taste. Stir.

Peel and mash the garlic. Add them to the marinade. Stir well until you get a smooth paste.

Place the chicken pieces in the bowl, and rub the chicken pieces with the seasoned sauce. Make sure all chicken pieces are well covered. Let the chicken rest for at least an hour.
For the green sauce
Peel the onion, and cut it into large pieces. Coarsely chop the parsley and cilantro as well. Remove the stem from the rocoto peppers. You can remove the veins and seeds if you do not want the sauce to be spicy. However, if you want hot sauce, add the whole peppers to the blender glass. Immediately place the coriander, parsley, onion, sour cream, vinegar, hot peppers, lime juice, salt and pepper in the blender and process for about three minutes until the sauce is the desired consistency. Some people like the sauce to be smooth, while others like to feel pieces of parsley or coriander in it. It is a matter of taste. Taste and adjust the salt. Pour the sauce into a serving bowl.

Lastly, turn the stove to high heat. Put a grill pan on top of the stove and wait at least three minutes until it has heated up very well. Then place the chicken pieces with the meatiest side down. Cook them for about five minutes, and immediately turn them over, lower the heat (to the "low" setting) and cook covered for another fifteen minutes so that the chicken cooks well through. If your chicken pieces are very large, add a half cup of water to the skillet after flipping the meat to ensure optimal doneness. Serve with plenty of green sauce and fried yuquitas.
Nutrition
Nutrition Facts
Peruvian Grilled Chicken
Amount Per Serving
Calories 993
Calories from Fat 666
% Daily Value*
Fat 74g114%
Cholesterol 397mg132%
Sodium 853mg37%
Potassium 1126mg32%
Carbohydrates 16g5%
Protein 65g130%
Vitamin A 2113IU42%
Vitamin C 61mg74%
Calcium 145mg15%
Iron 5mg28%
* Percent Daily Values are based on a 2000 calorie diet.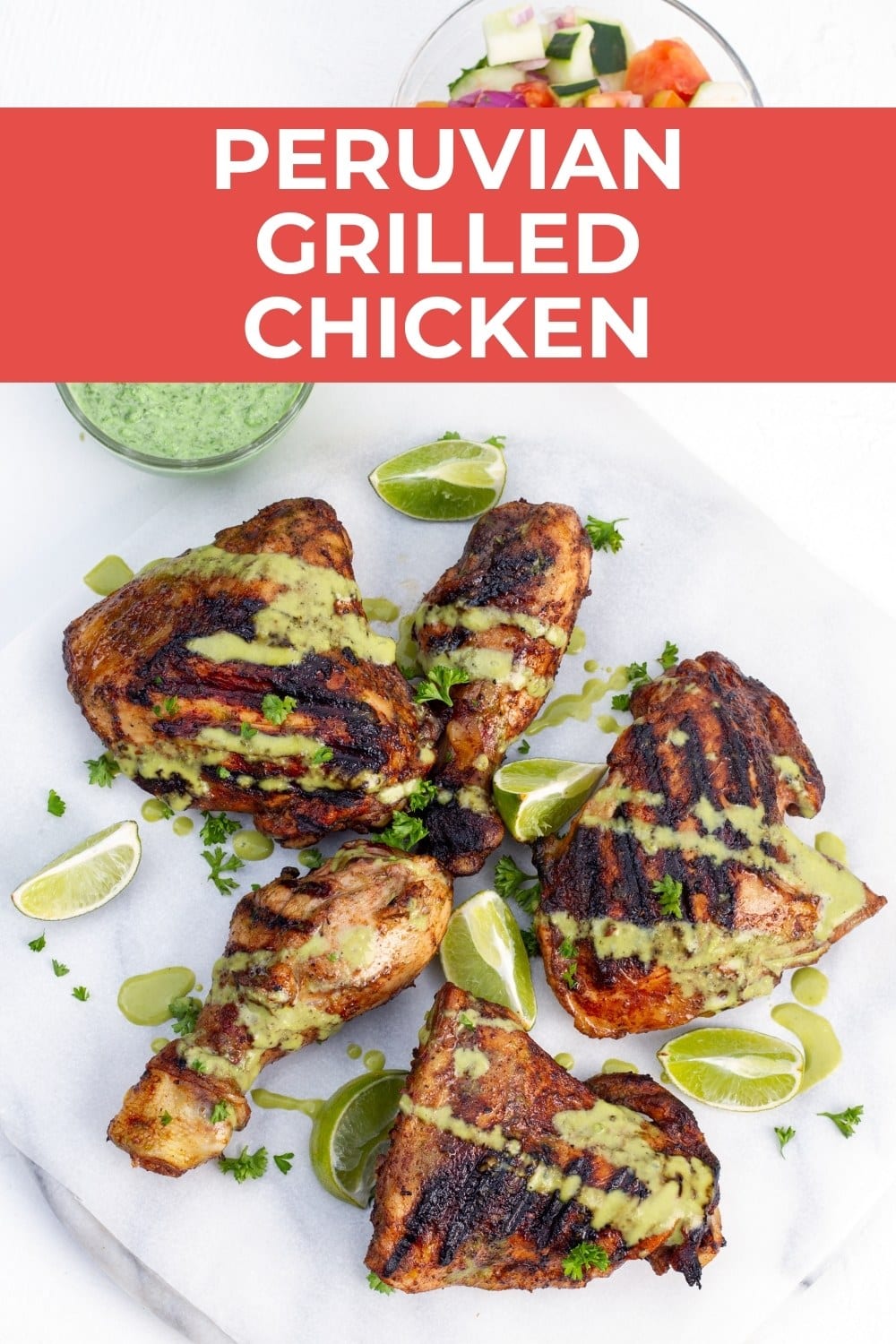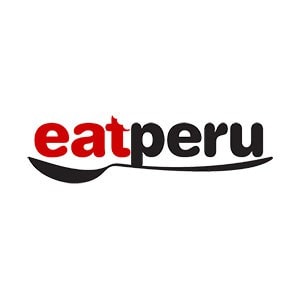 Peruvian foodie. I've been writing about the food of Peru for over 10 years. Read more about the Eat Peru team here