The chili pepper is native to Central and South America. It is not surprising that the consumption of chili peppers is an integral part of the gastronomic culture of Latin American people. Long before the arrival of the Spanish in America, the indigenous peoples of this region used chili peppers to flavor many of their meals.
Sauces are a common way to include chili peppers in food. From Mexico to Argentina, chili-based sauces are commonly used as a dressing. In most cases, these sauces are served at the table in glass jars, and diners choose how much chili to add to their food – not everyone can handle spicy food.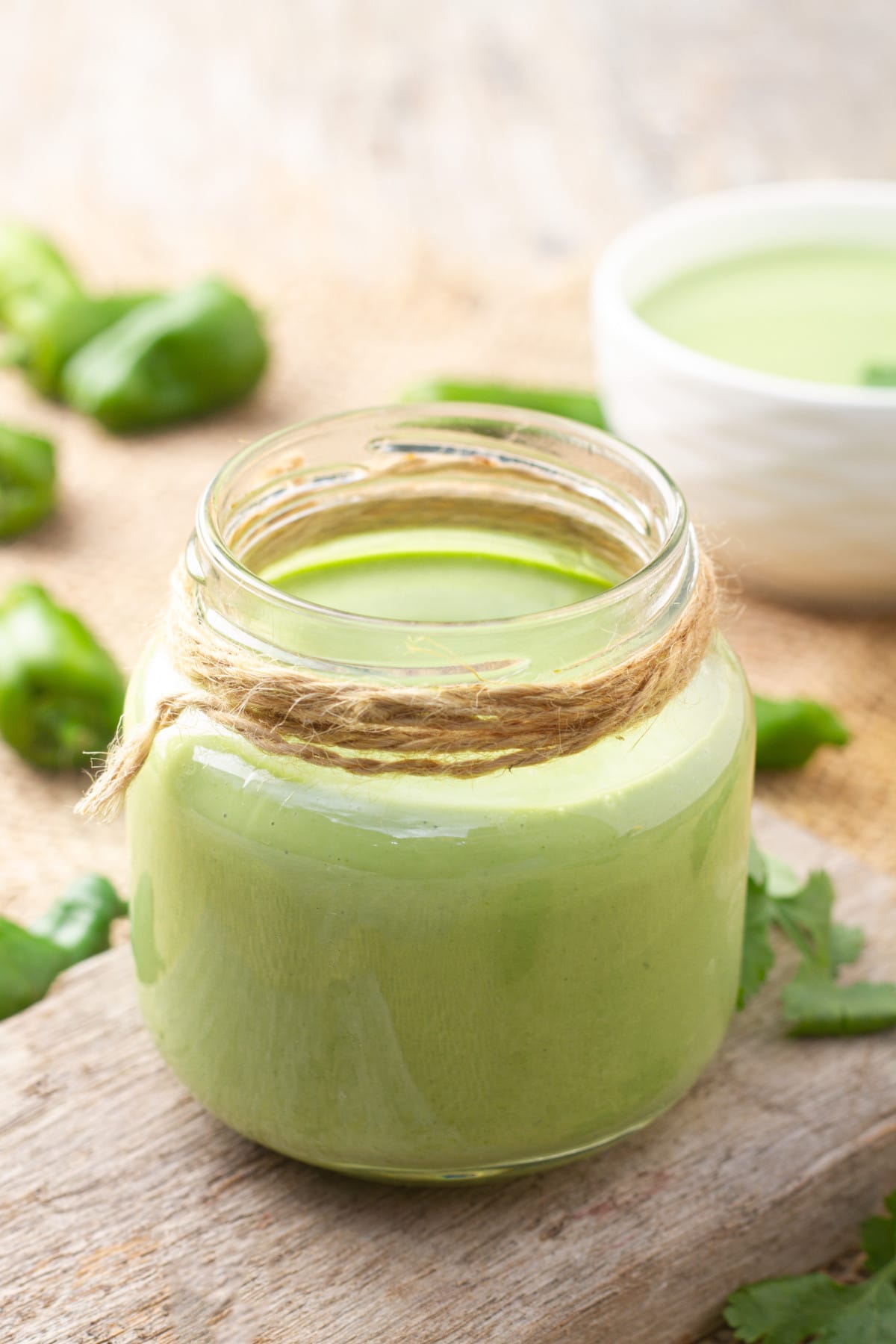 Peruvian green sauce is quite simple to make. The first step is to prepare the peppers, onion, and coriander. If you want your green sauce to be not so spicy, you must extract the stem, veins, and seeds of the chili pepper. The seeds and veins contain the most capsaicin, so keep these if you want a lot of spice.
If you are using coriander, make sure that you chop it finely, including the stems. Coriander stems are flavorful, but you should not have large chunks in the sauce. Next, just process all the ingredients in the food processor, starting with the peppers with the onion, garlic, yellow chili paste, vinegar, and mayonnaise. Then add the Parmesan cheese, coriander, and salt.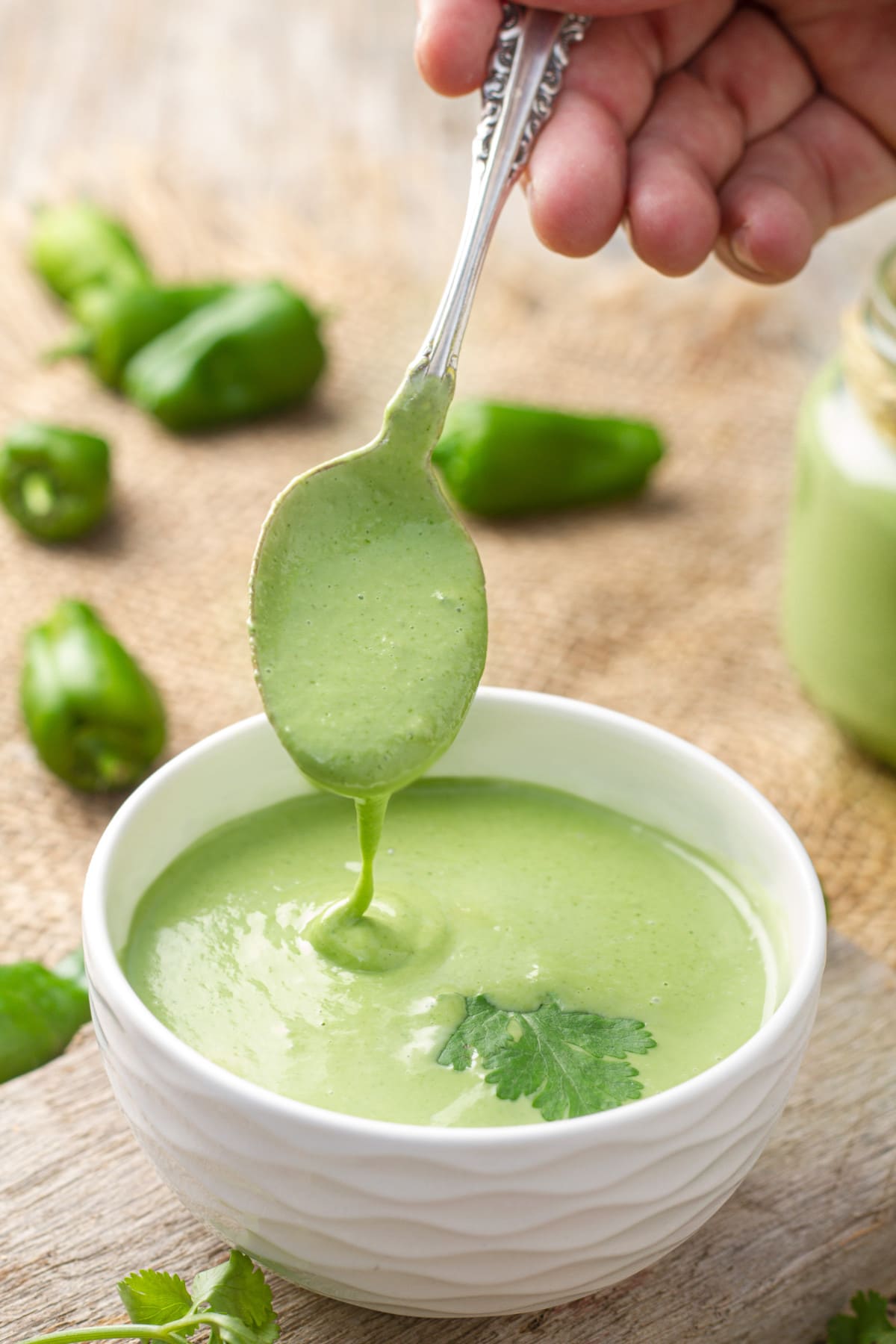 Tips
For best results, store it in a clean, dry glass jar in the fridge. This sauce keeps for up to two weeks.
This sauce must be stored in a clean, dry glass container. Following the first twelve hours, the flavor of the sauce improves noticeably. Therefore, it should be prepared the day before consumption.
I recommend using a neutral-flavored vegetable oil such as soy, corn or sunflower as opposed to olive oil, as olive oil can alter the flavor of this recipe.
What makes Ají Verde Sauce special?
Peruvians combined the flavors of the American chili pepper with the flavors of European cured cheese, resulting in a sauce with an unparalleled taste. This sauce is not as thick and dense as other hot sauces. It goes well with various kinds of meat since it is quite liquid.
And since one of its most important ingredients is mayonnaise, it also works as a salad dressing. Likewise, this sauce can keep very well in the fridge for up to two weeks.
What type of chilies should be used for the green sauce?
Generally, the green chili sauce is prepared with ají amarillo or jalapeno peppers. Ají amarillo is not always available so we're adapted this recipe to use an alternative. Every cook has their own preferences, however. For example, if you like intense flavors, you can use a green padrón pepper, as we've used in this recipe. If you want a less spicy sauce, you can use sweet peppers and add a little spice. Depending on how hot you like your sauce, you can adapt this recipe based on the types of pepper to hand.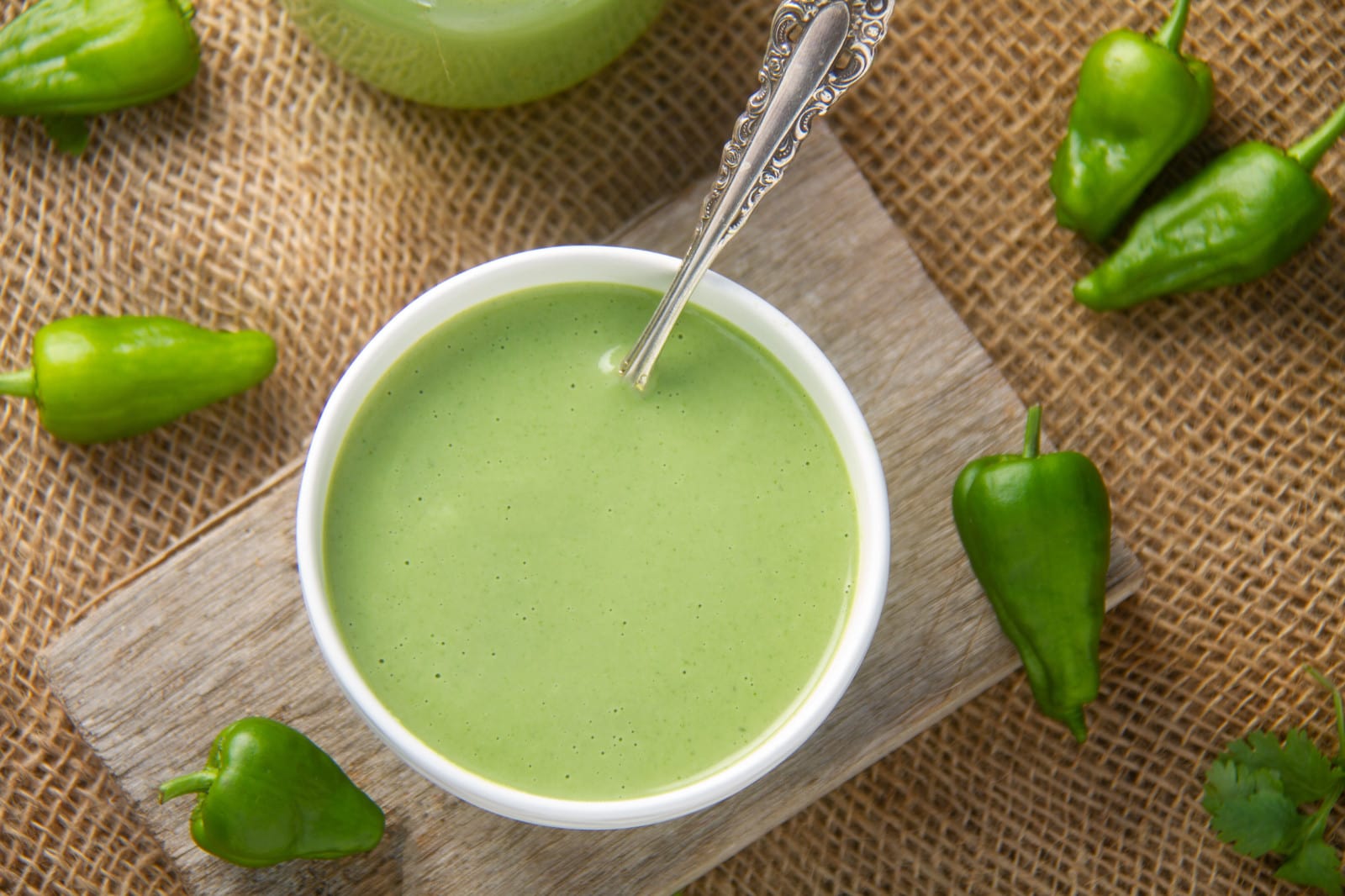 What is the best way to handle chili peppers?
Some people can train their tolerance to spicy food over time. Nonetheless, it is always advisable to follow a few simple tips when working with chili peppers to avoid discomfort.
When handling peppers, wear latex gloves at all times if you have a low tolerance to spicy substances.
Scrape the seeds from the peppers with a teaspoon. Don't use your hands, as you would with a traditional pepper.
Don't hesitate to wear a mask and safety glasses if you think you need extra protection.
Avoid touching your face while handling the peppers. Touch your face with a tissue or with your elbow or forearm if you must.
Should hot pepper get into any part of your body, wash it off immediately with dish soap. Do not use bathroom soap because it does not dissolve capsaicin, the fatty component of spices.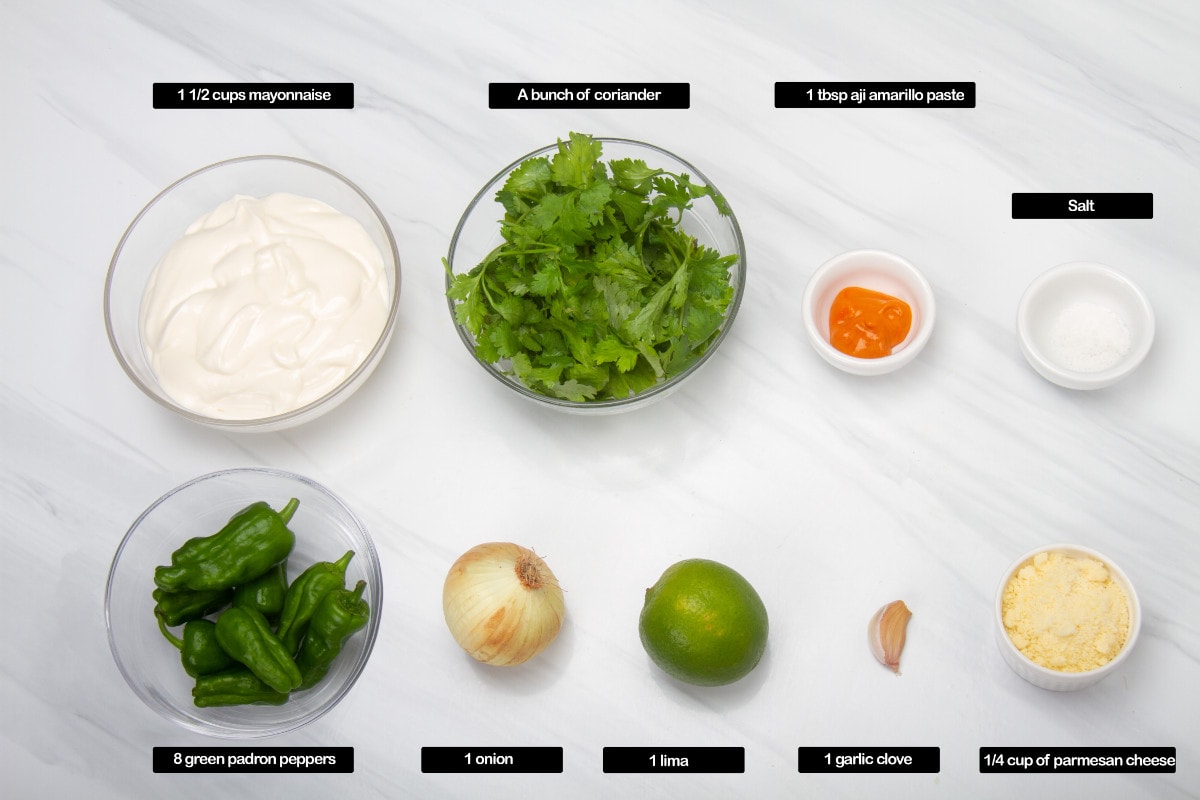 What dishes to eat with Peruvian green sauce?
You can add this aji verde sauce as a side to pretty much any dish you like, but I recommend using it as a dip with pollo a la brasa (roast Peruvian chicken), yuquitas, chicharrón de Pollo, or causa de atún.
Peruvian Ají Verde Sauce
Ají Verde Sauce Makes an Excellent Dipping Sauce. Made with cilantro (fresh coriander), chillies (Peruvian aji Amarillo or jalapeño), onions and garlic, with oil and vinegar. Fresh ají sauce packs a lot of flavor. If you've been looking for a tasty condiment, transform your dishes with this Peruvian classic.
Ingredients
1 ½

cup

mayonnaise

360 g.

8

green padrón peppers

170 g

1

white onion

70 g.

1

bunch coriander

50 g.

¼

cup

grated Parmesan cheese

120 g.

1

tablespoon

of vinegar

Juice of one lemon

1

clove

garlic

1

tablespoon

yellow chili paste

optional

Salt to taste

depends on the amount of salt in the cheese
Instructions
Wash the peppers very well under running water, and place them on a cutting board. With a sharp knife, cut each pepper in half crosswise. Using a teaspoon, scrape the pepper's surface to remove the veins and seeds. Set aside.

Peel the onion and cut into large pieces.

Finely chop the cilantro. Peel the garlic cloves. Put aside

Place the chopped peppers, mayonnaise, onion, garlic clove, yellow chili paste and lemon juice in the blender glass.

Blend for about two to three minutes until the mixture is blended but still contains visible chili pieces.

Finally, add the grated parmesan cheese, and coriander.

Now, blend for at least five minutes until the sauce turns an intense green tone, completely homogeneous. Taste it, and add salt if necessary.
Nutrition
Nutrition Facts
Peruvian Ají Verde Sauce
Amount Per Serving
Calories 64
Calories from Fat 45
% Daily Value*
Fat 5g8%
Cholesterol 5mg2%
Sodium 181mg8%
Potassium 42mg1%
Carbohydrates 4g1%
Protein 1g2%
Vitamin A 114IU2%
Vitamin C 9mg11%
Calcium 22mg2%
Iron 1mg6%
* Percent Daily Values are based on a 2000 calorie diet.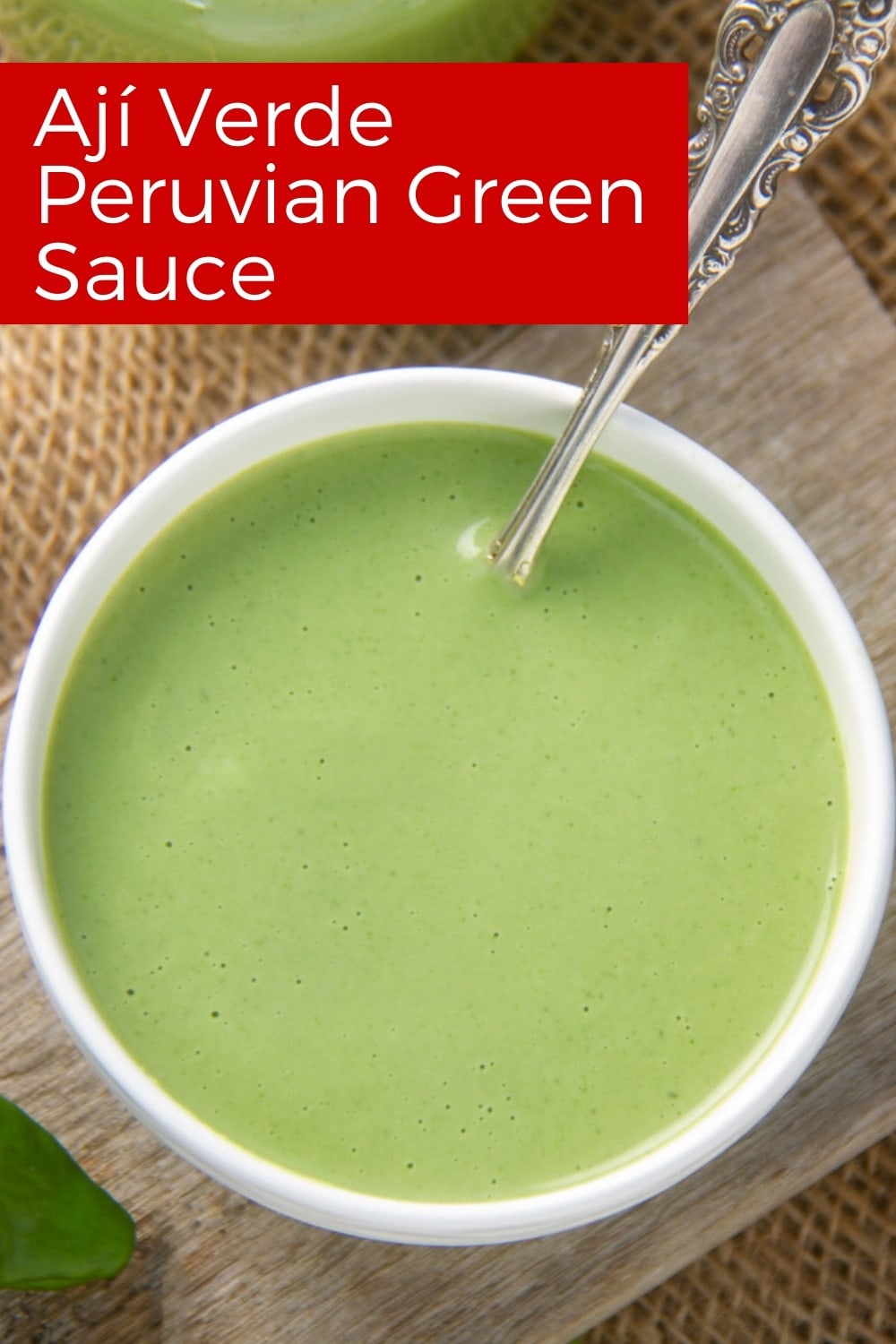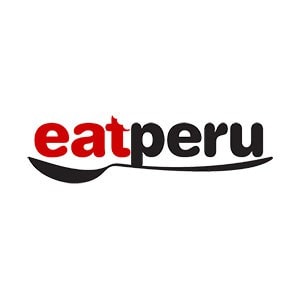 Peruvian foodie. I've been writing about the food of Peru for over 10 years. Read more about the Eat Peru team here