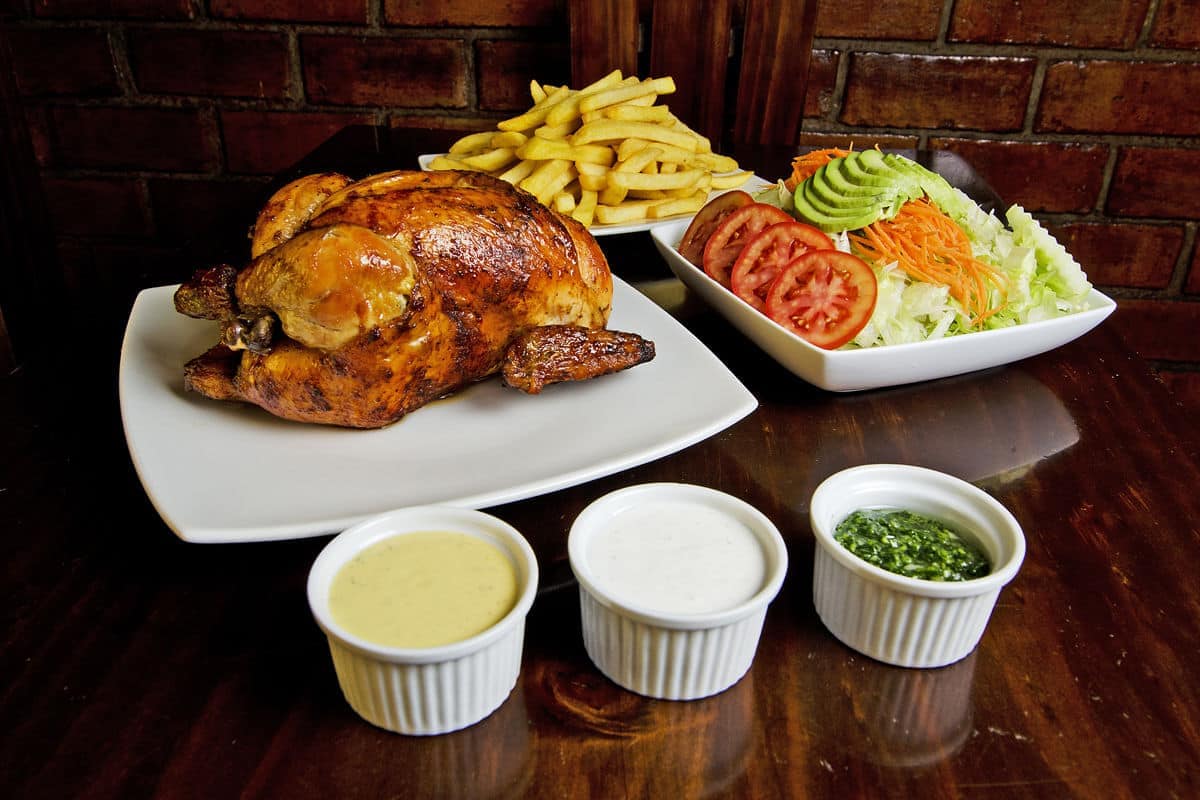 Pollo a la Brasa: the Peruvian roasted chicken dish that conquered a nation
Attend a loved one's birthday, a co-worker's leaving party or a special family treat in Peru, and you just might see hungry diners tucking into enormous heaped plates of the Peruvian-style roasted chicken known as pollo a la brasa.
This dish is a favorite option in restaurants but especially at any one of the many chicken restaurants around the country.
Accompanied by thick French fries, a fresh salad and dipping sauces including mayonnaise, ketchup, mustard and of course, ají verde chilli pepper sauce, Pollo a la Brasa is almost as Peruvian as the country's flag itself.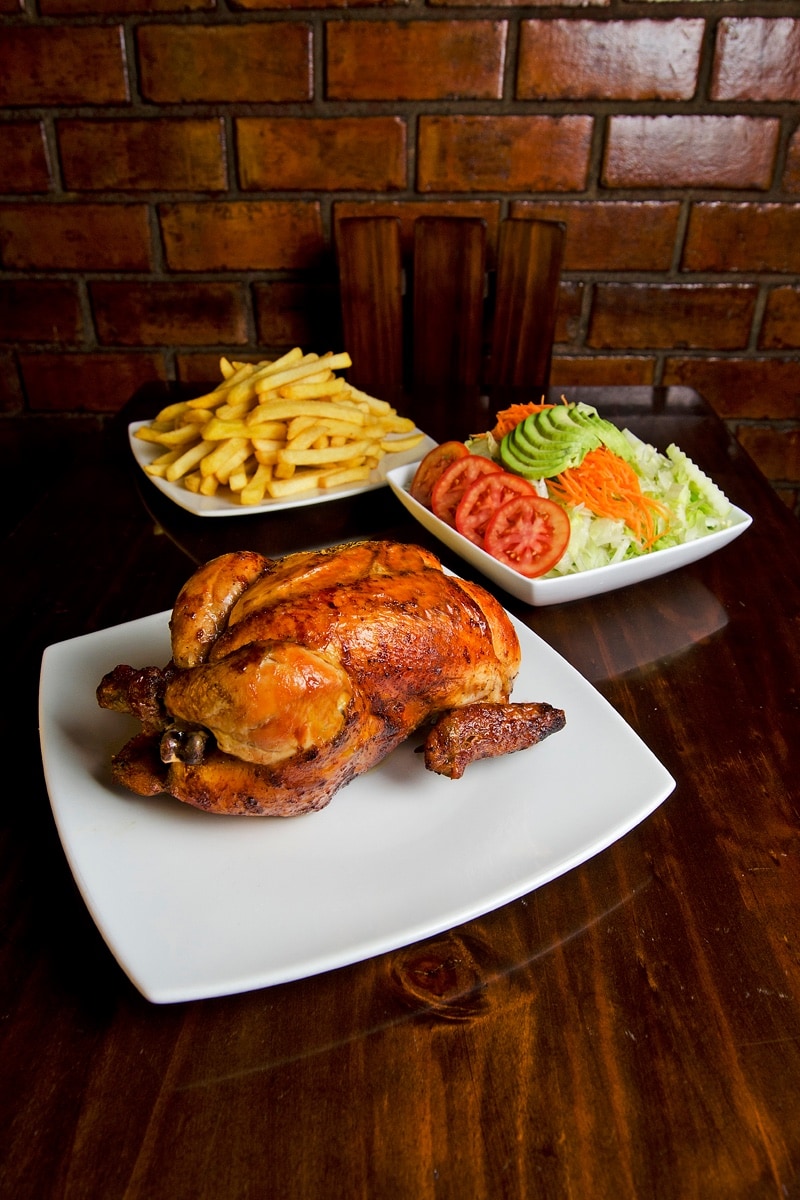 In Peru, the dish is almost exclusively prepared and eaten outside the homes at the so-called pollerías that specialize in preparing the not-so-secret recipe. Of course, it's possible to make a home-cooked version in a standard oven and achieve a very similar result. We're here to show you how to prepare Pollo a la Brasa. And it's easier than you might think!
Read on to find out more about its origins and take a stab at preparing this delicious easy cook recipe yourself.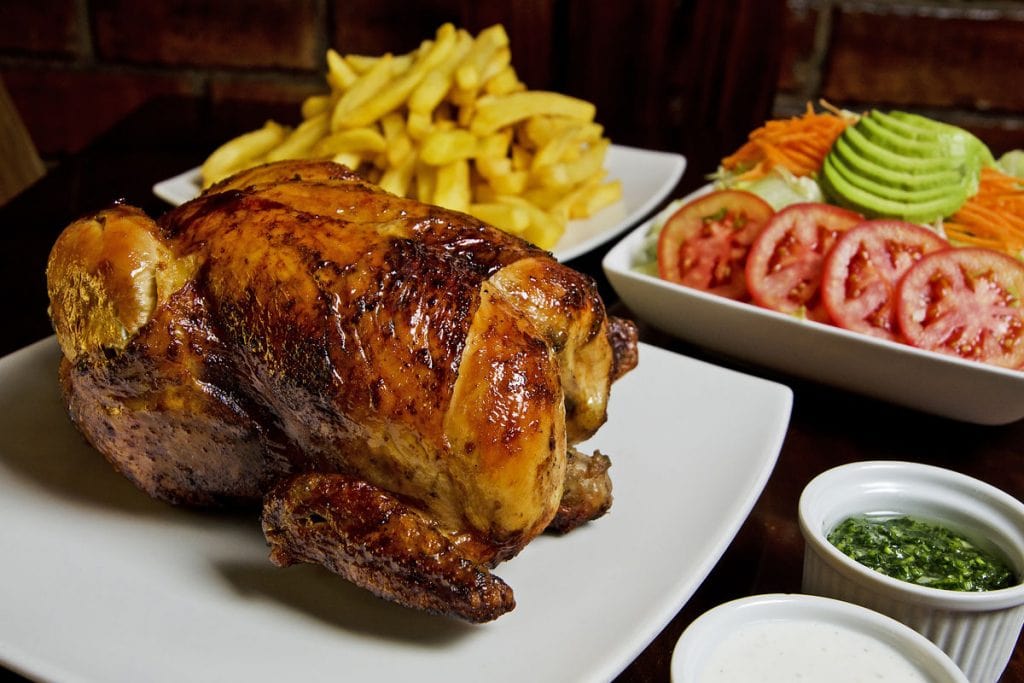 Origins of Peruvian Pollo a la Brasa
The origins of this chicken dish are well-documented since it's a fairly recent creation, dating from the late 1940s, and we even have a first and last name: Roger Schuler. After immigrating to Peru from Switzerland, Schuler settled in the town of Santa Clara, in the countryside near the capital of Lima, and started breeding chickens. In a bid to make some extra money from at the farm, he decided to roast some of the birds there and offer them to the general public on an all-you-can-eat basis at a very low cost. Not surprisingly, the concept soon took hold and he opened a restaurant at the farm, La Granja Azul, which is still operating at the very same spot to this day.
It's worth mentioning that Mr Schuler's first chef initially roasted the chicken over the charcoal on a spit, turning it by hand (for close to an hour!). This is obviously very labor-intensive and not as sustainable as the restaurant grew. An acquaintance designed and custom-built the first pollo a la brasa rotisserie chicken oven.
Slowly, other restaurant owners and entrepreneurs caught on to the idea and by the 1990s there was a true explosion in the opening of a slew of restaurants and even restaurant chains following the same concept­ (the previously mentioned pollerías). Pollo a la brasa has put down firm roots as an undeniable cornerstone of Peruvian cuisine and culture. Fast-forward to 2019, and it's is now the most popular dish served by restaurants throughout the country. When asked in street polls, up to 70% of people say that it's their favorite thing to eat out.
Thousands of restaurants are dedicated almost exclusively to this single dish, and the experienced chef in charge of basting and roasting them is a specialized profession, known as maestro pollero, loosely translating to "master chicken roaster".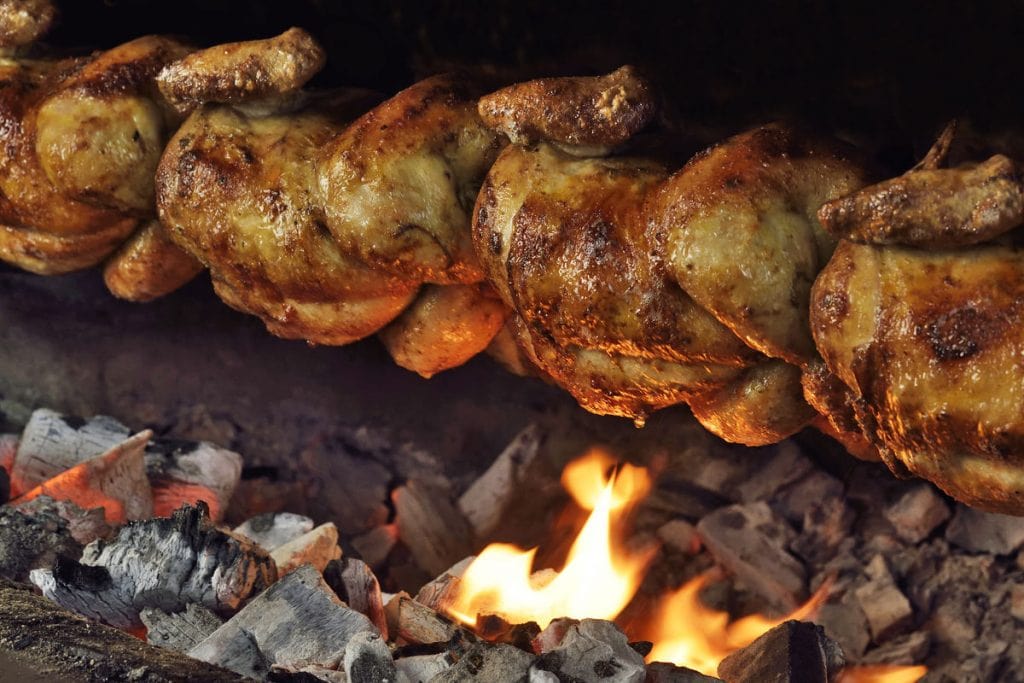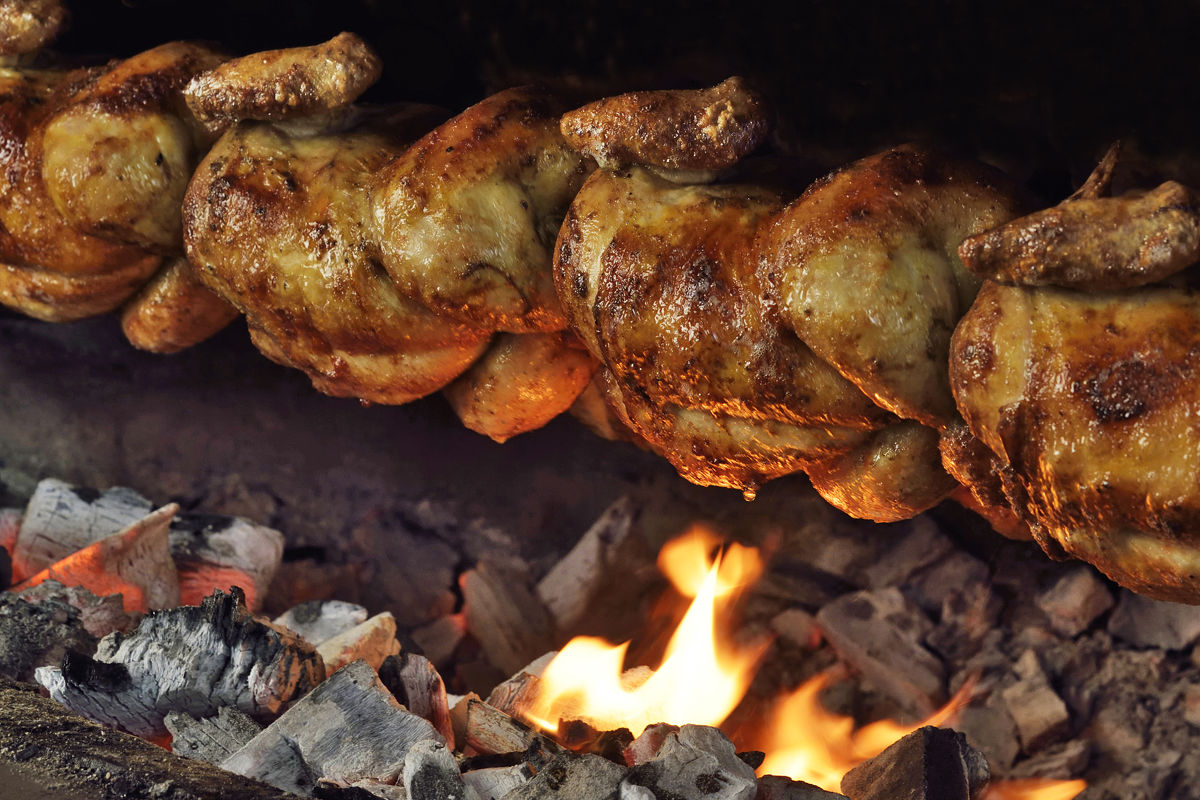 Other Ingredients: Who else is at the table?
So apart from the roasted bird with its trademark crispy skin, what else does a typical meal of this Peruvian menu favorite include? The staunch companions that come with it are:
thick French fries
a salad consisting either of raw vegetables like lettuce, tomato, avocado and cucumber
or a cooked vegetable salad with cooked green beans, carrot, and beets.
Last, but not least, the dipping sauces which usually include mayonnaise, ketchup, mustard and a spicy sauce made with peppers known as ají.
Unfortunately, modern-day pollerías don't offer the endless all-you-can-eat option because nowadays that wouldn't be financially viable. Instead, you either order an entire roasted chicken to share, or half or a quarter.
The most popular drinks to accompany this delectable meal are lemonade (which is actually made with limes), chicha morada (the purple corn refreshment), or some sort of soda like Coca Cola and more often than not, Peru's trademark soda: Inca Kola.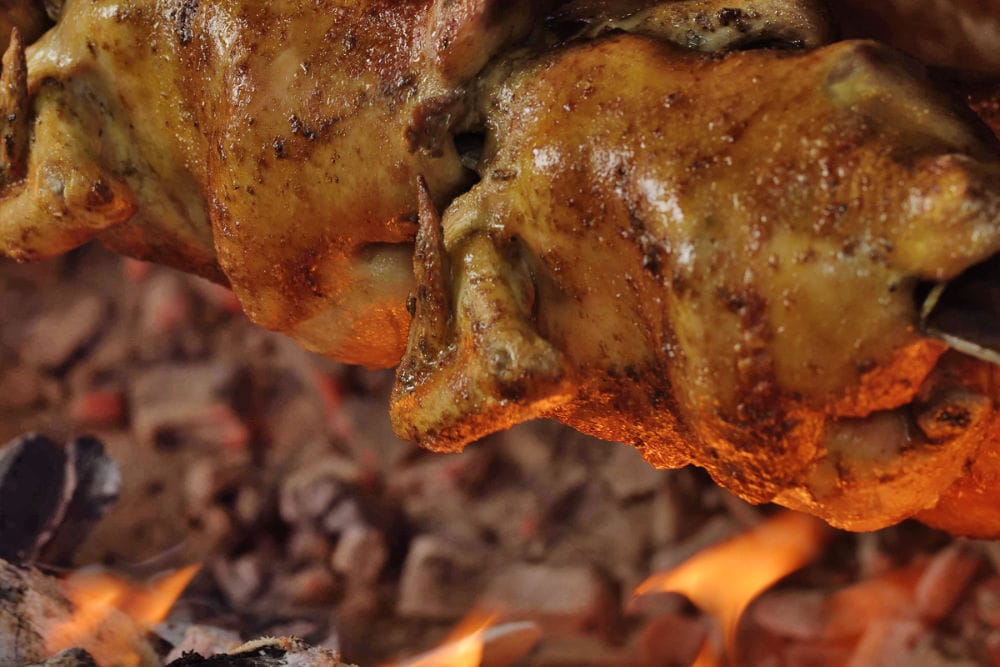 One of Peru's Most Popular Dishes
To emphasize just how widespread the consumption of this dish is in the 21st century: the Peruvian government estimated that 371 million servings of pollo a la brasa were sold in the country in 2010 alone.
For a population of around 30 million, that equates to an average of just over 12 servings per person per year! In other words, most Peruvians will be tucking into this roast once a month or more. It's no surprise that there is a special day dedicated to the dish: every third Sunday of July is national pollo a la brasa day. (one wonders about how much the restaurant industry had to do with the creation of this tribute).
Whatever the case may be, people across the country love this dish. From small Andean towns where the meal is washed down with herbal tea for digestion to Amazon cities where the weather itself is already roasting. Even fancy eateries in the hip districts of the capital of Lima cater to one of the country's favourite dishes. It doesn't look like this will change any time soon.
So, time to find out what all the heat is about: let's get roasting!
In this recipe, we use an oven for roasting rather than a rotisserie or charcoal bbq. As we like to give simpler options, and most readers are cooking at home, we feel this is the most suitable. However, we've included photos of chickens roasting at a local Lima pollería to give that authentic feel, but really just to get you drooling. This is an easy dish to prepare but it takes a little bit of investment of time. Get cooking!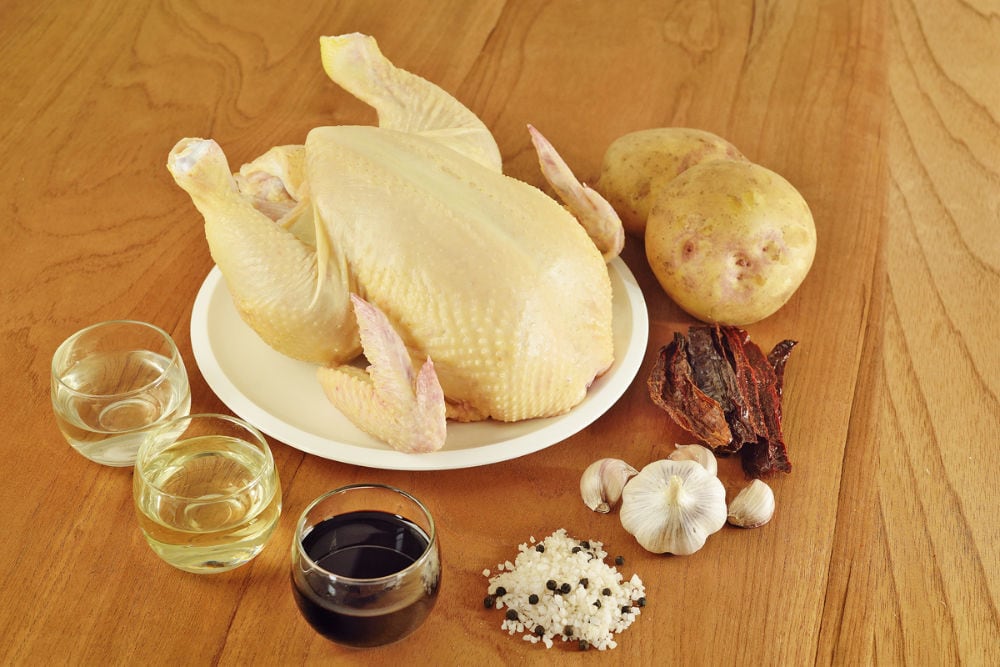 Pollo A La Brasa (Peruvian Rotisserie Chicken)
A wildly popular dish in Peru, Pollo a la Brasa (Peruvian Rotisserie Chicken) is a marinated, crispy-skinned, roasted chicken taste explosion. Enjoy with fries and dipping sauce.
Ingredients
1

whole chicken

giblets removed

½

cup

plain vinegar

½

cup

ground ají panca chilli pepper

½

cup

freshly made garlic paste

½

cup

dark soy sauce

½

cup

vegetable oil

for the marinade

1

cup

black beer

such as Cusqueña Negra (optional)

Salt, ground black pepper, and cumin to taste

6

large white

cooking potatoes

peeled and cut into thick fries

2

cups

vegetable oil

to fry the potatoes

1

small head

iceberg lettuce

washed and roughly chopped

3

medium

tomatoes

sliced

½

cucumber

peeled and sliced

½

cup

salad dressing

of your choice

5

tbsp

Dipping sauces

Mayonnaise, ketchup, mustard and ají chilli pepper dip to serve
Aji Amarillo Sauce
1

large

aji amarillo pepper

or 2 tbsps paste

1/3

cup

queso fresco

1/4

cup

vegetable oil

1

large

garlic clove

3

tbsp

lime juice

1/2

tsp

huacatay paste

1

pinch

sugar

pepper

to taste
Instructions
On the night before roasting, add dry ground ingredients to bowl

Combine all the ingredients for the marinade (vinegar, soy sauce, vegetable oil, black beer, ground ají panca chilli pepper, garlic, coarse salt, pepper and cumin) in a large bowl and mix well.

Place the chicken in a large baking tray or bowl, pour the marinade over it, ensuring it covers all of the parts of the chicken, and leave in the fridge overnight to marinate.

(Day of roasting) Take the chicken out of the fridge, spread the marinade over the chicken one last time and place into a baking pan, adding 1 inch of water to the bottom of the pan in order to avoid the chicken drying out. Pre-heat the oven at 390°F (200 °C) for 10 minutes and place the tray with the chicken in the middle of the oven. Bake for 2 hours or until cooked, ensuring the chicken is cooked inside (check with a skewer) and the skin is nicely roasted and crispy.

About 30 minutes before the chicken is ready to come out of the oven, fry the potatoes in plenty of vegetable oil until golden brown. Place on some kitchen towel in a strainer on a plate to absorb any excess oil. Add salt to taste.

Place the lettuce, tomato and cucumber and toss with your salad dressing of choice.

When the chicken is ready, cut into individual pieces (usually quartered) and serve with the French fries, salad, and dipping sauces.

Enjoy your Peruvian classic roast dinner!
Aji Amarillo Sauce
Put all ingredients in a food processor and whizz it around for a few seconds.
Notes
1) Step 1 and 2 have to be complete the day before cooking the chicken in order to leave the chicken to marinate overnight
2) Aji amarillo sauce is the hot yellow sauce that you'll see accompanying Peruvian chicken recipes and plenty of other recipes. It's versatile and it tastes delicious. Warning: once you start adding aji amarillo paste to your foods, you might not be able to stop.
The peppers that make this sauce or paste are not easy to find so try to seek out a specialist store. If you want to take a shortcut, jars of the stuff are
available on Amazon
at a pretty reasonable price. You'll probably have to buy
huacatay sauce in paste form
as it's hard to find outside of Peru.
Nutrition
Nutrition Facts
Pollo A La Brasa (Peruvian Rotisserie Chicken)
Amount Per Serving (200 g)
Calories 1061.18
Calories from Fat 781
% Daily Value*
Fat 86.75g133%
Cholesterol 150.18mg50%
Sodium 2179.39mg95%
Potassium 1024.83mg29%
Carbohydrates 25.8g9%
Protein 43.06g86%
Vitamin A 1647.18IU33%
Vitamin C 55.33mg67%
Calcium 115.77mg12%
Iron 3.89mg22%
* Percent Daily Values are based on a 2000 calorie diet.
And if you like this chicken dish, check out our Peruvian Grilled Chicken with green sauce recipe or this garlic and ginger mustard chicken dish.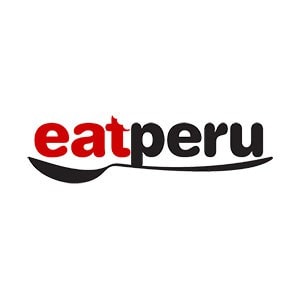 Peruvian foodie. I've been writing about the food of Peru for over 10 years. Read more about the Eat Peru team here