Salsa criolla (creole sauce) or sarza criolla as it is also known in Peru, is a preparation similar to a salad, but with more intense flavors. This simple cold relish or side dish is a taste sensation and an indispensable part of many Peruvian meals.
Salsa criolla is a cross between a salad and a mojo (mojo sauce is a delicious raw condiment and marinade for vegetables, fish, or chicken. It is also used as a topping.)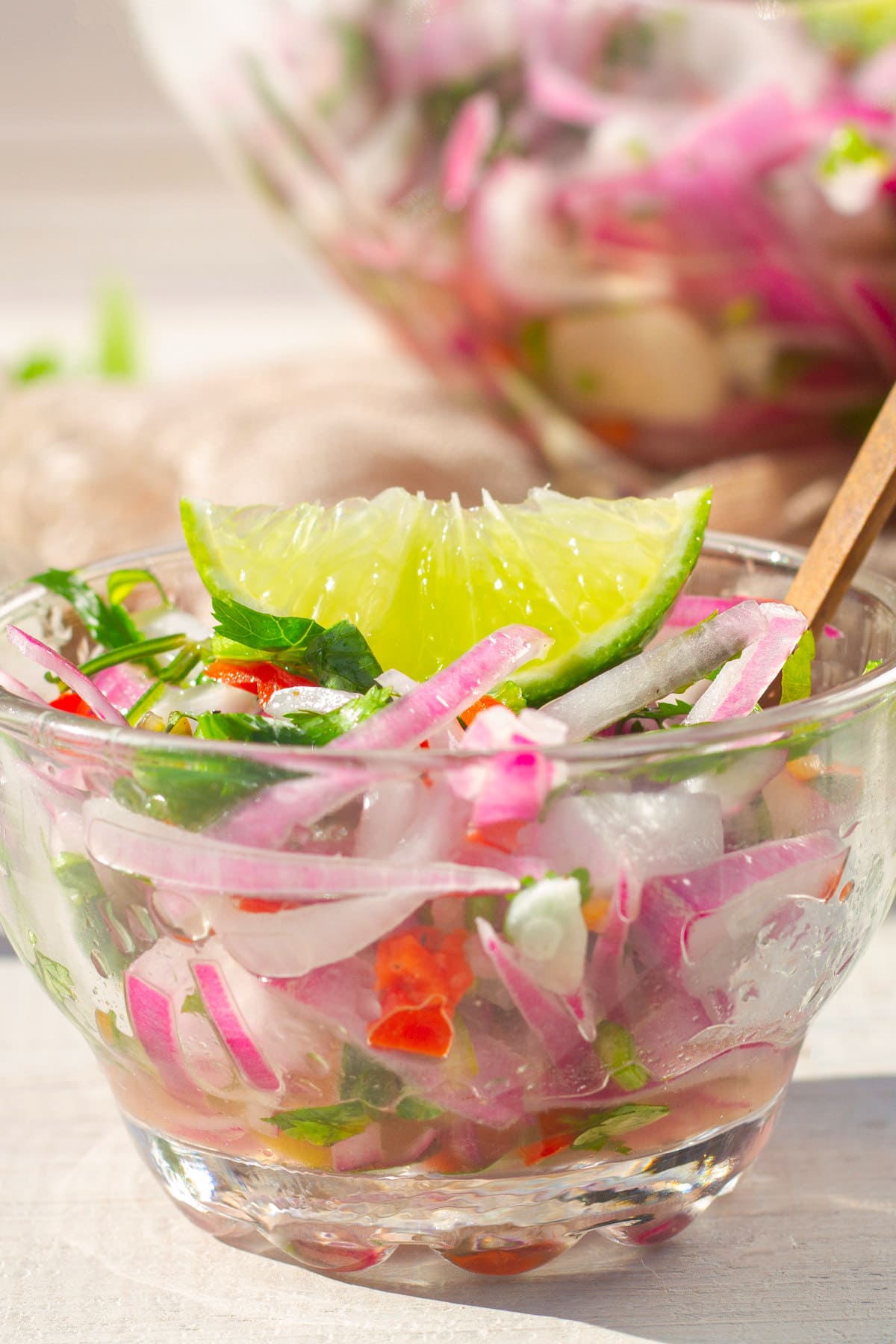 Combine red onion, chili peppers, coriander or sacha culantro, lime, vinegar, and oil to create one of the most important side dishes in Peruvian cuisine.
Despite looking like a salad, it is used much like a mojo. It is usually served as an accompaniment to different dishes in Peruvian gastronomy; due to its intense flavor, it's never eaten as a salad. Salsa criolla is best served in small amounts to enhance the flavor of main dishes. Salsa criolla is excellent served over grilled meats and is a must-have for Peruvian tamales.
How to prepare salsa criolla
When preparing salsa criolla, a few things need to be considered. First, the ingredients should be as fresh as possible. Another factor to consider is how the vegetables are cut. Slice onions thinly into julienne strips, i.e., into very thin strips. In this way, the acid from the lime juice will soak into the onion flesh and cook it lightly. This will lessen the intensity and spice of the onions' flavor.
Similarly, chili peppers lose some of their spiciness when soaked in lime juice. Cut into small squares or brunoise. Take extra care with the aji amarillo peppers, which are very spicy.
The last point to remember is that salsa criolla should not be consumed immediately. As with a ceviche, cook the onions and peppers in the acidic mixture for several minutes. For this reason, it is best to prepare the salsa criolla half an hour before consumption.
Recommended ingredients
Purple Onions: Purple onion is the main ingredient in this recipe. And while the taste of white and purple onion is similar, the purple variety is preferred. Their vibrant color makes purple onions an attractive addition to a dish.
Cilantro / Sacha culantro: this is the recommended (authentic) herb for this dish. But this fresh herb is not readily available in many countries. Coriander makes a good substitute.
Lime: A very important ingredient in this recipe. The acidity of lime juice not only "cooks" foods, it helps soften the flavor of onions. Don't be tempted to use lemon or white vinegar instead. Vinegar is a great flavor enhancer but lime is almost as an important ingredient as the onion.
Chili peppers: most people prepare this recipe with "aji amarillo", but if you prefer a less spicy flavor you could try "ajies de padron" or sweet peppers.
Condiments and spices: salt and black pepper are the only extra spices used in our recipe but some people like to use salt and crushed garlic, or even just salt.
Oil: use an oil with a neutral flavor such as corn or sunflower. Olive oil is not recommended.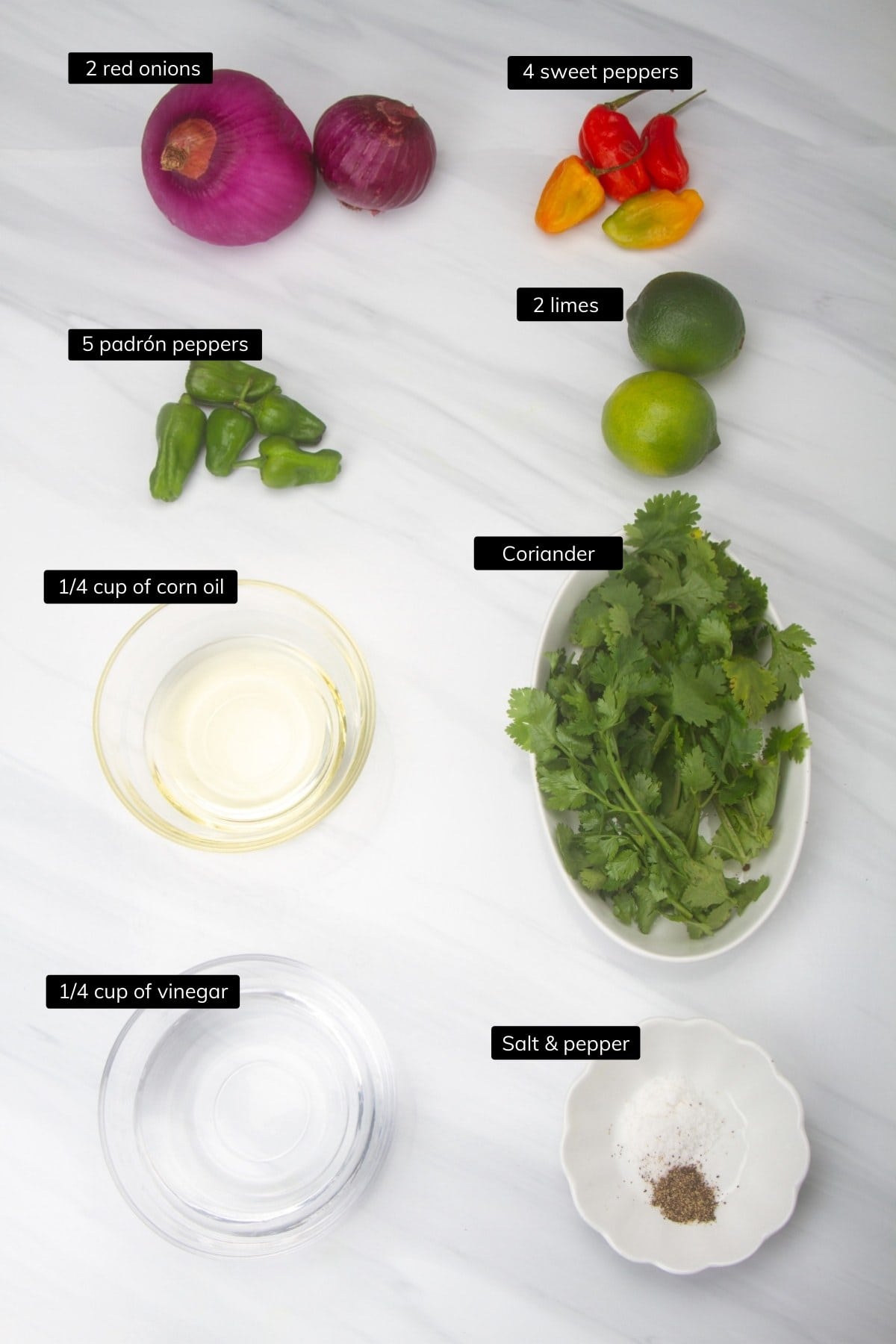 Salsa Criolla
Onion, pepper, coriander and lime relish – an essential Peruvian condiment. Serve in small amounts to enhance the flavor of your main dishes. An authentic and traditional side dish that's easy to prepare
Ingredients
2

medium

red onions

200 g.

4

sweet peppers

15 g.

5

padrón peppers or sweet peppers

2

limes

1

sprig

coriander

¼

cup

oil

¼

cup

vinegar
Instructions
In the bowl place the oil, vinegar, salt and pepper. Stir until the salt dissolves.

Peel the onions, cut them in half, and place them on a cutting board. Thinly slice them into julienne strips. Immediately add them to the bowl.

Wash the peppers well, cut the stem and open them in two. With the tip of a knife, or with a teaspoon, scrape the inside of the peppers. Extract the veins and seeds. Immediately dice them into small squares. Add them to the bowl, and stir.

After washing and draining the fresh cilantro, put it on a board, and cut it as finely as possible; including the stems.

Squeeze the limes on top of the rest of the ingredients. Stir with a teaspoon until everything is well mixed. Cover the bowl with plastic wrap or cover it, put it in the fridge for at least half. Before serving, stir again.
Nutrition
Nutrition Facts
Salsa Criolla
Amount Per Serving
Calories 110
Calories from Fat 63
% Daily Value*
Fat 7g11%
Sodium 6mg0%
Potassium 301mg9%
Carbohydrates 10g3%
Protein 1g2%
Vitamin A 4217IU84%
Vitamin C 176mg213%
Calcium 16mg2%
Iron 1mg6%
* Percent Daily Values are based on a 2000 calorie diet.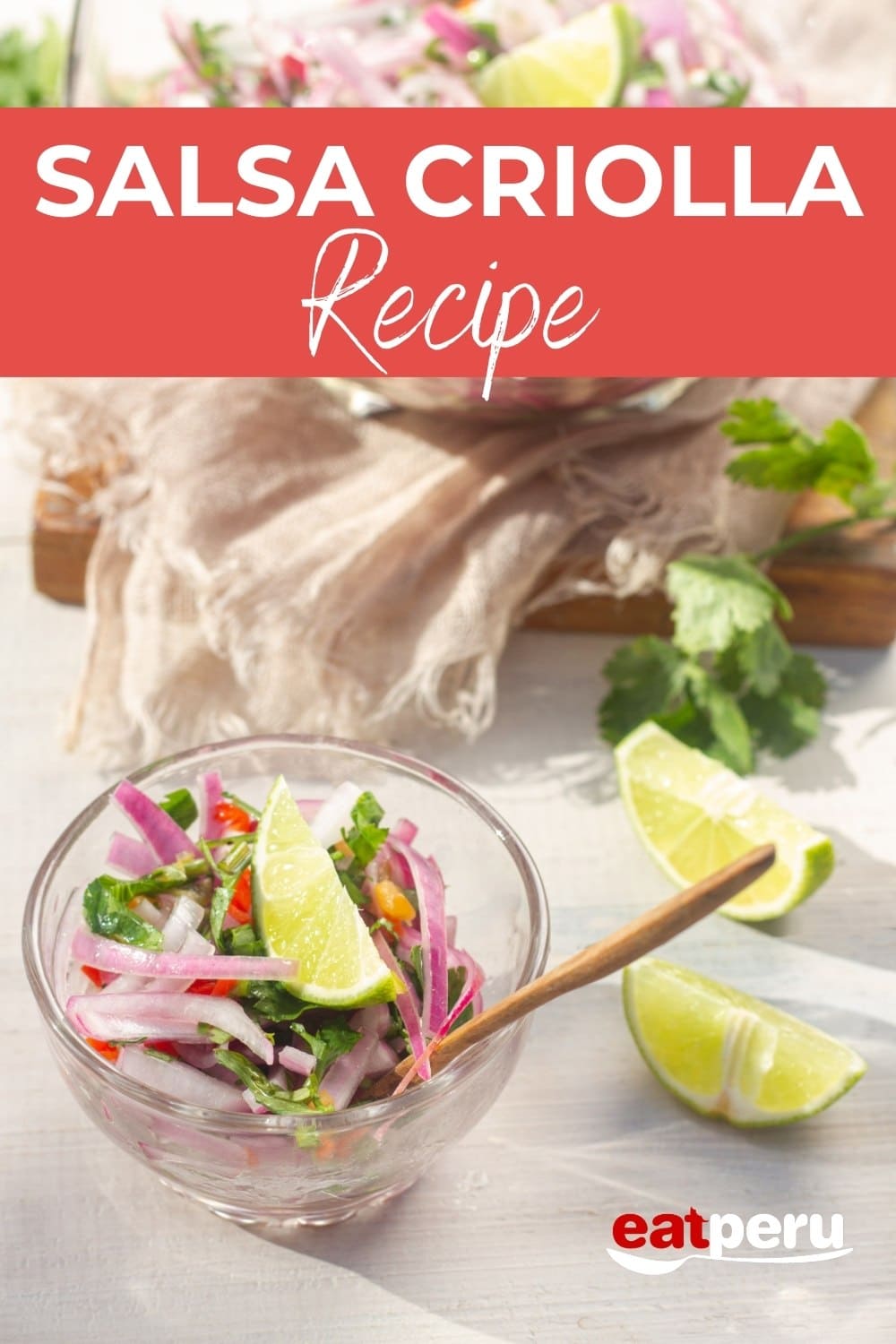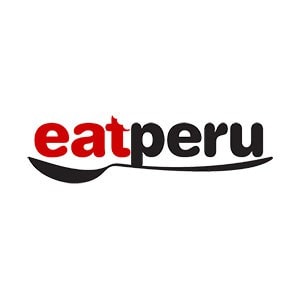 Peruvian foodie. I've been writing about the food of Peru for over 10 years. Read more about the Eat Peru team here