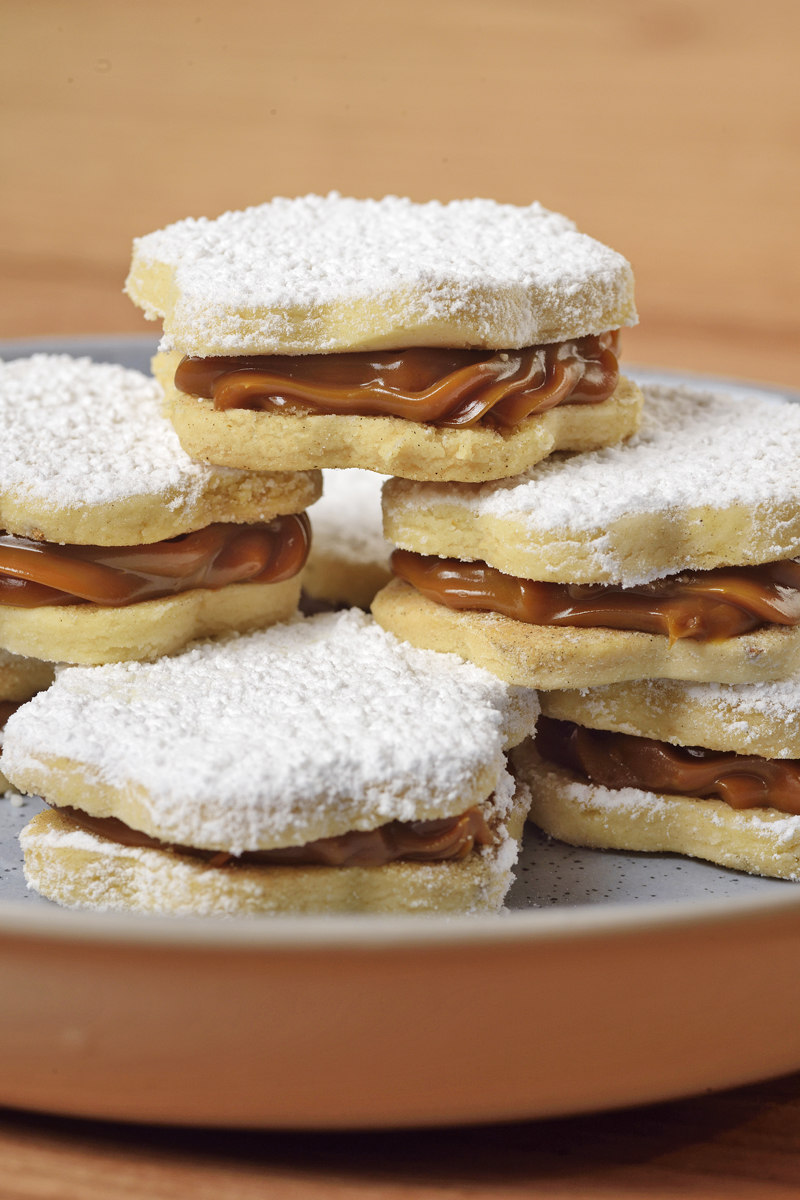 Small or large, covered in chocolate or powdered sugar, filled with careful or copious amounts of manjar blanco, the irresistible creamy caramel sauce, alfajores come in many shapes, sizes and variations but they all have one thing in common: they're absolutely irresistible. The classic alfajor consists of two buttery, melt-in-the-mouth cookies filled with creamy, sweet pastry filling. Sprinkle on some powdered sugar and you can already guess that the only problem with alfajores is how to stop yourself from eating too many in one sitting!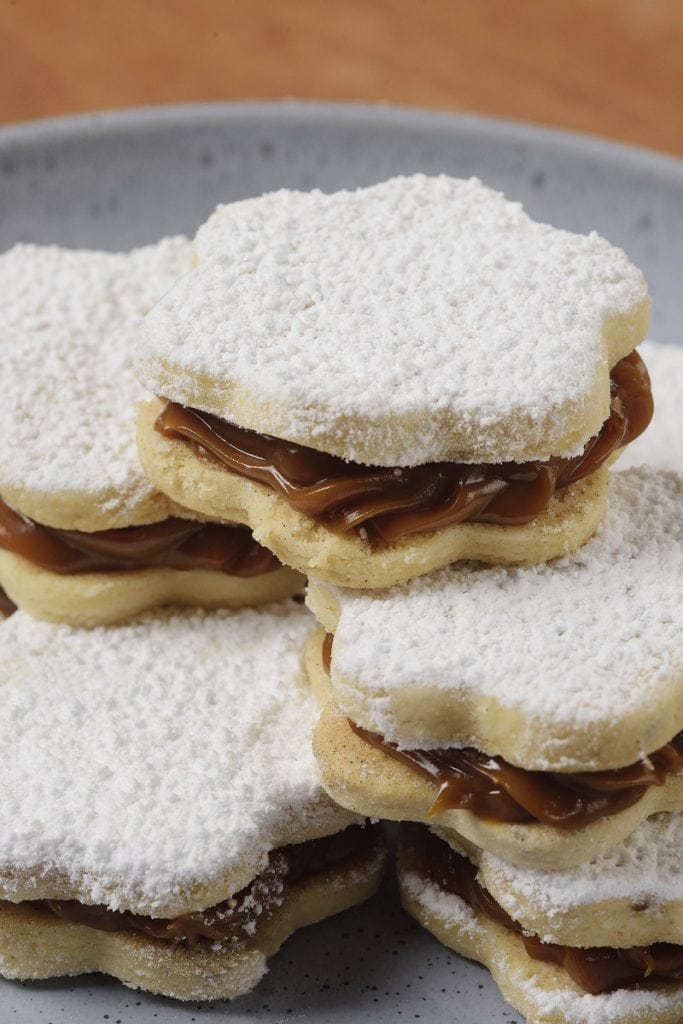 Origins of Peruvian Alfajores
The history of this sweet treat goes back a long way. The original version made its way to Peru aboard the ships of the conquistadors. Alfajores appear in Spanish literature steadily for several centuries. As with so many recipes and other traditions from Spain, however, this dessert and snack is a fusion of Iberian and Arab baking traditions. The name comes from al-hasú meaning "the filling".
The alfajor has long been a very important recipe in Spain, many accounts of women selling alfajores in town squares, known as alfajoreras, have popped up in popular literature and even songs. The same goes for Peru, where in bygone times alfajoreras announced their wares in markets with melodic street vendor's calls. This helped turn these street food sellers into an emblematic element of the Peruvian streets of yesteryear. Additionally, alfajores were also described by author Ricardo de Palma in his landmark 19th-century publication Tradiciones Peruanas (Peruvian Traditions).
Regional varieties
After arriving in Latin America, alfajores became a popular pastry in many other countries too, most notably Argentina, where the delicious cookie is worshiped like a national symbol. The beloved biscuit is a very important tradition in Peru and it's interesting to observe that myriad regional varieties exist in different towns and cities of the country.
Standard Peruvian alfajores are cookies of about 1 to 2 inches wide, made with equal measures of cornstarch and white flour. To this, we add ample butter and sandwich the bases together with a big dollop of sticky manjar blanco caramel sauce. Sometimes, alfajores with a layer of melted chocolate make an appearance. One type of alfajor from the city of Cajamarca, for example, measures about 4 to 5 inches wide and is fried rather than baked. Arequipa is another city with a longstanding tradition of preparing both manjar blanco and alfajores. The variety traditionally enjoyed by Arequipeños is made with 3 layers of a larger, thinner and crunchier cookie, filled with milky caramel or honey.
Perhaps the king of all alfajores is the type hailing from the north, from cities such as Trujillo and Chiclayo, fittingly referred to as King Kong. This is practically a cake-sized version of the alfajor. Typically about 5 inches wide and high, it's prepared with a range of different types of manjar blanco, with different fruit flavors. One person doesn't eat a whole King Kong on their own in one go, however big their sweet tooth is!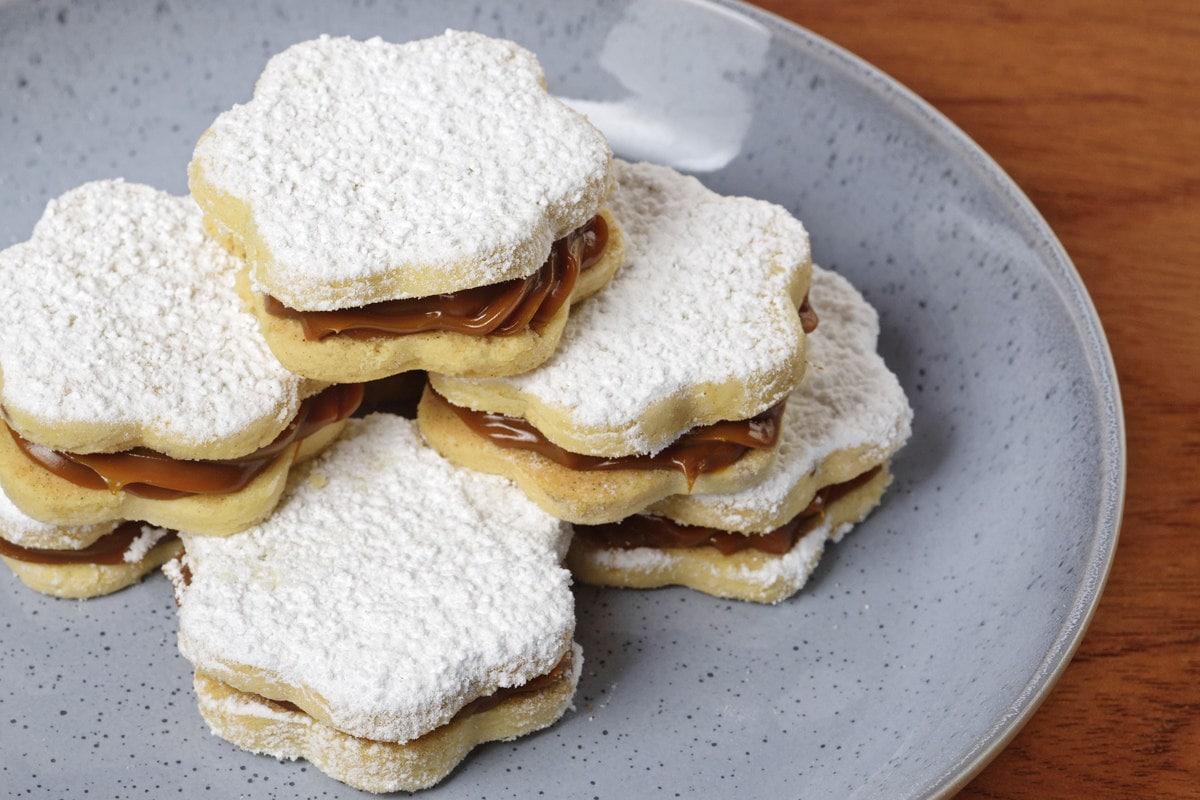 The Filling
The origins of the sticky, smooth caramel sauce known as manjar blanco in Peru and dulce de leche in many other South American countries are contentious. Argentina even has an anecdote about a situation where a cook forgot to turn off a pot of milk and sugar that she had left to simmer, coming back to find a rich, creamy milk substance. For many people, this is the moment the caramel sauce was first prepared. While this story may hold plenty of truth, it wasn't the first time this creamy creation saw the light of day. Food historians have reason to believe it was first invented in Indonesia and developed in the Philippines. The Spanish stumbled across the recipe and took it back to their country, and subsequently to Peru.
We make manjar blanco by combining milk and sugar and simmering for 3-4 hours, stirring occasionally to avoid burning, until it reaches the right consistency. Most of the liquid of the milk will evaporate and the volume will reduce to about one-sixth of its original. To save time many professional and amateur chefs boil unopened cans of sweetened condensed milk. The result is a sweeter version of manjar blanco but with the same consistency. However, this method is dangerous and we don't advise it since the can could explode. I saw this happen once in my friend Rebecca's kitchen. She spent several hours cleaning the cupboards, ceiling and floor of her kitchen trying to remove the bits of sticky caramel! Fortunately, the store-bought version is absolutely delicious and saves you a lot of time and effort. This is what we used when preparing alfajores today. That said, let's roll up those sleeves and get kneading!
This recipe will take about 50 minutes total (including baking time). It's an easy recipe that produces plenty of goodies from a small number of ingredients.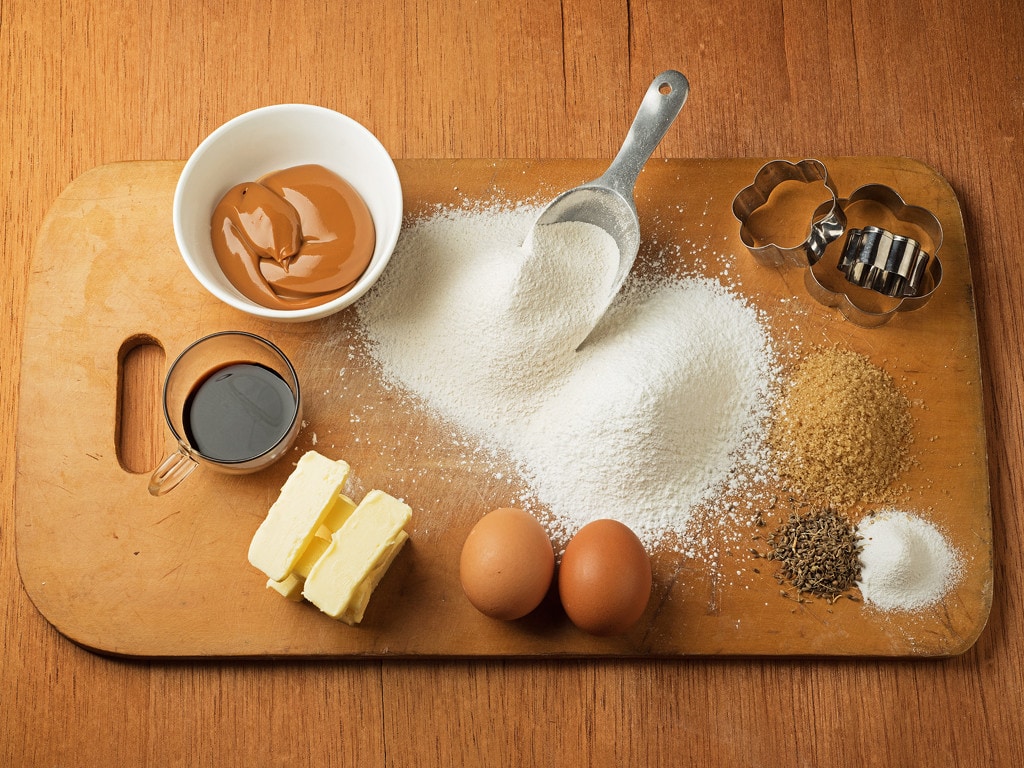 Peruvian Alfajores: Easy-to-Prepare Cookie with Manjar Blanco
The classic alfajor consists of two buttery, melt-in-the-mouth cookies filled with creamy, sweet pastry filling and topped with sprinkled powdered sugar.
Equipment
3-inch cookie cutters or a glass to cut the dough into circles.
Ingredients
1

cup

self-rising flour

Doesn't require extra baking powder

1

cup

cornstarch

1

cup

unsalted butter

¾

cup

sugar

2

egg yolks

6

tablespoons

powdered sugar

6

ounces

manjar blanco

store-bought. Often sold as dulce de leche

1/2

teaspoon

fresh aniseed

1/2

teaspoon

vanilla extract

(optional)
Instructions
In a mixing bowl, combine the butter, sugar and vanilla extract and mix until smooth.

Add the egg yolks and beat with a mixer until smooth.

In another mixing bowl, use a fine strainer to sift the flour and cornstarch together. Also (Add the fresh aniseed here if desired)

Add the fresh aniseed if desired

Transfer the butter, sugar and vanilla extract mixture to the flour and cornstarch bowl

Knead until the dough has a uniform texture.

Shape into a big ball and let it rest for 10 minutes in the fridge.

Sprinkle a little flour on the clean counter-top surface.

Use a bread roller, roll out the ball of dough until it's about ½ inch thick. You should have 10-15 round cookies to bake, so it might be necessary to use two oven trays or dishes to bake them all in one go.

Use the cookie cutters or a glass to cut circles of dough, about 3 inches wide.

Place a baking sheet on your metal tray, or use a glass dish, sprinkle with flour and place the cookies with a couple of inches between them. With a fork, make a few holes in the center of each cookie to avoid the dough to break or rise too much when baking.

Bake in a pre-heated oven at 350 F (175 C) for 20 minutes.

Remove from the oven, ensuring you remove them very carefully from the tray since these cookies can break quite easily. Wait for 30 mins until completely cool and finish your alfajores by topping half of them with manjar blanco at room temperature, and placing another cookie on top.

Using a strainer, sprinkle the powdered sugar over the alfajores. Enjoy with a cup of tea or coffee and try to stay close to the suggested serving size of 2 cookies per person!
Notes
Serving size: 1 or 2 cookies each.
Nutrition
Calories:
439
kcal
|
Carbohydrates:
26
g
|
Protein:
2
g
|
Fat:
37
g
|
Saturated Fat:
23
g
|
Cholesterol:
98
mg
|
Sodium:
7
mg
|
Potassium:
23
mg
|
Fiber:
1
g
|
Sugar:
5
g
|
Vitamin A:
1135
IU
|
Calcium:
13
mg
|
Iron:
1
mg
Nutrition Facts
Peruvian Alfajores: Easy-to-Prepare Cookie with Manjar Blanco
Amount Per Serving
Calories 439
Calories from Fat 333
% Daily Value*
Fat 37g57%
Cholesterol 98mg33%
Sodium 7mg0%
Potassium 23mg1%
Carbohydrates 26g9%
Protein 2g4%
Vitamin A 1135IU23%
Calcium 13mg1%
Iron 1mg6%
* Percent Daily Values are based on a 2000 calorie diet.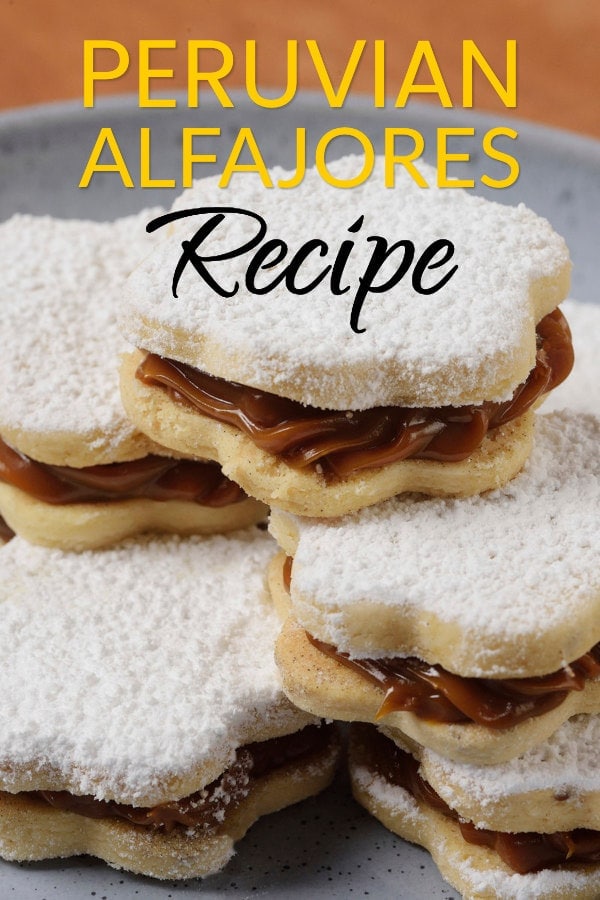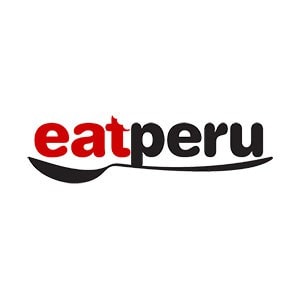 Peruvian foodie. I've been writing about the food of Peru for over 10 years. Read more about the Eat Peru team here