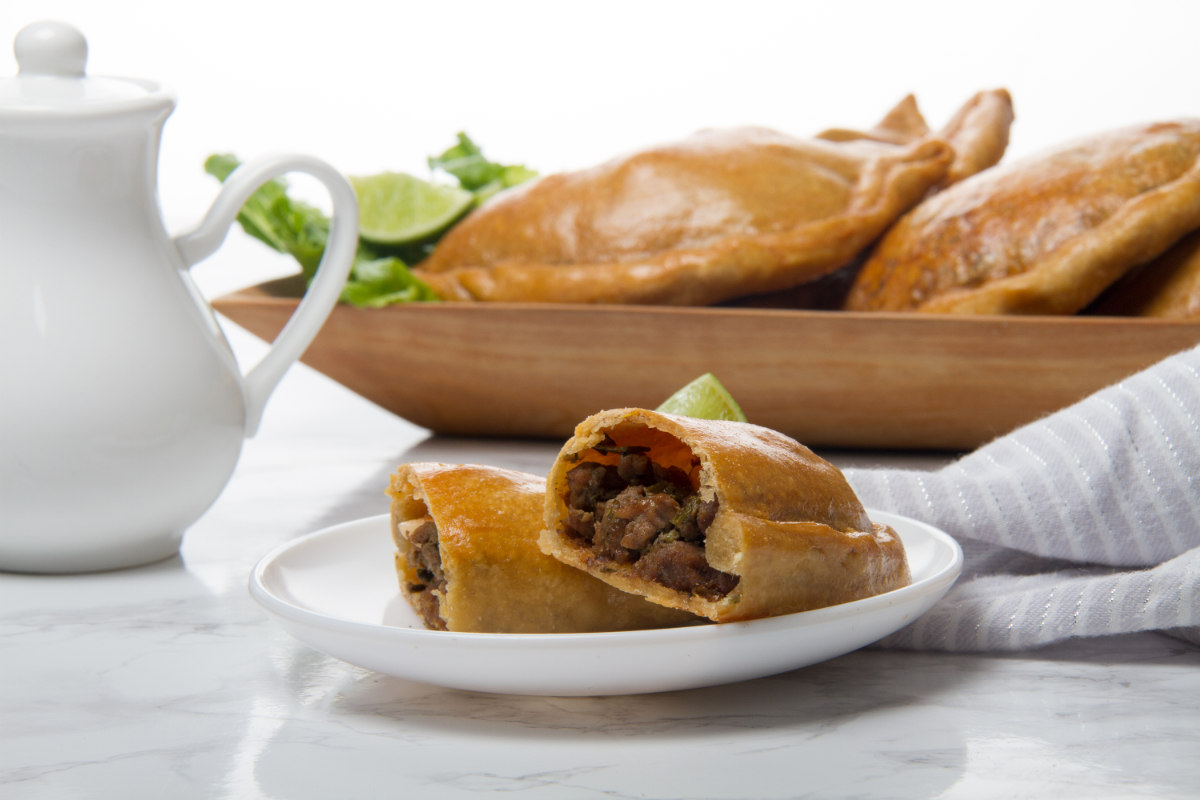 I know few people that do not begin to salivate at the sight of these golden brown, dough pastries with minced beef. Or as I like to call them: Parcels of Deliciousness from Peru. A dozen empanadas are easy to share among friends but what's not easy is refusing another one. Dieters, you might want to look away or start planning your workouts for the next week. Peruvian empanadas are detrimental to the waistline. Not because they are packed with calories. But because they are so good, you will finish the lot. Yum!
The olives in these savoury pastries add a flavor that really helps lift them from just dough pastries to delicious flavorful snacks to be enjoyed and not just used as filler.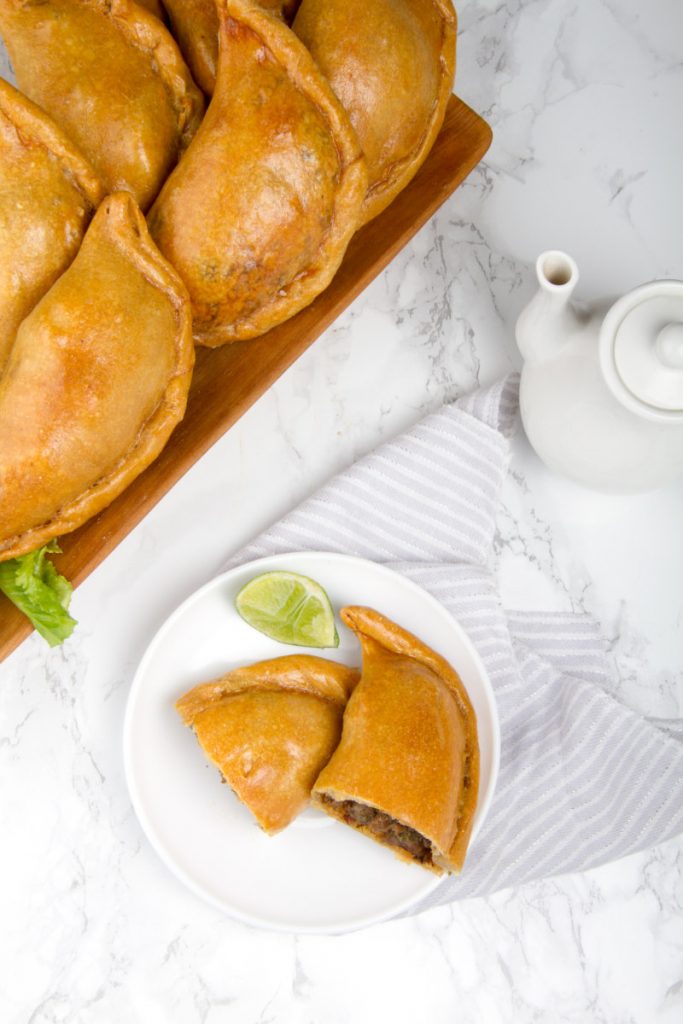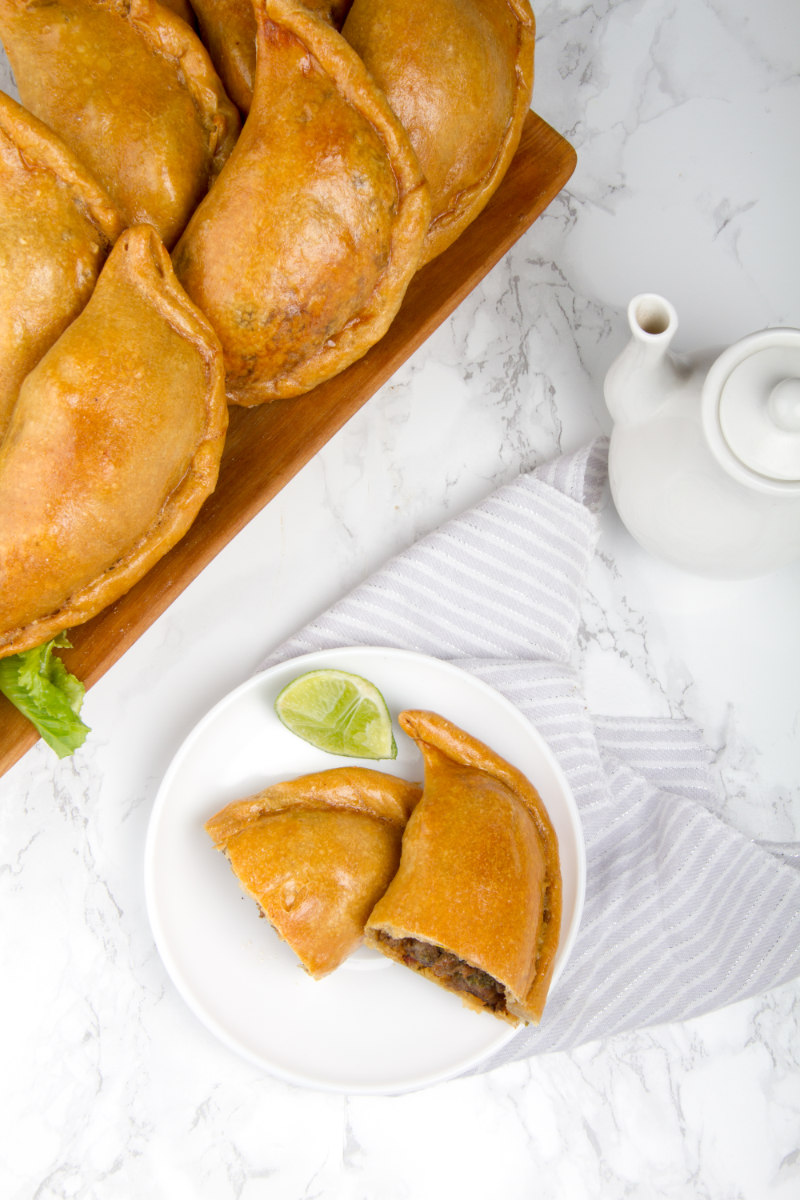 The meat in this dish isn't the run of the mill ground beef you get in supermarket processed empanadas. This is the real deal. Take some minced beef (keep some of the fat) and add onion, cumin, coriander, and chives. Add to this garlic and sweet peppers. Encase these ingredients in baked golden dough with olive and egg filling and you've got a snack, party food, lunch meal or even a dinner side-dish. Empanadas are typical street food in Peru. We've been known to eat 12 of these on a plate as a main course. But who's counting?
Empanadas can be fried but we've opted for the baked versions in this empanada recipe as most people seem to prefer them prepared this way.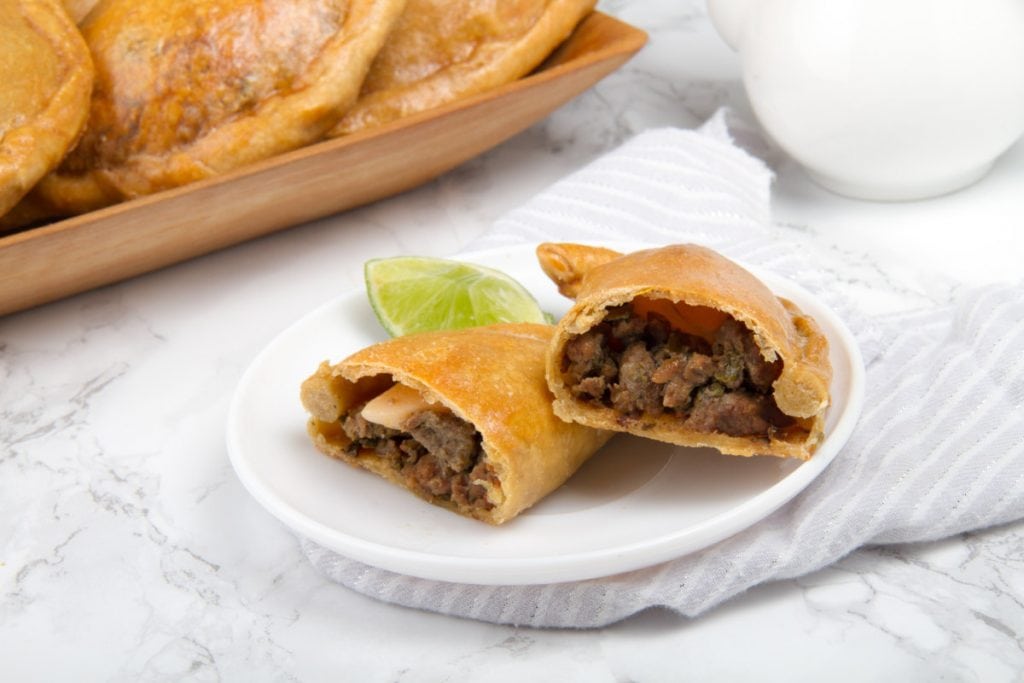 We often get asked questions about empanadas, particularly because other countries, like Chile and Argentina, also love them and have their own versions.
What is the origin of the word empanada?
The word empanar in Spanish means to "roll in pastry dough". So you can see that it wasn't much of a stretch to make empanada from this word.
Where can I buy Peruvian empanadas?
What? Make your own. Here's a recipe!
What is your favourite filling for empanadas?
Beef with olives and egg. The same as this recipe. It's unbeatable.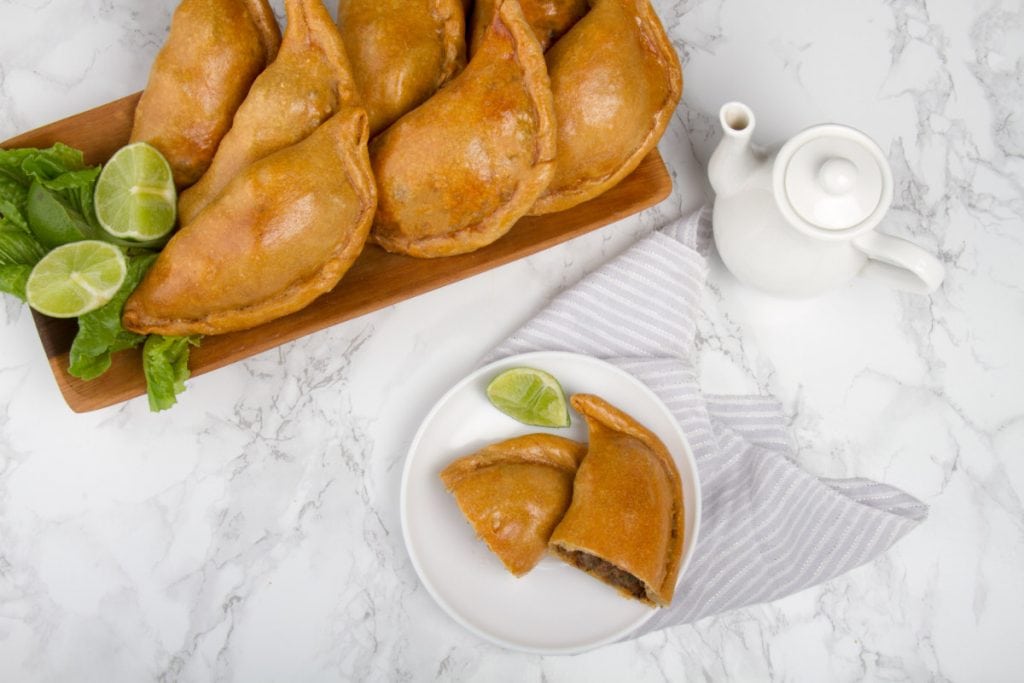 Peruvian Empanadas
Golden Brown Juicy Beef Parcels – Learn How to Make This Classic Snack
Ingredients
For the empanada dough
500

g

wheat flour

all-purpose flour, without yeast.

200

g

butter

½

cup

water

1

tsp

baking powder

1

egg

to varnish

pinch

salt

pinch

sugar
For the meat
600

g

beef

finely chopped

3

tbsp

oil

1

large

white onion

100 g approx.

½

cup

chives

½

cup

coriander

3

yellow peppers or "panca"

not spicy

4

cloves

garlic

1

tsp

cumin

Salt and pepper to taste
For the filling
2

large

eggs

8

green olives

1

lemon
Instructions
Gather the empanada ingredients

The first step in cooking beef empanadas is preparing the filling. In this case, we will use minced beef. Ideally a piece of lean meat (but if you like the juicy fat, as we do, leave it in. Fat adds flavor. Chop it as finely as you can. Some people prefer to use ground beef directly but the traditional recipe is made with minced meat.

After cutting the meat, wash all the vegetables, peel them and cut them finely. First the onion, then the chives (you must use both the white and the green part), then the peppers, remove the seeds and veins, finally the finely chopped coriander. Some people prefer to add a little more coriander, but with half a cup, the recipe works well so don't go overboard. Finally, crush the garlic in a mortar.

In a thick pot, over medium-high heat, add the oil. When it is very hot, fry the garlic without letting it burn. Add the chopped onion and stir from time to time until it becomes transparent. Then add the chives, together with the chopped peppers. Stir very well and cook for 3 to 5 minutes.

Finally, add the meat and seasonings: cumin, pepper, and salt. Stir until the vegetables are fully integrated with the meat, cook covered over low heat for about 20 minutes. Then turn off and let stand.

Fill a small pot halfway with water, add a teaspoon of salt and when it boils, cook the eggs for about 12 minutes. Then remove pot from the heat and drain the excess water. When the eggs are cold, remove the shell and cut them into quarters.

To prepare the dough, place all the flour (reserve a little for kneading), on a flat and clean surface. Sprinkle baking powder, salt, and sugar on top. With the bottom of a glass or with your hand, make a hole in the center of the flour to form what looks like a volcano shape. In the center of the volcano, add the water and gradually integrate with the flour, from the center.

You will get a consistent crumbly dough texture. It's time to add the butter and continue kneading vigorously until the dough is homogeneous and elastic. When you knead try not to use your fingertips, you must knead with the palms of your hand. If necessary, add a little more water, but avoid overdoing it. It's best to moisten the dough little by little, about one or two tablespoons at a time.

Make a ball with the dough and let it rest for about 20 minutes in a covered container.

Preheat the oven to 150°C / 300°F. Prepare a baking tray, cover it with a thin layer of butter and sprinkle flour all over the surface.

Meanwhile, clean a table surface, dry it very well and sprinkle some wheat flour. Remove the empanada dough from the container and spread it with a rolling pin, sprinkle a little flour on top, then with a cup of approximately 15 cm in diameter, shape a circle the empanada dough and cut them.

Pick up the remaining empanada dough, make a ball with it, stretch it, cut circles and repeat this procedure until the empanada dough is finished.

To assemble the empanadas, take a circle of empanada dough, and on one of its sides place two other tablespoons of meat stew, a piece of egg and an olive. Fold the empty part of the dough over the filling, with the fingertips, crush it on the edge of the dough to join it and, finally, twist slightly on itself as if trying to close a bag.

Beat the last egg, and with a brush completely glaze the empanadas. Place the empanadas on the baking tray and cook for about 20 minutes or until golden brown and puffed up.

Serve the empanadas with lemon slices.
Notes
Tip: If you want your empanadas to have a perfect golden-brown color, add a teaspoon of sugar to the beaten egg you use for glazing. You can glaze or varnish once more before the empanadas are completely golden to make sure they look perfect.
Nutrition
Calories:
745
kcal
|
Carbohydrates:
62
g
|
Protein:
26
g
|
Fat:
45
g
|
Saturated Fat:
20
g
|
Cholesterol:
180
mg
|
Sodium:
355
mg
|
Potassium:
1165
mg
|
Fiber:
4
g
|
Sugar:
2
g
|
Vitamin A:
1810
IU
|
Vitamin C:
176
mg
|
Calcium:
267
mg
|
Iron:
12
mg
Nutrition Facts
Peruvian Empanadas
Amount Per Serving
Calories 745
Calories from Fat 405
% Daily Value*
Fat 45g69%
Cholesterol 180mg60%
Sodium 355mg15%
Potassium 1165mg33%
Carbohydrates 62g21%
Protein 26g52%
Vitamin A 1810IU36%
Vitamin C 176mg213%
Calcium 267mg27%
Iron 12mg67%
* Percent Daily Values are based on a 2000 calorie diet.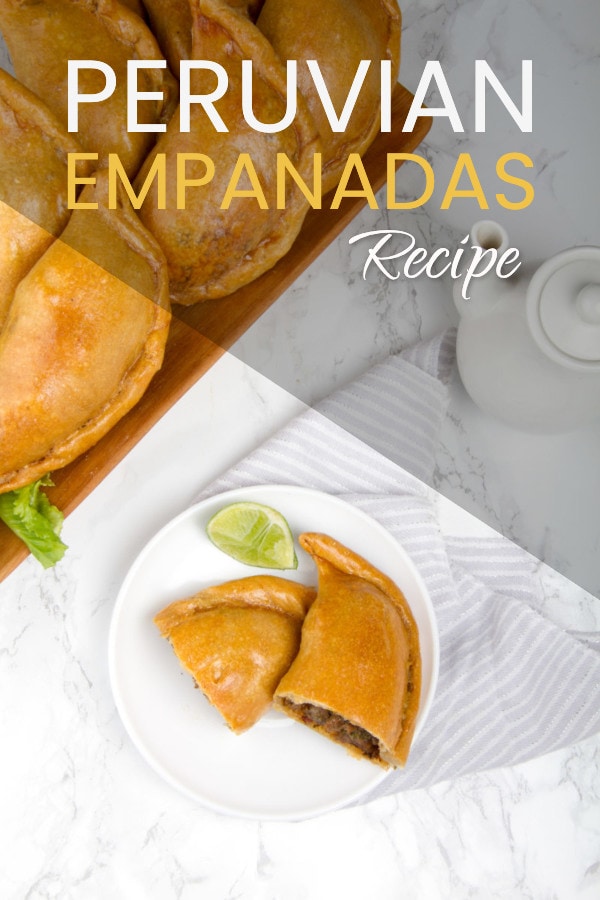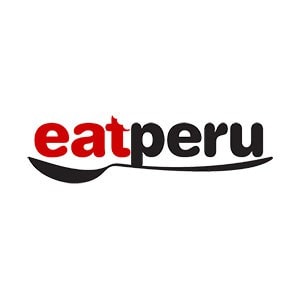 Peruvian foodie. I've been writing about the food of Peru for over 10 years. Read more about the Eat Peru team here