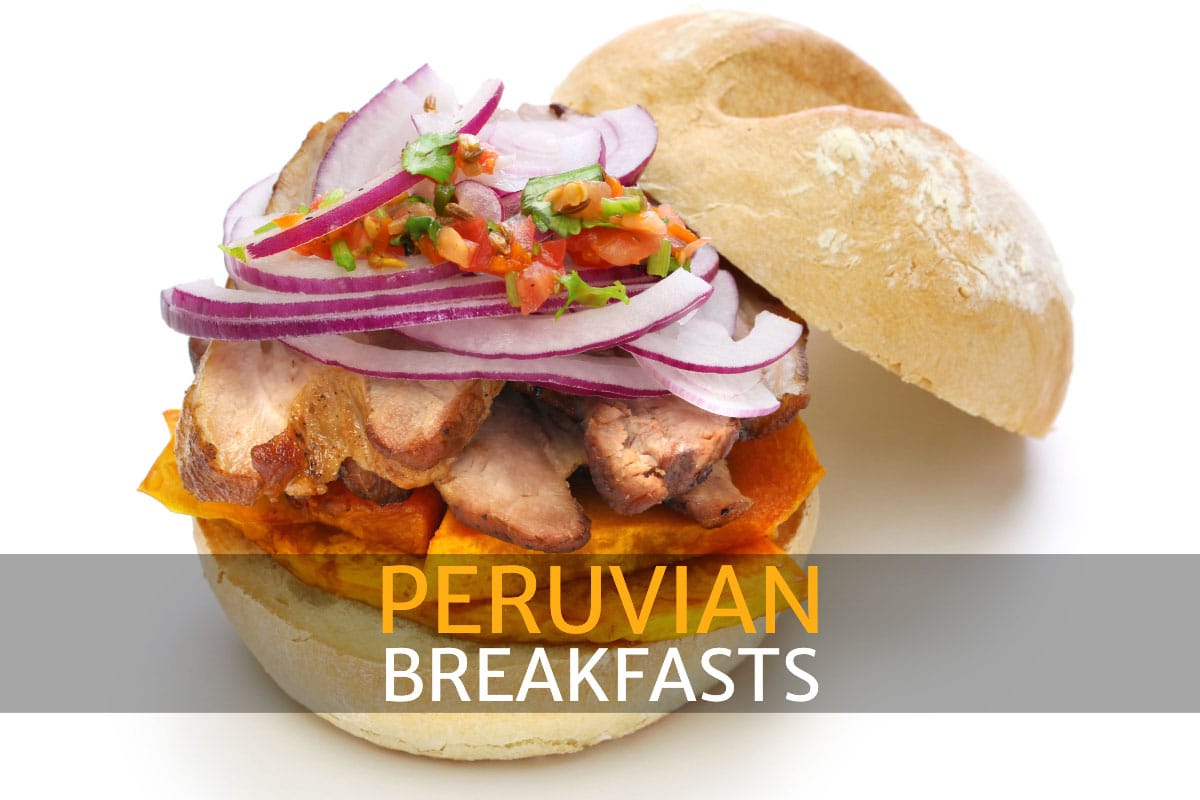 Breakfast dishes, the first meals of the day, get the least amount of thought in most countries. No country chooses breakfast food to represent its culinary delights. The early morning meal is often hurriedly prepared and wolfed down before heading off to work. Dinner is where the culinary skills come into play. But there is a rare breed of foodie that loves breakfast more than anything.
Breakfast: skipped by many, worshipped by others, forgotten by food writers and chefs. That's a shame. Although I'm not a fan of breakfast myself (Apparently a result of getting older), the "Meal of champions" or "meal of kings", or whatever you call it, can be not only delicious but exciting and nutritious too.
To skip breakfast is to set ourselves up for failure, they tell us. So let's see if Peruvian breakfast dishes can hold their own against the influence of the bagel, cold cereal, pastry, or bacon and eggs.
Typical Peruvian Breakfasts
What's your favourite morning meal in the world's best food destination?
Sangrecita
If you're unfamiliar with the cuisine of Peru and the Spanish language, Sangrecita might sound intriguing. If you're still intrigued after I tell you that this food consists of garlic and chilli-spiced chicken blood, then you've joined the weird and wonderful breakfast club of Peru.
Like black pudding in many English-speaking countries, beef blood can also be used for Sangrecita. It's high in iron, with almost 30g of iron per 100g of product, and can help combat anaemia. There's one reason to eat it. The other is that it's seriously tasty.
I love this stuff and I encourage you to try it. Here's how to make it.
Ingredients
500 grams of chicken blood
40 ml of full-fat heavy cream
3 tablespoons of olive oil or beef dripping.
2 medium chopped onion
1 head of chopped garlic
1 small hot pepper
Oregano
Chopped Peppermint and coriander
Salt
Method
Put the chicken blood in the fridge to cool it down.
Fry the garlic, onion, and pepper in the olive oil for up to 10 minutes.
Add the chopped herbs, salt.
Remove the blood, chop into small cubes, and add to the mix.
Stir well.
Add a little more oil and salt to taste.
This dish is traditionally eaten with yuca. It's also delicious stuffed into a sandwich. Yum!
Check out Martin Morales' delicious Marinated Black Pudding & Vegetables (Escabeche de Sangrecita) from his Ceviche Cookbook.
Pan con chicharron (Pork sandwich)
This gets my vote for the most delicious breakfast snack in South America. It's what Peruvians eat for breakfast when they're running for work, but still have a bit of time to savour the taste. And it's worth pausing for. Who wouldn't like a sandwich of slow-cooked pork meat wedged into that lovely crusty flour-dusted Peruvian bread?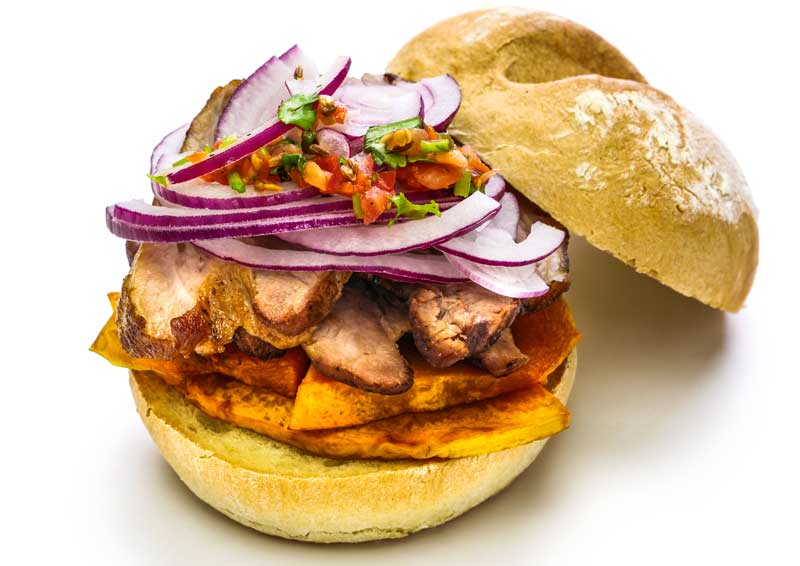 Peruvians, like citizens of the rest of the modern world, often grab a sandwich or quick snack on the way to work. Peruvian street food is some of the best in the world.

Pan con chicharron is served with finely chopped sweet red onion and sweet potato. It's a flavour combination that will leave you wanting more. Sweet, salty, fatty, and everything else in between.
Picarones
For a super-sweet, and rapid morning meal, the dish called picarones is a solid choice. Although we don't recommend you eat them every day, especially if you care about your waistline. Delicious skinny, donut-shaped, deep-fried sweet potato pieces of heaven.
One picaron is never enough, and you might find yourself in a sugar-induced coma before 10 am.
Read the Full Picarones Recipe
Humitas
One of the simplest breakfasts of all, Peruvian humitas are a traditional Peruvian dish made from corn. Well, corn and lard. But it's all about the flavour, right?
Humitas might appear to be the same as Tamales, but there are differences. Peruvians don't fill the corn with meat. Humitas use fresh ground corn and skip the filling while tamales use corn masa.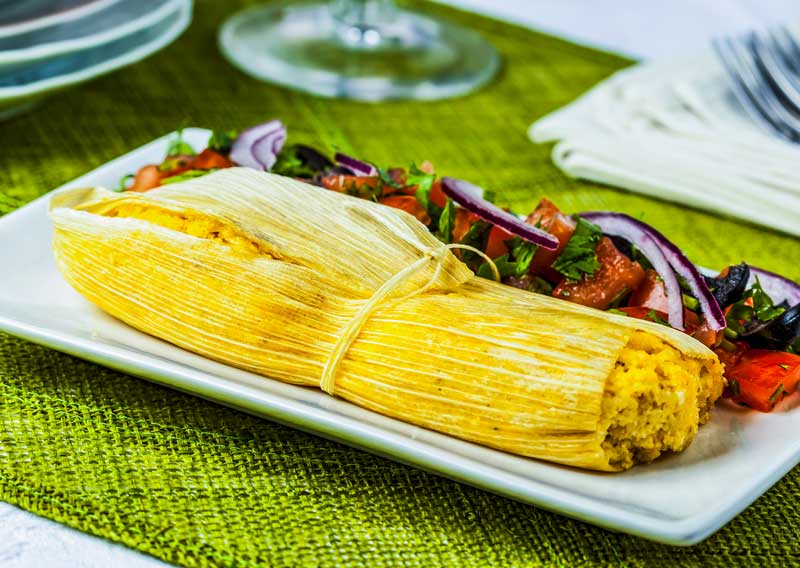 To serve humita, stuff the corn into a husk and cook over steam.
Humitas might be simple in ingredients, but the preparation can take some time. If you're in Peru, it's best to buy them from street vendors.
Jugo de Papaya (Papaya Juice)
Not the most complete breakfast, but a quick and satisfying one. Regardless of whether you consider sweet fruit first thing in the morning to be healthy, there's no denying that papaya juice is tasty. It's also rich in vitamin C and fibre.
The recipe is simple
Peel papaya
Discard seeds
Dice and blend
If you can't make this, I'm sorry, there's no hope for you as a chef 😉
If you want to add a bit of variety, try including lime juice (delicious in Peru) or pineapple juice. Throw in a dash of pepper and salt to take the sweetness out of it and add a little "something" to the mix.
Yes, it's fine to eat iced, marinated fish with slices of onion first thing in the morning. Try it. It's a refreshing way to start the day.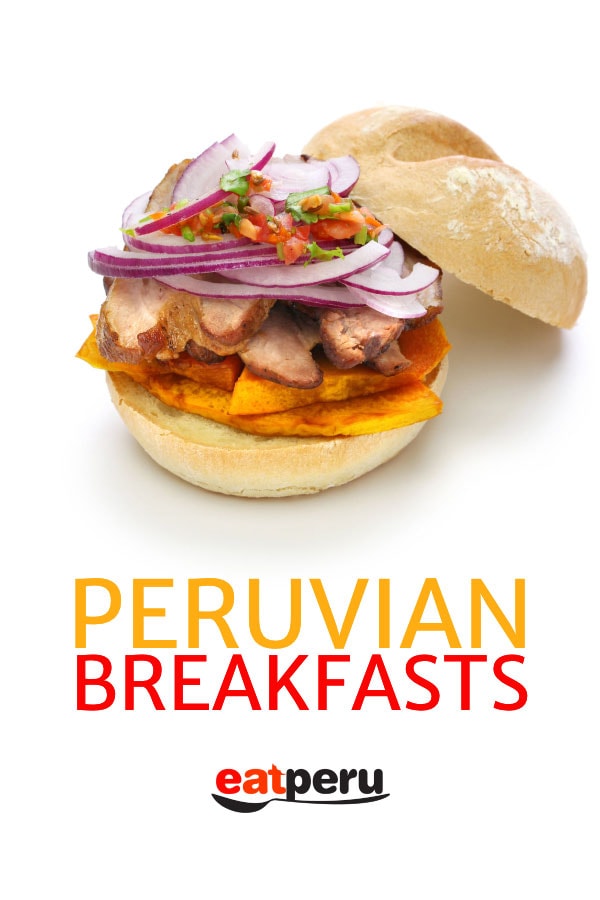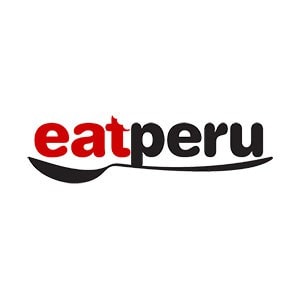 Peruvian foodie. I've been writing about the food of Peru for over 10 years. Read more about the Eat Peru team here