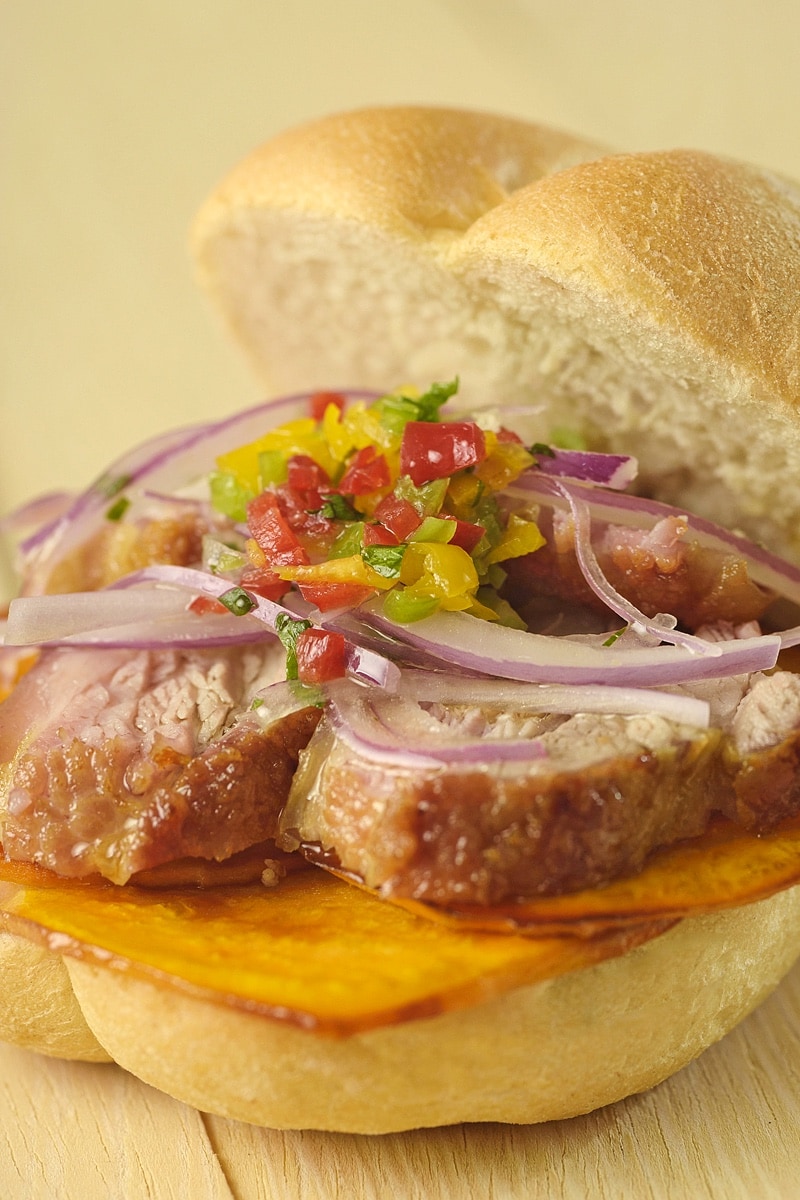 A firm favorite of Peruvian cuisine that entices with its timeless simplicity: lightly seasoned crunchy pieces of fried pork accompanied by crispy sweet potato and a zesty red onion relish in a freshly baked bread roll. It's no surprise that this sandwich is popular throughout the country, especially for breakfast, often served with a steaming cup of Peruvian coffee.
From taxi drivers to teachers and politicians, no Peruvian will refuse if you offer them a freshly prepared pan con chicharrón. Let's find out more about this Peruvian food favourite and then roll up our sleeves for the recipe!
Lightly seasoned crunchy pieces of fried pork accompanied by crispy sweet potato and a zesty red onion relish in a freshly baked bread roll 🇵🇪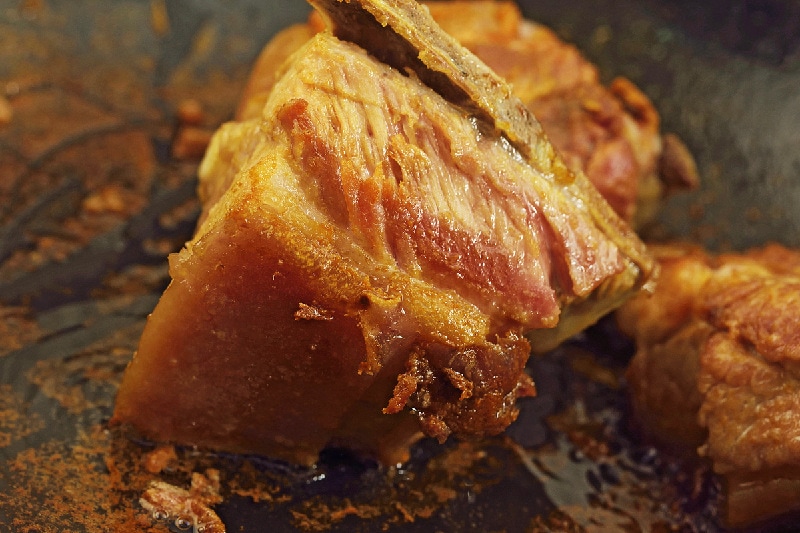 The Origins of this Peruvian Pork sandwich
Chicharrón is also prepared with chicken, seafood and meat in Peru, but here we're focusing on the original recipe made with pork. Pigs were introduced to Peru by the Spanish, and the dish itself also hails from Spain, more specifically from the region of Andalusia.
As with so many dishes that go far back in the past, chicharrón actually arose from a very practical process.
Before the mass commercialization of vegetable oils, cooks used to use animal fat to fry with, and frying some pieces of pork in its own fat was a perfect way to separate the lard and save it for future. Initially, little attention was paid to these fried pork pieces until people realized they were absolutely delicious.
And so chicharrón was born. Our chef tells us that to ensure your chicharrón comes out perfect, get the freshest and highest quality pork possible.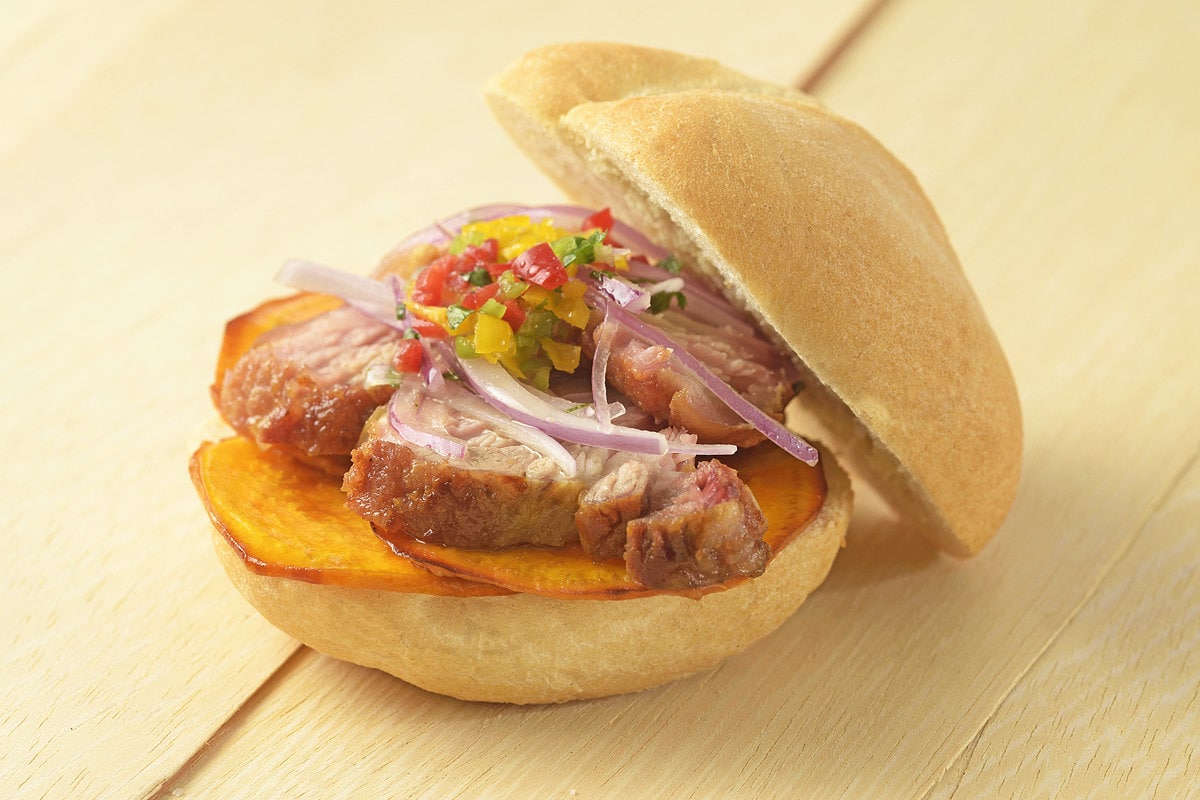 Crazy for chicharrón
Pan con chicharrón is a cheap and simple dish to prepare, even if the frying part can be a little time-consuming. In Peru, pork and the other ingredients are popular everywhere. Of course, each region has its own version of the dish, often served with a slightly different side dish. For example, in the mountain city of Huaraz, it's served with giant corn kernels, potatoes and sweet potatoes and a relish made with red onion and the aromatic local herb muña. In another city in the highlands, Huancayo, it's prepared with a spicy dressing and is known as chicharrón colorado.
In fact, chicharrón is such an institution in Peru that most cities have several restaurants or even long stretches of restaurants known as chicharronerías that specialize in preparing this pork delicacy.
In Lima, for example, there's a concentrated stretch of chicharronerías in the neighborhood of Lurín that is conveniently (and perhaps unsurprisingly) located on the way to the popular beaches south of the capital.
In Cusco, the chicharronerías are found in and around the village of Poroy, just outside of the city of Cusco, en-route to the Sacred Valley and Machu Picchu. What's interesting about the Cusco version of chicharrón is that you'll see accompanied by generous portions of crunchy pork rinds, referred to with the Quechua word t'oqto.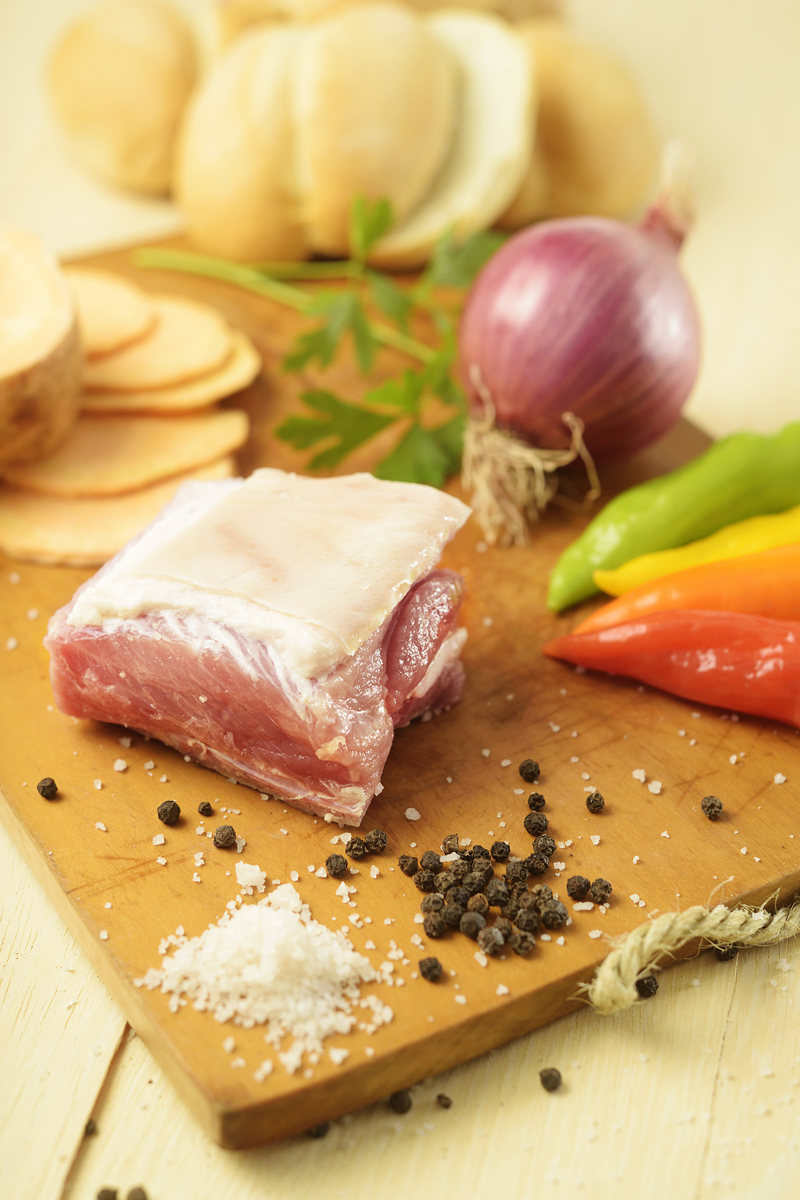 Regional variations
The recipe we're sharing here is the most traditional Lima version of the chicharrón sandwich, where the crunchy pork pieces are accompanied by fried sweet potato slices and a spicy onion and chili relish known as sarsa criolla (which goes well with lots of other dishes too!), all served in a fresh, crunchy bread roll.
The bread traditionally used for this recipe is a light bread roll known as pan francés, which means French bread, but is nothing like a baguette. Of course, you could use any type of bread roll, including even gluten-free if that works for your dietary requirements.
Also, if you're not into spicy foods, you could just omit the spicy relish. Lastly, it's worth noting that, even though this dish is supposed to be eaten hot, a chicharrón sandwich is also quite tasty when cold. Good to know if you're planning a Peruvian-themed picnic!
And if you like this recipe, but would like to try some other kinds of fried meat chicharrones, check out chicharrón de pescado and chicharrón de pollo.
Pan Con Chicharrón: Pork & Potato Sandwich – Peruvian Style
Ingredients
28

ounces

pork belly

1

bay leaf

½

cup

mint leaves

fresh

3

sweet potatoes

1

red onion

1

teaspoon

limo chili pepper

4

cups

vegetable oil

Black pepper

to taste

Salt

to taste

3

sprigs

parsley

1

tablespoon

Lime juice

to taste

240

g

bread rolls

(4 bread rolls)
Instructions
Prepare the brine in a recipient, by placing 2 liters of water and 2 heaped tablespoons of salt, stir until completely dissolved. Then place the pork belly in the brine, and leave to marinade in the fridge for a minimum of 4 hours in order for the salt to penetrate the center of the meat. The brine will also help remove the excess of any potential impurities from the meat.

Remove the pork from the brine.

Fill a pot with 2 liters of water and 2 tablespoons of salt and bring to a boil.

Cut the meat into two and place it in the pot of boiling water, adding the mint and the bay leaf. Boil on medium heat for 1 hour of until the water has evaporated.

Peel, slice and wash the sweet potatoes in order to remove excess starch.

Heat up half a cup of vegetable oil in a frying pan over a medium heat and fry the sweet potato slices until they're irresistibly crispy.

Prepare the salsa criolla relish with one julienned red onion, finely chopped limo chili pepper, finely chopped parsley, and lime juice and salt to taste.

Cut open the bread rolls. First, place a few of the fried sweet potato slices in the bread, and then follow with a generous serving of the chicharrón and finally top it off with the salsa criolla relish.

Enjoy with a hot cup of coffee or tea, and if you want to really feel like you're in Peru, put on some traditional música criolla on in the background to complete the scene.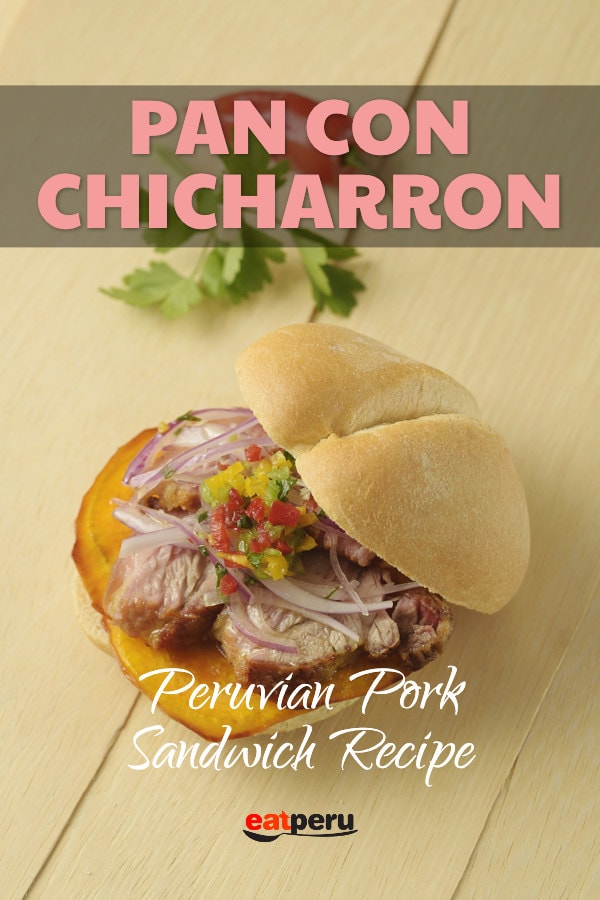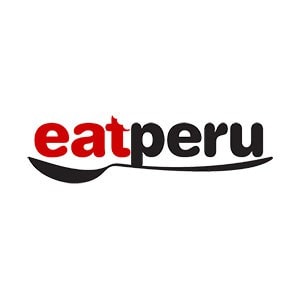 Peruvian foodie. I've been writing about the food of Peru for over 10 years. Read more about the Eat Peru team here