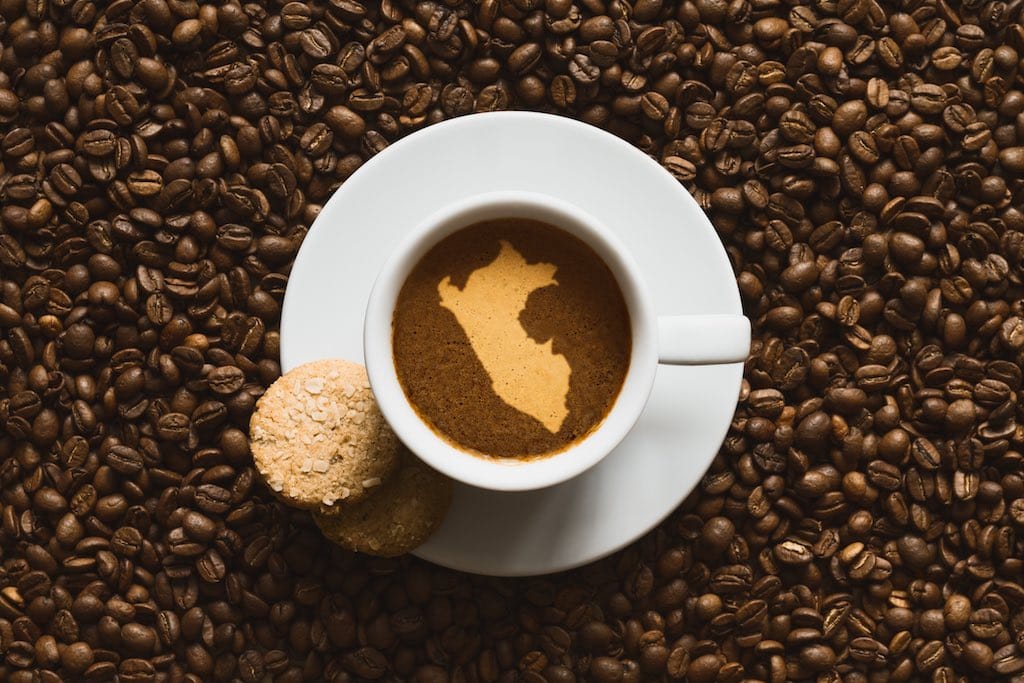 Hey coffee lover, when you think of your morning cup of coffee, which country comes to mind? Are the bags of coffee in your cupboard emblazoned with flags and symbols of countries like Brazil or Colombia?You may be surprised to know that Peru produces millions of bags of the delicious brew each year, and is the world's biggest exporter of fair trade coffees.
With excellent altitude to grow, successful co-ops, and precious coffee arabica genetics running in those plants' veins, Peruvian coffee has peak levels of desirable written all over it.
Props to Starbucks for offering a seasonal Peruvian coffee in 2015 to get the word out and rolling with it from there. We appreciate you. (note: I'm not a fan of the Seattle coffee chain by any means, but we'll let that one go)
The History of Peruvian Coffee
Peruvian coffee has been pretty off the radar by way of consumption. And magic bean's history in this Latin American country is not well known either. The earliest known reference is really one made just before the turn of the 20th century saying, "we've been harvesting coffee for aeons. Where have you been?"
Okay, not quite a direct quote, obviously, but that's the gist of the earliest history. They've spent the time since organizing, forming farm cooperatives, and shooting up the charts to become one of the highest fair-trade coffee distributors in the world.
Coffee is originally from Ethiopia so the bean would have arrived in the new world with the Spanish after the 16th century.
Coffee: A Labor of Love
The Fair Trade movement in Peru began a little before 2003. "Fair trade" is always a good term to look for on a bag of the good stuff— it means that the people picking the cherries, the ones who own the farms, get paid fairly, aka fair trade coffee.
It's a particularly positive thing for Peru considering that most of their coffee is produced on small farms of no more than 3 hectares, which is about 7 and a half acres. These small farms band together in cooperatives to have joint drying mills and take advantage of mass international export. There's also a movement to actively provide fair pay to women's cooperatives, which I think we can all agree is the bee's knees.
Not long after the fair-trade movement, many of these family farms strove to become organic, as well. This proved to be just as, if not more, difficult. Organic certifications can take as long three years to earn, and the yield on organic farms in notably less than non-organic ones.
The coffee is picked by hand, which can come with a significant amount of danger the higher the elevation. The cherries are processed to remove the pulp from the beans and then dried out in the sun. Peruvian coffees are typically dry processed, but there is a small market for wet processing, as well.
More recently, what's colloquially known as "poop coffee" has grown popular in Peru. What started in Indonesia using Asian palm civets, moved through Vietnam, Thailand, the Philippines and, now, Peru. Dung coffee is made by having an animal (usually a civet) eat coffee cherries. The natural digestion process reduces bitterness. When they poop out the beans, they're gathered, thoroughly washed, and typically take on flavors of the animal's diet.
Peruvians use the uber-adorable coatis, which are like tiny racoons. They're fed the best-of-the-best arabica beans and nature takes over from there!
Why Coffee From Peru?
It's always about the profile, and coffee is spoken about the same way that connoisseurs talk about wine.
Coffee from Peru often has a medium body. If you're unfamiliar with describing coffee by its scrumptious "body," a medium one lands between watery and syrupy. For examples in either direction, Mexican coffee often has a light body, aka is more watery due to the low altitude it's grown at, while Sumatra coffee is considered to have a heavy body, more syrupy mouthfeel, due to the nutrients in the soil where it flourishes.
Cuppers (professional coffee tasters) refer to the Peruvian coffee bean profile as aromatic and flavorful, with mild acidity.
When a coffee is considered "flavorful," it doesn't refer to any sort of artificial additives or maybe even having a "burnt" or "not-burnt" taste. Depending on where coffee is grown, it absorbs nutrients and minerals from the soil, and those provide a natural flavoring to the brew. In the case of Peru's soil, your buds will pick up on some nutty and chocolatey notes, and even a few citrus ones, not only during a hearty sip, but in the smell and aftertaste, as well.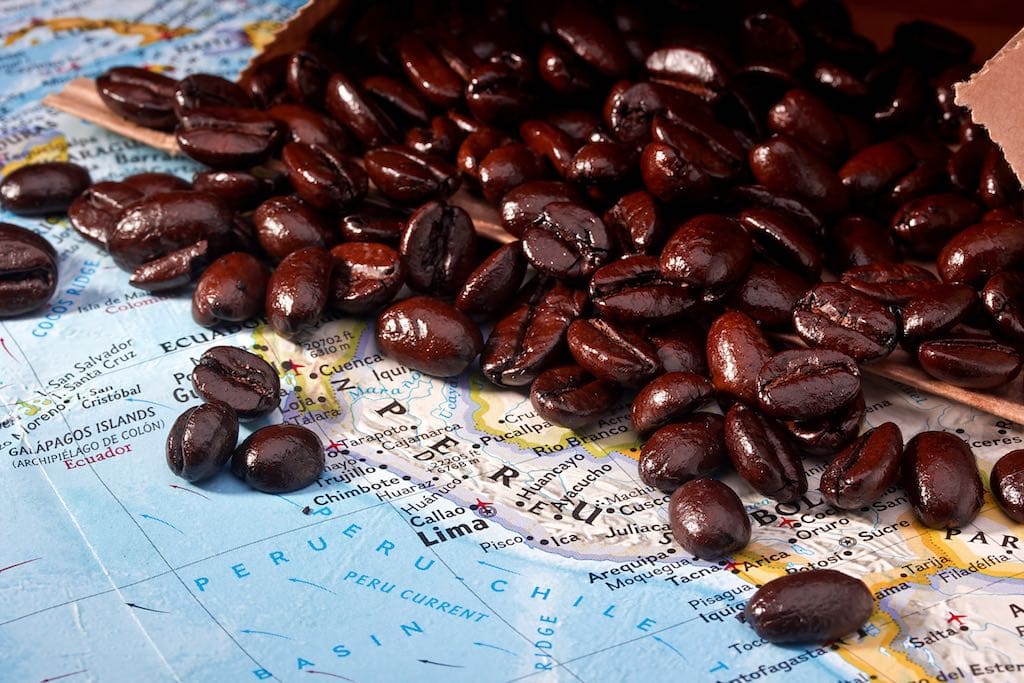 How to Buy Peruvian Coffee beans
First and foremost, make sure that you're buying 100% Arabica. Almost all of the beans grown in Peru are of the higher-quality Arabica bean (Bourbon, Typica, Catuai, Caturra).
Certified organic coffee is also a good choice when selecting beans (you're getting the cleanest taste from environmentally-friendly beans). Make sure to buy from a distributor that sources from reputable coffee farmers. That might sound like a bit of work but if you enjoy your coffee, and you want the best, a little bit of homework goes a long way. Peru is the top country in the world in terms of volume of Fair Trade coffee beans, with many of the coffee farmers joining cooperatives.
Next, elevation is key. Most coffee made in Peru is grown at least 1,200 meters above sea level. Higher altitudes are generally better for coffee growing. Most coffee is grown on the eastern slopes of the Andes Mountains, Chanchamayo, and the highlands of the Amazonas region, perfect coffee-growing regions thanks to the elevation and production quality.
Peruvian Brands to Try
Don't let the pervasiveness of Brazilian coffee overshadow the unique and lively taste of Peru's coffee. Whether you want to pay the $40 to $1,400 dollars for dung coffee or are quite happy sipping on some organic, fair-trade arabica, Peruvian joe is definitely worth adding to your morning routine. Enjoy with a nice square of dark Peruvian chocolate.
FAQs
How much coffee does Peru produce?
Peru is the world's 8th leading coffee producer in terms of coffee area harvested and the 11th in terms of coffee exports. The majority of Peru's coffee is exported. It's the biggest crop in the country with 4.3 million bags produced per year. High-quality specialty coffee and organic coffee is generally exported (the United States is the biggest market) but Peruvians consume less than 1 kilo of coffee from regular beans per capita per year.
Is Peruvian coffee low acid?
Pro coffee tasters give Peruvian beans a mild acidity level. Different words describe acidity but Coffee Lab defines it as the sharpness of the drink in your mouth.
How do Peruvians drink coffee?
An EatPeru.com survey of Peruvian friends found that the most common way to drink coffee (at home) is black, with most people adding a little sugar. The most common way to prepare coffee is by using a simple metal filter. Some people also use a percolator or French press.
Rachel Bean is a writer for CoffeeorBust.com. Despite what it may seem like, her last name and deep over for a cup of black brew is a total coincidence.