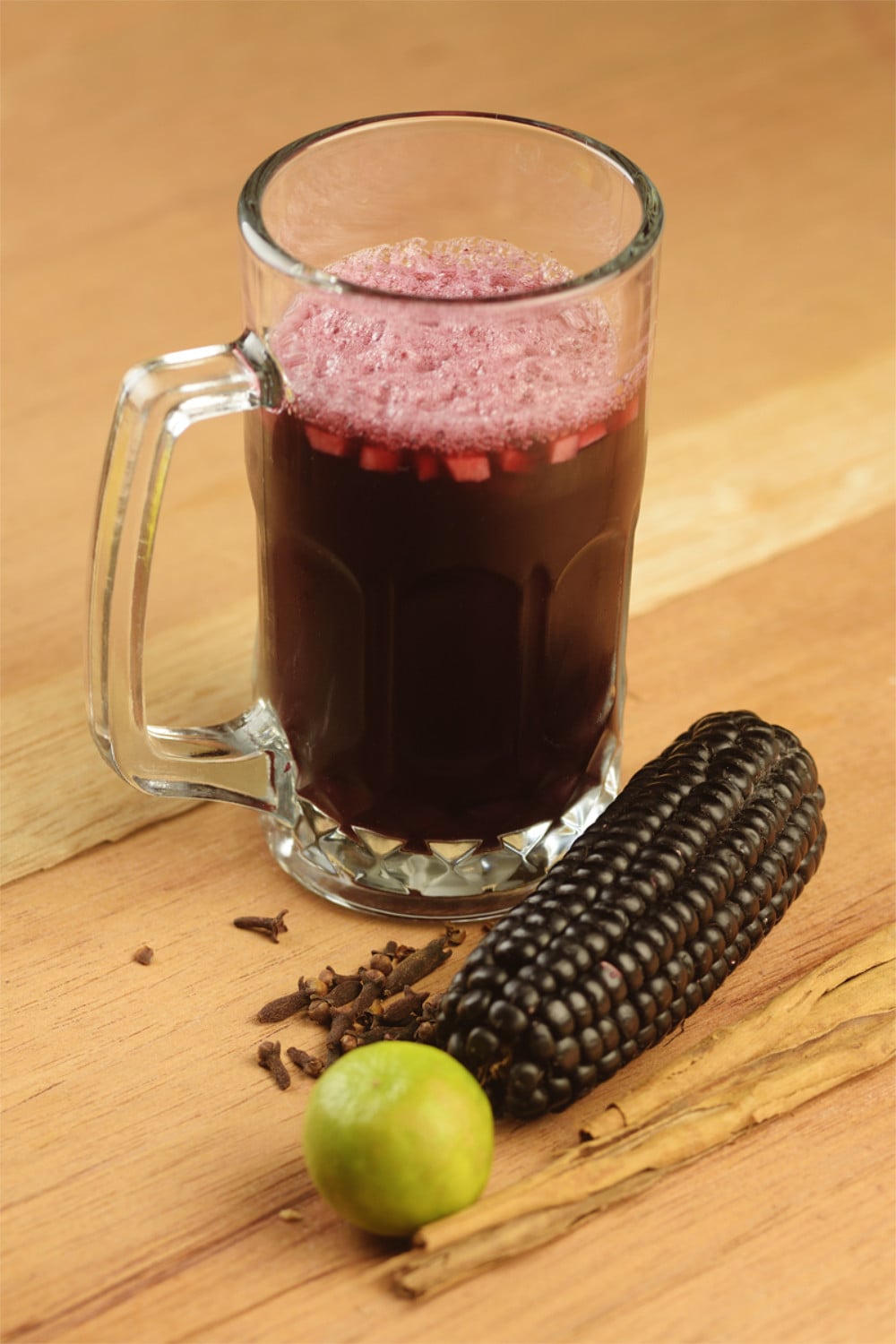 Today we'll be preparing the most iconic beverage in Peruvian cuisine: chicha morada, a refreshing and beautifully-tasting drink. Made from dried purple corn boiled together with pineapple, pieces of apple and quince, cloves and cinnamon sticks. Finally, the mix is made perfect by adding just the right amount of sugar and lime juice. There's not a single restaurant in Peru that doesn't offer chicha morada to accompany local dishes. And it's no surprise because it combines well with pretty much all of them.
A Purple Power Food
Corn or maize is very important in Peruvian cooking and culture. The Andean grain is a staple across all the geographical regions of the country. Corn is consumed on the cob with cheese and it's also ground and cooked to make tamales, soups and stews. Corn kernels are even served with ceviche, the classic Peruvian seafood dish. Unlike regular corn, the deep purple variety is only used to make the drink chicha and the pudding mazamorra morada (purple ceviche isn't a thing). The slightly tart flavor is perfect for beverages and desserts, but doesn't work that well with savory foods. 
The purple pigment found in this strain of corn is known as an anthocyanin, which just so happens to also be a super powerful antioxidant, a property that gives it superfood status. Studies have shown that this antioxidant has strong anti-inflammatory capabilities and could also play a role in the prevention of obesity. It has also been found to lower blood pressure and cholesterol. One more reason to add this drink to your diet! (Though you should go easy on the amount of sugar you add when preparing your chicha so as not to undo these health properties)
Chicha de jora: Chicha morada's feisty fermented sister
We must mention "the other chicha" here: chicha de jora is the fermented corn beverage loved by Andean and coastal inhabitants and feared by many tourists' tummies (let's just say it's not easy to digest if your gut isn't used to it). This beverage, which usually has about 3% alcohol (it's not quite non-alcoholic), has immense cultural significance in Peru, especially in the mountain regions.
During the time of the Incas and other ancient Peruvian civilizations, chicha de jora was not only used as a drink, but also as an important element in ceremonies and rituals. To this day, it's produced by small artisanal breweries known as chicherías, and very widely consumed, especially by farmers after a hard day's work out in the fields in the Andean highlands.
Ways to prepare chicha morada
The recipe below is for making chicha morada from scratch and calls for all fresh ingredients, though the purple corn is always used dried. This is how you can get maximum flavor and it's also the healthiest way of consuming chicha morada. However, there are some shortcuts in case you don't have access to the necessary ingredients or you just don't have the time.
Several Peruvian companies sell pre-prepared concentrated chicha morada which you just add water to and serve. The taste is similar to the freshly prepared version. There are also sachets of powdered chicha morada that are dissolved in water. This version still tastes surprisingly good, but any Peruvian would be able to tell that it's not "real" chicha. Then there are also some beverage brands that sell bottled chicha morada at gas stations, bodegas, etc. Depending on the brand and recipe, these can be quite tasty, but definitely don't measure up to a freshly made chichita.
It's interesting to note too, that chicha morada brings health and refreshment to millions of Peruvians, but also brings home the bacon for a considerable group of people; thousands of men and women who derive an income from selling chicha morada on the streets. And you'll find it in most Peruvian restaurants.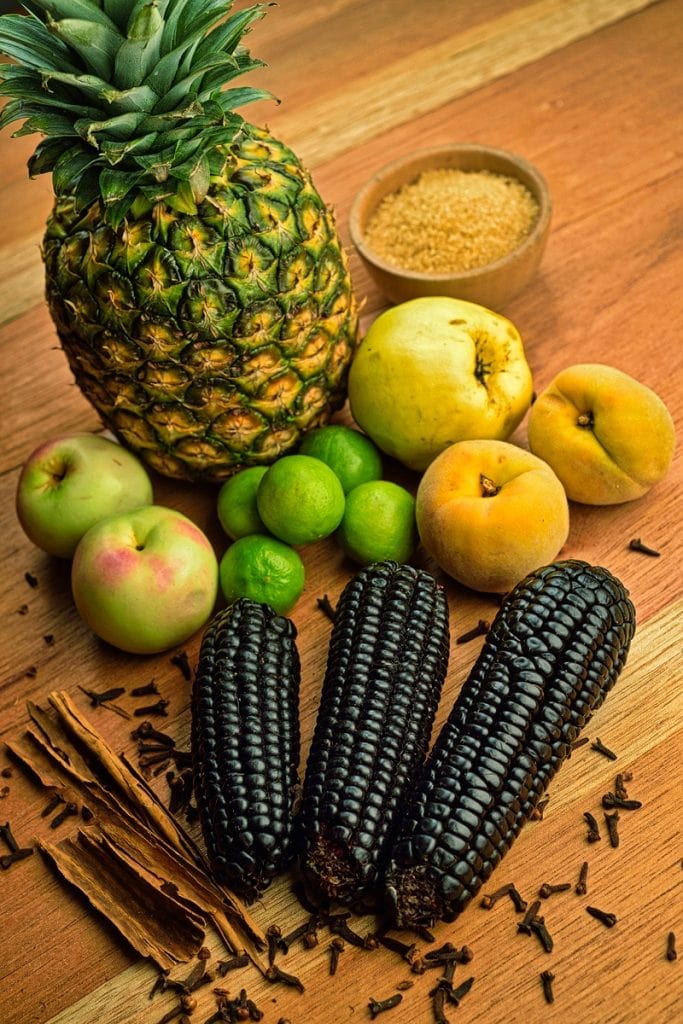 If life gives you lemons, make lemonade!
Or, as the case may be in Peru, lime-onade. This country has an abundance of lime plantations along the coast, and it's a regular ingredient in many of its dishes and drinks. Can you name the Peruvian pisco cocktail that's basically based on lime juice? Of course, it's pisco sour! But freshly squeezed lime juice is also an essential part of chicha, because it really offsets the naturally tart flavor of the purple corn, which is present even after adding sugar.

We also recommend you serve the chicha cool or with ice cubes. It's extra tasty and refreshing that way. Let's hope you're thirsty after reading all this because it's time to learn how to make chicha morada.
Peruvian Chicha Morada Drink
Delicious purple corn superfood beverage from Peru
Ingredients
2

pounds

dried purple corn

1

ripe pineapple

3

medium quinces

2

apples

sour

2

large peaches

8

whole cloves

2

cinnamon sticks

1

gallon

of water

(16 cups of water)

5

juice of

limes

1

cup

sugar
Nutrition
Nutrition Facts
Peruvian Chicha Morada Drink
Amount Per Serving
Calories 281
Calories from Fat 18
% Daily Value*
Fat 2g3%
Sodium 25mg1%
Potassium 526mg15%
Carbohydrates 70g23%
Protein 4g8%
Vitamin A 436IU9%
Vitamin C 62mg75%
Calcium 45mg5%
Iron 1mg6%
* Percent Daily Values are based on a 2000 calorie diet.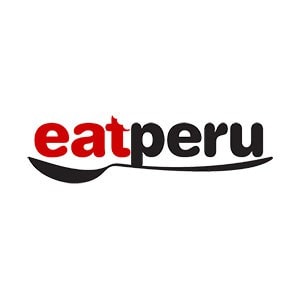 Peruvian foodie. I've been writing about the food of Peru for over 10 years. Read more about the Eat Peru team here