Quinoa con Leche, which literally means "quinoa with milk", is a traditional Peruvian pudding made by adding warm spices such as star anise, cinnamon, and cloves to (nutritious and high-protein) quinoa grain before boiling in milk and sweetening with brown sugar. While milk is not the main ingredient, it does make up a large part of the dish but vegetarians can substitute other types of milk. It's a simple and easy dish to prepare which makes it a good choice as a sweet treat for breakfast or after dinner dessert.
Inspired by the more traditional Arroz con Leche, Quinoa con Leche is another variety of pudding made with a grain, this time a grain originating from Peru.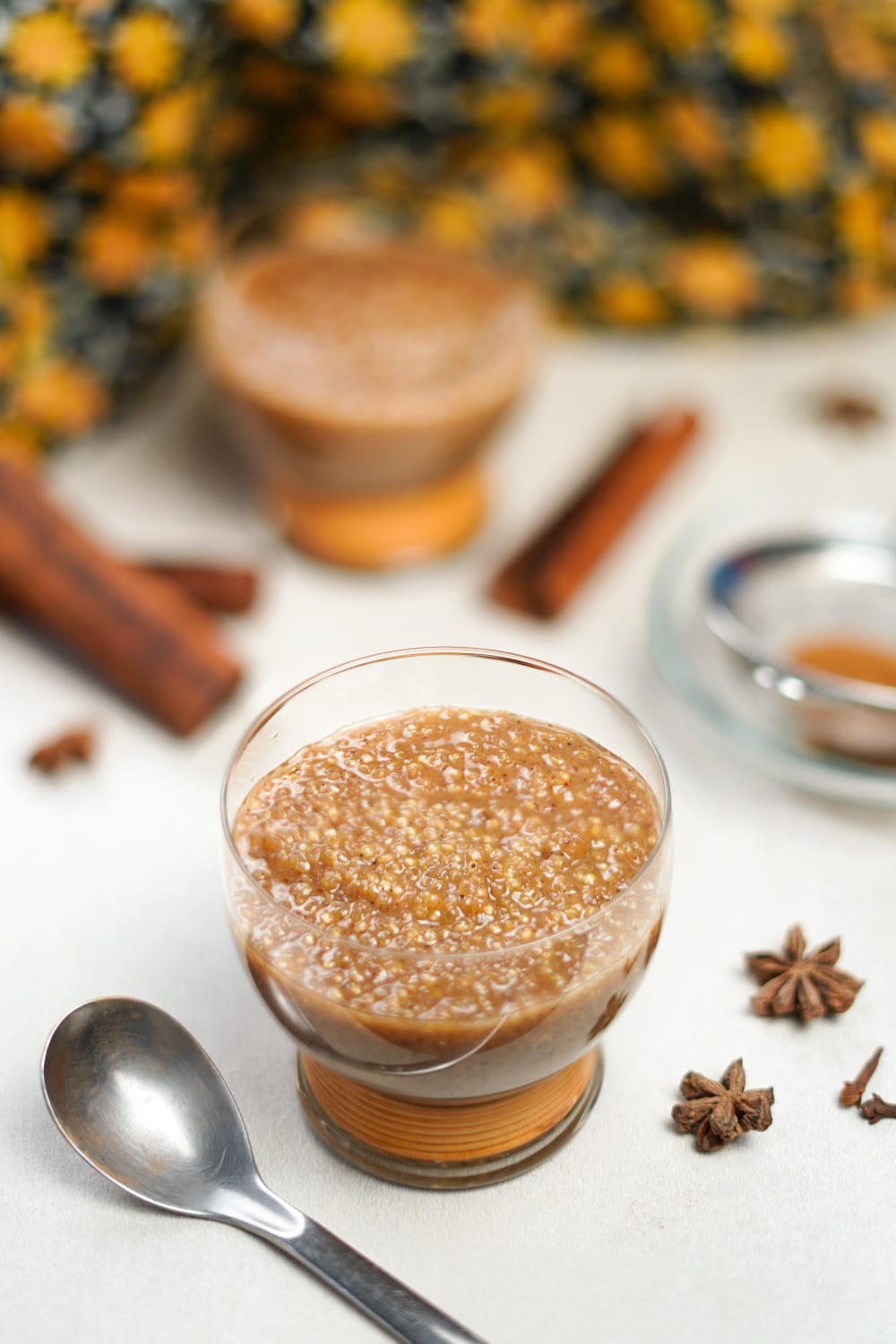 Alternatively, honey, agave, and stevia can be used instead of sugar. Quinoa con Leche is a versatile sweet treat that can be decorated with fruits or other tempting flavorings like chocolate, coconut, and coffee to suit your taste.
Quinoa – Naturally Good
Quinoa is growing in popularity and gaining recognition as a superfood thanks to its high source of minerals, protein, and fiber. It's also gluten-free and can be used in a variety of dishes. This food is naturally vegan and makes a great substitute for rice or pasta.
A good substitute for people with gluten intolerance, quinoa is often called a whole grain but is actually an edible seed taken from a flowering plant belonging to the same family as the spinach.
Quinoa has been cultivated in South America (the Andes Mountain of Peru, Bolivia, and Chile) since pre-Columbian times and was introduced into Europe by Spanish explorers during the 16th century. The crop was a staple source of food for the Incas. Quinoa is now grown commercially at high altitudes in the USA and throughout the world.
These days quinoa dominates the "healthy grain" food scene and is enjoyed as part of a nutritious diet. But there's always room for a sweet dish in every diet, right? And quinoa is perfect for adding a bit of crunch or texture to puddings like the one we're making today. Quinoa pudding is a popular Peruvian dessert recipe that combines Spanish and Inca food culture.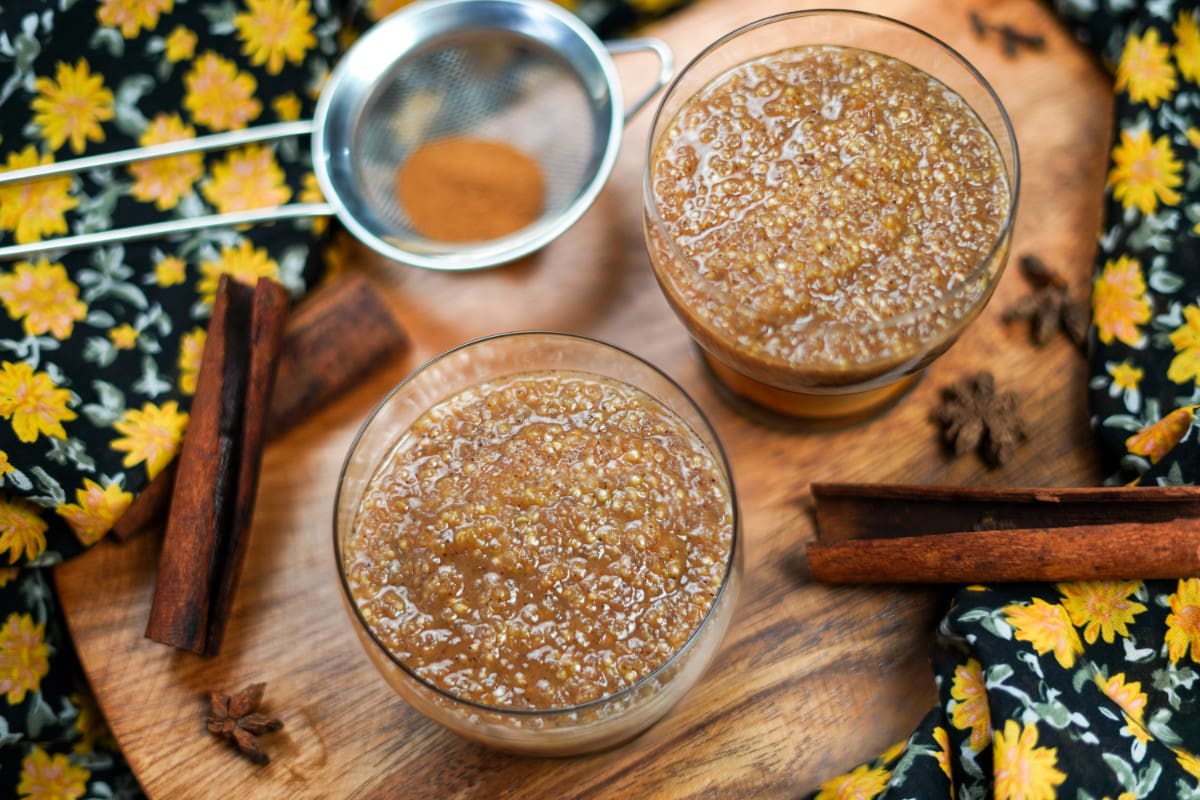 Alternatives and Substitutes
Can I use other spices?
While spices like cinnamon, star anise, and cloves are commonly used for this dessert recipe, other spices like nutmeg and cardamom can also be added or substituted. Some quinoa puddings are even flavored with fruits like peaches and mangoes to give it a summery feel, or mixed with Peruvian cocoa powder, chocolate, vanilla or strawberry syrup for kids to enjoy.
Can I use different sweeteners or dairy?
While whole milk is generally regarded as having a great taste because of its high-fat content, whole milk is also great for dessert making because it helps bind ingredients and keeps moisture better. Another dairy option is evaporated milk, which helps make the pudding sweeter. For vegetarian and vegan non-dairy substitutes, coconut milk is a great alternative because it's also thick, aromatic, and sweet. Unsweetened almond milk, soy, and oat milk (popular vegetarian and vegan ingredient alternatives) may be a bit more watery so it may take a few more minutes for the pudding to thicken.
For sweeteners, brown or white sugar can be replaced with healthier alternatives like muscovado, maple syrup, coconut sugar, stevia, agave, or honey, or if you're using sweet milk, such as evaporated milk or coconut milk, you can omit any sweeteners suggested above.
The ingredient list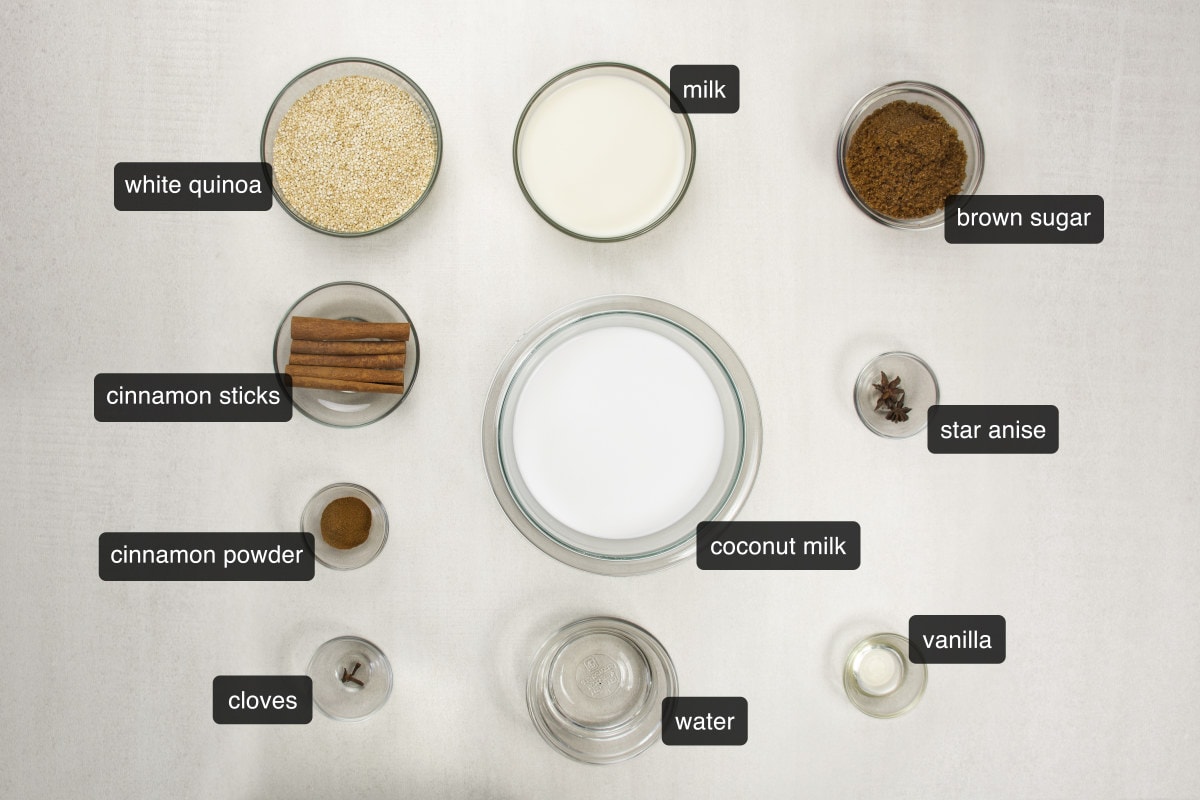 Quinoa – a healthy substitute for white rice, adds texture to the dessert.
Cinnamon stick – a common spice that has a woody, sweet flavor with anti-inflammatory properties.
Cloves – are aromatic flower buds used as a spice with subtle sweet and bitter taste.
Star Anise – a spice with a hint of sweetness and a peppery warm taste.
Coconut Milk – a sweet floral and nutty aromatic milk.
Brown Sugar – adds sweetness and color to the pudding.
Vanilla – adds the rich aroma and taste of Bourbon
Whole milk – a creamy liquid that adds flavor and also helps as a thickener.
Cold water – no introduction necessary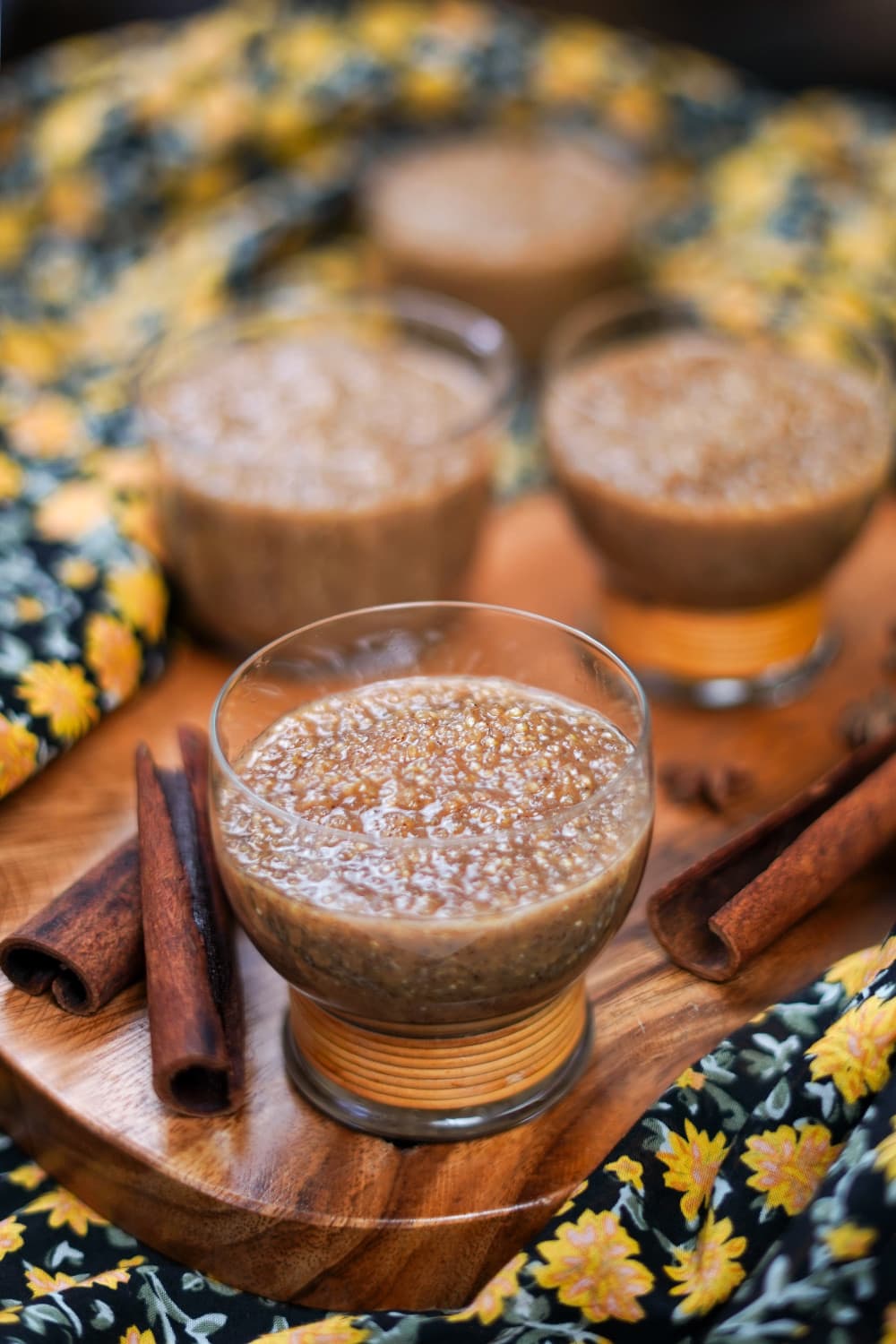 Quick Recipe Prep tips
When using non-dairy milk, use 2 to 3 tablespoons less to prevent the recipe becoming watery. Add more water if the quinoa has absorbed most of the liquids. Continue to add slowly if you like the texture to be creamy.
Store the leftover quinoa puddings in an airtight container once cooled. These can last in the fridge for 3 days to a week.
Add fruits, nuts and berries to make this into an overnight breakfast bowl.
Recipe Steps Photos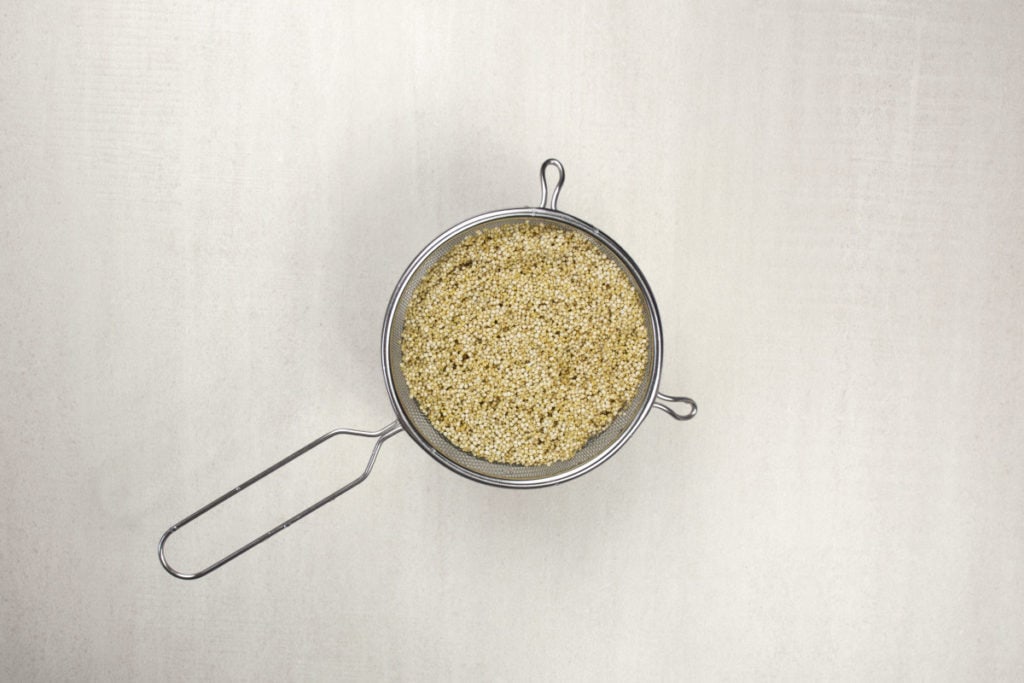 Frequently Asked Questions
What are the health benefits of cooking with Quinoa?
Quinoa's nutritional profile is impressive: packed with fiber, vitamin B and E, iron, calcium, and anti-oxidants. It can help lower blood sugar when used instead of white rice or bread. Quinoa is gluten-free, which helps people who don't want to give up on dishes traditionally made with pasta and bread (by using quinoa flour for baking or making flour-based dishes). Quinoa also contains all nine amino acids, the building blocks of protein.
Why use white quinoa for this dessert recipe?
There are 3 types of Quinoa: white, red, and black.
White Quinoa – the most common quinoa used as a substitute for rice, cooks to a soft fluffy texture which makes it easier to incorporate into desserts, these are also easily added to any recipe because of their versatility.
Red Quinoa – holds its shape when cooked and is in the middle white and black quinoa in terms of texture, added in cold salads, stews, or other recipes where you need a bit of crunch.
Black Quinoa – tastes sweeter and earthier than the usual white quinoa. Very crunchy in texture and can be used much like the red variety
What if the spices taste too strong?
When flavoring the milk with the spices, stir and have a taste every few minutes to check if the simmered spiced milk is to your taste. Similarly, add the ground or powdered version of the spices while the quinoa absorbs the milk. If the spices do come out strong, slowly add more milk or sweetener till the pudding suits your taste.
Try out this healthy and delicious spiced dish you can enjoy as a breakfast, snack, or dessert.
Peruvian Quinoa Milk Pudding (Quinua con Leche)
A light, creamy, sweet and fragrant non-rice pudding from Peru. A gluten-free dessert with dairy alternatives included.
Ingredients
1

cup

white quinoa

2 to 3

cinnamon sticks

3

cloves

1 to 2

star anise

1

cup

water

2

cups

coconut milk

⅔

cup

brown sugar

1 to 2

teaspoons

ground cinnamon

optional

1

teaspoon

vanilla

1

cup

whole milk
Instructions
Wash and strain the quinoa. Set aside.

In a pan and medium heat, char the cinnamon stick, cloves, and star anise.

Add the coconut milk and cold water. let this simmer together with the spices for 7 – 10 minutes. Cook uncovered. Taste to check if the spices need to be simmered for longer to have a more intense flavor.

Remove the spices.

Add in the washed quinoa. Cook these for 15 minutes or till most of the liquids have been absorbed by the quinoa. Stir often.

Turn the heat to low and add the brown sugar, cinnamon powder, and vanilla, slowly add the whole milk while stirring.

Take off the heat once the sugar has dissolved. Continue mixing till you get a creamy texture. Adding more milk as needed.

Serve warm or cold from the fridge for a chilled dessert.
Nutrition
Nutrition Facts
Peruvian Quinoa Milk Pudding (Quinua con Leche)
Amount Per Serving
Calories 565
Calories from Fat 261
% Daily Value*
Fat 29g45%
Cholesterol 6mg2%
Sodium 57mg2%
Potassium 633mg18%
Carbohydrates 71g24%
Protein 10g20%
Vitamin A 112IU2%
Vitamin C 1mg1%
Calcium 167mg17%
Iron 6mg33%
* Percent Daily Values are based on a 2000 calorie diet.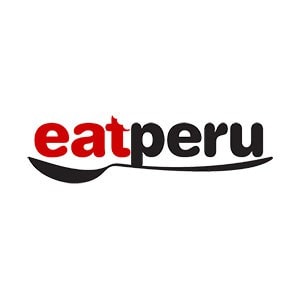 Peruvian foodie. I've been writing about the food of Peru for over 10 years. Read more about the Eat Peru team here