Panetón or panettone is a sweet bread dessert, imported from Italy, and has become one of the symbols of Christmas in Peru. It's one of the most popular Peruvian desserts in December and is an absolutely essential final course in any Christmas dinner.
There are many kinds of panetón/panettone recipes in the world, but naturally, this is our favorite. If you want to feel charitable this Christmas, bake this delicious sweet treat for friends and family and they will definitely feel the love. This bread pudding made with a variety of dried fruit and nuts is delightfully rich and fruity.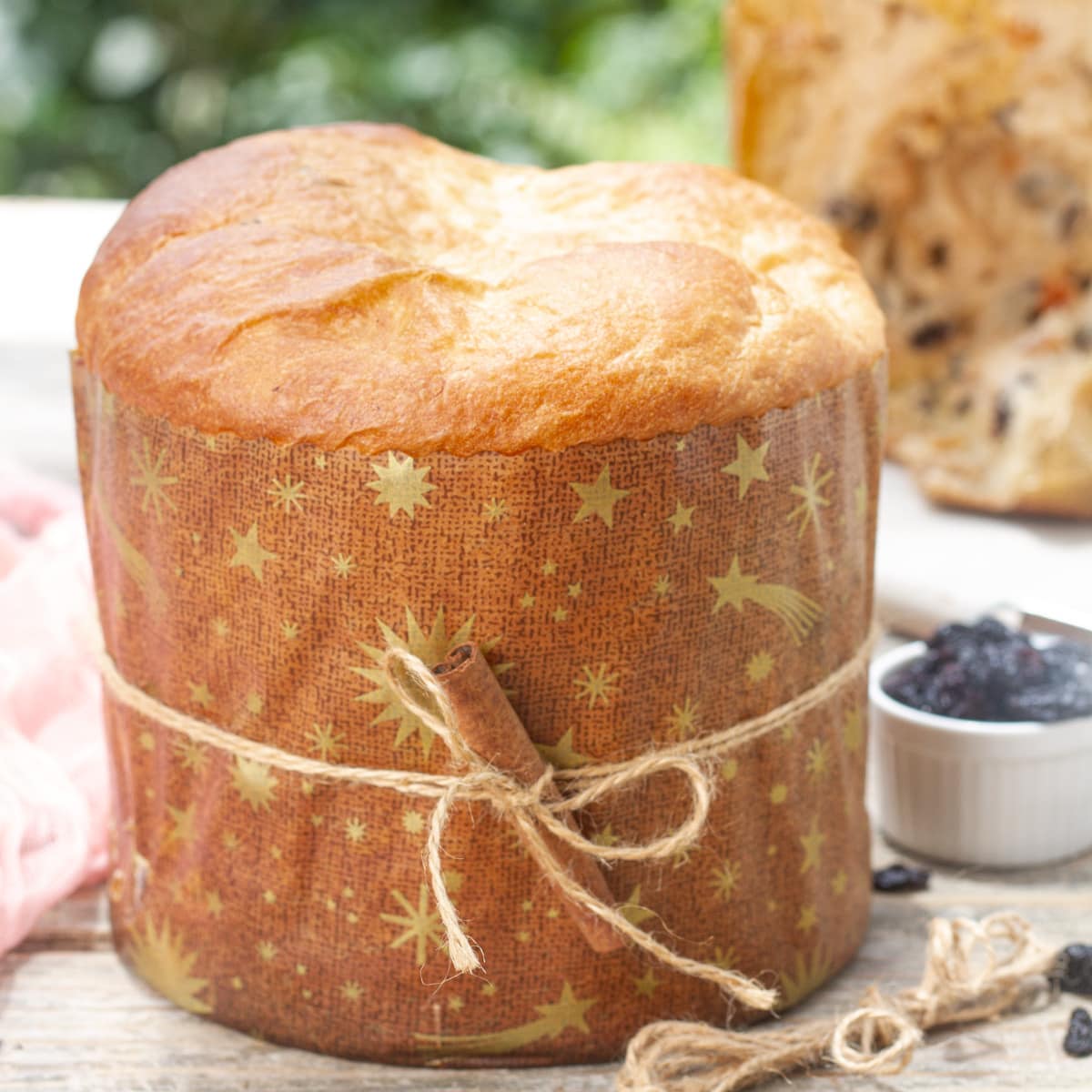 Panetón is not a difficult recipe, but it does require plenty of patience. There is about a 12-hour period between the rising and the kneading of the dough. It is a cake-like bread that can you can start preparations for one day, and eaten the next morning.
Here are some tips you should know before you make panettone.
Tips to make the best panetón bread pudding
The first tip is for people who have already had experience in kneading bread. Most doughs are ready when they can be easily detached from the fingers. But the dough we use in this recipe is not like that. Rather, it is a wet dough that does not easily come off your hands, but by using a little oil on your hands and the table, you can manipulate the panetón dough more easily.
This recipe requires more patience than dedication. The first two doughs can be mixed with a hand mixer and then rested. If you are in a hot climate, the dough will grow faster. In cold climates it tends to take a while.
Unlike the Italian version, Peruvian panettone has raisins and candied orange zest. These dried fruits rob the dough of moisture. Therefore, we recommend soaking the fruits in water, tea or rum a day before making the cake.
It is often hard to know how much dough to put in the panetón mold. A simple trick is to fill the mold halfway with batter. Let this dough rest for a few hours. When the dough is a few millimeters from reaching the edge of the mold, it's time to bake.
This mixture can burn easily since it is quite delicate. For the best results, turn the oven only with heat from the bottom. And never higher than 160 °C / 320 °F.
Turn the contents upside down as soon as it they are taken out of the oven. Although it may seem strange, this advice is fundamental. After removing the panetón from the oven, let it rest hanging. One method is to suspend the panetón via sticks hanging between two chairs. As a result, its surface remains bulky. Otherwise, it will become flat when it cools.
How to make the Peruvian panetón?
Making panetón requires plenty of mixing and a whole lot of waiting waiting. This recipe calls for three doughs. Like Matryoshka dolls, each dough will contain the previous one.
It begins with the pre-ferment dough – a simple mixture of wheat flour, water, and yeast. The second dough contains all the pre-ferment, already activated, plus wheat flour, and some fatty ingredients such as eggs and butter, and a little sugar. This dough is still very fluid, so you can mix it with a large hand mixer. Generally, kneading is not necessary.
The last dough, however, will require kneading. You will add more butter, sugar, flour, egg yolks, and additional flavors such as lemon zest, vanilla, and rum to this dough. Knead for at least twenty minutes, at ten-minute intervals. Add the dough to the molds for the last resting period, just before putting it in the oven.
Ingredients
Dough 1: Pre-ferment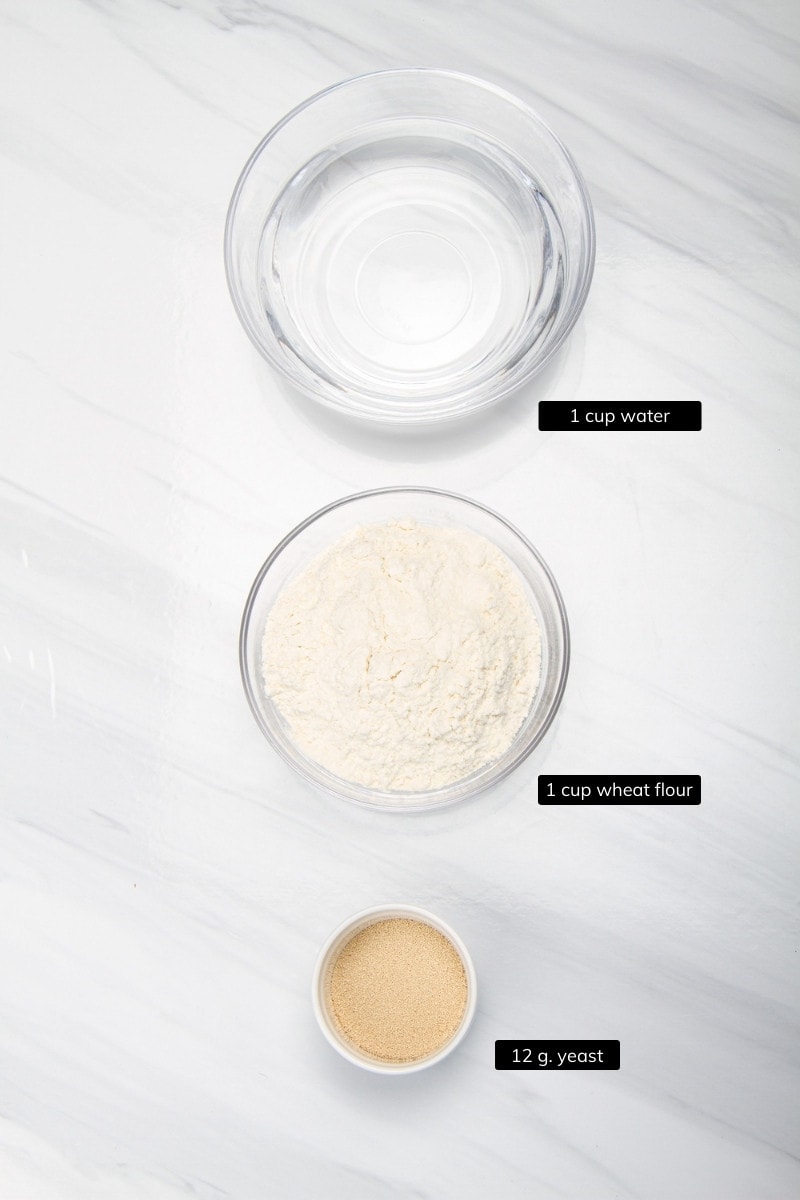 Dough 2
Dough 3
Dough 1 (preferment):
1 cup of wheat flour, 110 g.
1 cup of water, 240 ml
12 g. baking powder
Dough 2 (fluid dough)
include the preferment
¾ cup of wheat flour 85 g.
¼ cup of butter, 60 g.
2 eggs
¼ cup of sugar, 45 g.
Dough 3 (final dough)
Include the dough 2 mix
2 ½ cups of wheat, strength or bakery flour, 275 g.
⅓ cup of butter
¼ cup of sugar
2 small eggs, or 1 large one
3 tablespoons of honey
½ cup raisins
½ cup candied oranges
1 teaspoon lemon zest
¼ cup white rum
1 tablespoon of vanilla essence
2 tablespoons of oil (to apply to hands and table)
Preparation Steps Images
The ideal mold for panetón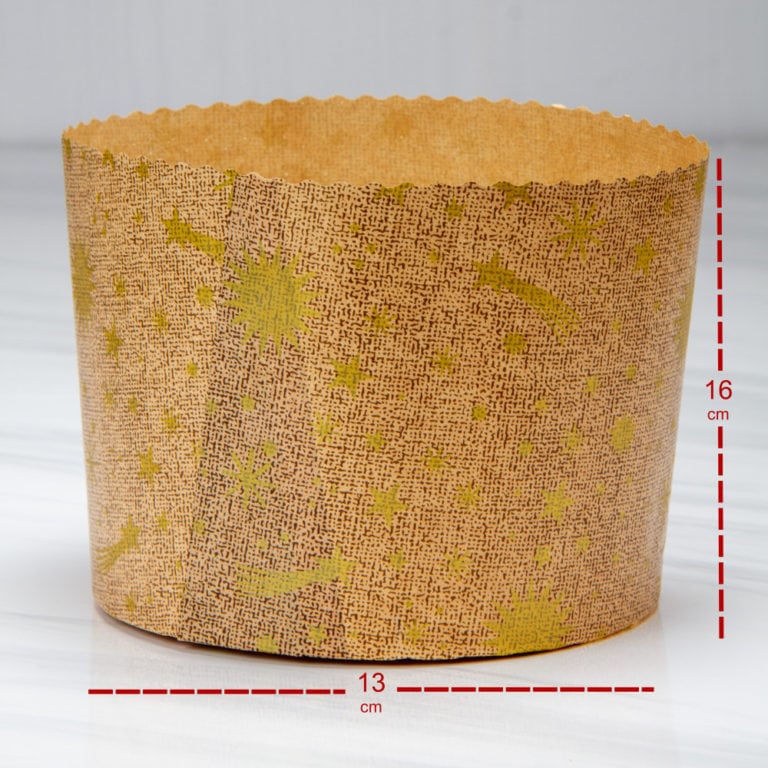 There are two types of molds to make panetones (the plural of panetón in Spanish): the metallic ones and the paper ones. Metal molds should be non-stick and removable, meaning that they have some kind of metal strap or fastener that is removed when unmolding the panetón. Naturally, this is a more expensive option, but if you want to make this dessert regularly, this is a good investment.
As this is a seasonal recipe, and we generally only consume it in December, paper molds are more practical. The mold can even be used to transport panetón if you want to give it as a gift.
We used a mold with the following measurements:
Cookware: paper, measures: 16 cm high x 13 cm in diameter
Peruvian Panetón – Christmas Fruit Cake Dessert
Panetón is a Peruvian cake-bread dessert traditionally eaten at Christmas time in Peru. It's sweet, packed with candied fruit, and uses easy-to-find ingredients.
Ingredients
Dough 1 (preferment):
1

cup

wheat flour

110 g.

1

cup

water

240 ml

12

g.

yeast
Dough 2 (fluid dough)
Include preferment

¾

cup

wheat flour

85 g.

¼

cup

butter

60 g.

2

eggs

¼

cup

sugar

45 g.
Dough 3 (final dough)
Include whole dough 2

2 ½

cups

wheat flour

275 g.

⅓

cup

butter

¼

cup

sugar

2

small

eggs

or 1 large one

3

tablespoons

honey

½

cup

raisins

½

cup

candied oranges

1

teaspoon

lemon zest

¼

cup

white rum

1

tablespoon

vanilla essence

2

tablespoons

oil

to apply to hands and table
Instructions
The night before, place the raisins, candied fruit (oranges), and white rum in a glass jar. Mix it well, and leave to rest. If possible, mix from time to time so that all the fruits are properly hydrated.

In a large mixing bowl, combine all the ingredients of "dough 1" or pre-ferment: wheat flour, water and yeast.

Stir with a hand mixer until no lumps remain. Then, cover with plastic wrap, and let the dough rest for two to three hours. It will triple in size.

Then, uncover "dough 1", stir with a hand mixer, so that it loses the bubbles.

Stir in ¾ cup of flour; Stir vigorously until smooth.

Then add the butter, eggs, and sugar. Continue stirring vigorously with the hand mixer, until the lumps of the butter disappear.

Then cover again with plastic wrap, and let the mixture rest for about 6 hours. This mass should rise little by little.

After six hours, uncover, and stir a little to remove the foam.

Pour into the mixer, and add the other ingredients: wheat flour, sugar, eggs, honey, butter, and vanilla. Beat for about ten minutes, let the dough rest for ten minutes, and repeat this cycle three times. If you don't have a mixer, first mix with a kitchen spatula.

Finally, add the grated lemon rind, raisin mixture, candied orange rind, and rum. Stir a little until the dried fruits are properly integrated.

Apply a little oil on your hands and on the table where you will knead. Place the dough on the table. With the help of a spatula, form into a ball and place it inside the mold. Fill to the middle of the mold, as shown in the photo.

Let the dough rise for two more hours, until it reaches the edge of the pan, as shown in the photo. With great care, take the mold to the oven. Cook with only bottom heat, at 100 °C for about an hour until you see that nice golden color. Remove from the oven and leave hanging for at least six hours, so it doesn't flatten. The easiest thing is to put two skewer sticks through it, turn it upside down, and support the skewer sticks on two parallel surfaces (I usually put it between two chairs).
Notes
Bonus tip: If you like, you can add a teaspoon of butter on top of the panetón to make it more golden.
Nutrition
Nutrition Facts
Peruvian Panetón – Christmas Fruit Cake Dessert
Amount Per Serving
Calories 392
Calories from Fat 117
% Daily Value*
Fat 13g20%
Cholesterol 75mg25%
Sodium 109mg5%
Potassium 225mg6%
Carbohydrates 59g20%
Protein 7g14%
Vitamin A 357IU7%
Vitamin C 1mg1%
Calcium 76mg8%
Iron 3mg17%
* Percent Daily Values are based on a 2000 calorie diet.
What to drink with Peruvian panetón?
The best thing to drink with paneton is hot chocolate. Perfect for chilly Christmas-time evenings. Coffee is another great accompaniment to this popular dessert in Peru. Check out our hot chocolate recipe and this guide to Peruvian coffee so you can get the perfect combination.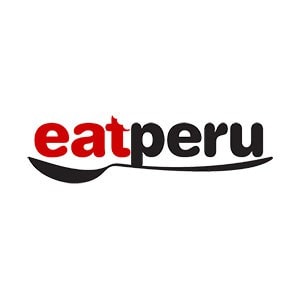 Peruvian foodie. I've been writing about the food of Peru for over 10 years. Read more about the Eat Peru team here