Learn How to Cook Arroz Chaufa de Pollo or Peruvian Fried Rice, one of Peru's most popular dishes and an example of delicious Chinese-Peruvian fusion food.
Many Peruvian dishes were born as fusion cuisine, the blending of ingredients from different regions or countries. Every dish has a story to tell about its journey from cradle to the table. The story behind arroz chaufa de pollo, the immensely popular Peruvian fried rice meal with chicken, vegetables and soy sauce, is well-documented, but remains incredibly interesting.
Hardly a soul in Peru will turn down a steaming plate of chaufa, whether prepared in one of the many chifa restaurants or stir-fried at home. Let's find out more about how this rice dish got its prominent place in Peruvian cuisine and then try your hand at this easy but very tasty fried rice yourself!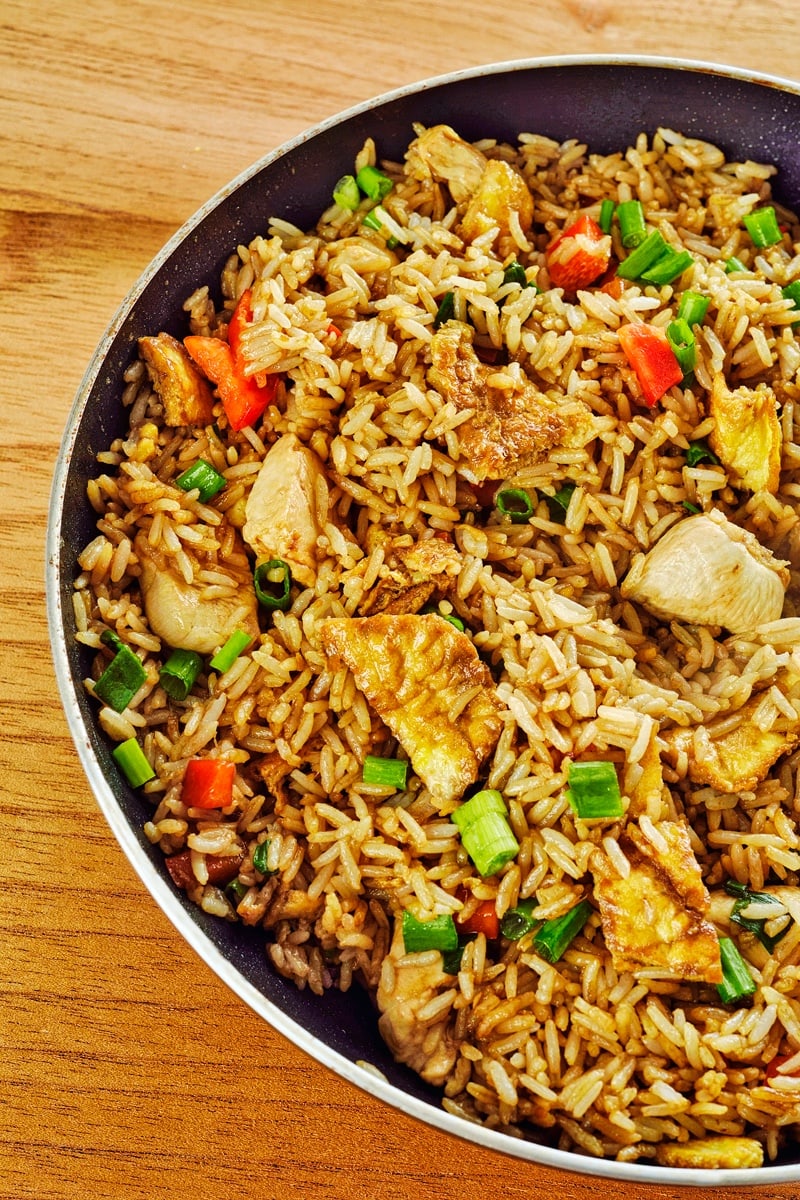 Origins of Arroz chaufa de pollo
This dish is probably the most widely consumed food from the Chinese-Peruvian fusion cuisine known as chifa. After the abolition of slavery in the mid-nineteenth century, plantation owners and managers from the incipient guano industry companies looked for another way of obtaining cheap labor. They looked overseas.
Around 100,000 Chinese immigrants, mostly Cantonese men, were tempted to move to Peru to live and work. These people worked under very harsh working conditions, bound by a restrictive 8-year contract with the plantation owners.
After their contract ended they were free to choose whether to continue to work or settle elsewhere. It's under these grim conditions that arroz chaufa de pollo was first prepared by the Chinese immigrants themselves. 
Workers were paid partly with sacks of rice, which they combined with soy sauce and any vegetables or scraps of meat they could find. It's unlikely that in those days the meal included chicken breast. Chicken was an expensive, highly coveted meat back then. It's more likely they used pieces of leftover pork, beef or other meats.
The origin of the name of the dish also comes straight from Cantonese, since chaufan literally means "fried rice".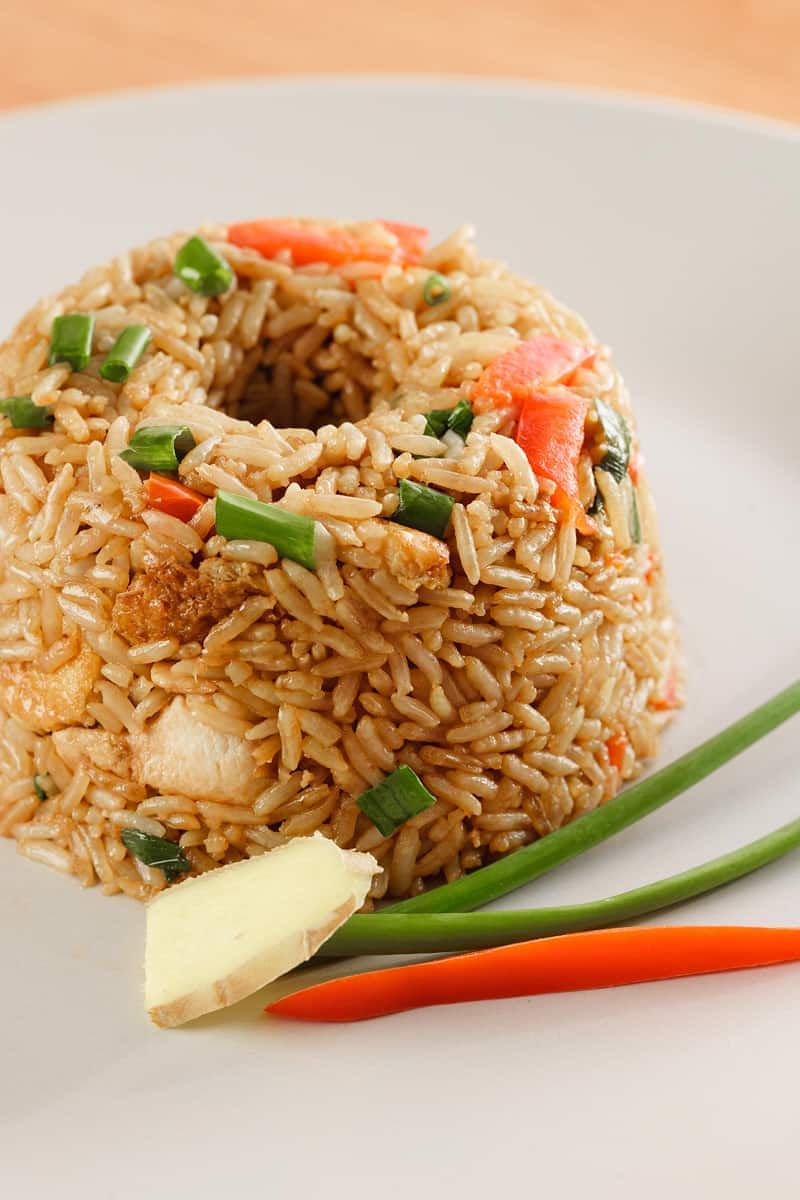 A cornerstone of mainstream Peruvian cuisine
After their 8-year contracts finished, many workers settled in larger cities and set up restaurants in an effort to make a living. These restaurants were called Chi Fá, which means "to eat rice" in Cantonese, since rice was and is such an integral part of their array of dishes.
Chifa gained popularity and the name survives to this day. Chinese-Peruvian fusion cuisine continues to please local and international palates.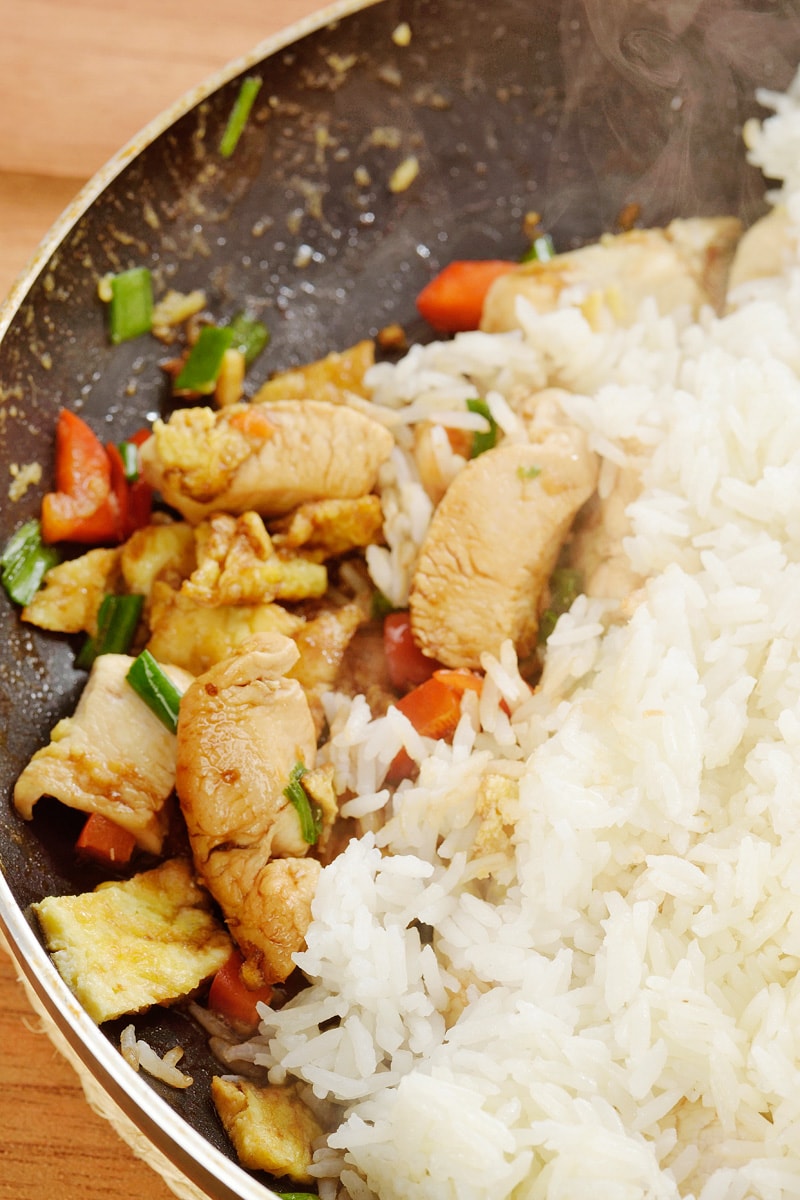 Besides the dishes sold in chifa restaurants, the Asian immigrants also influenced local cooking with new preparation methods (stir frying in a wok to make beef stir fry or chicken stir fry) and ingredients. Soy sauce and ginger are now important ingredients in many other Peruvian recipes. Rice is a staple food present in most recipes.
Calle Capón: the cradle of the chifa restaurant
There are over 6000 chifa restaurants in Lima and many thousands dotted around the rest of Peru, but one place offers the most authentic arroz chaufa de pollo experience. Calle Capón, known as the Peruvian Chinatown (Barrio Chino), sprawls across a few blocks of central Lima. 
As the preferred neighborhood of many Chinese immigrants in Lima, this is practically the birthplace of Chinese-Peruvian cuisine and the location of the first chifa restaurants. The neighborhood has gone through a lot of ups and downs in those 150 years since the first brave immigrant settlers opened their restaurant doors. The barrio is now a vibrant, bustling area.
To walk down Calle Capón is a true journey for the senses thanks to the incredible aromas emanating from the many restaurants.
If you like Asian fusion food, check out our guide to Nikkei – Peruvian Japanese fusion cuisine
Variations of arroz chaufa
Today we are sharing the recipe for arroz chaufa de pollo, but this is an incredibly versatile dish which can be easily modified to suit different needs and preferences. We can change the chicken for beef, duck, pork, fish, seafood, or mushrooms and additional vegetables for a vegetarian version.
Don't forget that it's also an excellent way to use up any leftover cooked white rice from the day before!
Travel Foodie Tip: When ordering food in a chifa restaurant, arroz chaufa is often ordered as a side dish. But it also works very well eaten by itself since it already includes protein, vegetable and, let's be honest, lots of carbohydrates.
Let's move over to the practical part. Fire up your wok!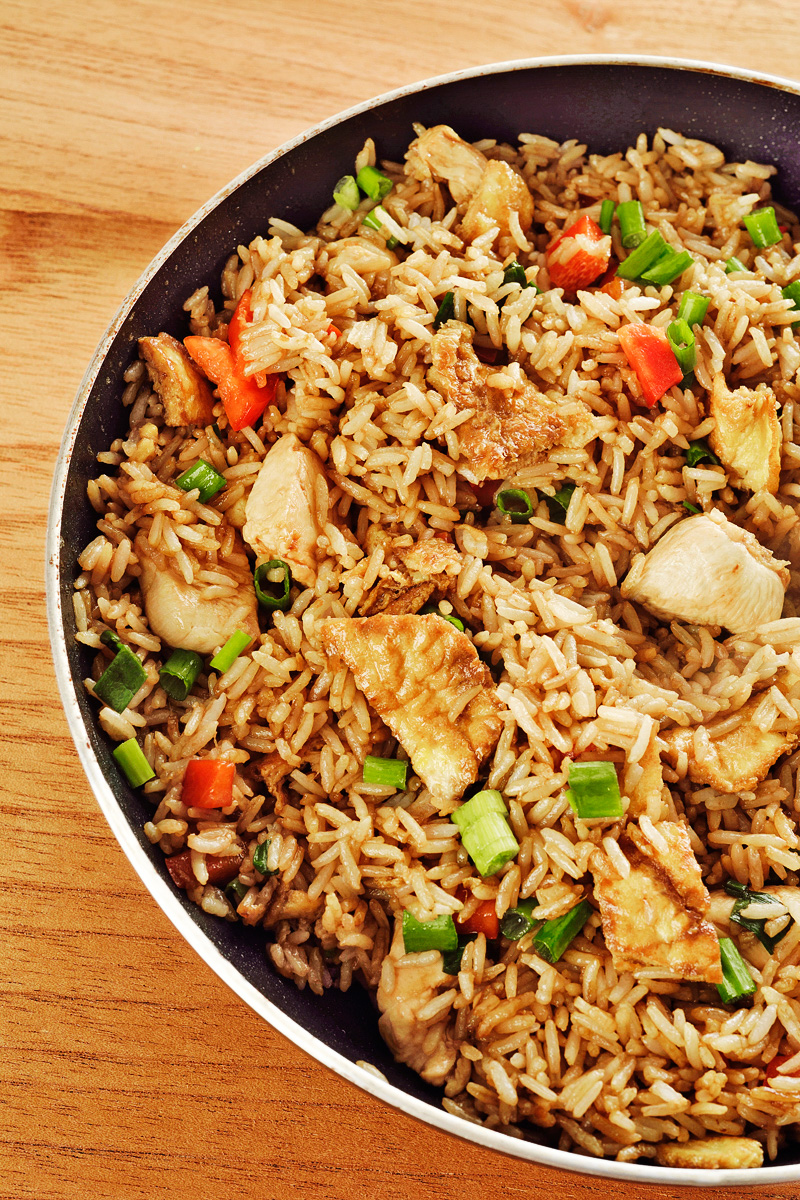 Ingredients: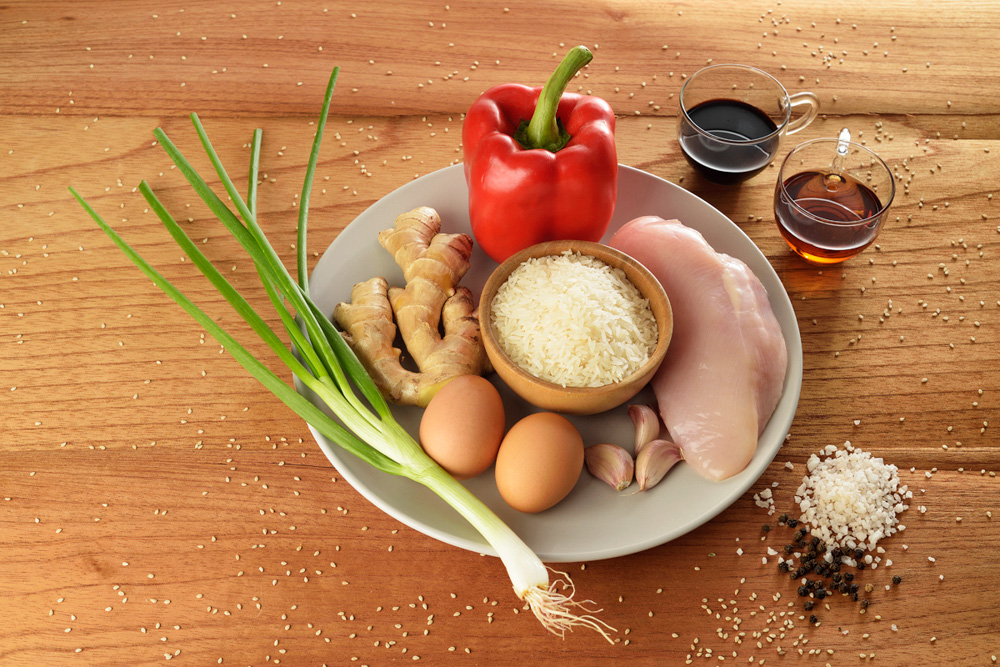 Arroz Chaufa de Pollo: Mouth-watering Chinese-Peruvian Fried Rice
The most widely consumed dish from the Chinese-Peruvian fusion cuisine known as chifa. Arroz Chaufa de Pollo is a delicious meal of chicken, rice, and eggs, with ginger, soy sauce, spring onions, garlic and peppers. It's easy to prepare and will satisfy the hungriest of people at the dinner table.
Ingredients
4

eggs

1

chicken breast

diced

2

tablespoons

ginger

freshly grated

2

teaspoons

garlic

freshly chopped

½

cup

red bell pepper

roughly chopped

2

cups

uncooked rice

½

cup

soy sauce

¼

cup

sesame oil

1

cup

spring onions

chopped

2

tablespoons

vegetable oil for frying

Pinch of salt
Instructions
Whisk the eggs together and fry with a bit of oil to make an omelet. Cut in small squares and set aside.

Boil the rice until cooked and set aside to cool.

In a wok or large frying pan, stir fry the diced chicken, seasoned with 1 tablespoon of grated ginger.

When the chicken gets a Golden color, add the chopped red bell pepper, spring onion and omelet squares and the other tablespoon of grated ginger.

Add the cooked rice, soy sauce and sesame oil. Stir fry at a high heat until the soy sauce and other ingredients are mixed through the rice evenly, for no longer than 5 minutes.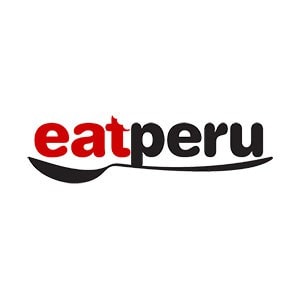 Peruvian foodie. I've been writing about the food of Peru for over 10 years. Read more about the Eat Peru team here