A beautiful city renowned for its Cuban influence and breathtaking beaches, Miami is what one would call 'culturally diverse'. Be it dance festivals, artist exhibitions, live music, or incredible street food vendors, you can find anything from all over the world in this beautiful city of color and love. One thing that stands out, however, is the Latino influence. Miami is sometimes called little Havana, and among the huge Cuban, Puerto Rican, Argentinian, and Colombian population we can count Peruvians, who often announce themselves on the Miami scene with amazing culinary offerings.
In Miami, you can find some of the best food from all over the world with a few miles from where you reside. Peruvian food, in particular, has become a favorite among the locals and tourists alike. This may be part of the worldwide trend of a local phenomenon but it's definitely noticeable. There are many pretenders to the crown of the Best Peruvian restaurant in Miami so we've narrowed it down to less than a dozen. This is quite a varied list with street food style joints and expensive restaurants taken together on their merits.
If you have just landed in the city or live there and are curious about the Peruvian food trend and would like to know where to sample real Peruvian dishes, look no further. We've compiled a list for you. Enjoy this list of the Best Peruvian Restaurants Miami has to offer and don't forget to let us know what you think! Provecho!
La Mar by Gaston Acurio

Mandarin Oriental Hotel, 500 Brickell Key Drive, Miami
You can tell a lot about a restaurant, or at least its aspirations, by where it is located. Considering La Mar is located inside one of the most luxurious hotels in all of Miami (Mandarin Oriental), we can assume that the standard of the food, the quality of the service and the ambience are top-notch. Yet Gaston Acurio's name above the door lends more credibility to the restaurant than even the amazing location could ever do.
With the critically acclaimed cuisine of Chef Gaston and a beautiful interior and structural design, the restaurant also offers diners a view of Biscayne Bay and the Miami skyline. This is not just a place to eat good food. La Mar offers a culinary experience.

Gaston Acurio and Diego Oka work together to combine their individual understandings of good food preparation and the result is a modern, progressive, fusion restaurant. Tastes are experimented with and typical Peruvian dishes are enhanced through the combined efforts of two chefs with a world of experience between them. Their individual achievements and laurels come together to raise the bar at this restaurant and make everything from the appetizers to the ambience an entirely Peruvian culinary experience.
Despite the upscale location, the restaurant's price point is quite reasonably set, considering the variety of dishes offered and the quality delivered. Diners and critics alike have consistently suggested that La Mar's ceviches, the pisco sours, and the modern twist on Peruvian street foods are some of the best of any Peruvian restaurant in Miami. Regular diners here recommend ordering a few entrees before the main courses so you can try several different bite-sized portions and continue from there. I'd also recommend that you save space for dessert. The desserts are incredibly popular.
"Tasty & Decadent" Peruvian cuisine is how Zagat reviewers refer to La Mar's Menu. The Dinner menu (they also offer Lunch, Bar, Brunch, and Dessert Menus) is arranged into groups based on typical Peruvian dishes such as cebiches, causas, tiraditos, anticuchos, and rice-based plates.
Also offered are salads, starters/tapas, chirashi (Japanese rice with fish, vegetables, and other ingredients) and 'Peruvian Specialities'. This last option is where you'll find the so-called Novo-Andean cuisine and Asian-Peruvian fusion food.
With 9 different types of ceviche, 6 causas, 7 different anticuchos and the Peruvian specialities of Rocoto Relleno, Sudado a la Norteña, and lomo saltado, there is something for everyone here. The lomo saltado, made with Angus beef is a huge hit and a firm Peruvian favorite.
With such a large menu and constant demand for tables it would be easy to imagine that standards slip regularly, but reviews across the board are very positive. Negative reviews usually focus on the price (it's expensive) and some complaints about the service.

For the adventurous La Mar offers some dishes that are bound to pique curiosity. Some of these menu items you won't find outside of your Peruvian grandmother's kitchen. Try Braised Veal Cheeks, Pork-Jaw Quinoa Tamale, Veal Heart, and a plate of fried sweetbreads, chicken liver, and chicken hearts.
The Sunday Brunch menu is billed as a 'two-hour dining experience' where drinks are free (included in the entrance fee)! Drink yourself 3 or 4 Pisco Sours and you've almost broken even after paying the $85 price tag. It's a lot to pay for lunch, but it's really not something you'd do every day. Most people think it's great value for a lazy, boozy Sunday afternoon with great food and a spectacular view for company.
Best for romantic dinners and adventurous eaters.
CVI.CHE 105

105 NE 3rd Ave, Miami
Located in Downtown Miami, this eatery might have a lower profile than La Mar but reviewers are passionate about the quality food on offer. With its stark white interior, beautifully chic design, and a look of both comfort and sophistication, CVI.CHE 105 is firmly in the hip and happening category. It's generally good value and for most people, this restaurant is a place where you can sample delicious Peruvian dishes at affordable rates.
Award-winning chef Juan Chipoco is no doubt one of the main reasons this restaurant has become as famous and successful as it is. As a celebrity chef, Chipoco is regularly featured in publications such as American Airlines In-flight magazine, Mujer Magazine, and Hola Peru. His dedication to professionalism and status as an influencer in the Miami food scene means there's a constant influx of curious customers and die-hard regulars to his restaurant.
People claim to drive for hours on end just to reach this restaurant and dine there, while others consider it an everyday eatery. The hip design, friendly staff (according to Yelp reviewers), typical Peruvian food and inexpensive prices make CVI.CHE 105 a must-visit for locals and non-locals alike. Regardless of the frequency of visits, the overall consensus is that Chipoco's restaurant offers an excellent experience with great service, food quality, presentation, and ambience.
The menu doesn't break the rules quite like La Mar. But it won't break the bank either. Inexpensive, traditional fare is the main focus here. Sudado de Pescado (fish slowly cooked in broth), Pescado a lo Macho (fish wrapped in seafood with creamy sauce), ceviches, Peruvian chicken stew – ají de gallina (shredded chicken with yellow pepper cream), and lomo saltado feature prominently. There's nothing fusion about this food. Customers talk about the incredible ceviche and the "best in town lomo saltado".
Negative reviews are primarily about the noise level and attentiveness of the waiters. This place is busy! If you are new to the place try the ceviche in any of the sauces offered. And don't miss the lomo saltado. It's epic.
Best for hipsters who want their food fast and inexpensive.
El Chalán
7971 SW 40th St, Miami
This Miami institution reminds me of any good restaurant in downtown Lima, unpretentious and simple. The food here speaks for itself. But as you may not have tried it yet, let me explain. Portions in El Chalán are huge and so is the menu. Once you've squeezed yourself into a space in the tightly packed dining area and navigated through the extensive food menu you can savour a typical Peruvian dining experience, free of any airs and graces. Even Gaston Acurio sings the praises of El Chalán, suggesting that if Peruvian food cooks are unsure of what they represent in today's culinary climate, they can always go to El Chalán, 'pioneers of successful Peruvian food in Miami'.
You can find all the favorites here, lomo saltado, mixed ceviche and Papa a la Huanacaina. Don't miss the mouth-watering lucuma cheesecake. The lucuma in this dessert can also be substituted for the equally delicious fruit maracuya (passion fruit).
Service in El Chalán appears to be often a hit and miss situation. Many clients claim that service during their meal was slow and the food was not cooked (this could just mean that the food had cooled). On the other hand, the restaurant has legions of satisfied repeat customers. The best tip is to visit the restaurant outside of peak times to experience a less hurried service from the wait staff.
Best for newbies to Peruvian food, casual diners.
Pollos & Jarras
115 NE 3rd Ave, Miami
The same man behind CVI.CHE 105, Juan Chipoco, and his team have been famous for multiple different Peruvian and South American restaurants all across Miami. Pollos & Jarras is one of his many ventures that has won the hearts of Miami residents with its décor, food, style, theme and ambience.
The restaurant is famous all over Miami for its parillas, advertised as 100% Peruvian. Diners travel miles upon miles just for these parillas. "Stunning flavor" is how one described the meat.
The menu and its high culinary standards are not just limited to the parillas and traditional Peruvian dishes, but also extend to a healthy blend and variety of other dishes such as their famous sweet potato fries. Granted, fries are not healthy, but sweet potato is.
This is a funky looking restaurant with neon posters, so typically Peruvian, all over one of the walls. The interior is dark and reminds me of an upmarket sushi bar. There's an outdoor seating area and they often run live music shows, which may or may not suit diners (call ahead). Open every day till either 10 pm or 11 pm.
Best for the cool crowd and roast chicken lovers.
El Señorial
Initially founded in Peru and run by a family, El Señorial Miami came to Miami, with the objective of introducing authentic Peruvian cuisine to its residents. The restaurant maintains its legacy by maintaining high standards in cooking and offering Miami diners a worthwhile alternative in what is fast becoming a crowded scene.
El Señorial offers a wide range of daily menu options and weekend specials, all based on traditional Peruvian cuisine, to cater to the tastes of every type of diner. The simple design and interior create instant appeal. The efficient and hospitable service serves it's reputation well and has gained this restaurant the name of being a sort of local 'gem'. It is one of the most affordable of the Peruvian restaurants in the city and this adds to its immense popularity.
Family run restaurants typically have more authentic and 'homely' recipes designed for their menus as opposed to the corporate business restaurant chains. This is, perhaps, what brings different types of people to El Señorial. It's popular with all social statuses, ages, and ethnicity. Their website states that "Peru's cuisine is probably the best-kept food secret in South America". I can't agree more, and it won't be a secret for long if this restaurant keeps doing what it's doing: great Peruvian food.
The menu boasts Novo Andina cuisine like La Mar, and somewhat conforms to the typical description of Novoandina. Dishes with descriptions like 'Delicious quinoa, steam cooked thoroughly, then combined with white rice' and 'Young octopus pieces soaked in Panka chilli and Huacatay then broiled over charcoal' are certainly different and combine typical Peruvian food dishes with key Novo-Andean ingredients.
Best For groups comprised of experimenters and traditionalists.
1111 Peruvian Bistro

1111 SW 1st Avenue, Miami
A former El Bulli employee, and recognized as one of the most talented chefs in the world, Diego Muñoz, has created one of the most interesting new restaurants in Miami, in the innovative 1111 Peruvian Bistro. Chef Muñoz travelled the world for work and for inspiration. This inspiration manifests itself food that hints of his global view, his mentors, and the places he has lived. There is a definite sense that 1111 Peruvian Bistro is proud to present a more than just food, but a dining experience to customers.
Despite the fact that 1111 Peruvian Bistro is the creation of a world-class Chef and Restauranteur, there is no hint of a stiff, formal dining environment. The restaurant offers diners fine food without the formality of fine dining, enhanced with the added benefits of a casual and cozy atmosphere.
The airy interior opens perfectly to a terrace where diners can enjoy drinks and listen to music on balmy Miami evenings. The dining room offers a great view of the open kitchen that affords diners a view of expertly trained chefs preparing the exquisite traditional and modern dishes 1111 Peruvian Bistro is so proud of.

The menu abounds with traditional Peruvian specialities such as ceviche and anticuchos but there's a special twist to many of the dishes, bringing new life to familiar foods.
Ceviche Apaltado, substituting avocado for the onions, is an interesting change to traditional ceviche ingredients. Asian and European inflexions such as jalea in lime juice and prune terrine add delicious twists.
Desserts include the saliva-inducing, wonderfully descriptive "Lucuma Cassonade, chocolate sorbet, sesame nougatine" dish which is essentially a sweet sorbet with chocolate, nougat, and a fruit quite unknown outside of Peru called Lucuma. This is one of my favourite fruits and I recommend you try this dish if you haven't already tasted the creamy, delicious Lucuma fruit.
They also have, unlike most of the others on this list, a professional and fast website with plenty to see and full of helpful information. In the internet age chefs should be on top of their marketing and PR and the team at 1111 Peruvian Bistro certainly have all the bases covered. A good sign of a progressive thinking chef.
Best for a casual but intimate Peruvian cooking experience. Great for families and couples alike.
Station 28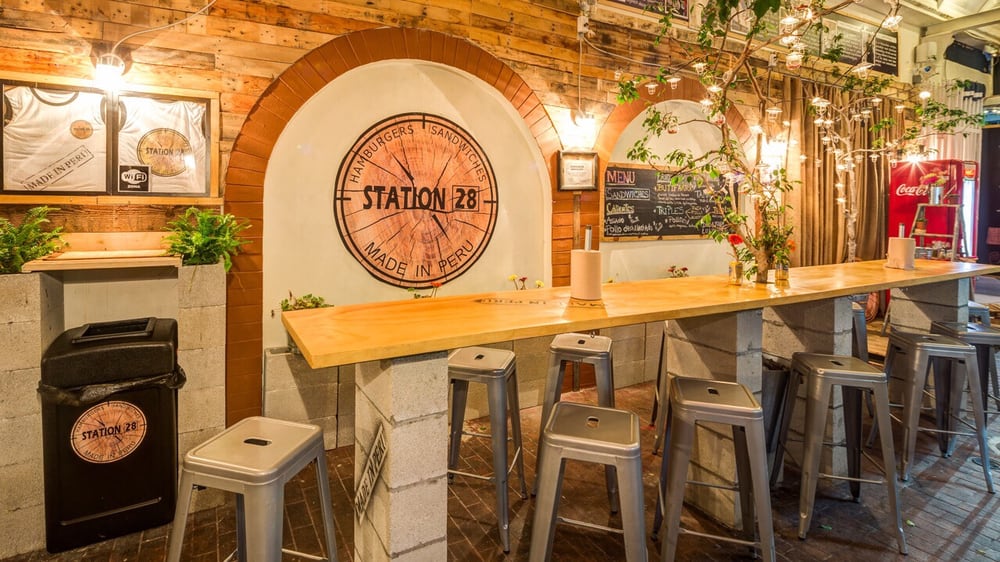 91 SE 2nd St, Miami FL
In Peru, establishments known assangucherías serve all sorts of sandwiches in usually humble settings. Modelled after these very sangucherías, Station 28 is a cosy, beautiful establishment in downtown Miami that is the perfect lunch spot for those who enjoy casual outdoor lunches on the go. It offers an incredibly limited number of breakfast dishes such as burgers with fried eggs, bananas, and sauce as toppings. A veritable Latin American food hub.
The restaurant's interior is focused around the full-width counter onto which the food is served. There's also a large family-style communal table where customers can sit and enjoy their food with friends and other customers. Be aware that if you're coming for lunch in your car, parking is very expensive, even if you plan on sitting down for just a half-hour or so.
Customers recommend El Chicharroncito (fried pork belly laden with onions) and Diablo burger (a massive beef, fries, and cheese concoction). Station 28's ceviche also gets the thumbs up. Tamales and empanadas are some of their other Peruvian snacks championed by loyal customers. Open for lunch every day except Sunday. If you're eating early you can get also an evening meal here.
Best for casual lunch on a not too hot day.
Divino Ceviche
2629 NW 79th Ave, Doral, Miami FL 33122 [2nd branch at 160 Giralda Avenue, Coral Gables].
Billed as 'Traditional Peruvian Cuisine With A Twist of Originality' Divino Ceviche is run by Christian Encalada, a class-topping chef who worked for Gaston Acurio, and also learned his craft in Spain. This upscale ceviche restaurant in Coral Gables gets rave reviews and offers a modern take on Peruvian cuisine. Dishes with descriptions like 'Fried cassava balls, filled with mozzarella cheese & served with huancaina sauce' and 'Thinly sliced fish marinated lightly in lime and covered with Peruvian yellow pepper cream, rocoto pepper cream, and a classic white cream' are sure to get the digestive juices flowing.
The restaurant itself is not huge but the reputation certainly is. Reviews are mostly 5-star with the odd disgruntled customer complaining mostly about price. It's clear that this is not a budget-friendly restaurant so it's not a great choice for students or families on a budget. The truly beautiful menu is easy to understand, even for the neophyte, with prices accompanying the tasteful images of the dishes offered.
Divino Ceviche's weekday happy hour (4 pm – 7 pm) draws the crowds looking to sample the food at a discounted price. Pisco sours and Peruvian beers also have a 50% discount so check it out if the Miami heat is making you thirsty.
Best for style-conscious traditionalists
Have you had a good or bad experience in these restaurants or in another Miami restaurant serving Peruvian cuisine? Let us know your thoughts on the Peruvian food scene in Miami.
Photo Credits
La Mar Photo – Kent Wang
GK Bistronomie photo – Gabriel Gonzalez
1111 Peruvian Bistro photo – Yelp.com
Station 28 photo – Yelp.com
El Chalán photo – Zagat.com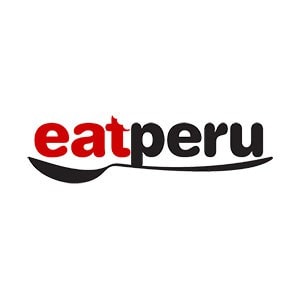 Peruvian foodie. I've been writing about the food of Peru for over 10 years. Read more about the Eat Peru team here