This dish is an unmissable classic recipe of Peruvian cuisine that is a perfect combination of many of the country's usual culinary suspects: ají amarillo (the yellow chili pepper), potatoes, garlic and fresh cheese. Almost everyone that tries this cold starter is won over by its creamy texture and its spicy touch which, fortunately, is balanced out by the base of sliced yellow potatoes.
Traditionally, this classic Peruvian dish is served with sliced potatoes, hard-boiled eggs, and black olives covered in a spicy cheese sauce.
There's even a saying in Peru: "el gringo que come ají, no se mueve de aquí", which loosely translates to "the foreigner that eats hot peppers, will never leave Peru".
Whereas this includes the whole colorful array of chili peppers present in Peruvian cuisine, after trying Papa a la Huancaína, you will certainly identify with the saying and might just book a one-way ticket to Peru, hungry for more!
Origins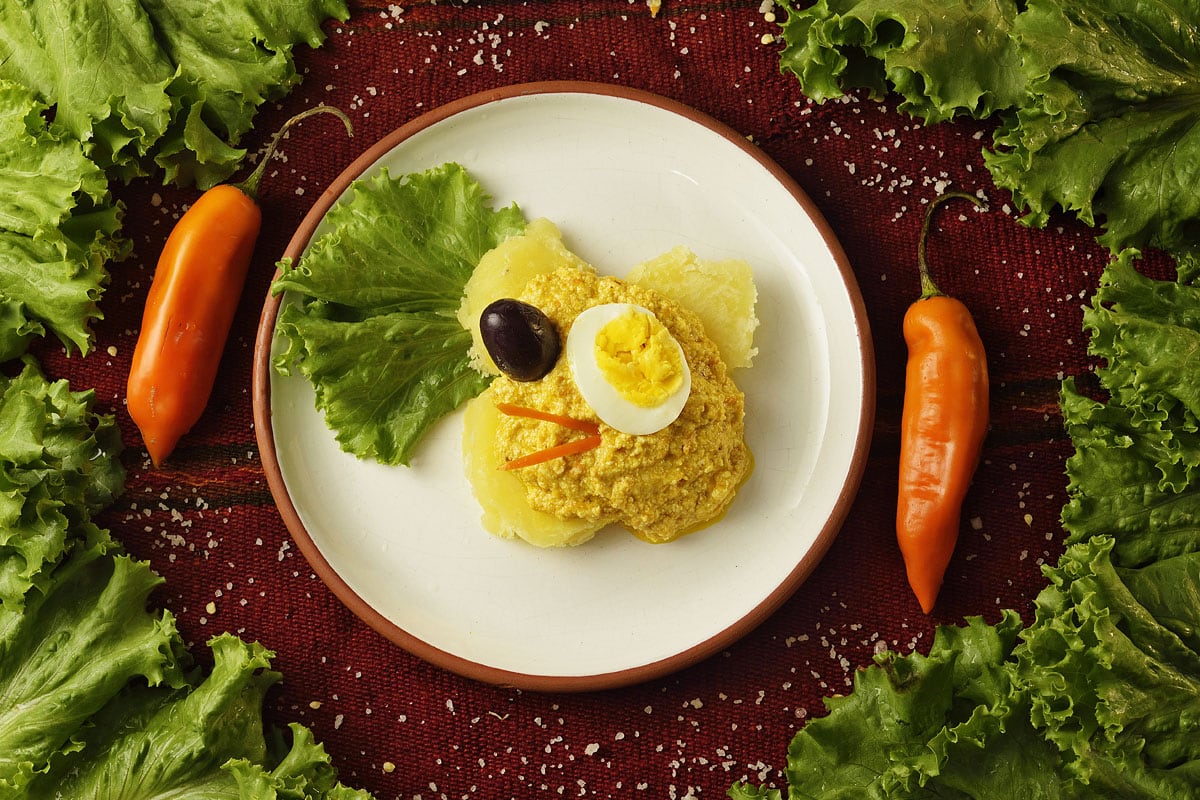 Before we move on to the recipe itself, let's delve into the history of this dish. Papas are potatoes and Huancaína refers to a lady from the Andean city of Huancayo. This gives us an idea of its origins, although historians haven't quite managed to agree on one single version.
The most popular story goes that the dish was prepared for the men working on the construction of the railroad connecting the capital city of Lima with the Andean city of Huancayo, located at approximately 190 miles away, at around the turn of the 19th century.
It is said that a lady from Huancayo came up with this recipe originally using a different type of pepper (rocoto instead of ají amarillo) which is more prevalent in the Andes. The dish became popular quite quickly during the construction and must have travelled with the first passengers of the train when the railway opened, taking it to Lima and beyond.
It isn't known whether it was served hot or cold or whether it was a starter or a main dish back then, but its unique flavor has made it survive and thrive up until this day.
It stands strong as one of the most popular dishes throughout the country and is a staple offering in Peruvian restaurants in all corners of the world.
A secret revealed
You might ask yourself how this brilliantly inventive lady from Huancayo managed to achieve the consistency of this creamy cheese sauce that we can now only make with a blender? Well, she would have used a batán, a traditional giant pestle and mortar made out of stone common throughout South America.
In fact, many traditional and top-end restaurants in the country, especially in the countryside, still choose to use the time-consuming and bicep-building bátan to prepare the sauce since it gives it the perfect texture.
Your stomach might be rumbling by now so, without further ado, let's roll up our sleeves and prepare our very own Papa a la Huancaina! Set aside 60 minutes to prepare and cook this delicious appetizer.
Step by step photos
Step 1: Boil the potatoes (yellow potatoes or other potato varieties such as gold potatoes or white potatoes) until soft and remove from the pan to cool.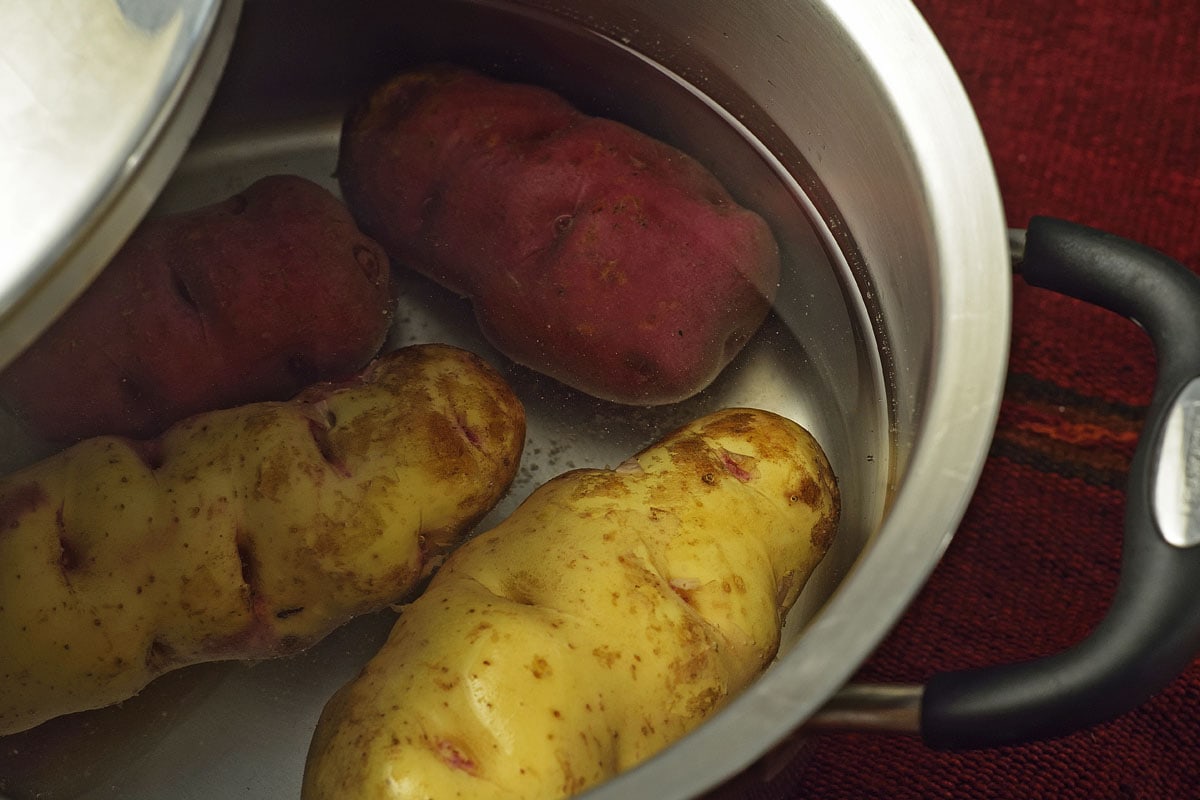 Step 2: Devein and deseed the peppers. Gently sauté them with unpeeled garlic cloves in a small amount of oil.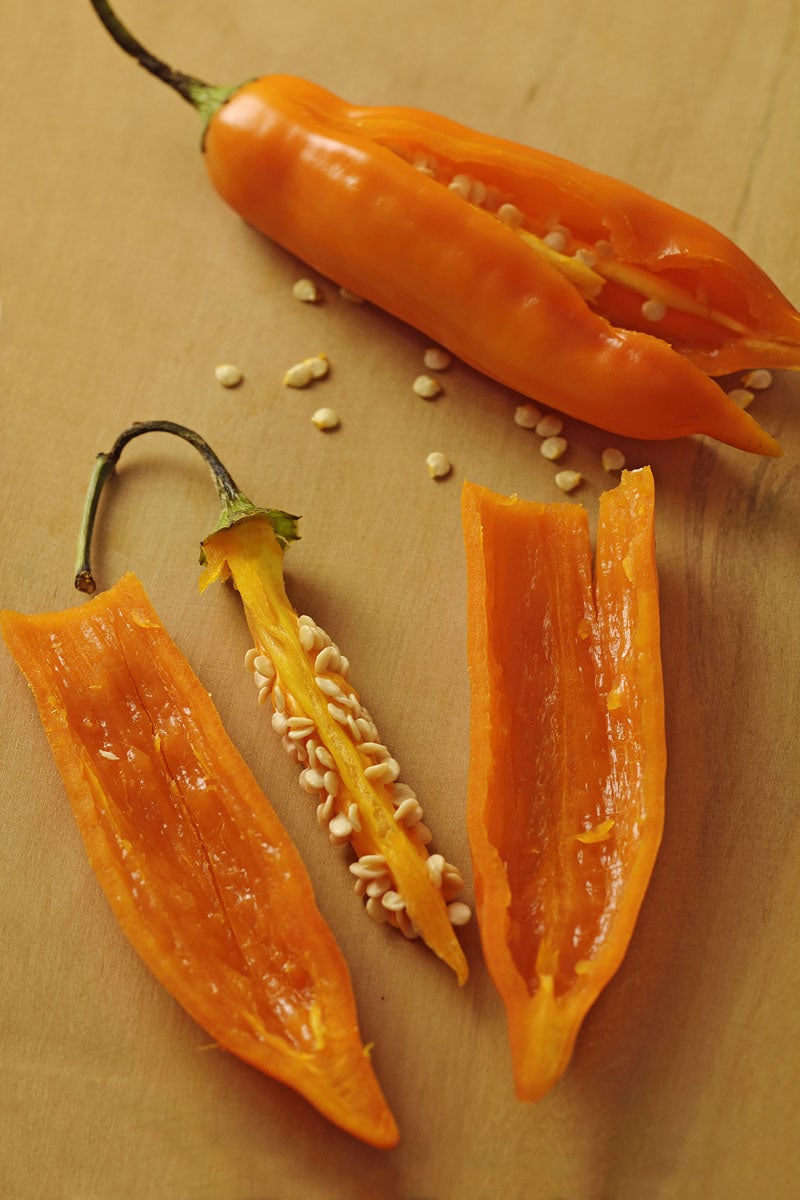 Step 3: Combine peppers, garlic, cheese (queso fresco), and salt in a batán or blender, processing until a smooth texture is achieved. Adjust consistency by adding breadcrumbs or crushed crackers if needed, or milk if too thick. You can also use a food processor if you do not have a blender.
If desired, you can also add evaporated milk for a creamier texture in the cheese sauce. Adjust the amount of milk according to your preference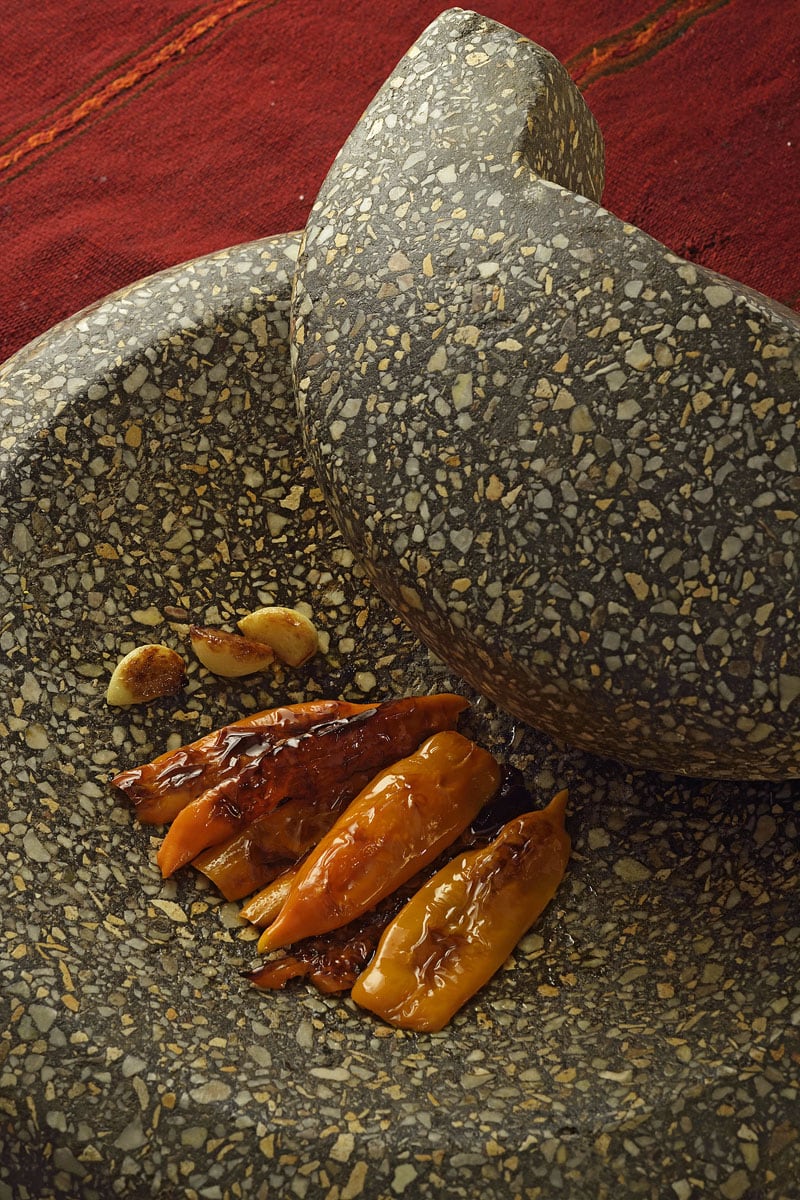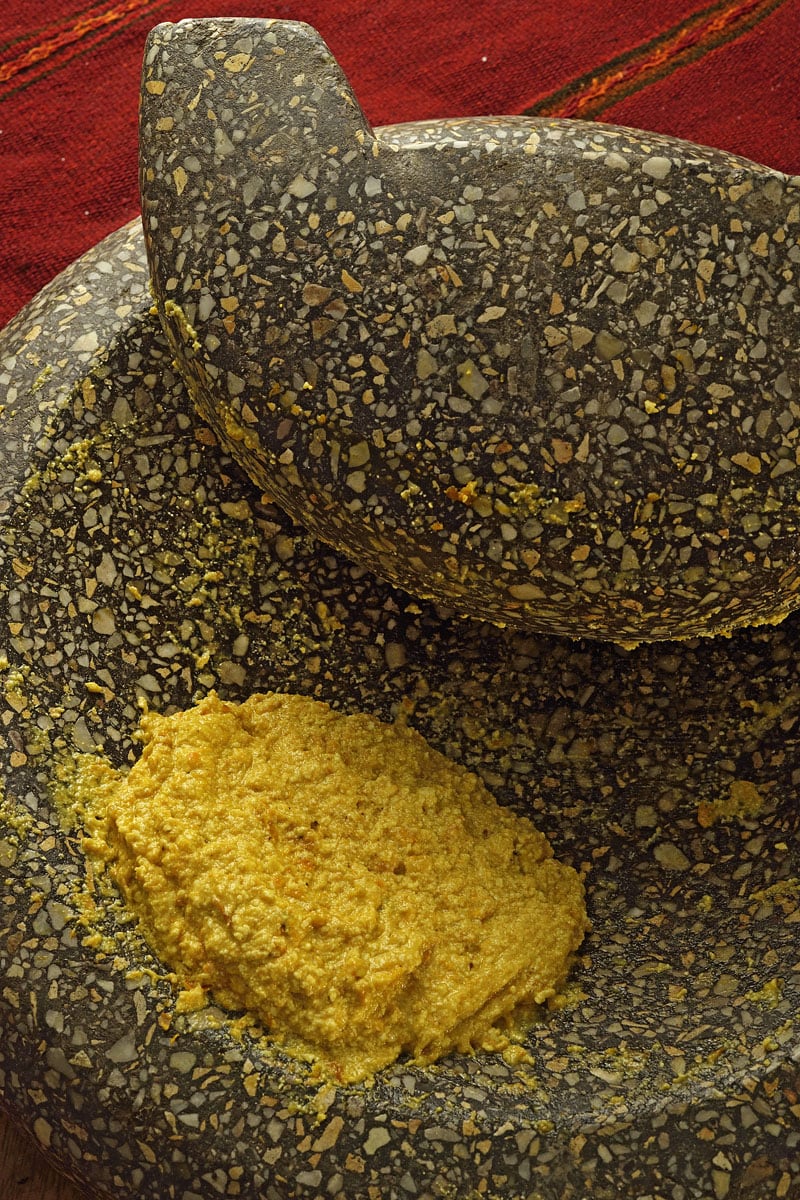 Step 4: Cut the cooled potatoes into slices, allocating two potatoes per portion. Arrange on a large lettuce leaf, drizzle a liberal amount of sauce over the potatoes and lettuce, and garnish with boiled egg slices and an olive or two.
Step 5: Savor your delicious creation and anticipate the praises from your satisfied guests.
Notes
You will need a batán (traditional giant pestle and mortar made out of stone) or a blender, and we recommend using disposable gloves when handling the chili peppers.
As for the main ingredients, we already mentioned that the protagonist of this starter is the ají amarillo, a plant native to this part of South America, and practically one of the staples of local cooking; it's an indispensable feature of the seasoning of its recipes from all over the country.
This pepper is considered medium hot, so each individual chef can alter the intensity of the sauce somewhat, according to their preference. Historical fact: remnants of representations of this pepper have been found in pottery shards at archeological sites, some dating back as much as five thousand years. That's several thousand years before the Incas even laid the first stone of one their many architectural masterpieces, so the ají amarillo is a truly amazing little fiery friend.
Not many people are aware that olives are also produced extensively on the coast, and each serving should be decorated by one or two of its typical, intensely tart black olives.
Potatoes
The creamy sauce is served over a bed of sliced yellow potatoes (no surprise there – Peru is the birthplace of the potato) and still boasts over 3000 known species of the trusty tuber.
However, this dish should be served with a specific type known as "yellow potato" which has a very floury texture. These spuds might be hard to come by outside of Peru, so you can substitute it with any kind of floury type of potato available in your region.
Cheese
The cheese used for the sauce is fairly low-fat fresh cheese called queso fresco, very common in the Andes. The flavor of this cheese when eaten on its own pales in comparison to more mature yellow cheeses, but for this sauce it's perfect because it doesn't overpower the other ingredients.
If you can't find queso fresco, you can also use crumbly white cheese, feta cheese, or even cottage cheese as a substitute
Since all of the above ingredients are very affordable and widely found in the typical Peruvian kitchen, preparation is quick and easy. Two more factors that are undoubtedly part of its lasting success.
If you love huancaína sauce, check out our variation on macaroni and cheese – Peruvian style!
Vegetarians
Good news for those following a vegetarian or vegan diet: you don't have to miss out on Papa a la Huancaína! Just modify the recipe a bit. It is possible to prepare this favourite dish without milk and cheese, and the result is pretty much as tasty as the original.
Just leave out the milk and egg entirely, and replace the cheese with the same amount of strained tofu, and add 2 tablespoons of store-bought nutritional yeast to substitute the breadcrumbs.
This cold potato dish can be served as a delicious Peruvian appetizer or side dish and is perfect for any occasion.
Papa a La Huancaína
This dish is an unmissable classic of Peruvian cuisine that is a perfect combination of many of Peru's usual culinary suspects: ají amarillo (the yellow Peruvian chili pepper), potatoes, garlic and fresh cheese.
Ingredients
17

ounces

floury potatoes

5

ounces

queso fresco

(fresh cheese)

4

large leaves

iceberg lettuce

3

fresh ají amarillo chili peppers

chopped

3

cloves

peeled garlic

1

egg

boiled

4

olives

black

1

Teaspoon

olive oil

1

Teaspoon

milk

Salt to taste

2-3

salty crackers or saltine crackers

optional
Instructions
Cover the potatoes with salted water, boil until soft and remove from the pan to cool. You can peel the potatoes or leave the skin on.

Remove the veins (ribs) and seeds from the peppers. Lightly fry them with the whole cloves of garlic in a little bit of oil.

Put the peppers, garlic, cheese and salt in the batán or your blender and grind/blend until smooth. If you are using a blender it might be necessary to add some breadcrumbs or crushed salty crackers to achieve the correct consistency, or on the contrary, add some more milk if it is too thick.

Slice the boiled potatoes once they have cooled sufficiently, using 2 potatoes per serving. Place on a large single lettuce leaf. Pour a generous portion of sauce over the potatoes and lettuce and decorate with a few slices of boiled egg, and 1 or 2 olives.

Enjoy the result and wait for the compliments from your diners to come pouring in!
Nutrition
Nutrition Facts
Papa a La Huancaína
Amount Per Serving
Calories 163
Calories from Fat 54
% Daily Value*
Fat 6g9%
Cholesterol 19mg6%
Sodium 66mg3%
Potassium 664mg19%
Carbohydrates 20g7%
Protein 8g16%
Vitamin A 519IU10%
Vitamin C 63mg76%
Calcium 118mg12%
Iron 4mg22%
* Percent Daily Values are based on a 2000 calorie diet.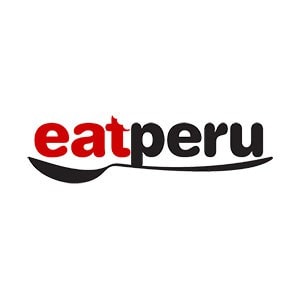 Peruvian foodie. I've been writing about the food of Peru for over 10 years. Read more about the Eat Peru team here