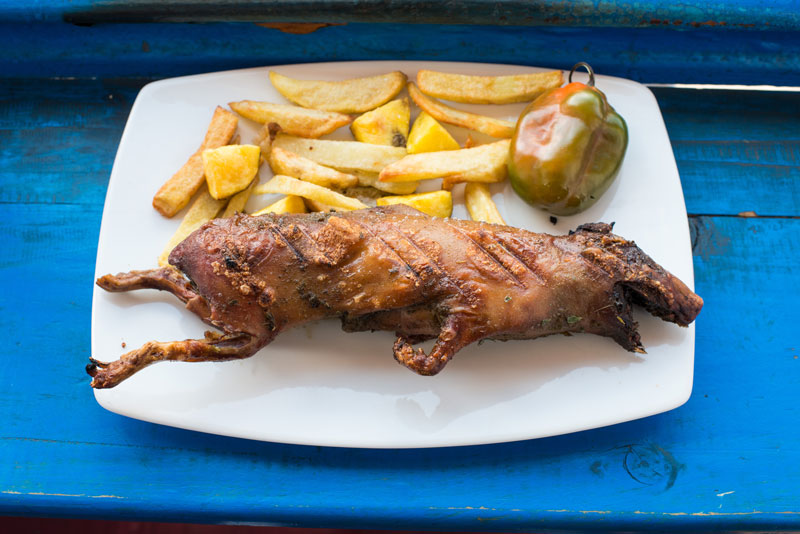 They're not pigs and they don't come from Guinea. Peruvians don't keep them as pets. What they are is a delicious delicacy best served with potatoes and salsa. A traditional Peruvian dish, Guinea pig (called cuy in Peru) has been served whole on special occasions since Inca times.
Guinea pigs are cute and cuddly and eating one is like eating your pet dog. Or is it? Remember that even dogs are eaten in many countries and guinea pigs have been a source of nutritious food for the Inca for centuries. The little furry rodent became a pet in Europe and then the United States in the last couple of hundred years. Peruvians don't keep cuy, as they're called in Peru, as pets.
They are not pigs either and don't live in the wild, being purely bred for food by the people of the Andes. The Cuy Peruano (Peruvian Guinea Pig) is related to another animal called a cavy, a large rodent found in South America.
They're not pigs and they don't come from Guinea. Cuy is a delicious delicacy best served with potatoes and salsa.
The first time I ever tasted this Andean food staple was in Huaraz, a high-altitude city in the Ancash region of Peru. It tastes a little like chicken but has a deeper, "fattier" flavour. It's delicious and I've been a fan ever since that first taste. I never miss an opportunity to sample fried or roasted guinea pig.
I've yet to try cuy prepared by other cooking methods but frying or roasting really works for me. Boiling is another option but if boiled chicken is anything to go by then I guess I'm not missing out.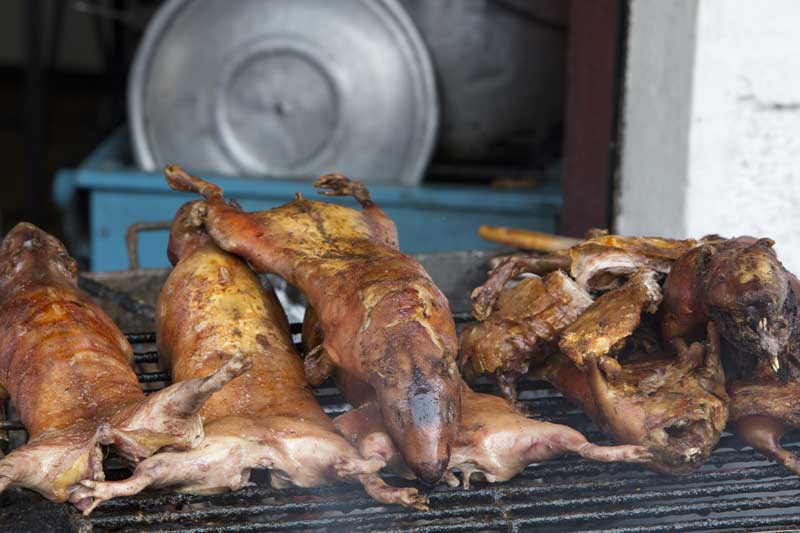 Guinea Pig Specs
Adult guinea pigs weigh in at around 0.5kg (1lb) to 1.2kg (2.5lb) and measure 20cm (8 inches) to 40cm (16 inches) in length. Think small chicken. And that's exactly what it tastes like. Well, not exactly, but close enough. Cuy is a tastier meat than chicken, in my opinion, having a bit more oil and faint 'gamey' flavour to it.
The meat is actually low in fat but high in protein so it could be considered a pretty healthy food. Higher in protein than most animal products westerners eat daily, cuy is a meat Paleo people will love. It's more of a dark meat than even the leg of chicken and punches above its weight in the nutrient category.
Cave Porcellus (the scientific name you can use to impress foodie friends) is eaten in Peru, Ecuador, and Bolivia. You can find cuy asado (roasted guinea pig) on menus in some Andean, Peruvian or Ecuadorian specialist eateries in New York, Los Angeles, and a few other US cities with sizeable South American populations.
Diego Oka, Executive chef at La Mar, Gaston Acurio's Miami Restaurant, served up guinea pig at the restaurant for Peruvian Independence Day. Cuy dishes form part of the Novoandina (New Andean) cuisine movement but most regions in Peru will have their own recipe.
Guinea pigs bred for food are eaten once they have reached a couple of months old. They are served pretty much as a fish would be served, often only the intestines are removed. The head is edible and many people are very fond of this part. That's going a bit too far for me but the rest of the animal is great to eat.
Will Guinea Pigs one day be served in restaurants worldwide? It's possible. As the world looks at alternatives to beef and other livestock for meat there is potential for new protein sources to become mainstream. Globalisation has made people more open to new foods.
Cricket protein might seem gross to some people but its popularity is growing fast. If insect protein is the future then why not guinea pig meat? It's got more taste than crickets, the animals are less destructive to the environment than cows and the meat is relatively easy to produce.
If you find yourself in Peru look for a cuyería (cuy restaurant) where the typical dish is roasted guinea pig (cuy al horno). The fried version (cuy chactado) is tastier because, well, fried food is always tastier. The cooking method and how you eat cuy are personal choices but it's worth following the lead of the locals. Cusco is your best bet for a good cuyería.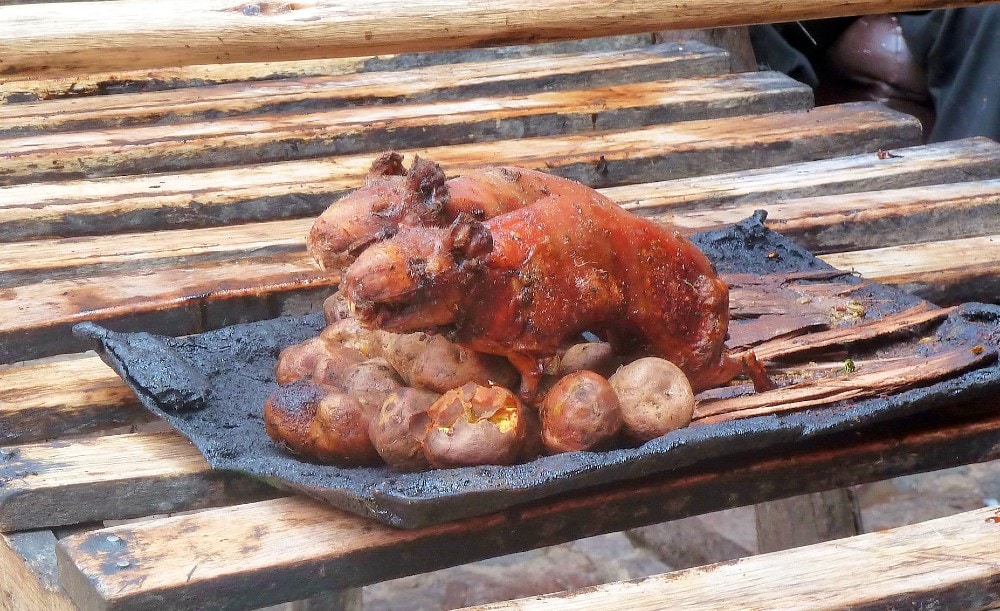 Cooking Guinea Pig
Cuy chactado is the deep-fried version of our furry friend. The animal is usually served flattened with the head removed. As there are different versions of this recipe I'll leave you with one that you can use as a base for experimenting. This is a simple dish so removing the cornmeal, peppers, and cumin from the recipe will not change the overall presentation or taste too much.
Peruvian Guinea Pig recipe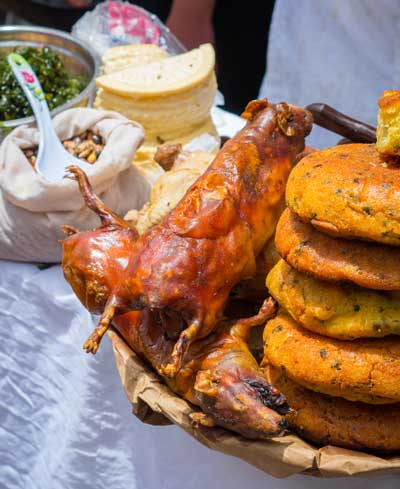 1. Remove the hair and guts from a medium guinea pig. Clean it thoroughly.
2. Dip the cuy in water laced with a good amount of lime juice and leave to dry for an hour or two. In Peru, a cook will leave it to dry in the sun (left to hang on a cord or twine). You can also leave the animal to dry in an oven (at low temperatures)
3. Rub salt, pepper, cumin, and garlic (ground) onto the dry skin of the raw animal. The best way to do this is by hand as you can really get the condiments into the skin this way. Brushing or spooning the spices onto the meat will not work nearly as well.
4. Boil water in a saucepan and add cornmeal (50-100g), 2 chopped ají Amarillo peppers, 1/2 cup of vegetable oil, and a couple of chopped garlic cloves. Cook until the peppers become soft.
5. Heat oil in another saucepan. Meanwhile, dip the carcass in cornmeal flour so that it is coated with a thin layer. Using a skewer put the guinea pig into the oil, turning several times to cook the entire animal. Drop some lime juice onto the flesh as you turn it and remove when the entire carcass is a golden color.
Serve the cuy on a large plate and spoon over some of the sauce from step 4. I like this dish served with potatoes or sweet potatoes. Fries or Peruvian salsa criolla condiments are typical tasty sides for cuy chactado. A delicious Peruvian sauce called salsa huacatay is often served up with this dish and it complements it very well.
Photo credit: Roast Guinea Pig with potatoes by Pululante, licence: CC BY 2.0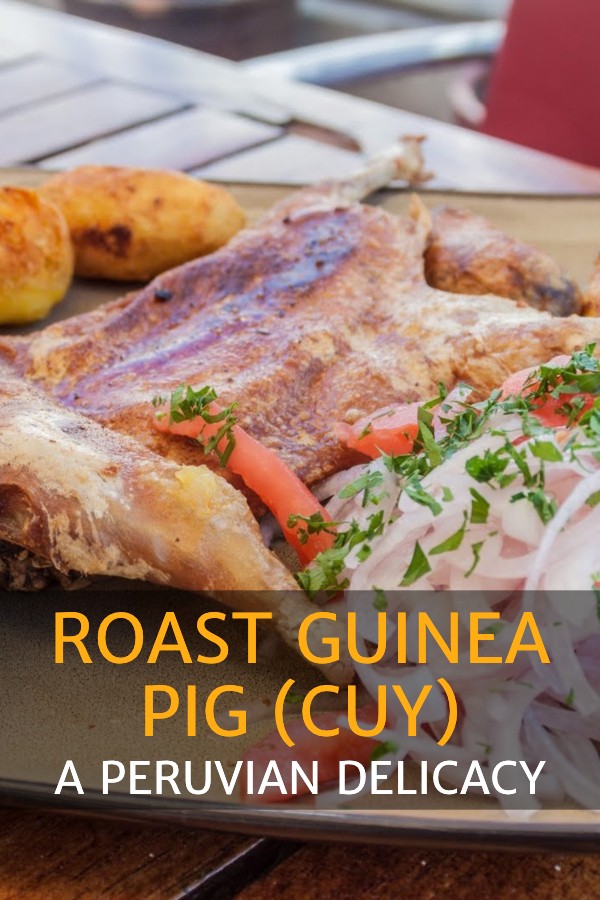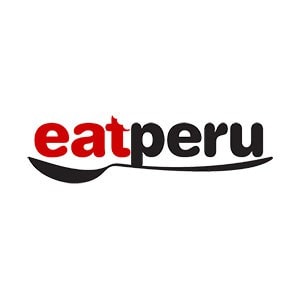 Peruvian foodie. I've been writing about the food of Peru for over 10 years. Read more about the Eat Peru team here