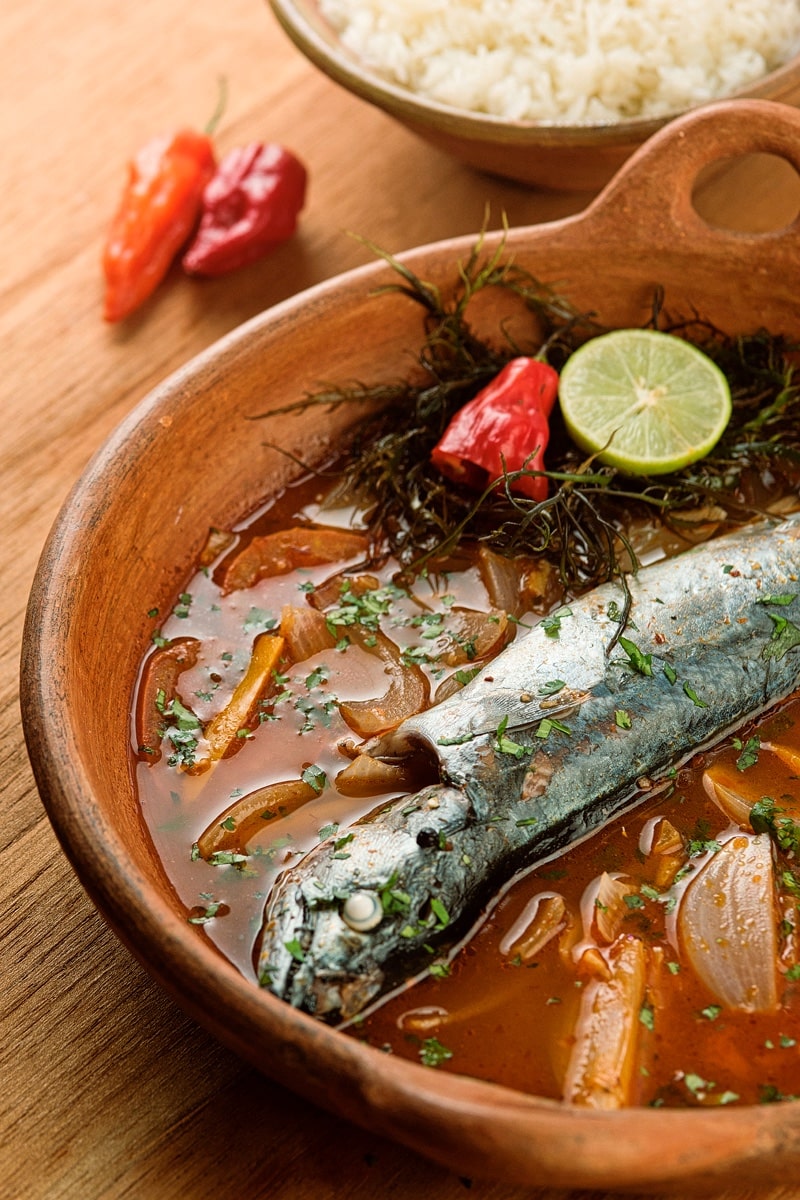 It's time we paid homage to the traditional Peruvian fish stew that is sudado de pescado. Made with any white fish fillet, garlic, onion, tomato, and the two main Peruvian chilli peppers ají panca and ají amarillo. The dish is served with rice or sweet potatoes and is a healthy and delicious main course that warms both the heart and stomach. A family favorite found up and down the Peruvian coast as well as further inland.
Fish in Peru: a tradition with a long tail
Peru's 1500 miles of rich coastal waters have been an important source of food for its inhabitants for at least 15,000 years. Fishing was of vital importance to pre-Columbian coastal cultures such as the Mochica-Chimú, Paracas and Nazca. To say that their life depended on it would not be an overstatement.
These coastal peoples also traded their catch with members from other cultures in the Andes mountains and Amazon rainforest, often exchanging them for products that can only grow at high elevation or in the humid jungle.
Some of the evidence of the role the sea and its fruits played for these early Peruvians can be seen in several museums in Peru and abroad. Pottery adorned with or shaped as fish, mollusks or fantastical sea creatures, ancient fish nets, the first fish hooks and textiles depicting the activity of fishing are all testaments of the importance of the Pacific to these peoples. In the north of Peru, one ancient fishing technique is still being practiced to this day: fishing from the caballito de totora reed boats. If you thought stand-up paddling was hard, try catching something atop this natural canoe-like boat amid the strong Pacific waves: it's a real feat!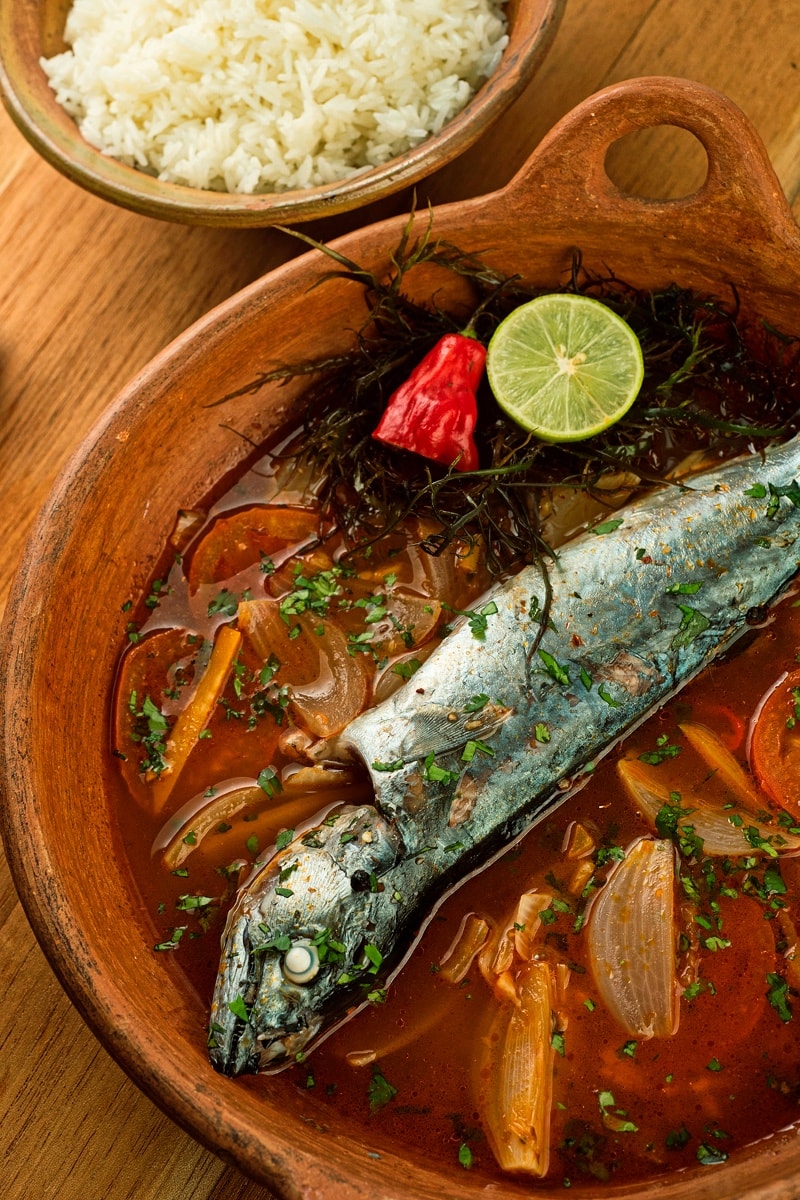 Peru's Abundant Seafood
Up to this day, the capital city and largest cities in Peru are found on the coast. And these cities are home to around 55% of its inhabitants, even though the coastal region only represents 10% of the country's territory. Fishing continues to sustain many families, where some of them depend on artisanal fishing and others work in the industrial fishing industry. It's no surprise, then, that some of the most famous recipes are made with fish or seafood from these abundant Pacific waters. The warm, northern sea current meets the colder, Humboldt sea current in the south, creating high marine biodiversity.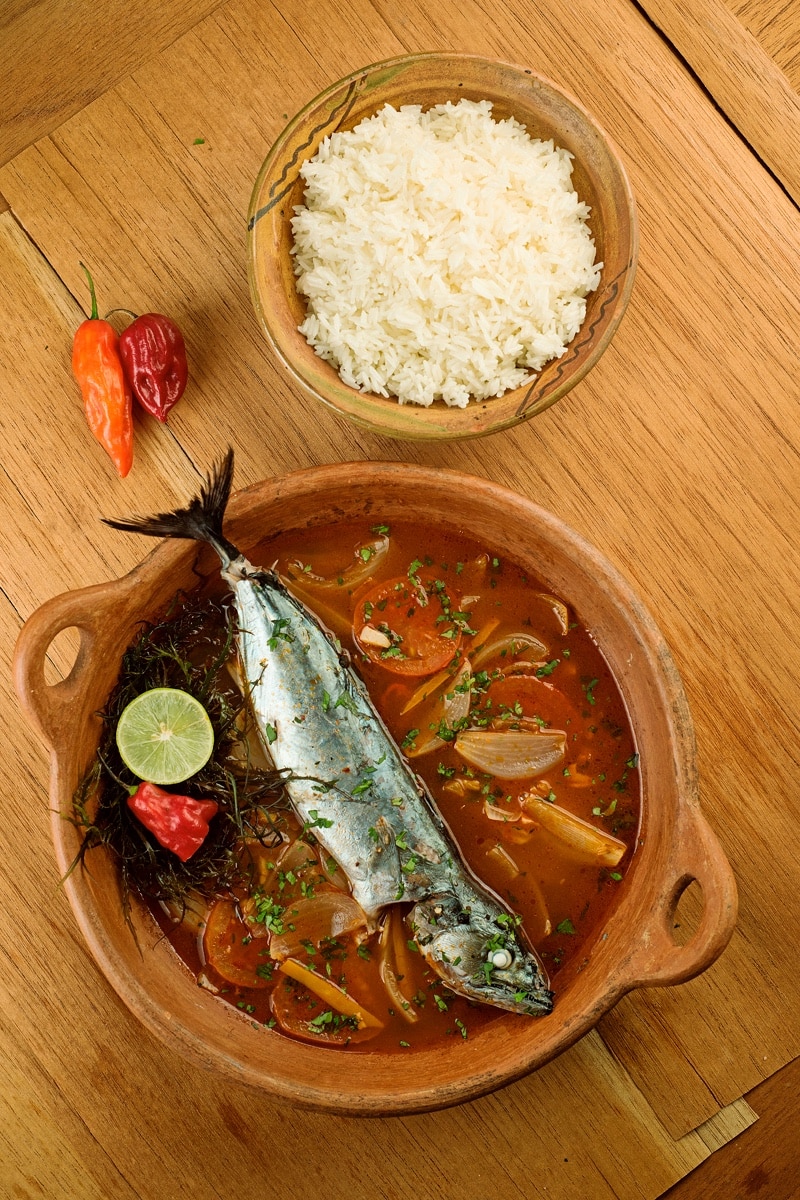 Ceviche, parihuela, causa de langostino, choritos a la chalaca are are some of the Peruvian superstar seafood dishes. But the humble sudado de pescado is a pretty impressive sidekick: it's cheap and easy to make, but still very tasty. It's also versatile – you can make it with pretty much any white fish.
We used bonito. Other commonly used fish are grouper, common dolphinfish and dorada (gilt-head bream). Try to avoid frozen fish in this recipe, that would not yield the same results in terms of taste and texture at all.
How to eat pescado sudado
We hope this spot of Peru's rich seafood history has given you an appetite because the time has now come to prepare this superb steamed fish dish yourself! Before we jump into this easy cook recipe, here's a tip on how to eat sudado:
Give each person their own bowl with their fish fillet and abundant stew. Serve rice (and sweet potato) on the side so each diner can sink spoonfuls of rice into the stew and eat it together with pieces of fish.
¡Buen provecho!
What you will need
Sudado de Pescado – Peruvian Steamed Fish
A delicious, healthy and flavorful stew of steamed bonito, Peruvian peppers and vegetables
Ingredients
4

fresh white meat fish fillets of 7 ounces each

flounder, bonito

2

teaspoons

ají panca paste

1

teaspoon

fresh ginger

2

cloves

fresh garlic

½

fresh ají amarillo chilli pepper cut into long

thin strips

2

onions

3

medium

tomatoes

sliced

3

cups

fish stock or water

1

teaspoon

cilantro

chopped

2

limes

1

teaspoon

oil

Salt

cumin and pepper to taste

2

cups

white

long-grain rice
Optional
2

large

sweet potatoes

boiled and sliced

1.5

cups

chicha de jora corn beer or wine

½

aji limo pepper

chopped and seeded

Yuyo seaweed

garnich
Notes
Weight per serving: 500 g
Nutrition
Nutrition Facts
Sudado de Pescado – Peruvian Steamed Fish
Amount Per Serving (500 g)
Calories 538
Calories from Fat 45
% Daily Value*
Fat 5g8%
Cholesterol 85mg28%
Sodium 782mg34%
Potassium 1695mg48%
Carbohydrates 55g18%
Protein 43g86%
Vitamin A 24903IU498%
Vitamin C 32mg39%
Calcium 173mg17%
Iron 3mg17%
* Percent Daily Values are based on a 2000 calorie diet.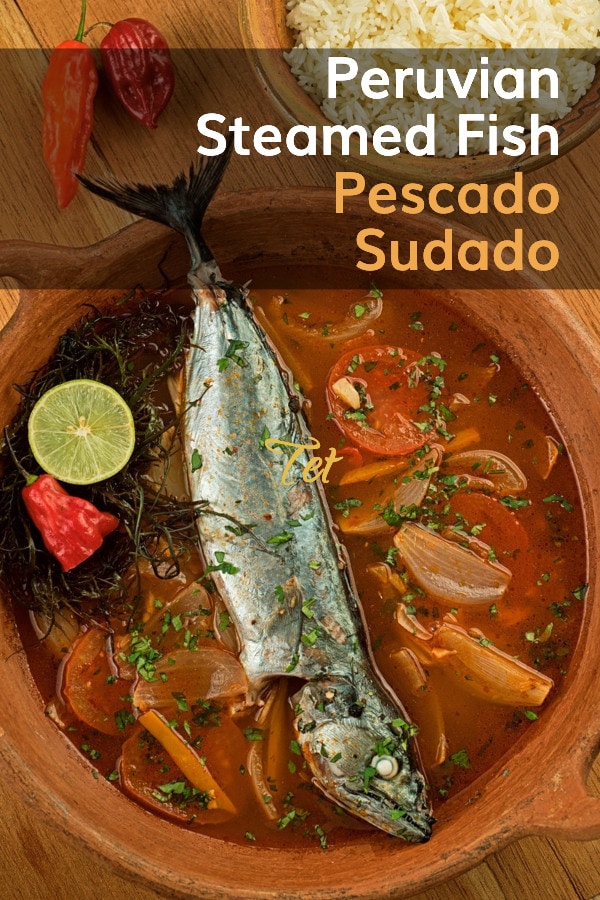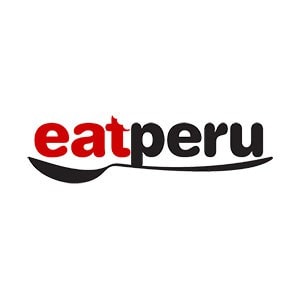 Peruvian foodie. I've been writing about the food of Peru for over 10 years. Read more about the Eat Peru team here