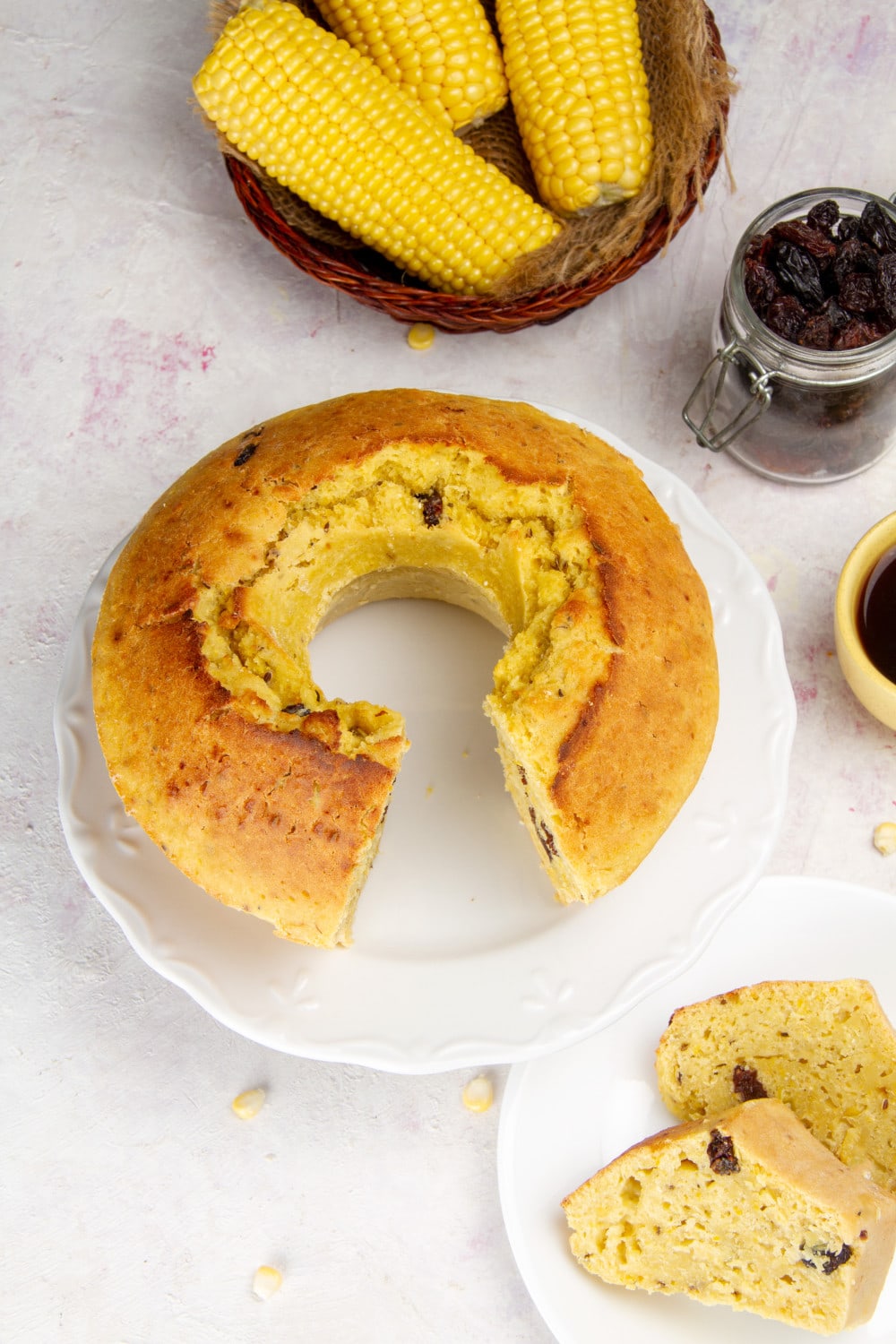 You have to try this delicious dessert that uses one of the main indigenous ingredients of the Andes region, choclo (also known as Peruvian corn or Cuzco corn). Pastel de Choclo is a sweet, traditional dish best enjoyed with a hot drink. Generally consumed as a breakfast or post-lunch snack, corn cake is moreish and just asks for a topping.
Other words for this dish in Spanish include "torta de choclo dulce" and "pan de choclo". In English, we might refer to it as "Sweetcorn cake". Whatever you call it, there's no denying that it's perfect for lazy afternoons or your late morning coffee break. In this recipe, we use the round mold that is usually used to make crema volteada. This round mold gives the dessert an attractive appearance and also helps spread the heat when baking.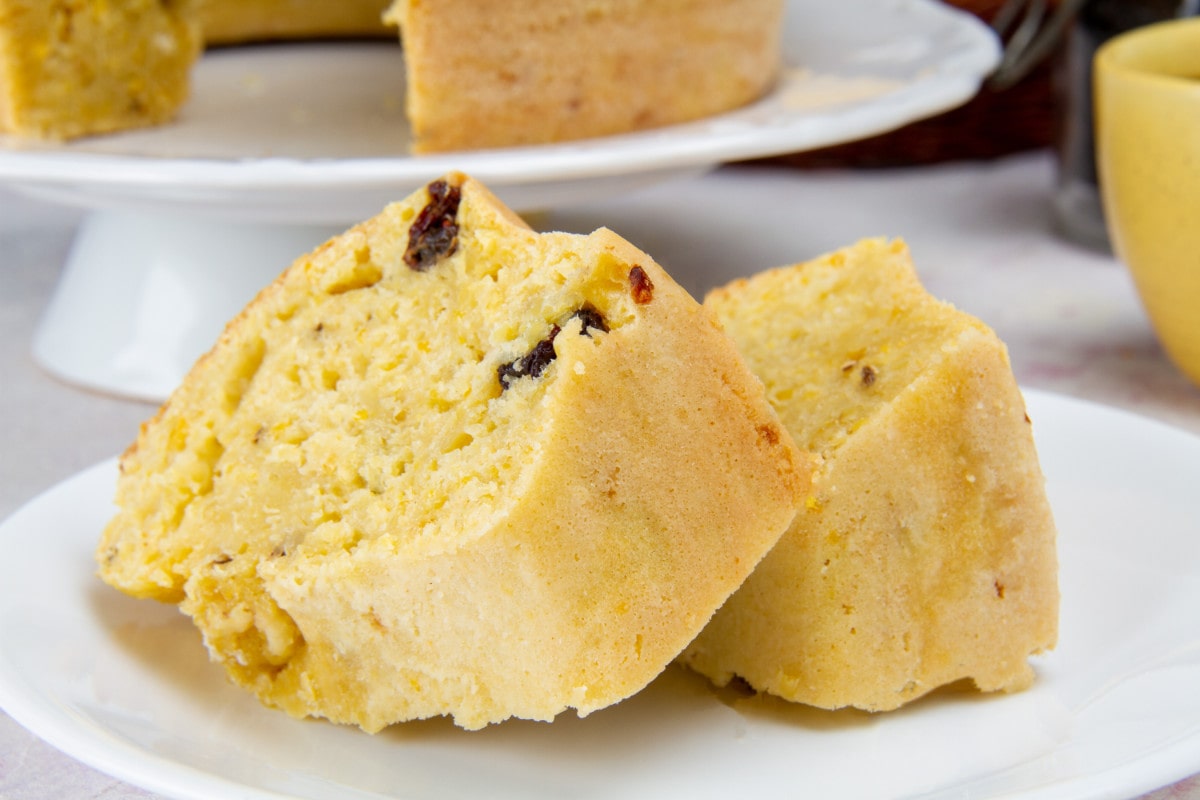 It's best to use fresh choclo but Peruvian corn is not always available outside of Peru and even in South America. The best bet for finding this vegetable in the US is through speciality grocers or farmer's markets. The choclo plant thrives in the soil of the Andes mountains and can't be produced at scale at lower altitudes. Amazon stocks canned versions which make a good substitute. Avoid cornmeal as it is not a good substitute.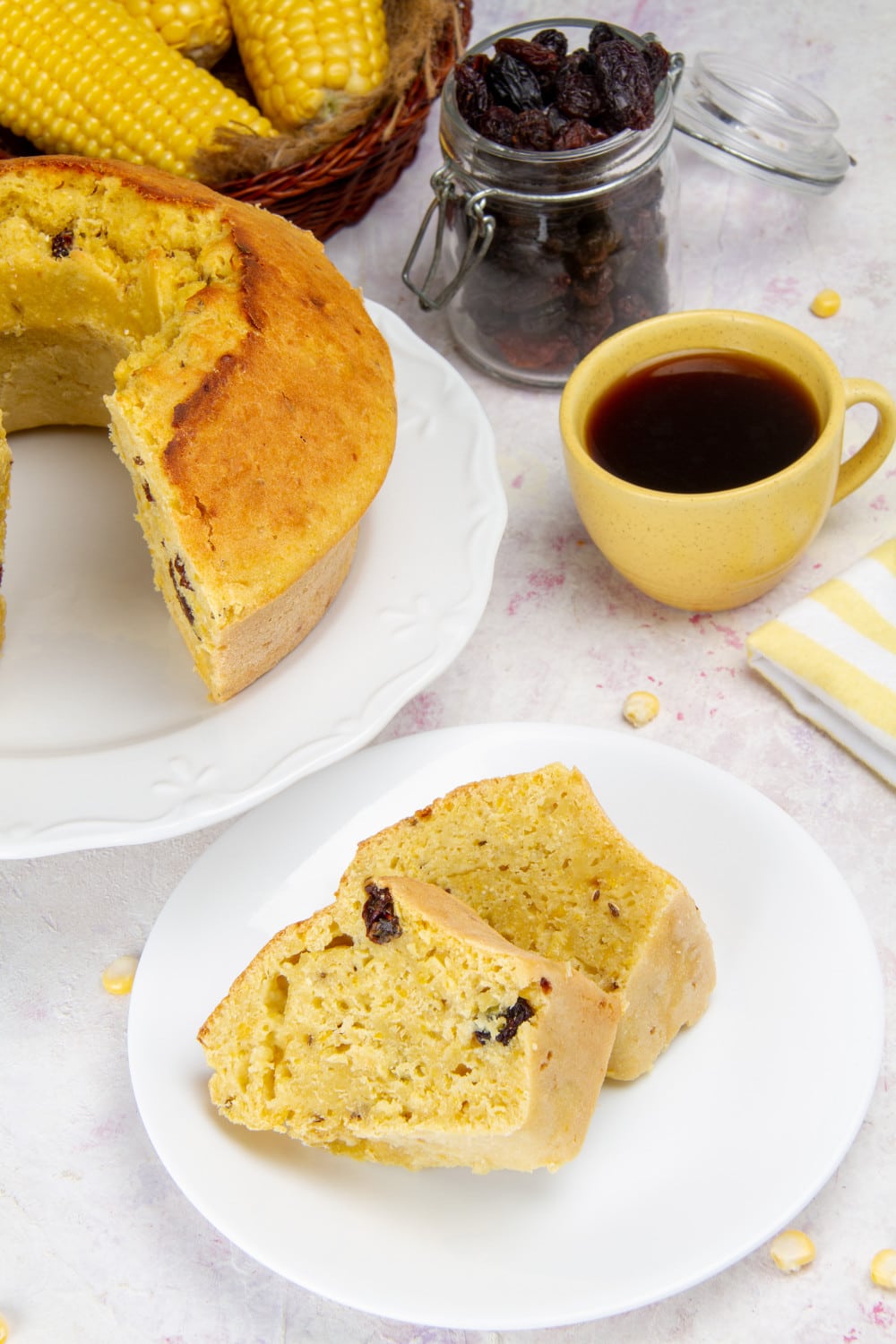 This recipe is quite similar to Martin Morales' baked corn cakes recipe from his excellent cookbook, Ceviche: Peruvian Kitchen. That savoury recipe uses cornflour (in addition to choclo kernels) and queso fresco (fresh cheese) whereas our sweet version uses all-purpose flour, extra sugar, milk, and the addition of raisins and anise.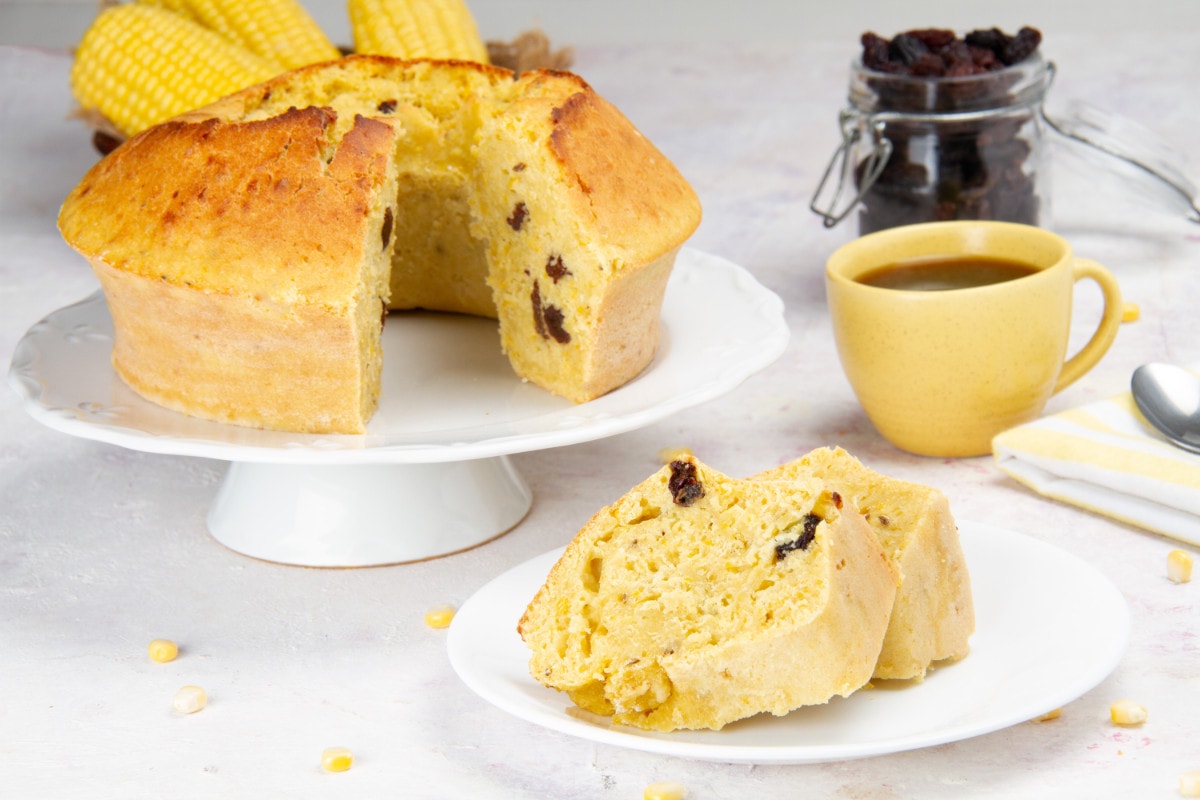 Just in case anybody still had doubts, I'd like to make it clear that this is a sweet dessert recipe. There is a version of this dish that is savoury (creamy corn pudding with beef) but these are completely different recipes that only share a few ingredients, the main one being the sweet corn. Corn pudding is also found in other parts of South America and Mexico. This recipe uses Peruvian corn, or choclo kernels, which are whiter and much larger than their Mexican corn cousin.
Enjoy with a topping of ice cream and a cup of coffee!
What you will need: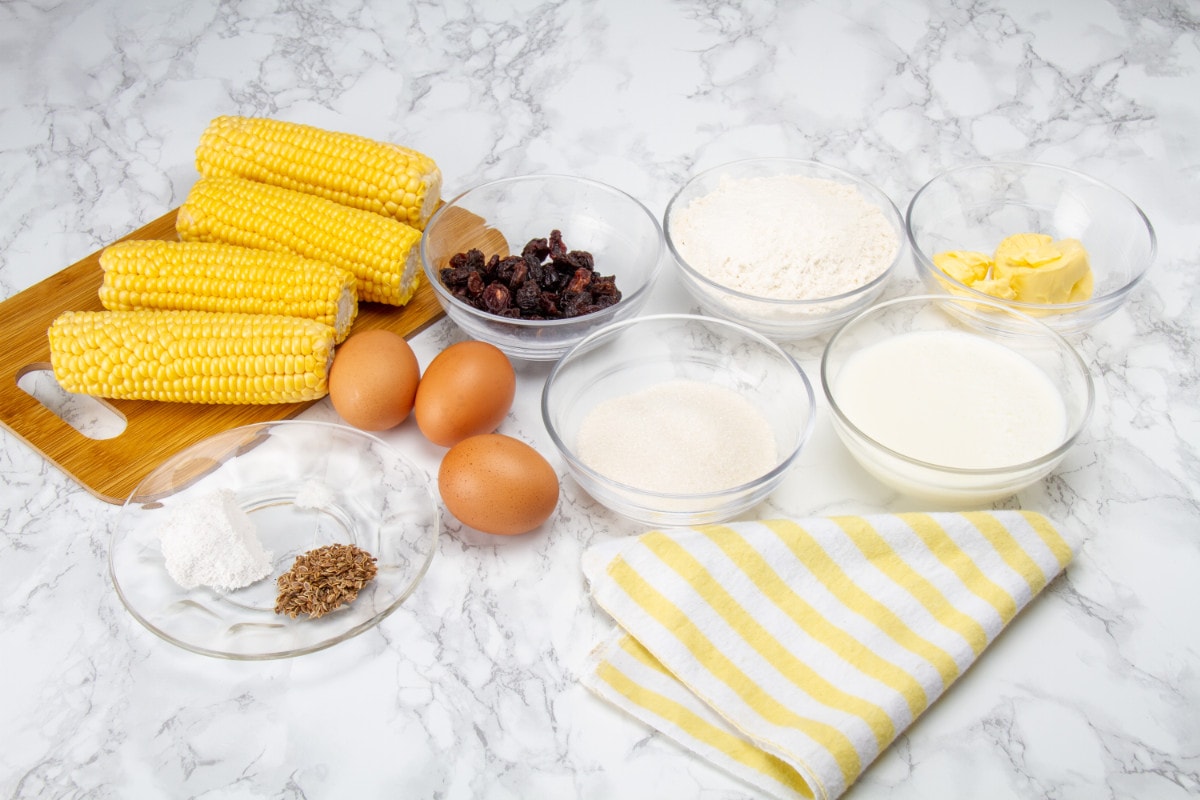 Pastel de Choclo Corn Cake
An easy bake sweet treat that uses choclo, sugar, egg, butter and raisins for a dry dessert just asking for a creamy topping.
Ingredients
4

ears of choclo or corn or 3 cups of corn kernels

2

cups

all-purpose wheat flour

1 ½

teaspoons

baking powder

¼

cup

butter

melted, without salt

¾

cup

evaporated milk

¾

cup

sugar

3

eggs

½

cup

raisins

1

teaspoon

star anise

pinch of salt
Instructions
Peel and remove the sweet corn leaves. Rinse the corn stems. Place vertically on a cutting board holding firmly, cut lengthwise with a sharp knife, separating the grains or kernels from the stem. Repeat the procedure with all the sides of the sweet corn until all the kernels are removed. Repeat this procedure with the rest of the sweetcorns.

Preheat oven to 160°C/320°F. Grease a mold, sprinkle a teaspoon of wheat flour on the entire surface of the mold. We will use a 20 cm diameter, metal ring-shaped mold.

In a mixing bowl, sift the wheat flour with the baking powder. Melt the butter in the microwave for about twenty seconds.

In the food processor glass, place the eggs (white and yolk), melted butter, and evaporated milk. Blend it for a minute until you have a homogeneous mixture. If your blender is not powerful enough, or the glass is small, separate this mixture into two equal parts.

Pour the corn kernels, with the liquid into the blender glass, and blend for a couple of minutes. The idea is to break the corn kernels a bit, but not crush them completely. You should feel the texture of some corn kernels. Repeat the procedure until all the liquid ingredients are blended with the corn kernels.

Pour the mixture into the bowl of the electric mixer and add the sugar. Gradually add the sifted flour with the baking powder and the pinch of salt.

When all the ingredients are perfectly integrated, add the star anise and the raisins. Stir carefully with a spoon to integrate the raisins.

When the surface of the cake is golden brown, open the oven and insert a toothpick. If it comes out dry, it's ready. Turn off the oven and remove the baked cake. Let it cool for about 90 minutes and remove it from the mold.

If desired, decorate with a little powdered sugar.
Nutrition
Nutrition Facts
Pastel de Choclo Corn Cake
Amount Per Serving
Calories 241
Calories from Fat 63
% Daily Value*
Fat 7g11%
Cholesterol 56mg19%
Sodium 74mg3%
Potassium 273mg8%
Carbohydrates 41g14%
Protein 6g12%
Vitamin A 272IU5%
Vitamin C 3mg4%
Calcium 78mg8%
Iron 2mg11%
* Percent Daily Values are based on a 2000 calorie diet.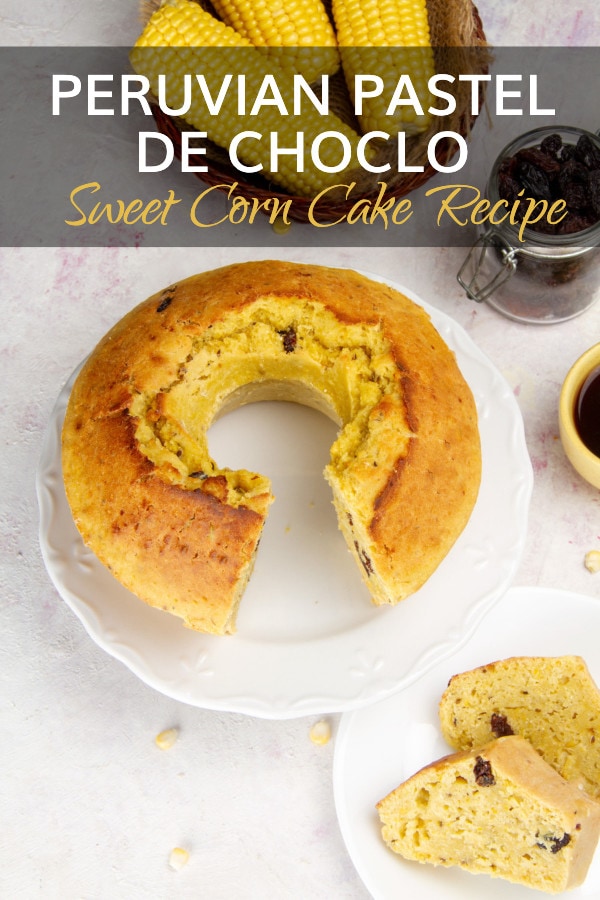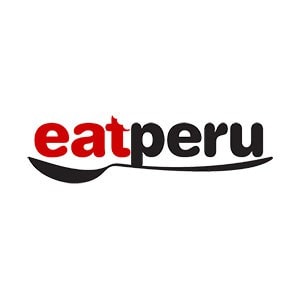 Peruvian foodie. I've been writing about the food of Peru for over 10 years. Read more about the Eat Peru team here