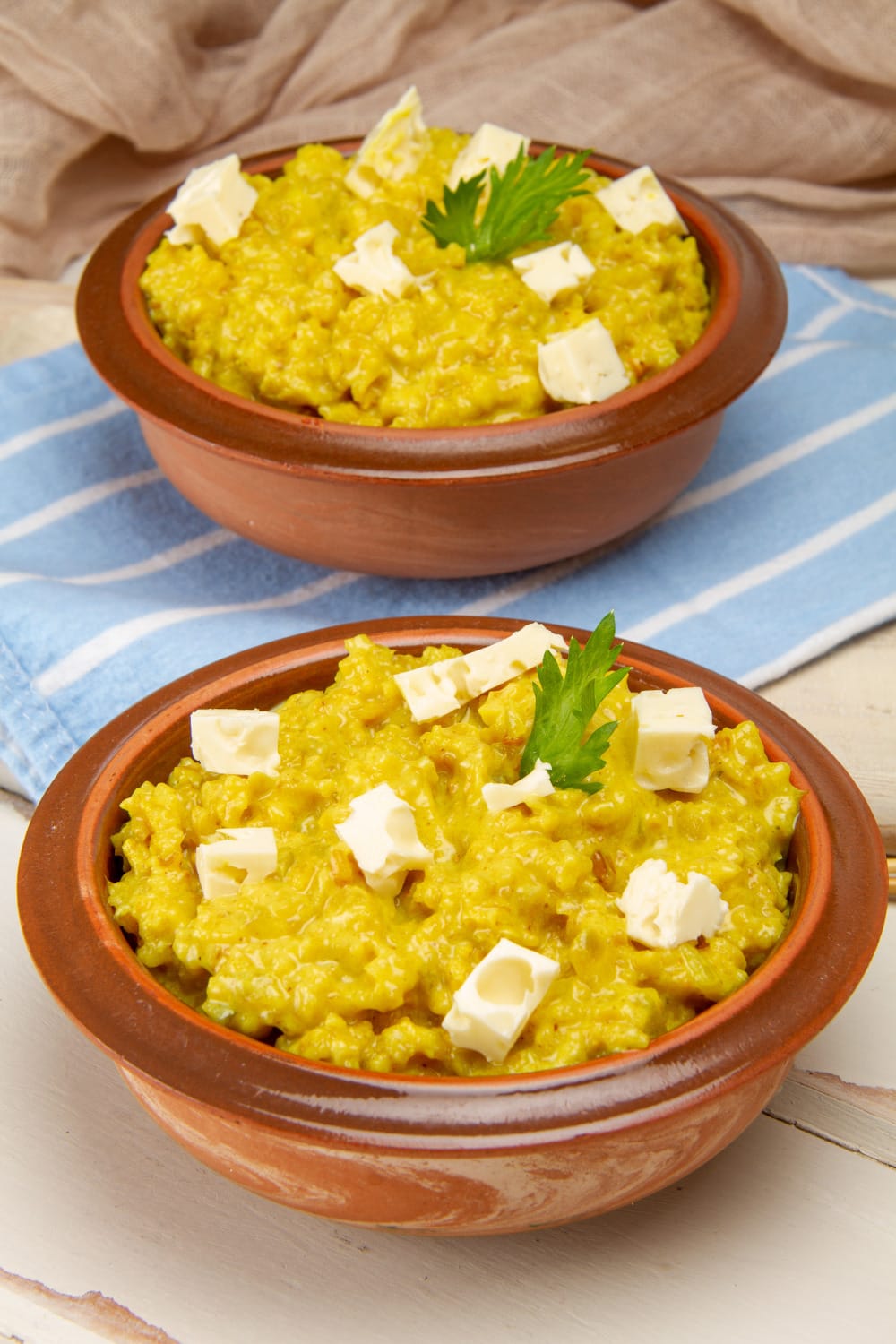 A stew made from wheat might not sound immediately appetising, but let me tell you that this dish is popular for a reason. It hits all the spots. Tasty, satisfying, and easy to make.
Trigo is Spanish for wheat. And guiso means, well you guessed it, stew. The dish is also known as trigo guisado, which translates as "stewed wheat". The dish uses the whole kernel, sometimes called the wheat berry, with the inedible outer husk removed (we can't digest that). It's not sweet and it's certainly not a berry but I guess "berry" sounds more inviting than "kernel".
Easy to Prepare & Wholesome
For best results, the berries should be soaked before cooking. Pre-soaking grains will not only make the cooking process faster, but it also helps remove phytic acid and other ingredients that inhibit proper digestion.
Most people will have little trouble sourcing the base ingredient. Wheat is one of the world's most consumed grains, and in the United States, it reigns supreme. Wheat flour, from which we make bread among other things, is just ground wheatberry.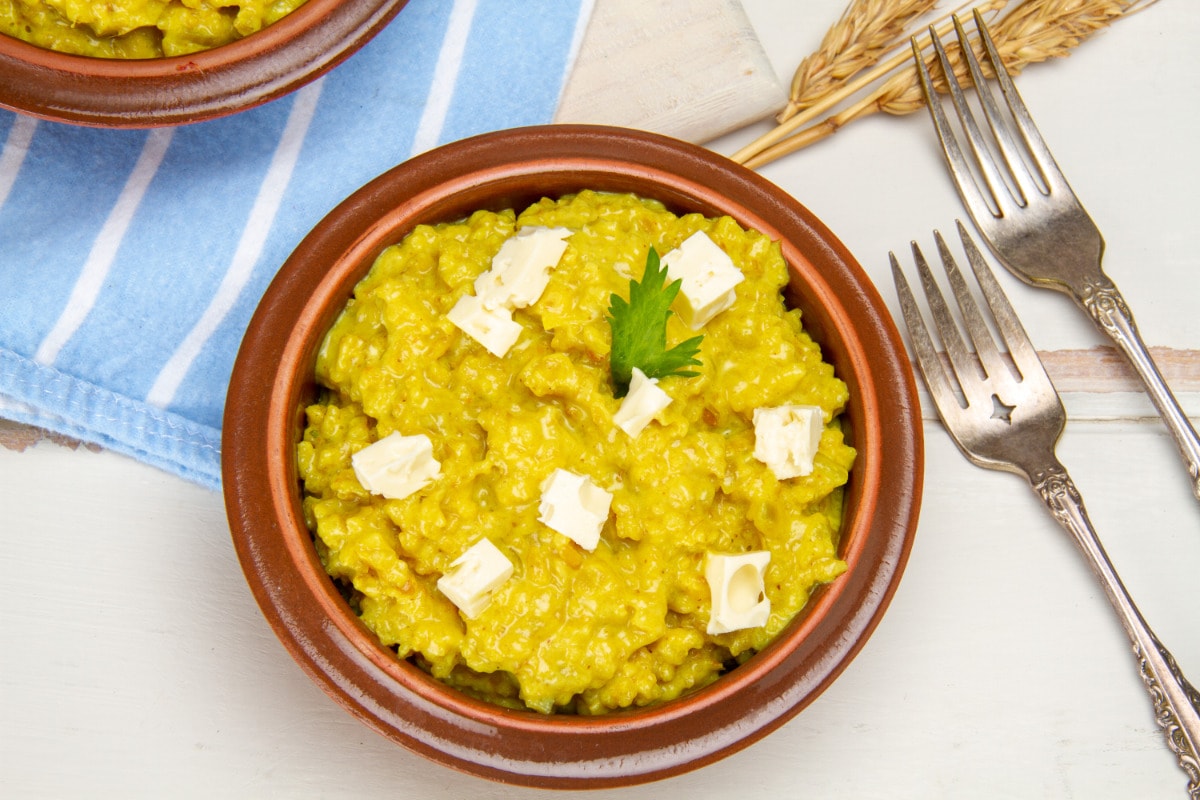 If you don't have access to the berries/kernels, you're gluten intolerant, or you simply don't want to eat wheat, you can use quinoa. And of course, quinoa makes the recipe even more Peruvian, the grain having originated in the Andes.
Some recipes claim that Guiso de Trigo was a staple of the Andean diet. Wheat was only introduced to Peru in the last few hundred years, and while it is now a staple, it's a relatively recent addition to the Andean diet. Nonetheless, the dish is enjoyed in Peru, Chile, and Spain among others. It's basically peasant food that uses simple, everyday ingredients. But that doesn't mean it's not rich in flavor.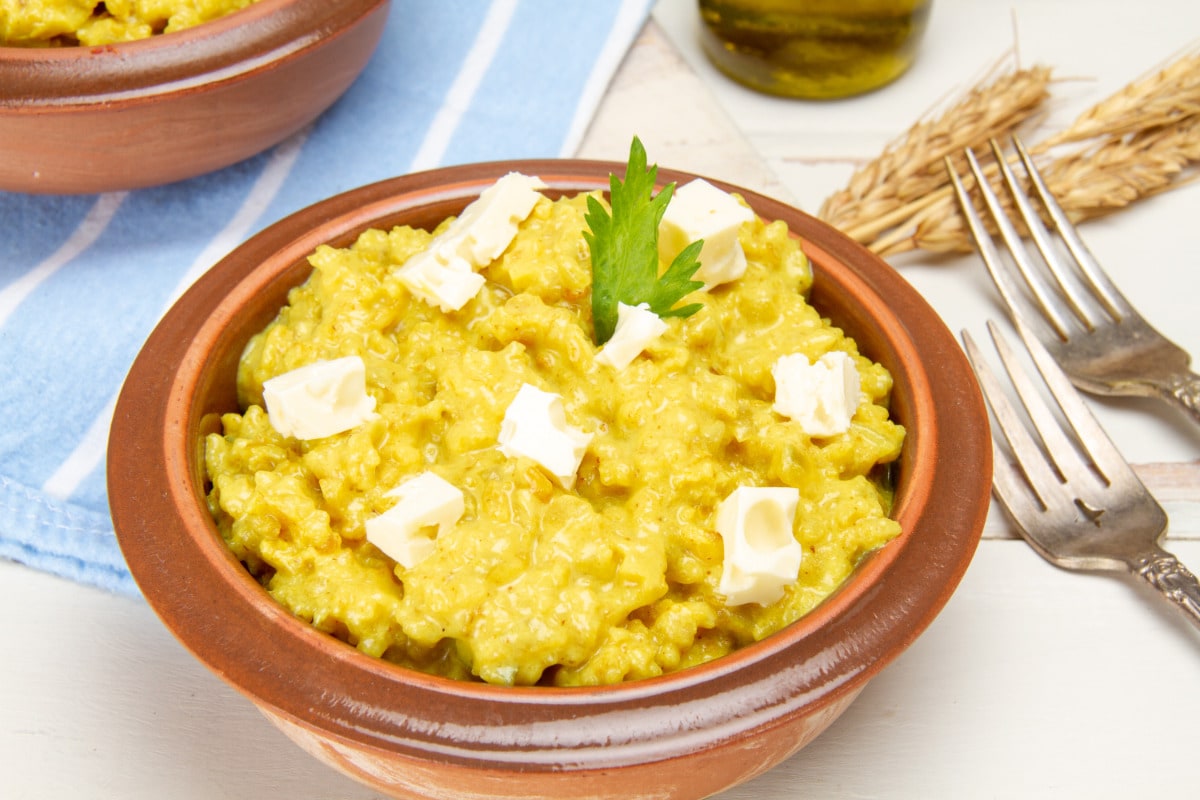 Whether you consider this dish nutritious or not will depend on your approach to wheat. But there's no denying that garlic, onion, coriander, olive oil and chicken broth make a powerful concoction of healthful ingredients. Look for organic, full-fat cheese and milk. And don't forget the essential Peruvian ingredient called aji amarillo. Yellow pepper (actually more orange) is the most popular kind of pepper in the country and adds a deliciously sweet kick to this delicious dish.
Ingredients: What You Will Need
Peruvian Guiso de Trigo – Wheat Berry Stew
Easy-to-make peasant food that uses simple, nutritious everyday ingredients. A heart warming stew popular in the Andes of Peru
Ingredients
2

cups

wheat

soaked

3

cups

chicken broth

2

tbsp

olive oil

2

cloves

garlic

1

small purple onion

2

tbsp

aji amarillo yellow chili paste

½

cup

evaporated milk

1

cup

fresh cheese (queso fresco)

diced

Salt and pepper to taste

fresh coriander

Chopped (optional)
Instructions
Before starting the recipe. Soak the wheat for a couple of hours, the water should completely cover the wheat. Rinse under running water, and let drain.

Place the wheat in a medium saucepan, add two cups chicken stock, and a pinch of salt. Cook covered over medium-low heat for about half an hour. Every ten minutes check the preparation. If you notice that it is very dry or lacking liquid, you can add one more cup of water. Stir with a spoon to avoid the wheat sticking to the bottom. When you notice that the wheat is soft, turn off the stove. Reserve a cup of broth for the end of the stew.

Meanwhile, peel the onion and garlic. Finely cut them into cubes.

Put the olive oil in a sauté pan. Turn on the stove over medium heat. And place the chopped onion with the garlic, and brown them for about three minutes.

Add the yellow chili paste. Cook for about two more minutes.

Add the cooked wheat, along with the remaining cup of broth. Stir all the mixtures well, and cook for about 5 to 10 minutes more.

Before turning off the stove, add the evaporated milk, and mix. This will give the wheat stew a very creamy consistency.

When the stove is already off, add the cheese and the coriander on top. Stir a little and cover.
Notes
Can be eaten alone, with rice, or as a garnish for meats.
Nutrition
Nutrition Facts
Peruvian Guiso de Trigo – Wheat Berry Stew
Amount Per Serving
Calories 434
Calories from Fat 207
% Daily Value*
Fat 23g35%
Cholesterol 30mg10%
Sodium 918mg40%
Potassium 860mg25%
Carbohydrates 40g13%
Protein 22g44%
Vitamin A 338IU7%
Vitamin C 17mg21%
Calcium 298mg30%
Iron 4mg22%
* Percent Daily Values are based on a 2000 calorie diet.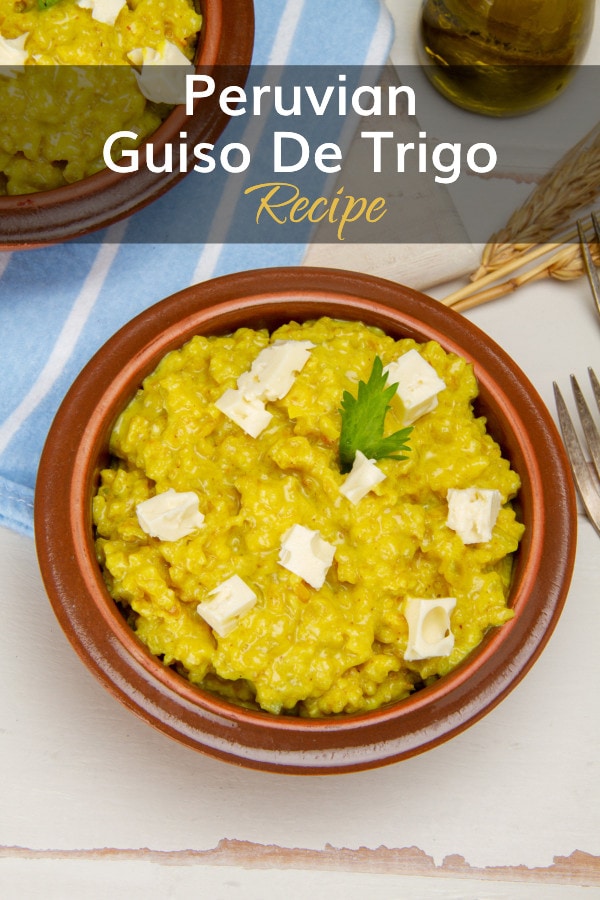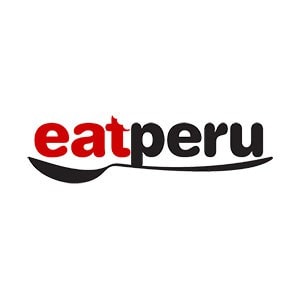 Peruvian foodie. I've been writing about the food of Peru for over 10 years. Read more about the Eat Peru team here