Another absolute must-try from the world-renowned melting pot that is Peruvian food: lomo saltado. What is it? Marinated strips of sirloin steak stir-fry with soy sauce, chopped red onion, tomatoes, crispy French fries and the unmissable ají amarillo, served with rice on the side.
Very flavorful, yet not spicy, lomo saltado never fails to impress diners in Peru and beyond. Fortunately, chefs that want to try their hand at preparing it are in luck because this recipe is as simple as it is delicious: you can literally throw it together within minutes and you don't need many exotic ingredients.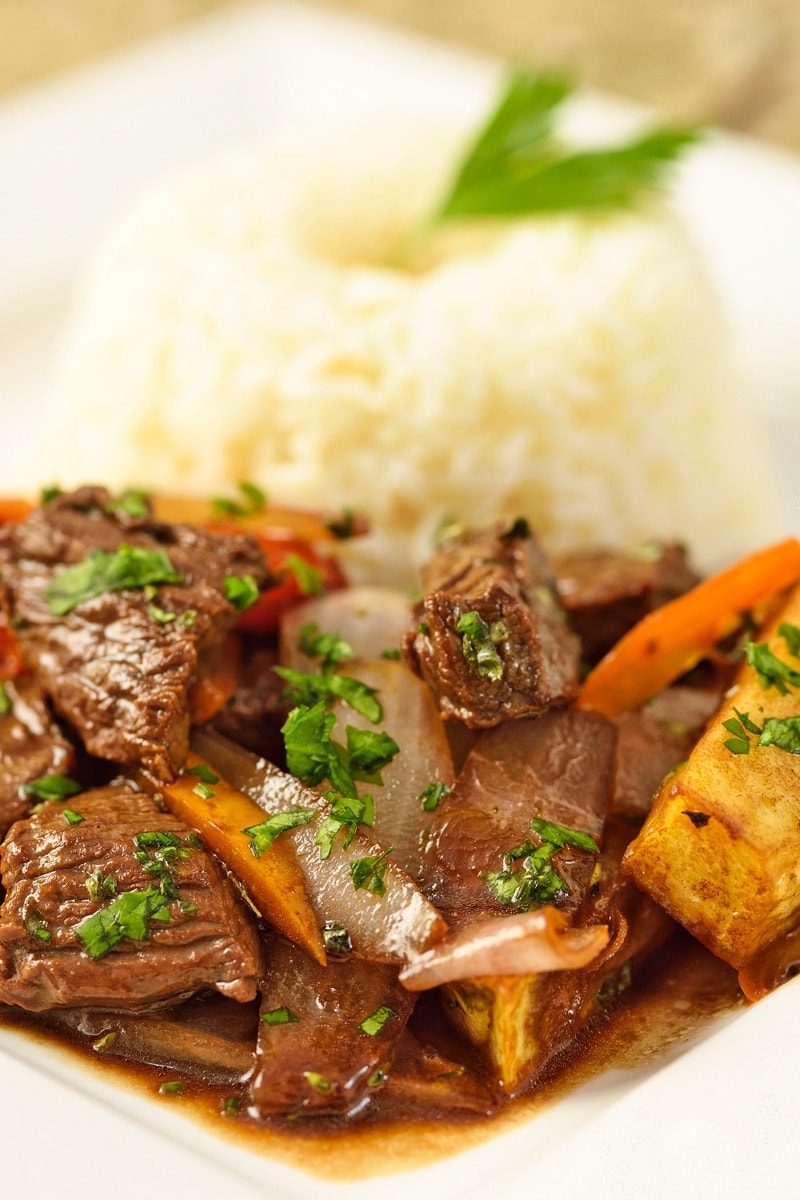 Read on to find out more about the origins of this succulent superstar and make sure you try out the recipe!
Exotic origins of a Peruvian classic
Lomo saltado is almost like a metaphor for modern-day culture: key ingredients from different corners of the world that combine to create something new and characteristic. This blending helped the dish acquired a whole new identity of its own. So which parts of the world have come to the table?
A meat dish as simple to prepare as it is delicious
First of all: Peru itself, with the presence of the trusty ají amarillo chili pepper and potato. The potato merely takes a supporting role but thick French fries (made from Peruvian potatoes) are still considered an essential element.
Next is Spain. It was the conquistadors who introduced cows and beef. It's worth noting that at the start of the Spanish occupation, beef was expensive (there were very few cows in the country) and its consumption was most definitely restricted to the elite. Spaniards are also believed to have first introduced rice to Peru in the early years of the colony. But rice didn't reach its current-day popularity until the 20th century.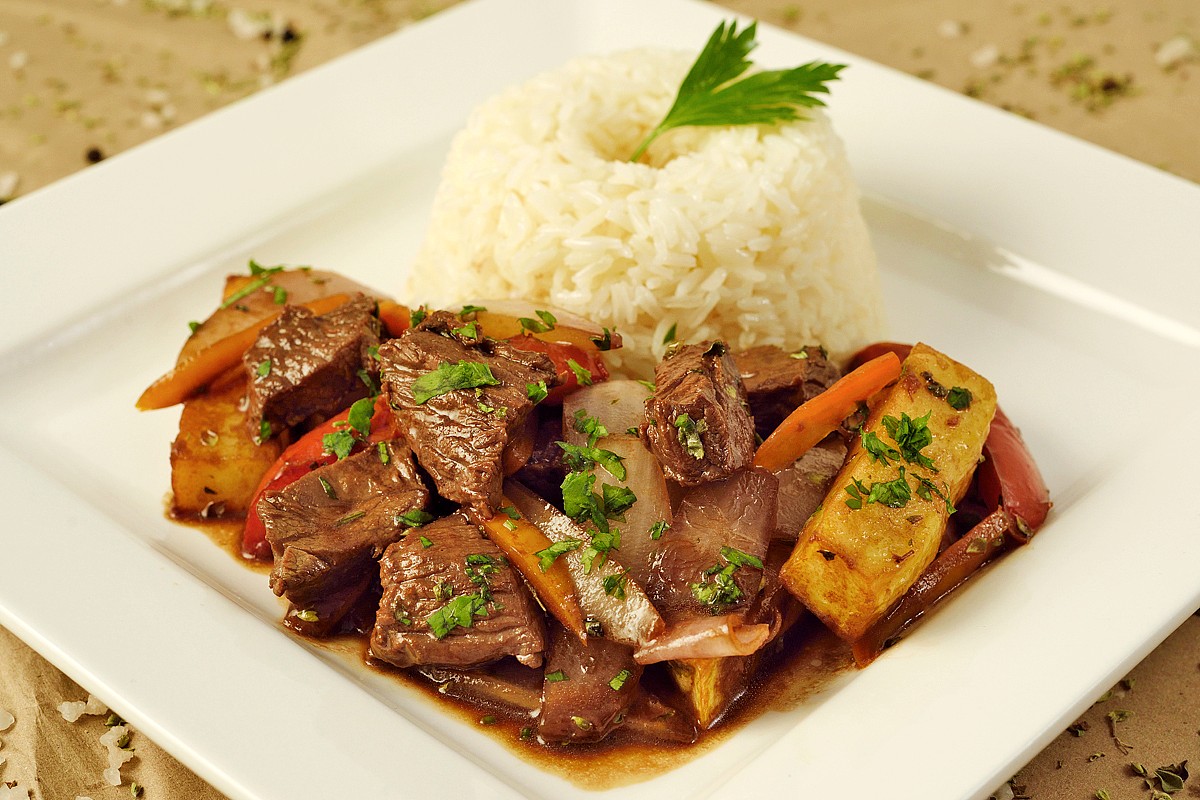 Key ingredients from different corners of the world that combine to create something new and characteristic
The last country and pivotal player in the recipe: China. Thousands of Cantonese nationals immigrated to Peru in the mid-nineteenth century to work in agriculture. Soon enough the first Chinese takeaway restaurants sprang up in Lima, introducing the wok and the concept of stir-frying.
These Chinese (and other Asian settlers to Peru) settlers also brought soy sauce, another key flavor enhancer of the dish, and were responsible for popularizing the use of rice in Peruvian cuisine.
We can guess that at some point in the early twentieth century, a bold cook used his or her creativity to take the above foods and stir fry them in a wok. Voilà, a culinary superstar was born.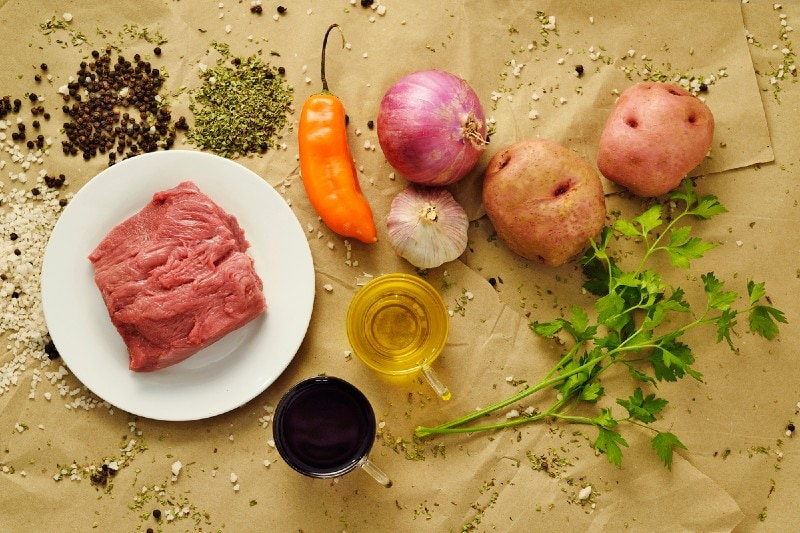 Variations of lomo saltado and a tip from Gastón himself
The fun thing about cooking is that there are endless variations on every plate, so we'll give you just a few variations on this classic beef stir-fry recipe to get your creative juices flowing.
The stir-fry (with or without potatoes) goes well in a Peruvian sandwich. It can also be used to stuff peppers and tastes perfect served over risotto. Try it as a filling for empanadas (this last one is very popular in Peru)!
If you're not keen on beef, you can replace it with strips of cooked chicken breast, cooked fish, or shrimp. If you're on a vegetarian or vegan diet, you don't have to miss out either. Replace the meat with Portobello mushrooms. Serve with chopped vegetables like bell peppers, carrot sticks and peas in the mix for variety.
For a lighter, low-carb version, increase the number of vegetables, omit the rice entirely, and reduce the number of potatoes by half. As for the serving of potatoes: the floury type is preferred, but most potatoes work well. A tasty tip is to leave the skin on for a crispier bite.
Top Tip
Peruvian top chef Gaston Acurio says his secret for how to cook the perfect lomo saltado is as follows: marinate half the fries with the beef whilst simply frying the others until crunchy so you achieve two types of textures. Acurio also suggests cooking without a wok by using a normal frying pan and stir-frying the ingredients in smaller batches, quickly, over very high heat.
Marinate half the fries with the beef strips whilst simply frying the others until crunchy so you achieve two types of textures.

Gaston Acurio
Try it and let us know how it worked out! If you like the beef and rice combination, checkout arroz tapado, a delicious easy-to-make dish with ground beef, rice, and tomato.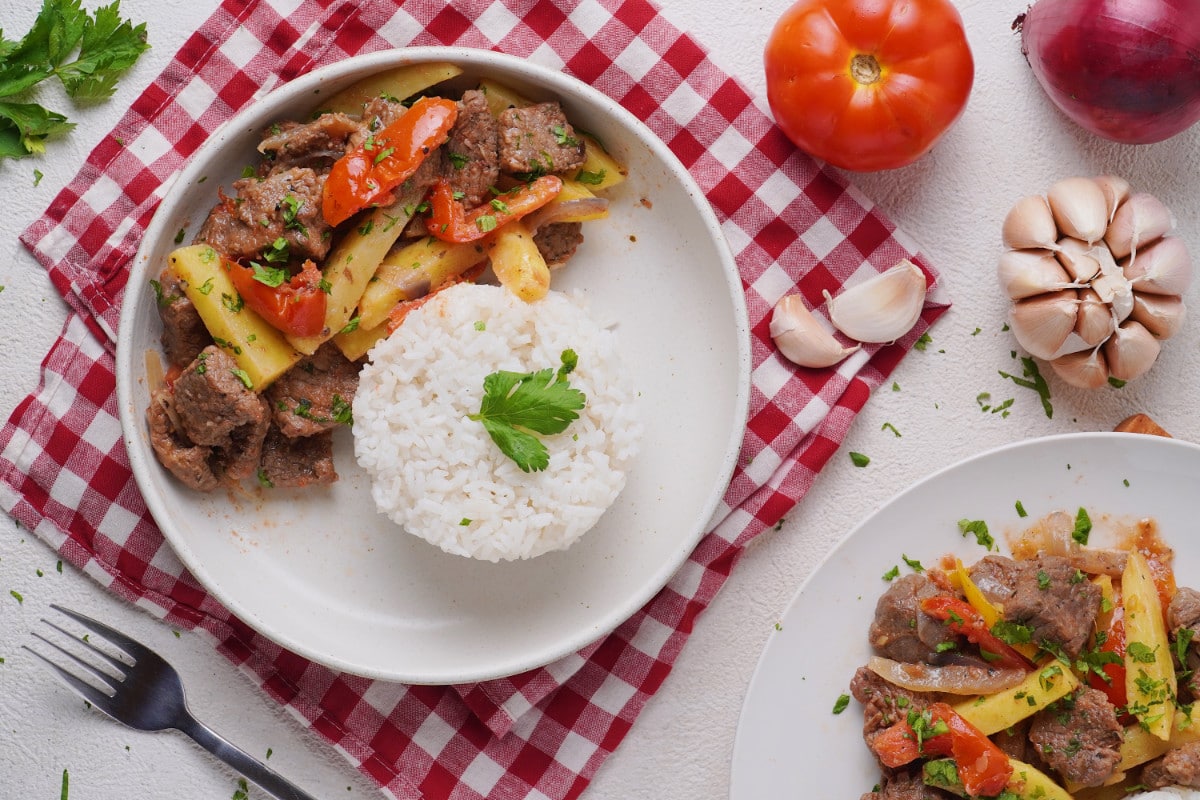 If you like this dish, check out our other recipes that use stir-frying techniques: Saltado de Vainitas chicken and beans, Chicken Stir-fry Peruvian style, and Tallarin Saltado Noodles.
Lomo saltado
This meat dish is as simple as it is delicious: you can literally throw it together within minutes and you don't need many exotic ingredients. One serving with give you a flavor explosion that you will just love.
Ingredients
18

ounces

sirloin steak cut into strips or cubes

1

red onion chopped into chunky slices

2

tomatoes

chopped into 8 slices

1

ají amarillo chili pepper

sliced finely, veins and seeds removed

1

tsp

fresh garlic paste

2

tbsp

olive oil

20

ounces

white rice

cooked

11

ounces

thick potato slices, ready for frying

1/2

cup

beef stock

4

tbsp

soy sauce

4

tbsp

plain vinegar

Handful

cilantro leaves

1/4

tsp

oregano

ground

1

tsp

black pepper

freshly crushed

1

tsp

cumin

ground

salt

to taste
Instructions
Heat a Pan. Fry the potato slices in the vegetable oil and set aside until needed.

Cut the sirloin steak into strips or cubes. Marinate them in the cumin, salt, the 4 tablespoons of vinegar, atablespoon of olive oil, black pepper and the soy sauce for 10 minutes beforecooking.

Bring a tablespoon of olive oil toa very high heat in the wok. Strain and remove the steak strips from the marinade, and fry them over a high heat for around 4-5 minutes or untilsealed.

Add the onion, ají amarillo chilli pepper and the garlic paste to the wok. Fry for 1 minute whilst continuously moving the wok, and add the beef stock.

Add the tomato and fry the ingredients in the wok for 30 seconds. Finally add the ground oregano and French fries, tossing everything together for another 10 seconds in order to integrate all the ingredients.

Serve immediately with white rice and decorate with a few cilantro leaves. Sit back and enjoy the flavor of timeless classic of Peruvian cuisine!
Nutrition
Nutrition Facts
Lomo saltado
Amount Per Serving
Calories 873
Calories from Fat 135
% Daily Value*
Fat 15g23%
Cholesterol 78mg26%
Sodium 1150mg50%
Potassium 888mg25%
Carbohydrates 188g63%
Protein 46g92%
Vitamin A 512IU10%
Vitamin C 10mg12%
Calcium 96mg10%
Iron 4mg22%
* Percent Daily Values are based on a 2000 calorie diet.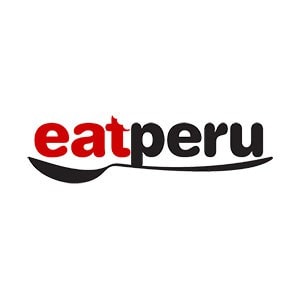 Peruvian foodie. I've been writing about the food of Peru for over 10 years. Read more about the Eat Peru team here