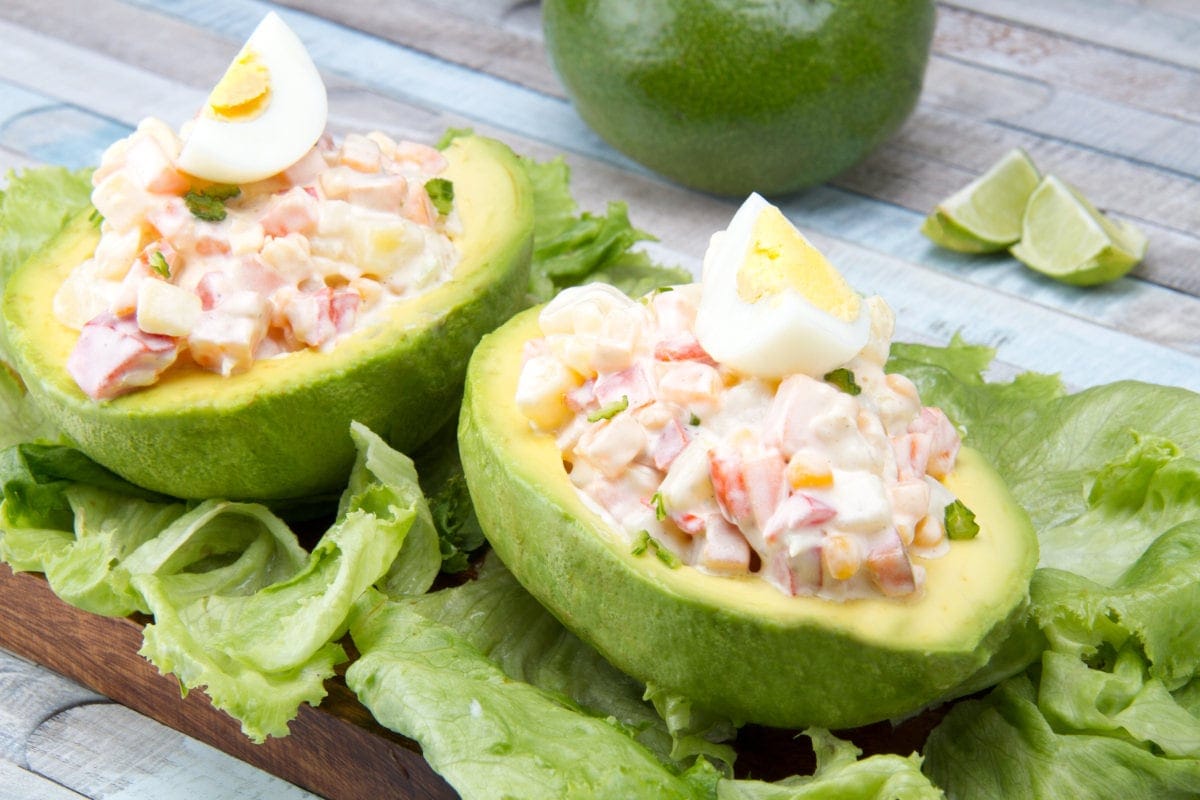 Creamy, delicious and healthy. This filled avocado recipe from Peru (palta rellena) is an excellent starter. Filling without being overwhelming, the lime juice and mayonnaise in this dish go perfectly with the avocado's healthy fat. In case you haven't heard, avocado is a kind of wonder-food. High in healthy stuff and low in bad stuff. It's also versatile and can be used in starters and main courses like causa as well as desserts like pudding and ice cream (avocado goes very well with chocolate).

Palta means avocado in Peru and many other Latin American countries. Rellena is the Spanish for filed or stuffed. So that's where we get Palta Rellena – Stuffed Avocado.

If you're looking for a little extra kick, you could replace the mayonnaise with aji amarillo sauce or even just serve this sauce on the side. There are no rules when it comes to taste.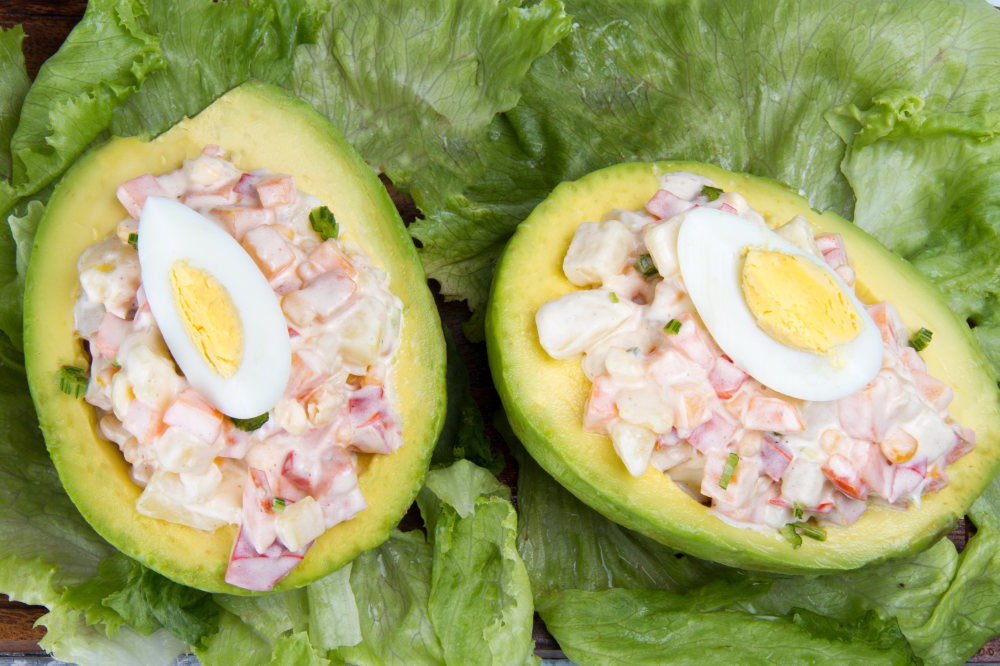 This easy to prepare recipe incorporates many Peruvian staples. While avocados are originally from Mexico, it's a popular fruit in Peru. Red peppers, corn, and potatoes are all native to Peru.
This isn't the most visually appealing of dishes but what it lacks in style, Peruvian Palta Rellena makes up for in style. The creamy filling paired with the delicate avocado flesh will have you wanting more. Just don't forget that it's a starter, ok?

If you're a vegetarian or you're just looking for a break from all the meats in Peruvian cooking, this is a great little dish that works as an entreé but can also be the main course (you might need two or three).
And best of all, every portion is served in its own natural container, the avocado skin.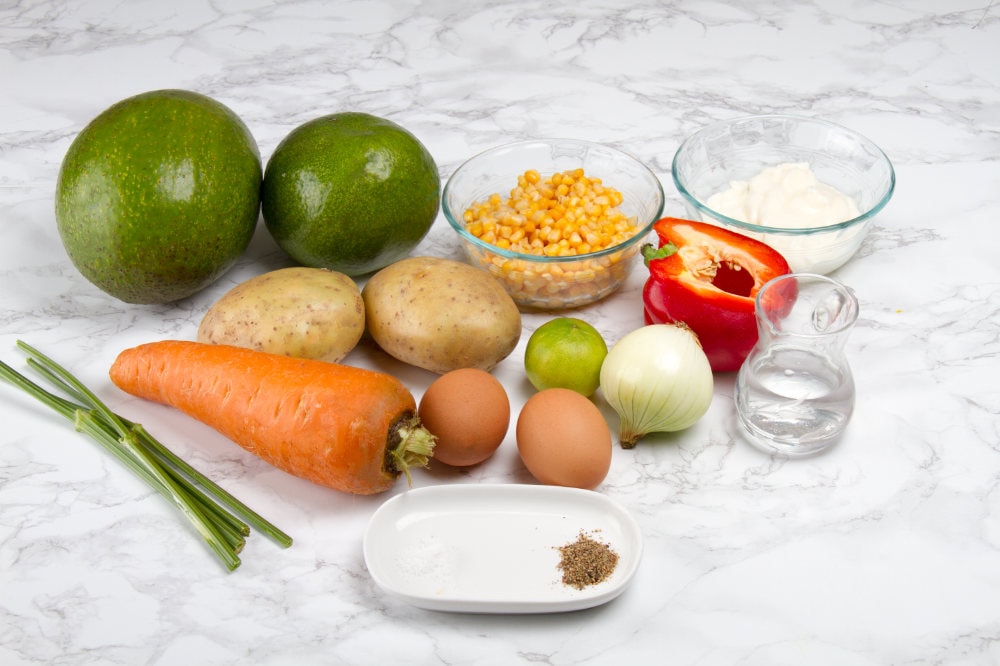 Vegetarian Palta Rellena Recipe (Peruvian Stuffed Avocado Starter)
Creamy, delicious and healthy. This filled avocado recipe from Peru (palta rellena) is an excellent starter. With mayonnaise, red peppers, corn, lime juice and potatoes, this dish is guaranteed to win hearts.
Servings:
4
half-avocados
Ingredients
2

avocados

600 g

1

large

carrot

250 g

2

large

potatoes

400 g

2

liters

water

1

tsp

salt

1

red bell pepper

150 g

1

cup

corn kernels

250 g

3

celery branches

fine

1

small

white onion

80 g

1

juice of

lime

2

eggs

½

cup

mayonnaise

3

tbsp

vinegar

Salt and pepper to taste
Instructions
Prepare the filling in advance to help keep the avocados fresh. Avocados are very delicate and should only be opened a little before serving. Peruvian-style stuffed avocado is usually served as an entree. So, the first step is to wash the potatoes and carrots very well and peel them with a potato peeler. Cut the carrots and potatoes into small squares and keep them separate.

In a medium saucepan of boiling water and a tablespoon of salt, place the chopped carrot. Approximately five minutes later, place the diced potatoes and cook covered for about eight to ten minutes until the vegetables are al dente. Turn off the stove, remove the pot and strain the vegetables with a strainer. Now place them to one side and prepare the rest of the ingredients.

Cook the eggs for exactly ten minutes in a small pot of boiling water. Note that the water should be boiling before you place the eggs. Each egg should be carefully placed with a spoon to avoid breaking the shell.

Wash the red pepper very well. With a sharp knife cut the stem, extract the seeds and veins, and finally cut into squares, similar in size to the potato and carrot.

Peel the onion and cut brunoise style – cubes of about 3 mm (1/8-inch). Wash the celery and cut finely.

In a mixing bowl, add the potatoes, carrots, pepper, onions, celery, corn kernels, mayonnaise, and vinegar. Season with salt and pepper to your liking. Stir very well until the mixture is completely homogeneous and put this mixture to the fridge while you prepare the avocados.

Cut the avocados in half, remove the seed and immediately sprinkle the whole avocado with lime juice. Use a spoon if necessary. You should cover the entire inner surface of the avocado with juice. Turn the avocado to remove excess lime juice and remove the shell with a sharp knife, all the while being careful not to spoil it.

Place the avocado halves on a bed of lettuce and fill with the salad mix from the fridge

Peel the boiled eggs. Cut them into quarters and place a piece on each half avocado.
Notes
Servings size: ½ palta rellena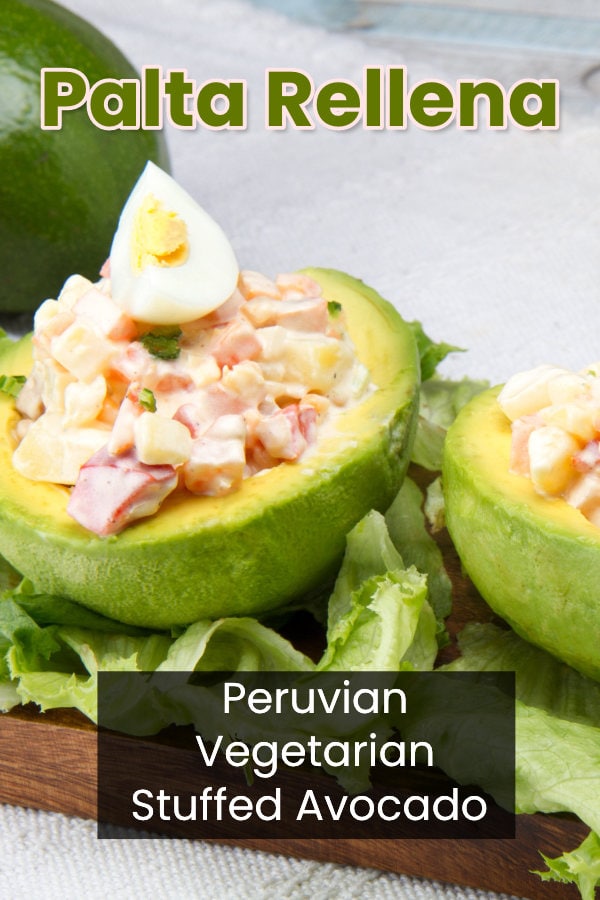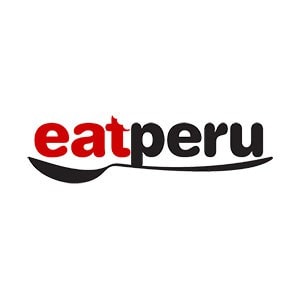 Peruvian foodie. I've been writing about the food of Peru for over 10 years. Read more about the Eat Peru team here