Try this authentic Peruvian stuffed avocado with shrimp recipe for a healthy and delicious appetizer or light meal. Fresh ingredients and simple steps make it a must-try dish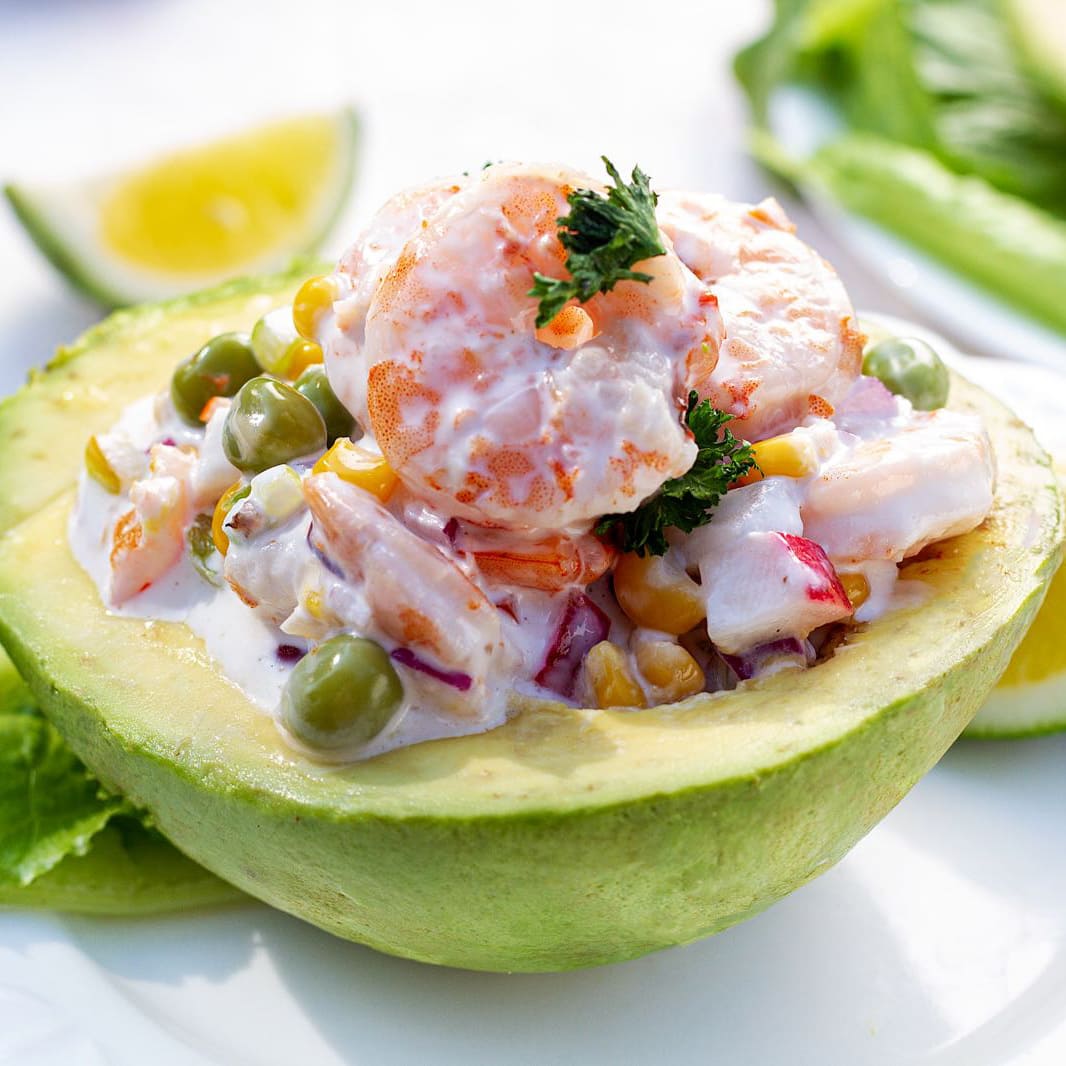 Avocado stuffed with shrimp is a recipe that everyone should learn to make, even if just to satisfy our culinary curiosity. This scrumptious dish has many things going for it: It's simple and quick to prepare, healthy, but most importantly, absolutely delicious.
Palta rellena con camarones is considered one of the most popular entrees in Peruvian cuisine. If you aren't a fan of shrimp, you can easily make some substitutions to change this dish up. There are a range of variations, ranging from the most sophisticated with lobster to the simplest vegetarian palta rellena.
There is no strict list of ingredients for this recipe. Every Peruvian home has its own recipe variation. The vegetables in the filling can vary significantly from one place to another.
In fact, this recipe is a fusion of international cuisine. Nonetheless, the Peruvian recipe is unique, as it includes black olives and purple onions. Turmeric powder is also used by some chefs and home cooks for an extra depth of flavor.
We're using lime juice rather than lemon juice in this recipe. Limes are very important in Peruvian cuisine. They add a punch of acidity to balance out other flavors and are used in many dishes – such as ceviche – to help create a distinctive Peruvian flavor.
How to enjoy shrimp stuffed avocado
This dish works brilliantly as a starter, or can take center stage as the main course when paired with something hearty like corn tortillas, rice, or a cup of cooked corn. Adding hot sauce to this dish is optional, but it also complements the creamy texture of the avocado fruit.
Besides parties or get-togethers, this dish is a great treat anytime, making any meal feel more luxurious. I find it tasty, elegant, and satisfying.
Here is the full recipe for a nutritious salad-type meal that you can prepare in a few minutes.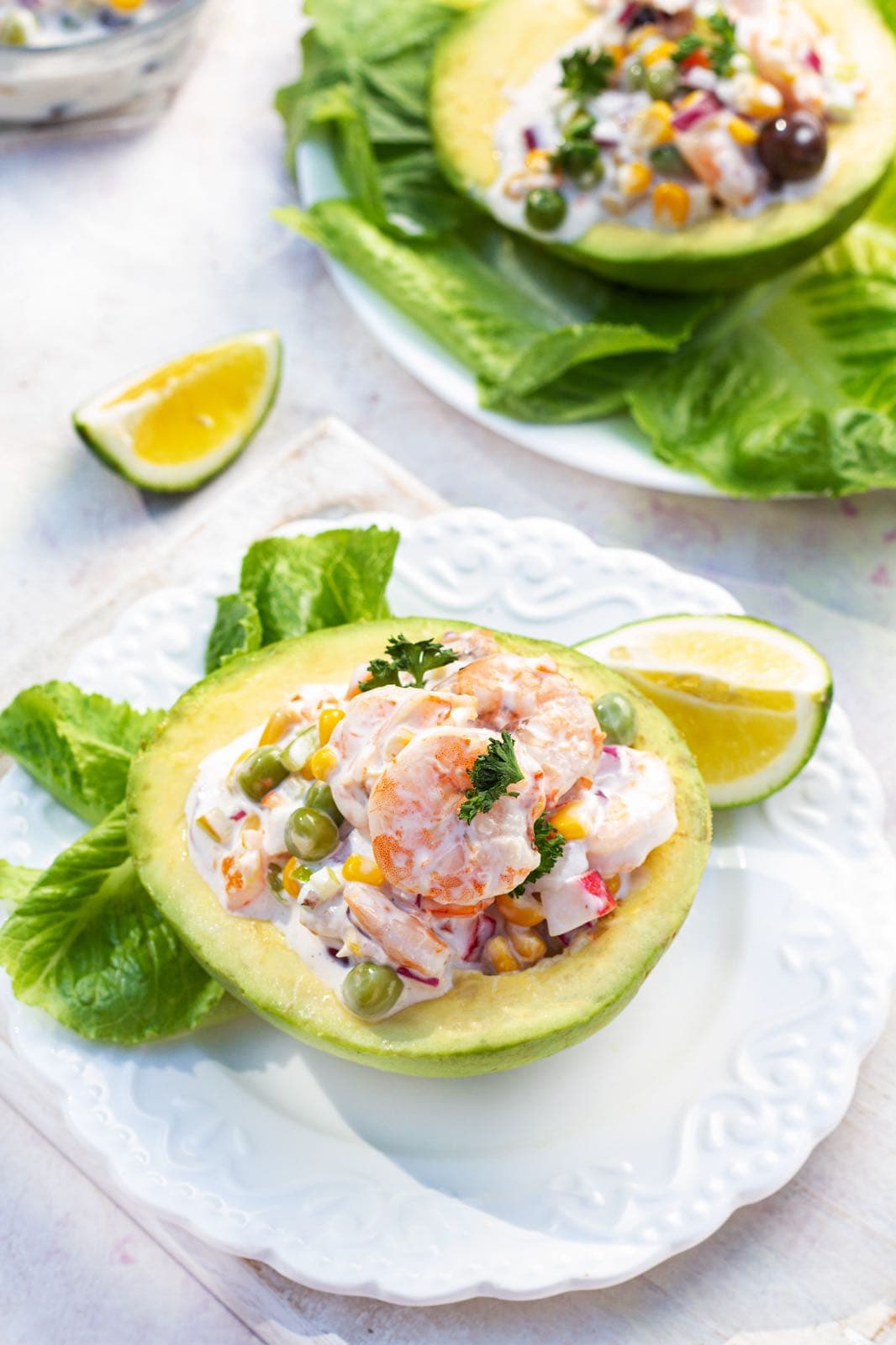 Frequently Asked Questions:
How to choose good avocados at the supermarket?
Check the color and texture of the skin. It should feel slightly soft to the touch, but not mushy or bruised—you can eat it immediately if this is true for all parts on your avocado.
Make sure to pick the avocados before they are overly ripe. The larger ones will be easiest to work with, easier when it comes to filling.
What is the best way to handle and prepare avocados?
Avocados are delicate, and once you open them, they should be eaten immediately. To keep them from turning black, sprinkle lime juice over the surface as soon as you peel back the skin.
What kind of shrimp should be used?
Buy clean and peeled shrimp with a grayish color (fresh or frozen shrimp is fine). Avoid shrimp with a pink hue because they are precooked and are not recommended for this stuffed avocado recipe.
How should I cook the shrimp?
Boiling in water with spices and a pinch of salt for three minutes is recommended. After draining, it's best to sprinkle them with cold water to stop the cooking process and preserve tge cream avocado texture.
Can I substitute the shrimp with another ingredient?
Substitute the shrimp for smoked salmon, crab surimi (imitation crab meat), or shredded chicken (this option is trendy in Peru).
Ingredients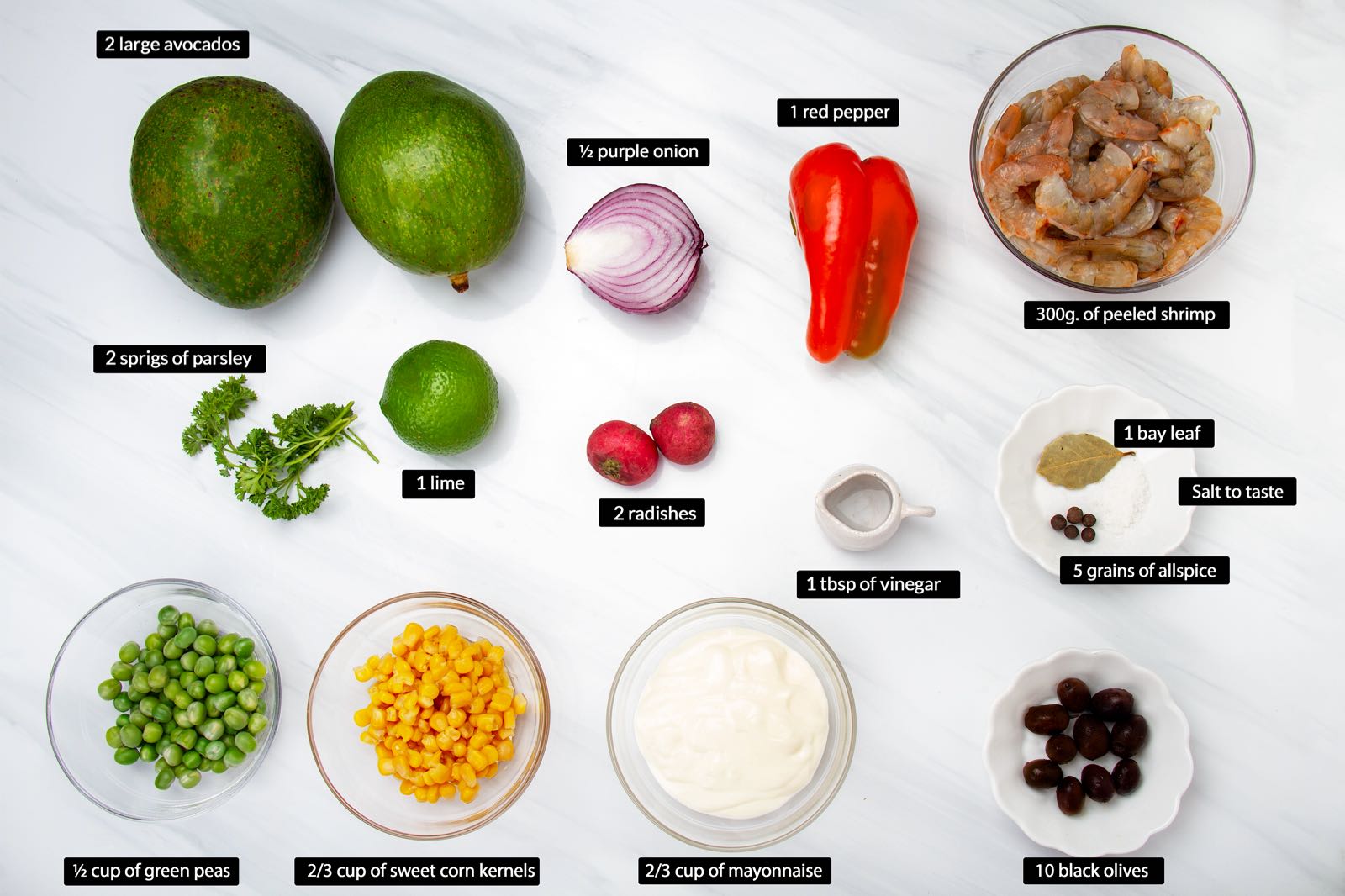 300g. of peeled medium size shrimp, cleaned
2 cups of water (to cook the shrimp)
1 bay leaf
5 grains of allspice (Jamaica pepper)
½ purple onion, small, 60 g.
1 red pepper, small, 60 g.
2 radishes, 30 g.
½ cup of green peas, 80 g.
⅔ cup of sweet corn kernels, 90 g.
1 tablespoon of vinegar
⅔ cup of mayonnaise, 110 g.
10 black olives
2 large avocados, 1 kg
1 lime
2 sprigs of parsley
Salt to taste
Step by step photos
Step 1: Pour two cups of water into a pot. Stir in one teaspoon of salt along with allspice grains (Jamaica peppers), topping it off with a bay leaf. Bring to the boil.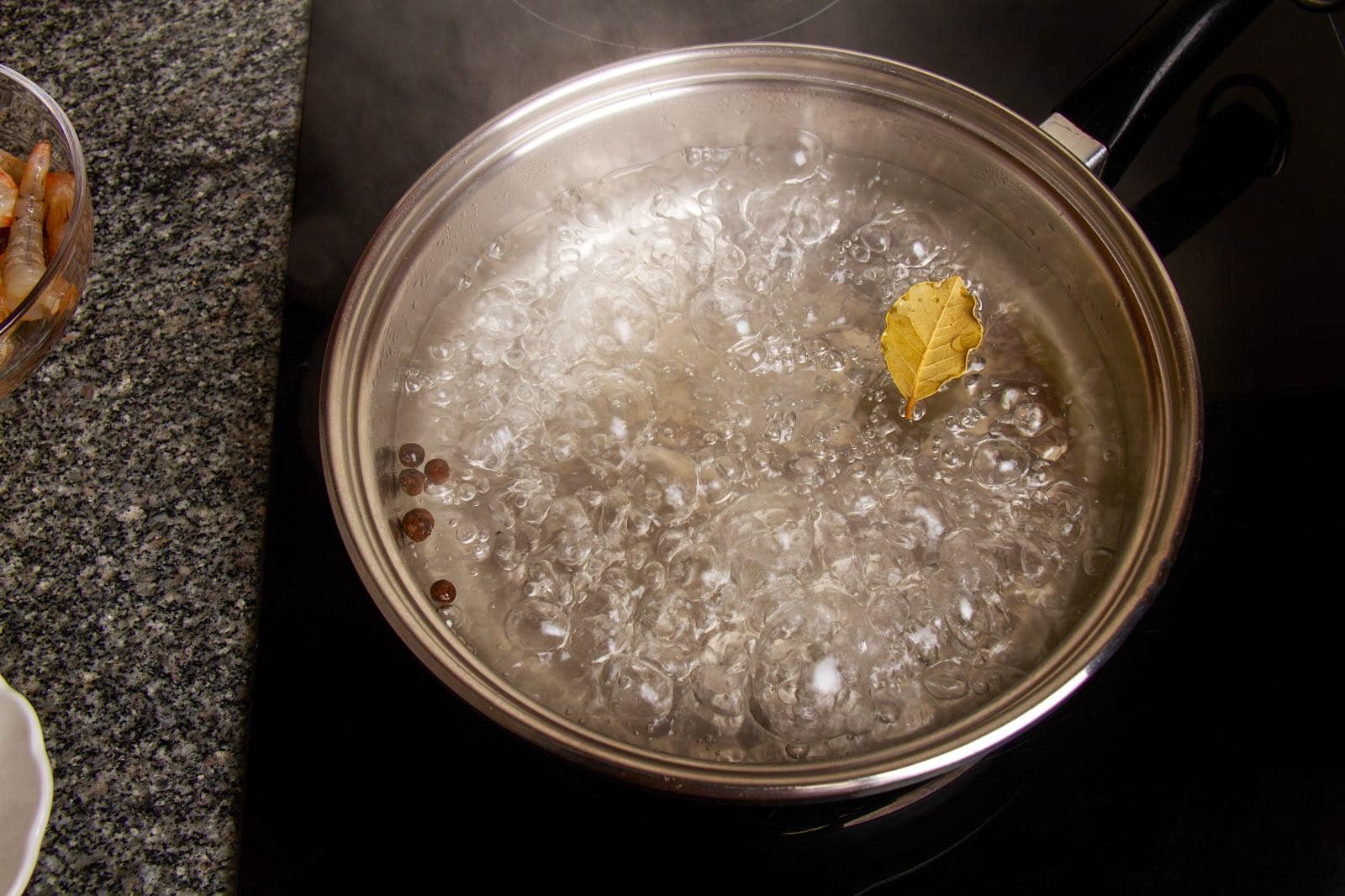 Step 2: Carefully add the raw shrimp to the boiling water. Leave to cook for a brief two minutes, and then turn off the heat. Drain with colander. As the shrimp drain and cool, discard the bay leaf and allspice grains.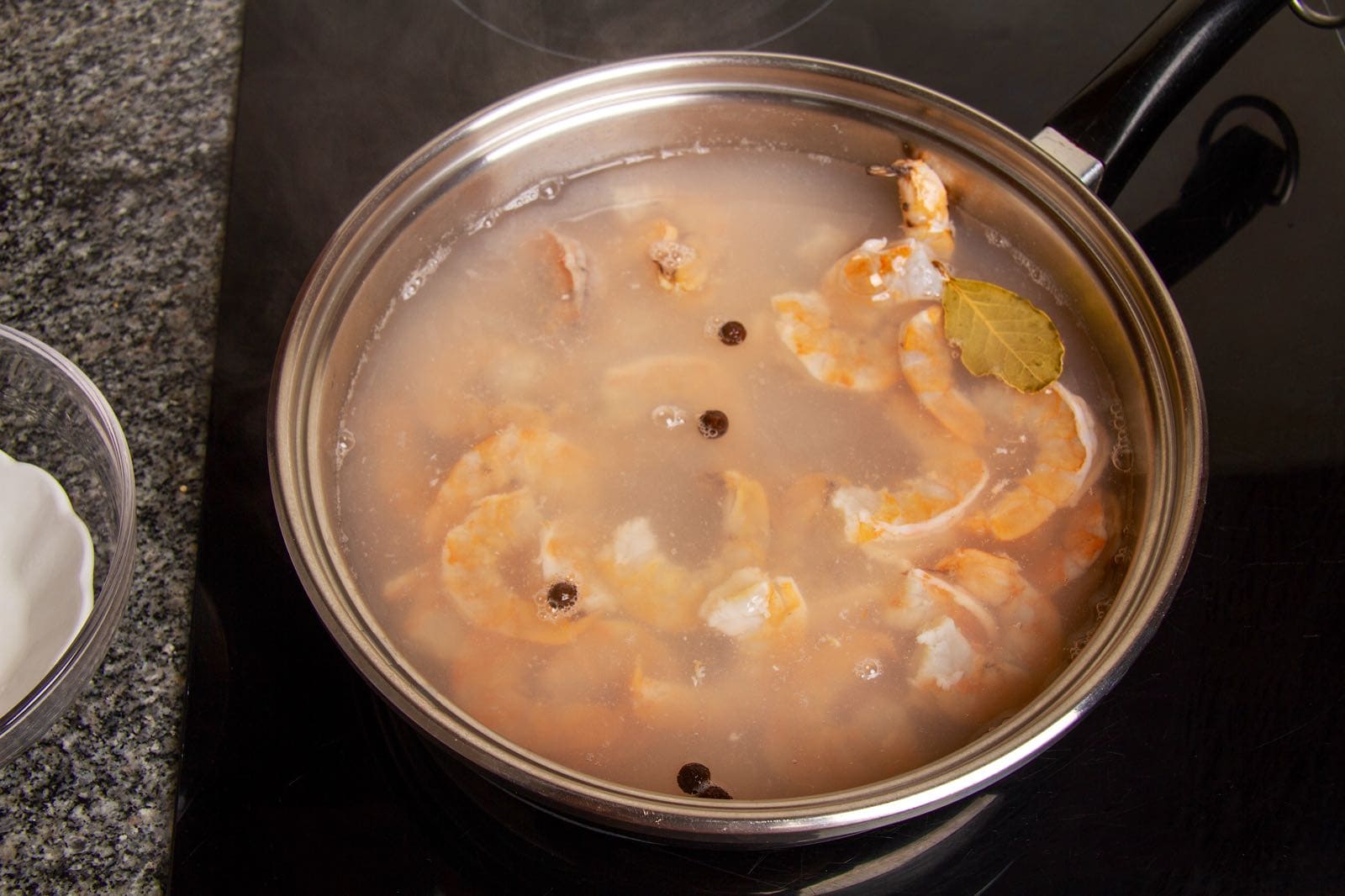 Step 3: Peel and dice the red onion. Put the small pieces in a prep bowl.
Step 4: Remove the red pepper's stem and get rid of any veins and seeds. Remove the branches from the radishes and chop the remaining parts. Add all your newly diced veggies to the onion in your bowl.
Step 5: In the bowl filled with chopped veggies, add the green peas, corn kernels, and a splash of vinegar.
Step 6: Add the boiled shrimp, a generous scoop of mayonnaise, and black olives. Mix thoroughly. Taste the mixture and fine-tune the salt level. Set the bowl aside.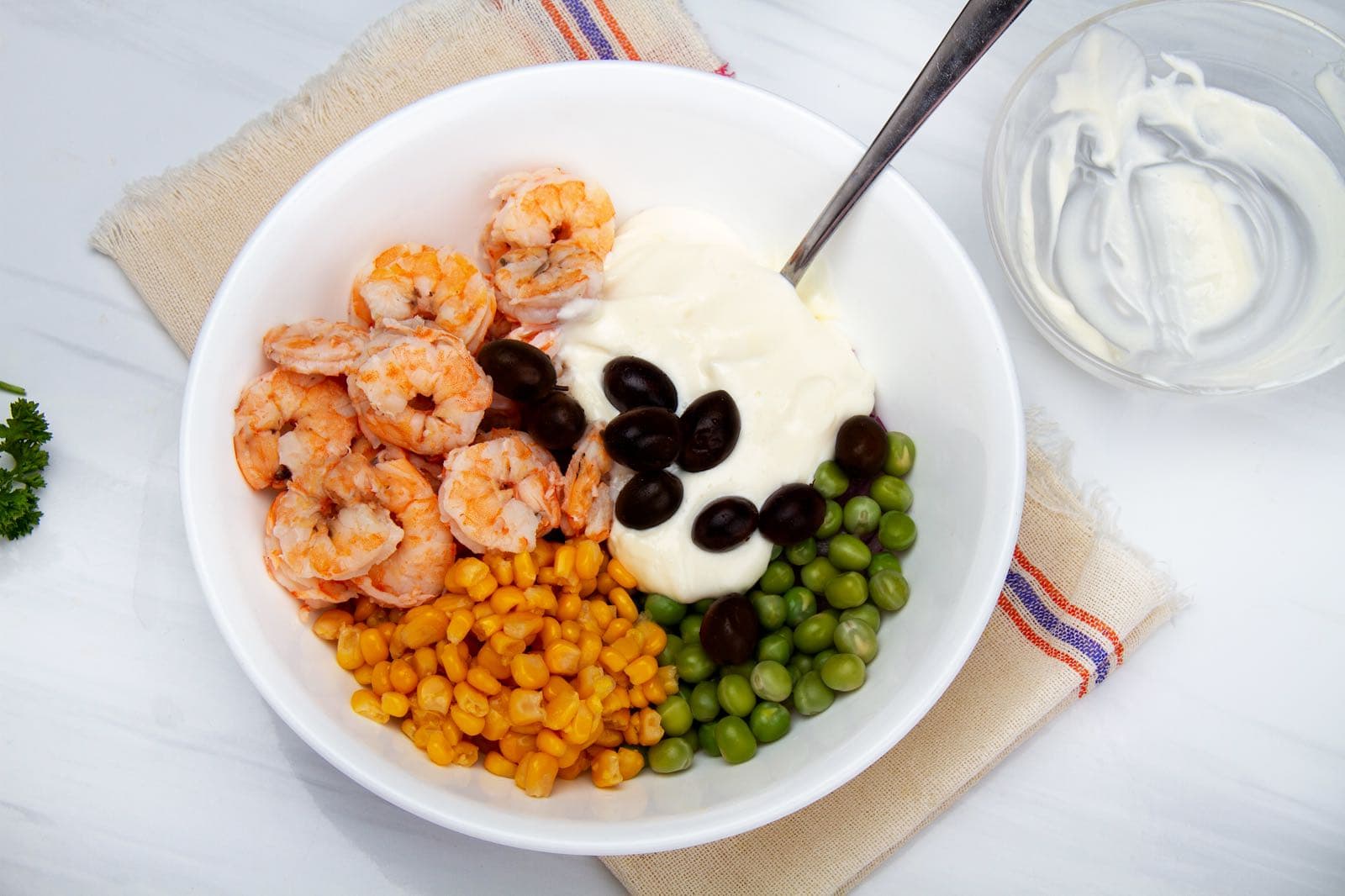 Step 7: Split each avocado into two even halves. Remove both the large seed and the skin. Position each avocado half neatly on an individual plate. Add a base of lettuce for deocration. To avoid avocado discoloration, lightly sprinkle with lime juice. Fill the center of the avocado with a heap of filling. To finish, top each avocado with parsley leaves and a pinch of salt. Serve right away.
---
Peruvian Shrimp-Stuffed Avocado
This appetizer combines shrimp, vegetables and creamy avocado to create a dish that is both unique and delicious. The addition of black olives and purple onions adds a nice twist. Easy to prepare and popular with seafood lovers.
Ingredients
300

grams

peeled medium size shrimp

cleaned

2

cups

water

to cook the shrimp

1

bay leaf

5

grains allspice

Jamaica pepper

½

small

purple onion

60 g.

1

small

red pepper

60 g.

2

radishes

30 g.

½

cup

green peas

80 g.

⅔

cup

sweet corn kernels

90 g.

1

tablespoon

vinegar

⅔

cup

mayonnaise

110 g.

10

black olives

2

large

avocados

1 kg

1

lime

2

sprigs

parsley

Salt to taste
Instructions
Pour two cups of water into a small pot. Add a teaspoon of salt and the grains of allspice (Jamaica pepper). Add the bay leaf. Bring the water to a boil.

Put the shrimp in the hot water and wait two minutes before turning it off the heat. The shrimp will be cooked. Drain the excess water, and put them to drain inside a colander while they cool. Discard the bay leaf and allspice grains.

Peel the red onion and finely chop it. Put it in a bowl.

Remove the stem from the red pepper. Finely chop the pepper flesh after removing the veins and seeds. Remove the branches from the radishes and dice them. In a bowl, place all the chopped vegetables.

Add the green peas, corn kernels, and vinegar in the same bowl.

Next, add the cooked shrimp, mayonnaise, and black olives. Stir well. Taste and adjust salt if necessary, depending on the amount of salt in the mayonnaise. Put aside the filling.

Cut the avocados crosswise into two equal parts. Carefully remove the skin and seed from the avocado. Put each avocado half on a small plate. Add a bed of lettuc if you like. Sprinkle the avocados with lime juice to prevent them from turning brown. Finally, place the shrimp filling in the center of the avocado, where the seed was. Garnish with parsley leaves, season with salt, and serve immediately. Enjoy!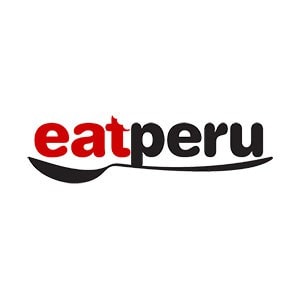 Peruvian foodie. I've been writing about the food of Peru for over 10 years. Read more about the Eat Peru team here