A colorful and healthy snack or main meal that's perfect for the summer weather.
There are various stories about how Ceviche came to be, but it's definitely a delicious main dish or addition to any meal. Ceviche is Peru's national dish and there are many varieties and methods of preparing this iconic dish.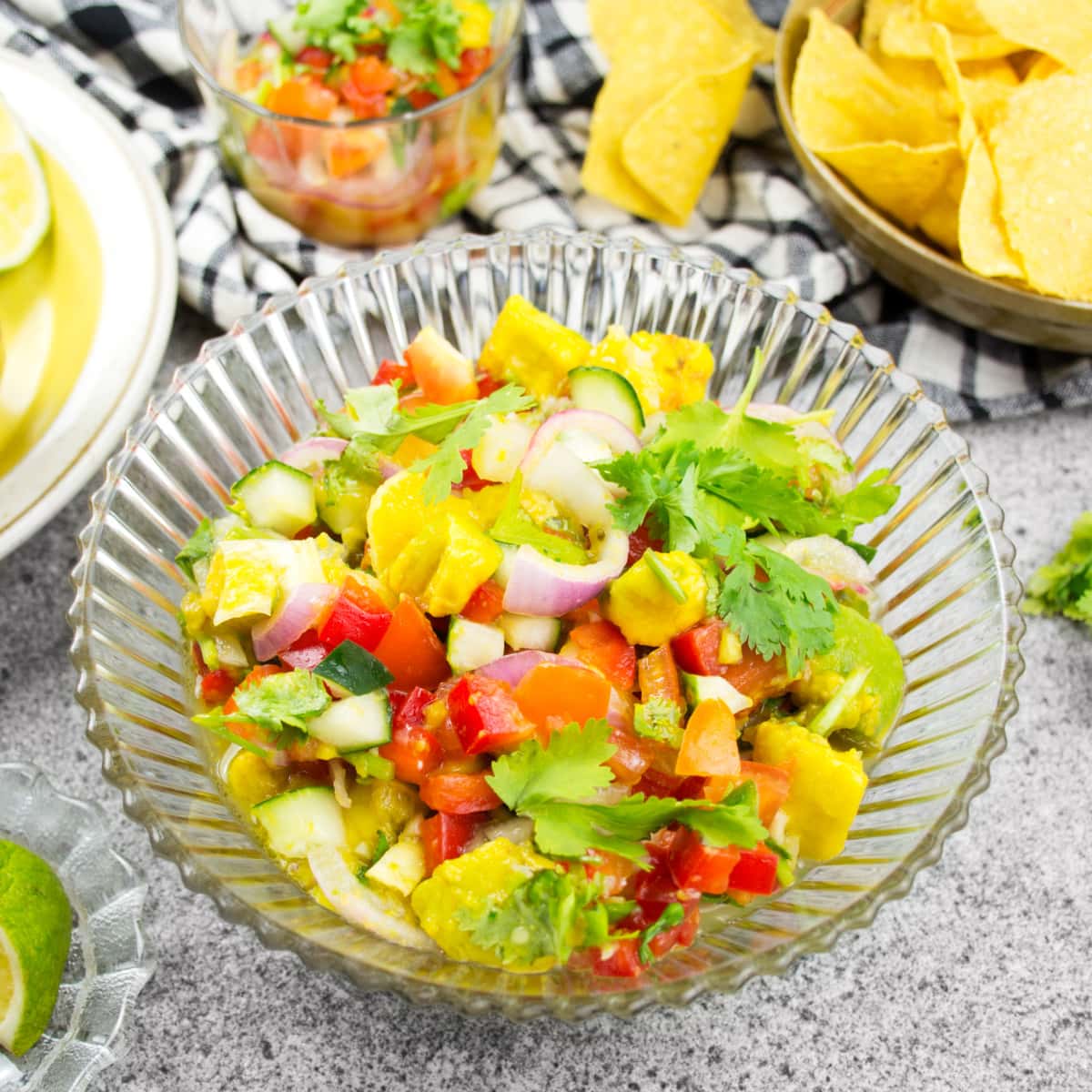 Ceviche is typically made with raw seafood as the main ingredient. Citrus juices added to the dressing cook (break down) proteins in the fish or seafood. But in this case, as it's a vegetarian meal, we've left out all animal proteins. Many vegetarian ceviche recipes use tofu but some people are allergic to soy. So we've gone for the most basic, but still delicious, vegetable-only version of seafood we can come up with.
It has a bit more balanced taste from the lime's acidity and the addition of an orange for sweetness.
The moche people of coastal Peru used fermented juice from locally-grown banana passion fruit. Some say ceviche was invented when fish was marinated in chicha. The fish was seasoned with salt and served with a spicy sauce made with coriander, onions, and tomatoes.
Ceviche is a light and visually appealing dish made with super fresh ingredients and, these days, is often served with nachos , chips, or pita bread. Our vegetarian version is bursting with the flavor of fresh ingredients: onions, tomatoes, cucumbers, and avocados, all with a lime juice dressing.
The ingredient list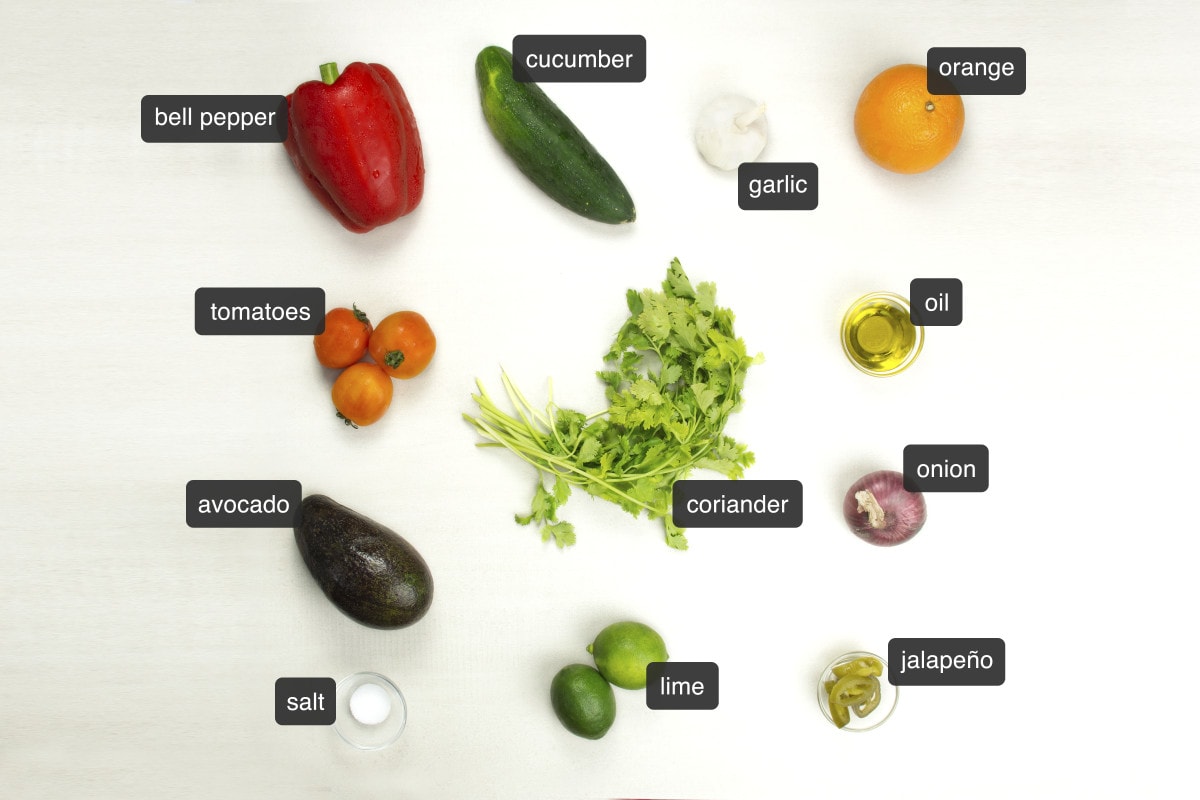 Tomatoes – adds a nice pop of bright red color. Among its many health benefits, tomatoes contain properties that can help reduce risk of heart disease and cancer.
Jalapeño – gives the dish its spicy, pungent kick.
Garlic – a herb and well known flavoring essential in recipes all around the world.
Cucumber – a refreshing vegetable that adds texture and liquid. Remove the seeds before cutting it into bits.
Avocado – contain incredibly nutritious 'good fats' and add a rich, creamy texture to the dish
Bell pepper – flavorful and colorful. Packed with fiber, iron, and vitamin C.
Cilantro – a delicate but aromatic herb
Onion – crisp and gives the salad a nice bite.
Lime – adds acidity and helps keep the ingredients fresh.
Orange – optional, aside from adding more color, oranges also acts as a sweetener to contrast the lime.
Olive oil – helps to increase absorption of nutrients in a salad.
Salt – cuts out the bitterness that the limes may have.
Nachos – a fun alternative for a spoon.
Quick tips
Leave in the fridge before serving. This helps keep the dish fresh and prevents it from becoming mushy.
The vegetable-only ceviche can last in the fridge for a week or two in a tightly sealed container. Pour out most of the liquid before keeping this in the fridge.
Step by Step Instructions
Step 1 – Dice the tomatoes, jalapeño, garlic, cucumber, avocado, bell pepper, and cilantro. Slice the onions thinly.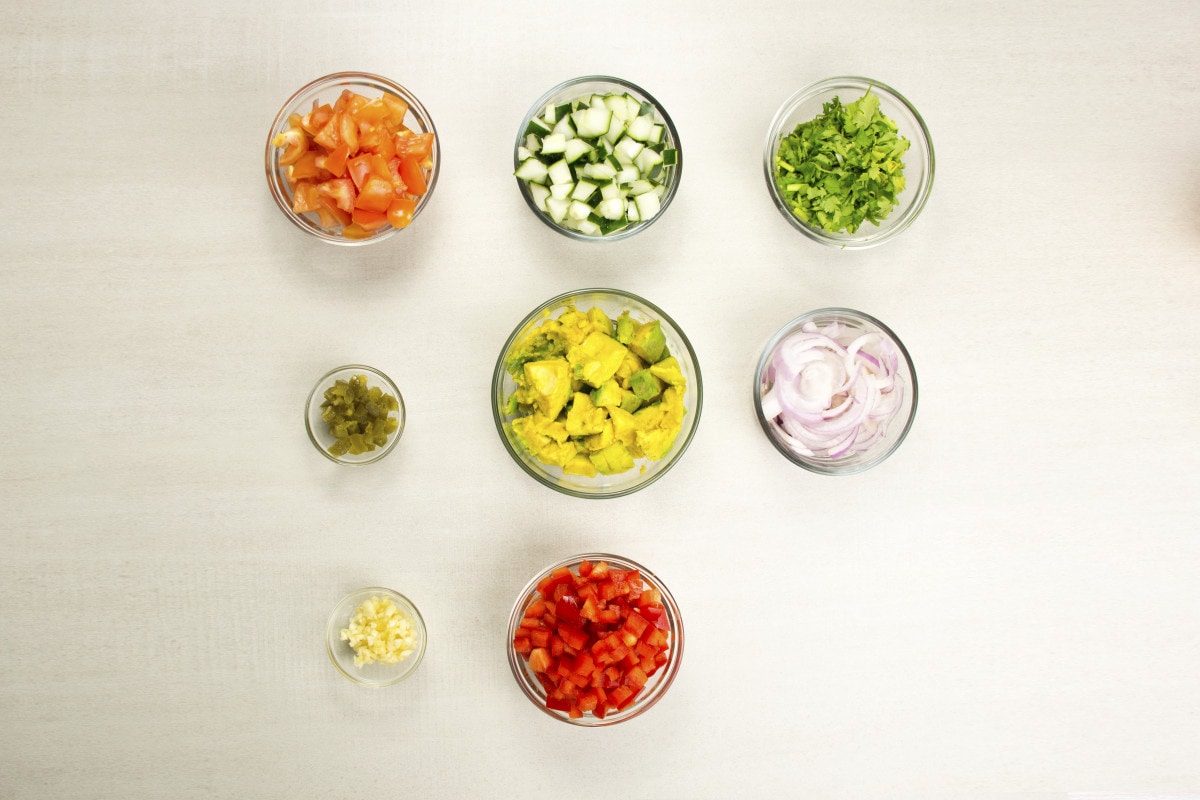 Step 2 – mix the ingredients together in a bowl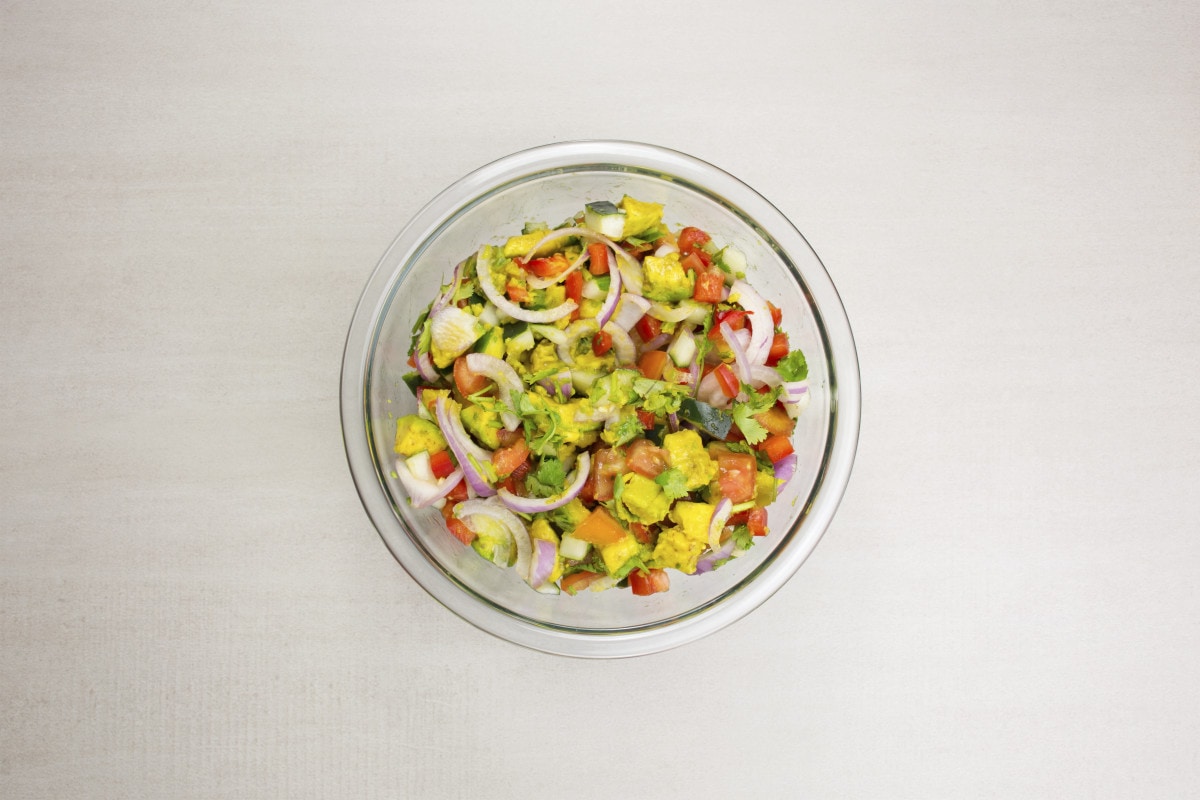 Step 3 – Squeeze a lime to make around a half cup of lime juice. Half an orange will yield around 1/4 cup of orange juice.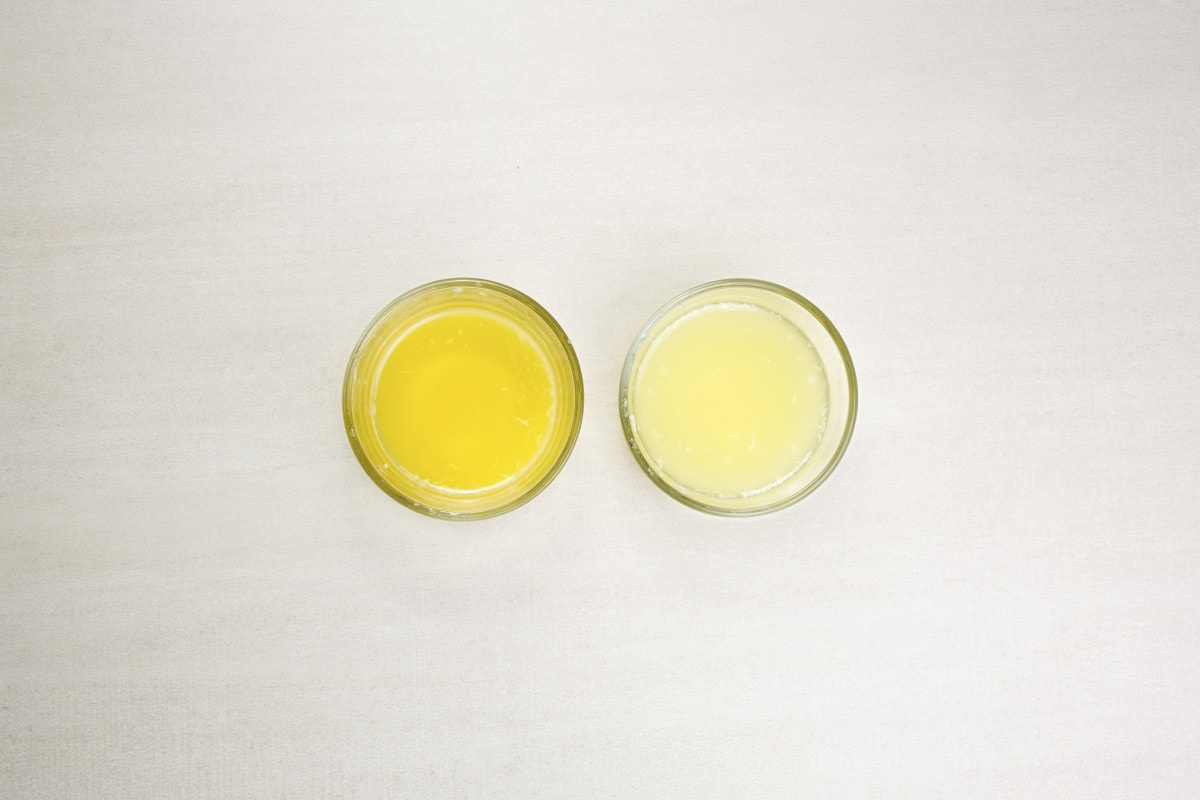 Step 4 – Chop up the other half of the orange to add to the salad later.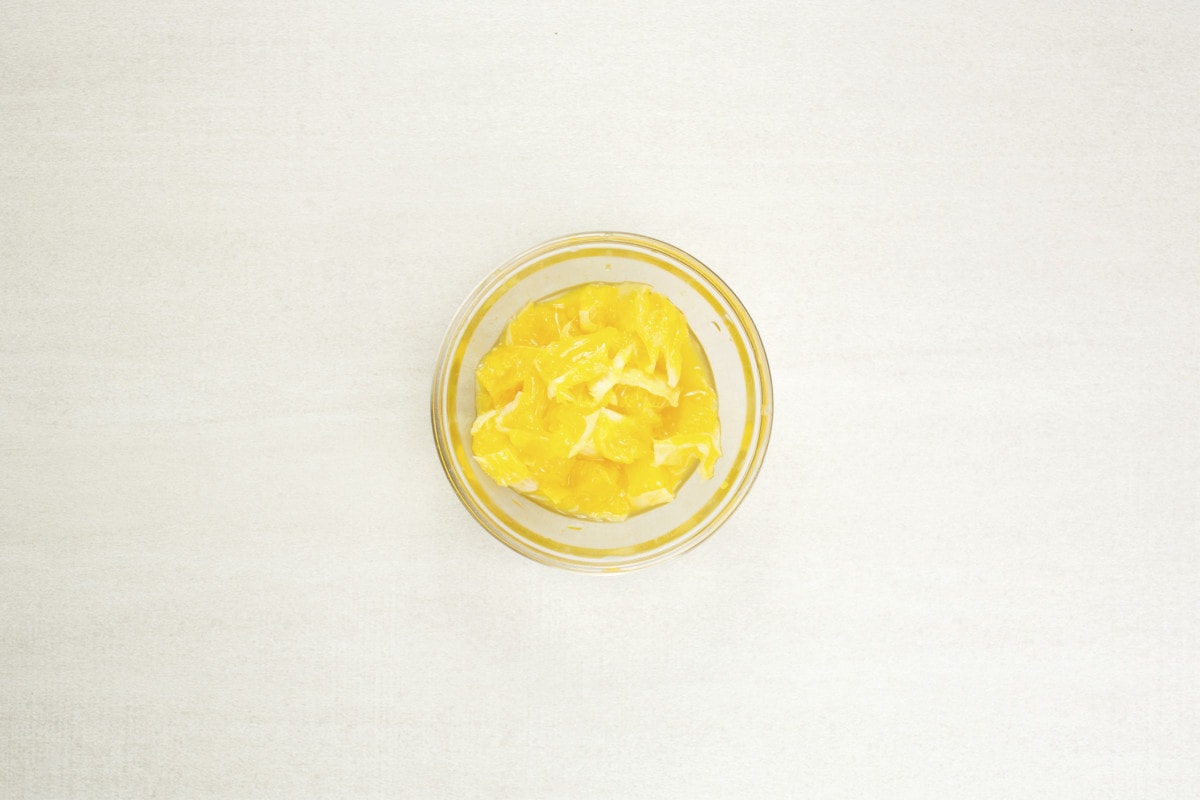 Step 5 – To make the dressing, mix together the lime and orange juice, with olive oil and salt.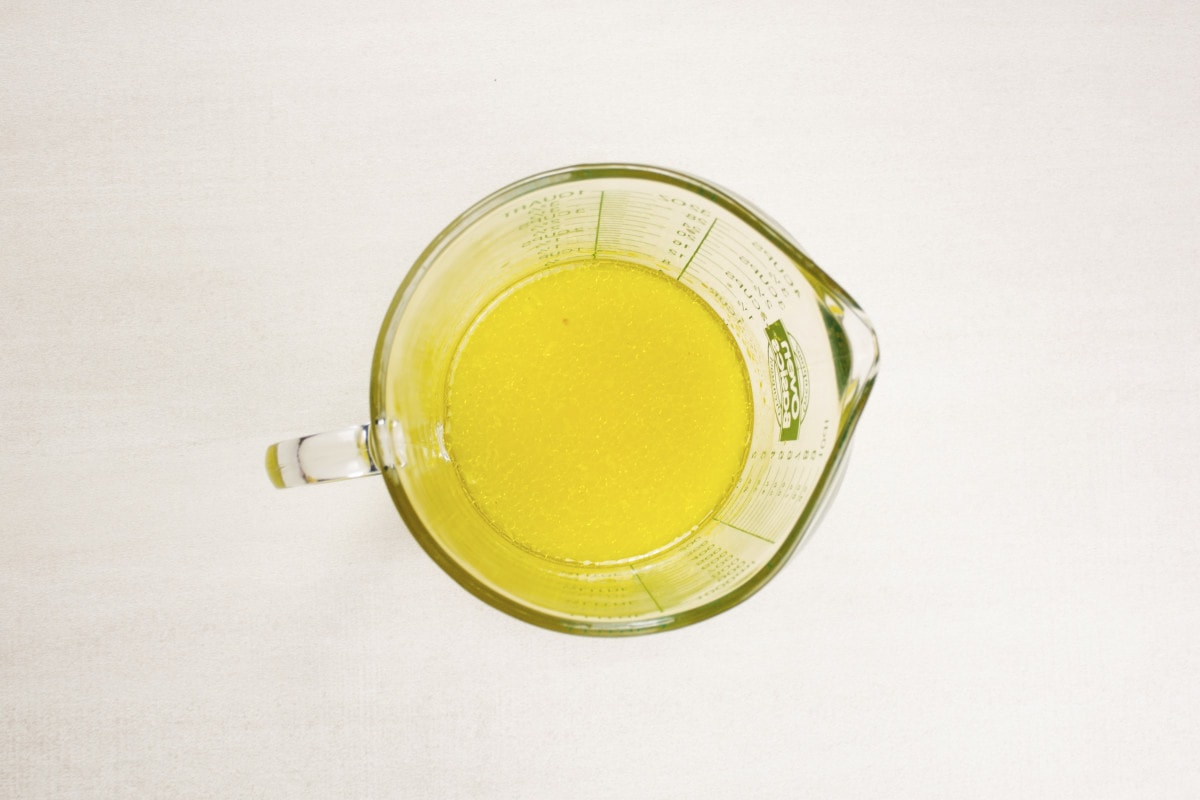 step 6 – Add the dressing and chopped oranges to the salad mix and toss carefully. Be sure to coat all the vegetables with the dressing, but be gentle so you don't mash the avocado.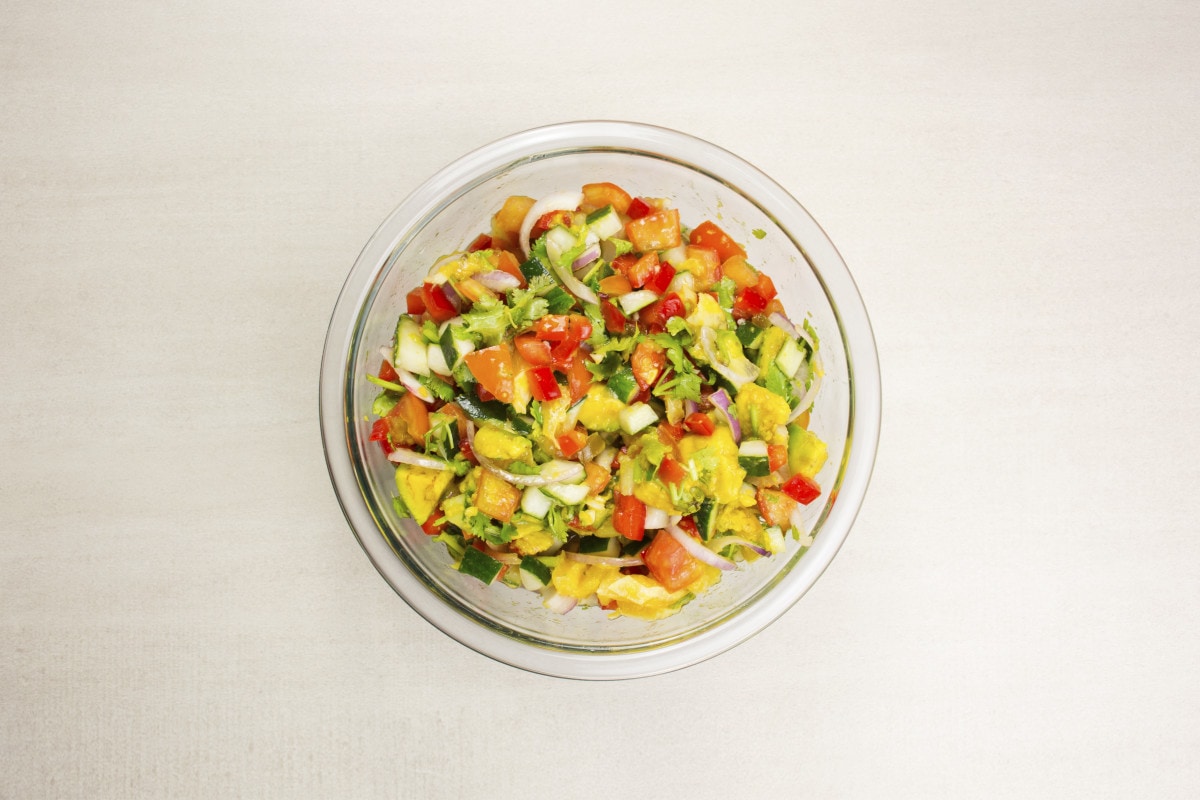 Step 7 – serve in a small bowl with tortilla chips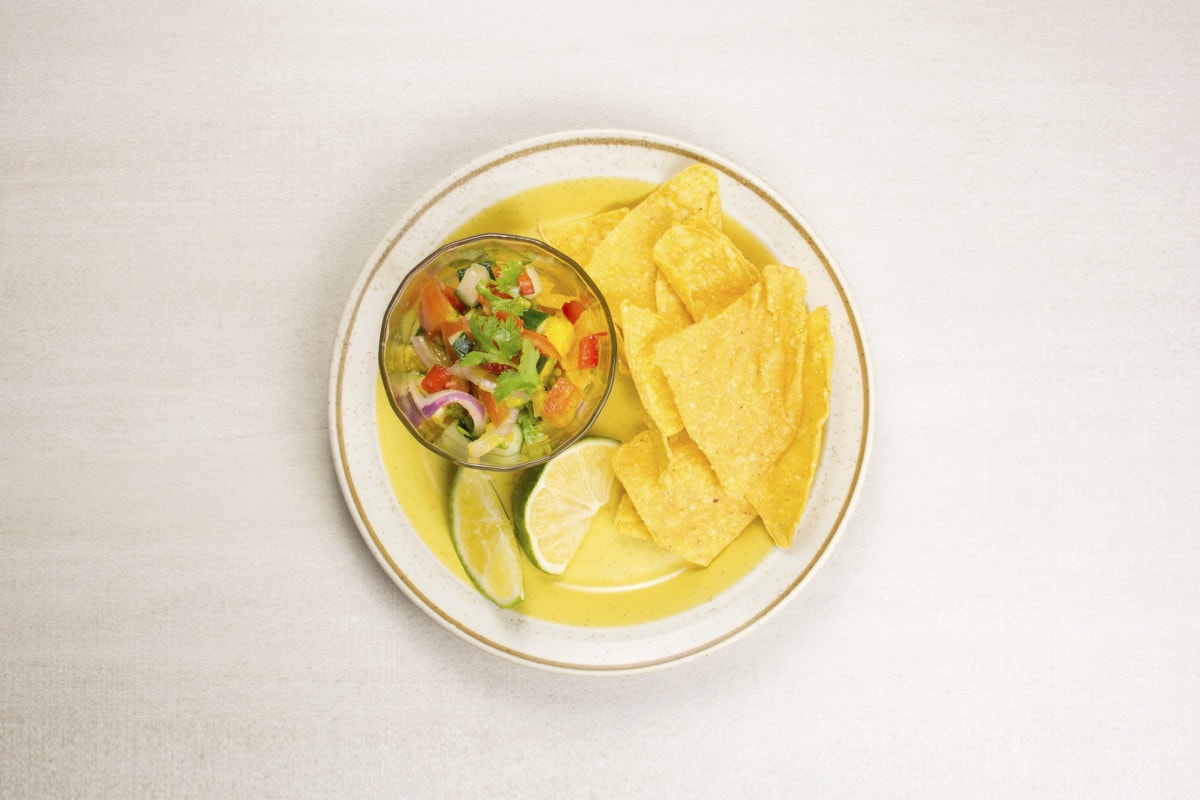 Frequently Asked Questions
Can I use canned ingredients instead?
While ceviche is best made with fresh fruits and vegetables, other options like canned or pickled jalapeños are a good alternative and can even enhance the flavor of the dish. Similarly, you can also use concentrated lime or orange juice if these fruits are still out of season.
What if the dish tastes too salty?
Add a sweetener like honey or sugar to make it sweeter and balance out the saltiness.
You can also add fruits like strawberries; mangoes or more freshly squeezed orange juice into the salad.
Another option is doubling the volume of veg in the recipe while omitting the salt.
Why use oranges in the sauce?
Adding oranges to the recipe is optional; the sweetness of the oranges will lessen the acidity of the limes. It is also possible to replace the limes with oranges if you find the dressing too sharp.
What can you do with the leftover ceviche?
After a few days chilled, non-meat ceviche is still good as an appetizer, side, or snack. It can also serve as a replacement for salsa.
How to tell if the ceviche is spoiled?
If the ceviche looks soggy or tastes bitter or sour, it is spoiled.
What other Peruvian vegetarian dishes are there?
There are many non-meat dishes in Peruvian cuisine such as quinoa salad with avocado, tamalas verdes, quinoa con leche dessert, vegetarian palta rellena, and yuca fries.
Vegetarian Ceviche
A vegetarian version of the classic Peruvian dish, full of flavor and easy to make. No meat, or seafood.
Ingredients
1

cup

tomatoes

1/8

cup

jalapeño

fresh or canned

1

garlic clove

1

cup

cucumber

1

avocado

1

bell pepper

½

cup

cilantro

more for toppings

½

cup

onion

1

lime

1

orange

2

tablespoons

olive oil

½

teaspoon

salt

Nachos
Instructions
Chop the tomatoes, jalapeño, garlic, cucumber, avocado, bell pepper, and cilantro. Slice the onions.

Toss the ingredients together in a bowl.

Squeeze a lime to make around ½ cup. Squeeze half of the orange to make around ¼ cup of juice.

Chop the remaining half of the orange. This will be added to the salad later.

For the dressing, mix the lime and orange juice, olive oil, and salt.

Add the dressing and chopped oranges to the salad mix and toss carefully. Making sure all the vegetables are coated with the dressing without mashing the avocado.

Serve with nachos.
Nutrition
Nutrition Facts
Vegetarian Ceviche
Amount Per Serving
Calories 96
Calories from Fat 63
% Daily Value*
Fat 7g11%
Sodium 150mg7%
Potassium 283mg8%
Carbohydrates 8g3%
Protein 1g2%
Vitamin A 793IU16%
Vitamin C 39mg47%
Calcium 22mg2%
Iron 0.4mg2%
* Percent Daily Values are based on a 2000 calorie diet.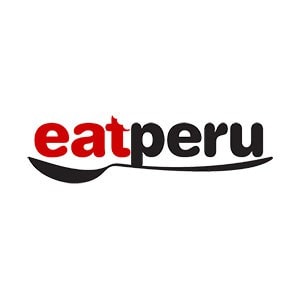 Peruvian foodie. I've been writing about the food of Peru for over 10 years. Read more about the Eat Peru team here