A colorful, light and refreshing summer fish dish
Salmon is often considered to be one of the most luxurious fish breeds. It is also a type of fish we rarely find in Peruvian cuisine. Peru's iconic dish, Ceviche, is most often prepared with white fish like sea bass, tilapia, snaper, mahi mahi, grouper and even shellfish like scallop. But Salmon works really well in ceviche and adds a certain richness that many people find appealing.
As you may know, ceviche is usually made with fresh raw fish and is cooked in citrus juice, usually lime, but also lemon, orange, or a blend of all three. After the cooking or marination process, the fish is strained and then tossed with vivid-colored fresh veggies, and sometimes dressed with a delectably savory sauce. A garnish of fresh cilantro often completes this deceptively simple dish.
In ancient Peru and surrounding countries, the Incas preserved fish with salt, chili peppers, and fruit juices. Later, limes were introduced by the Spanish and became the main 'cooking' juice for ceviche.
Salmon ceviche has had many variations. In Chile, they prefer to slice the fish into fine pieces. In Panama, they prefer sea bass ceviche and serve it as an appetizer. In some Latin American countries, ceviche is served in cocktail cups with tacos or tostadas.
Ceviche can be an appetizer, a main dish, and sometimes even a breakfast dish. The accompaniments can be changed to suit the time of day and required portion size.
The color of salmon will change somewhat with the marination process thanks to the powerful active compountds in the lime juice. But depending on how long the fish is cooked in citrus juice, the color may still call attention to the dish, especially for dinner guests who are used to white-fish ceviche.
While the taste of salmon is richer and the fat content is higher, thus changing the flavor, the fish takes well to the marination process and as long as you use high-qulity, super fresh product, this dish will be a hit.
Overall, it's a low-effort dish that is elegant enough to impress any guest or family member.
The ingredients list
Salmon fillets – must be boneless fillets.
Fresh lime juice (or lemon juice) – citruses to 'cook' the salmon.
Salt and pepper – seasonings.
Olive oil – helps make the dish feel a bit smoother, and adds a glossy finish.
Garlic – helps remove any foul smells and adds a mellow nutty flavor.
Soy sauce – a table condiment used, to add an extra umami flavor.
Sesame oil – adds gloss and a stronger nutty flavor.
Onion, cucumber, tomatoes, avocado – adds color and makes the ceviche salad fuller.
Pickled jalapeno – to add a bit of spice and makes the dish a bit livelier.
Cilantro, chips or crackers – for garnishes and sides.
Step by Step Photos
Step 1 – Cut salmon into small cubes and place them in a bowl.
Step 2 – Pour 1½ to 2 cups of lime juice over the salmon until it's fully submerged. Let it sit for 25 – 30 minutes until it turns opaque and changes color.
Step 3 – For the dressing, mix salt, pepper, olive oil, garlic, soy sauce, and lime/lemon juice to taste. Set aside.
Step 4 – Thinly slice onions and remove the seeds; chop the cucumbers and tomatoes.
Step 5 – Strain the salmon and add it back into the bowl with onions, cucumbers, tomatoes, and jalapeno.
Step 6 – Cut the avocado into cubes and gently fold into the dressing.
Step 7 – Taste-test the mixture and add more salt or pepper if needed.
Step 8 – Allow to chill in the refrigerator for 1 – 3 hours to let the flavors blend.
Step 9 – Scoop the ceviche into a clean bowl, avoiding leftover liquid at the bottom.
Step 10 – Garnish with fresh cilantro and serve with chips or crackers on the side.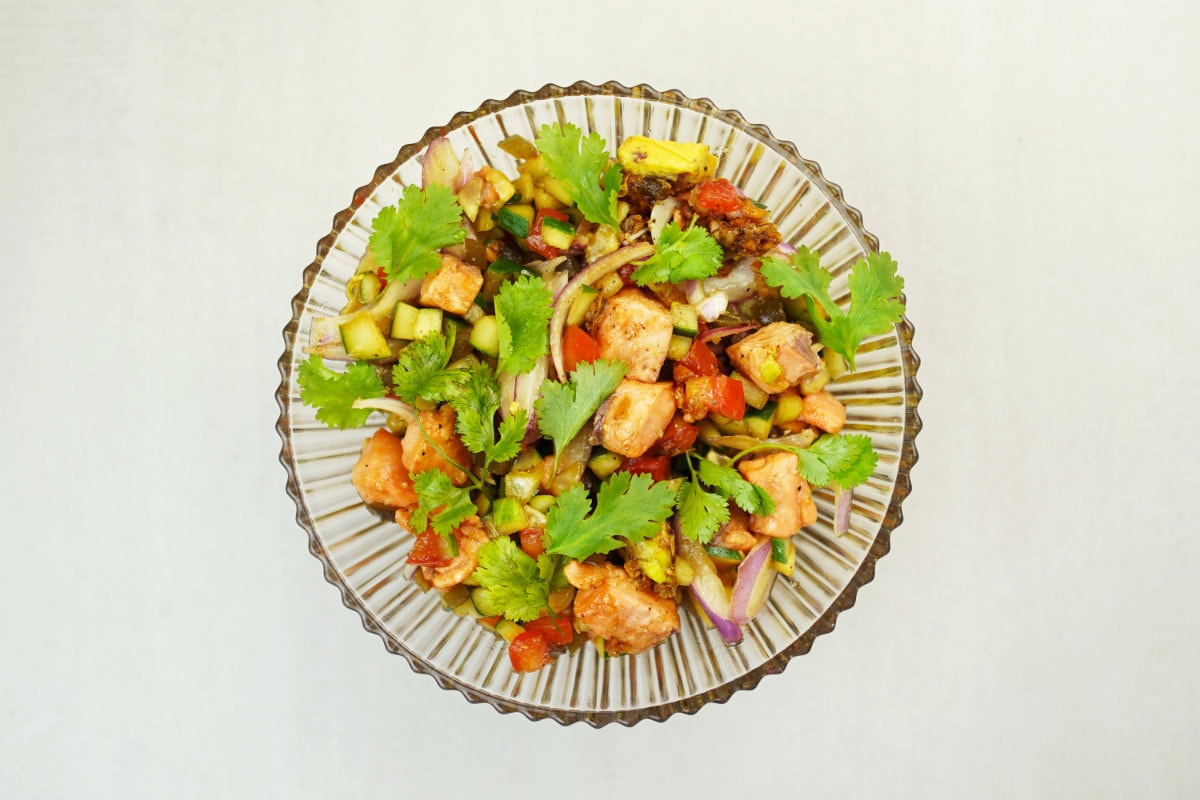 Quick tips
You can marinate salmon for longer than 30 minutes, but make sure to remove the fish once it has turned opaque.
When using frozen salmon, make sure to thaw it out (if frozen) till it's firm enough to remove the skin, then slice it to cubes. The cubes should not be icy when mixed with lemon juice to avoid a watery marinade.
While it's highly recommended to eat salmon ceviche soon after it's ready, you can store it in a glass, ceramic, or plastic container (not metal) with an airtight lid or cover with cling wrap. Try to remove as much liquid as possible before placing it in the fridge. Don't freeze it, and consume within a few days.
Side dishes / Accompaniments
As a snack or main dish for dinner, ceviche pairs well with many sides. Here are some ideas:
Chips or crackers – Tortilla chips, potato chips, savory biscuits, especially those that combine salt and pepper with other herbs.
Tostada shells – borrowing from Mexican cuisine, they are great when you want something more filling, and they're great at absorbing the delicious ceviche juices.
Rice – herb-cooked rice like cilantro, coconut, and other aromatic rice, to quinoa, plain white, red or, brown rice topped with the ceviche can transform it into a healthy dinner. Perfect for hot summers.
Vegetables – lettuce or cabbage leaves are an option but don't leave them in liquid too long.
Corn (or the Peruvian variety called Choclo) is a very popular accompaniment to ceviche.
This dish goes well with cancha salada, a snack made from roasted corn kernels
Frequently Asked Questions
Is there an alternative to lime for the marinade?
You can use other citrus juice such as lemon, calamansi, orange, mandarin, pomelo, or a mix of all of them. You can use any of these options to and cook the fish and remove odors. The cooking time may need to be increased for oranges, mandarins, or tangerines since they have a lower acidity level than limes. Adding half a lemon and orange will add a bit of sweetness to your ceviche.
How fresh does fish need to be for ceviche?
Buy as fresh as you can get. Not only is this safer (less chance of bacterial growth) but it's better for the taste. Any ceviche chef will recommend that you make the effert to get the freshest produce possible. You can also get them frozen from the grocery or supermarket as the fish would have been frozen soon after it was caught.
Can you use frozen fish for ceviche?
Yes, just make sure to thaw it out for a bit. Not too thawed that it will be difficult to remove the skin or slice.
Can you marinade the salmon overnight?
Leaving salmon in lemon juice longer than 30 minutes (a maximum of 2 hours) may cause it to become sour, chalky, or too chewy when served as ceviche.
Salmon Ceviche
Ceviche is a spicy-citrus marinated seafood dish that originated in Peru. Try this delicious version with Salmon instead of the typical white fish. Delicious
Ingredients
9

oz

salmon fillets

boneless, skin removed

1

& ½ or 2 cups lemon or lime juice

2

tablespoons

lemon or lime juice

½

teaspoon

salt

½

teaspoon

pepper

2

tablespoons

olive oil

2

tablespoons

garlic

minced

1/3

cup

soy sauce

1

teaspoon

sesame oil

optional

1

medium

onion

1

medium

cucumber

2

small

tomatoes

1-2

tablespoons

pickled jalapeno

minced or fresh chili peppers

1

medium

avocado

1

sprig

fresh cilantro leaves for garnish

chips or crackers

optional
Instructions
Slice the salmon to cubes and add to a bowl with 1½ to 2 cups of lime juice, enough to cover the salmon. Set aside for 25 – 30 minutes until it changes in color and looks more opaque.

For the dressing, mix salt, pepper, olive oil, garlic, soy sauce, and 2 tablespoons lemon or lime juice ( you can also add a splash of sesame oil). Do a quick taste test to see if it's to your liking. Set aside.

Slice the onions thinly and remove the seeds. Chop the cucumber and tomatoes.

Strain the salmon, and place it back into the bowl, mix in the onions, cucumbers, tomatoes, and jalapeno.

Slice the avocadoes into cubes and add them to the dressing bowl. Fold gently to avoid mashing the avocados.

Mix well and taste. Add more salt or pepper if needed. Refrigerate for 1 – 3 hours to allow the flavors to blend well.

Scoop the ceviche into a clean bowl, avoiding leftover liquids at the bottom of the original bowl. Garnish with fresh cilantro and a side dish of chips or crackers.
Nutrition
Nutrition Facts
Salmon Ceviche
Amount Per Serving
Calories 191
Calories from Fat 117
% Daily Value*
Fat 13g20%
Cholesterol 23mg8%
Sodium 966mg42%
Potassium 559mg16%
Carbohydrates 8g3%
Protein 11g22%
Vitamin A 373IU7%
Vitamin C 11mg13%
Calcium 30mg3%
Iron 1mg6%
* Percent Daily Values are based on a 2000 calorie diet.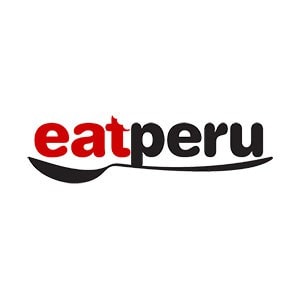 Peruvian foodie. I've been writing about the food of Peru for over 10 years. Read more about the Eat Peru team here