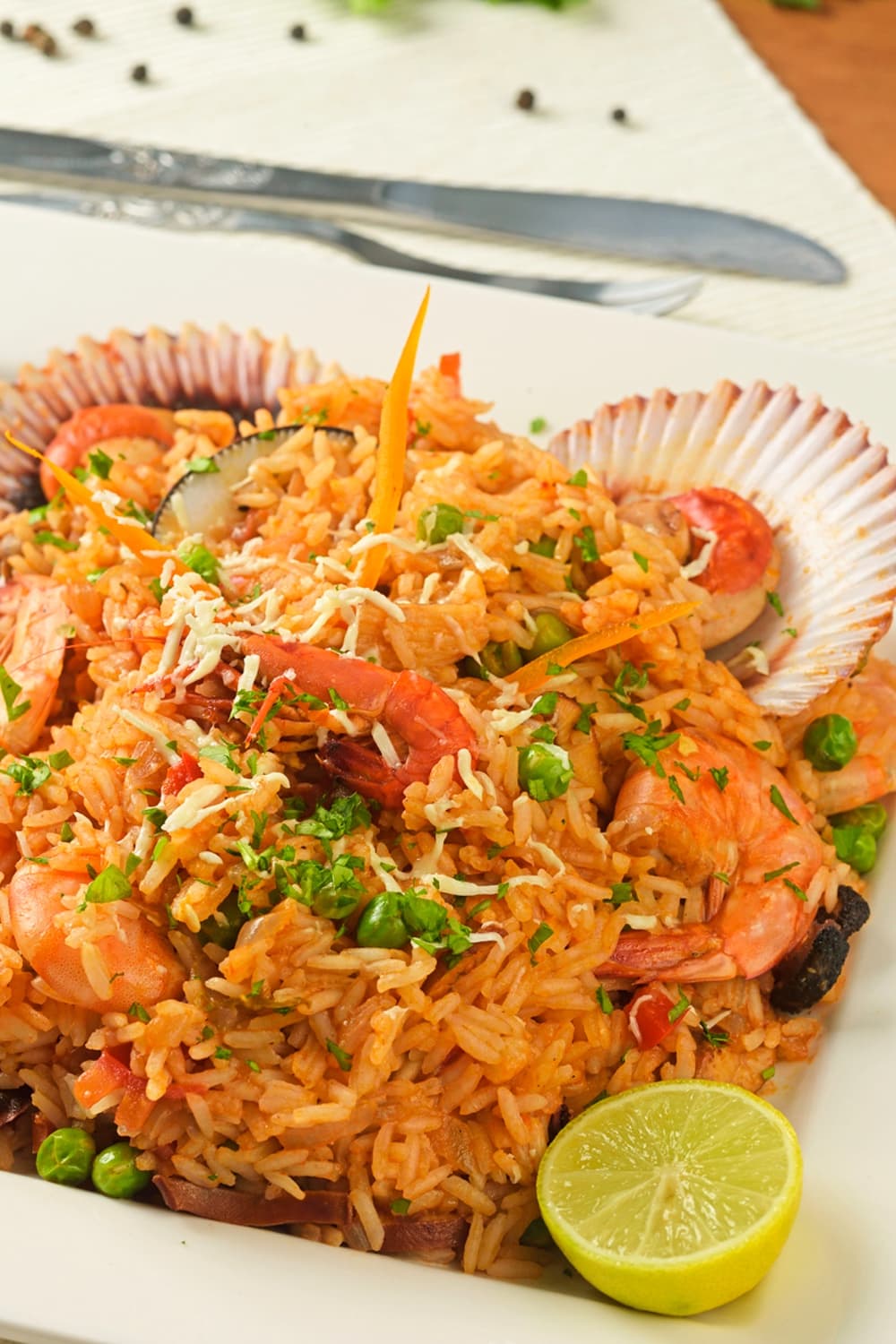 Yes, you read that right: Peru has its very own version of seafood paella and it is delectable. Rice and seafood is the perfect combination. Long-grain rice that has absorbed all of the flavors of the generous amounts of squid, shrimp, mussels, and scallops, ají amarillo chilli pepper, tomato paste, green peas, all topped with some grated Parmesan cheese.  Perhaps the only downside to this dish is the fact that all the vitamin B6 and tryptophan from the seafood can make you quite sleepy after you have polished it all off.
So make sure not to schedule in any business meetings straight after!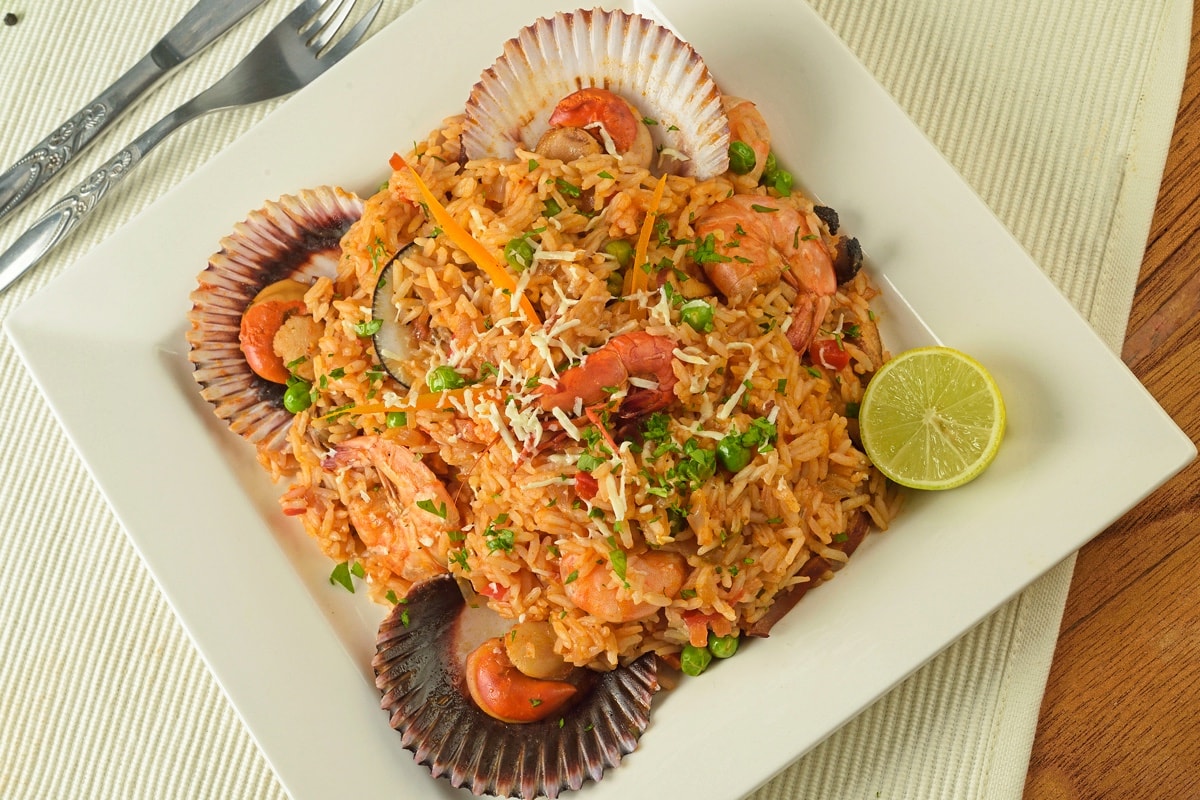 Learn more about the romantic backstory of this dish as shared by a famous Peruvian chef or jump straight to the recipe below!
Recipe Origins
Peru boasts no less than 1500 miles of coastline; the connection between Peruvians and the sea is beyond question. There were avid fishermen in all of the coastal pre-Columbian cultures such as the Moche, Chimú, Chancay and Chincha, which historians have learnt from observing the many artefacts and ceramic vessels these cultures have left us. However, the origins of this dish can't be attributed to these ancient cultures, since the main ingredient is rice, introduced by the Spanish conquistadors at a time when these cultures had mostly been succeeded by others.
Gastón Acurio, the acclaimed Peruvian chef and restaurateur, has a story about the origins of this delicious rice with seafood masterpiece. He says that the daughter of a Genovese baker fell in love with the son of a Cantonese shopkeeper. They knew their families would never approve of their relationship and eloped. In their newly formed home, when it was time to cook, each of them contributed elements of their country's culinary tradition. Tomato sauce and Parmesan cheese from the Italian side joined a fried rice dish from the Chinese cuisine, and the first-ever "rice with seafood" was created.
Acurio doesn't specify if this happened in Peru or elsewhere, and whether this account is entirely true does not even matter too much, because either way, it's a perfect reflection of how new dishes are created when culinary cultures meet. This is, in fact, the secret to many of the most popular Peruvian dishes, such as lomo saltado beef stirfry and ají de gallina chicken stew.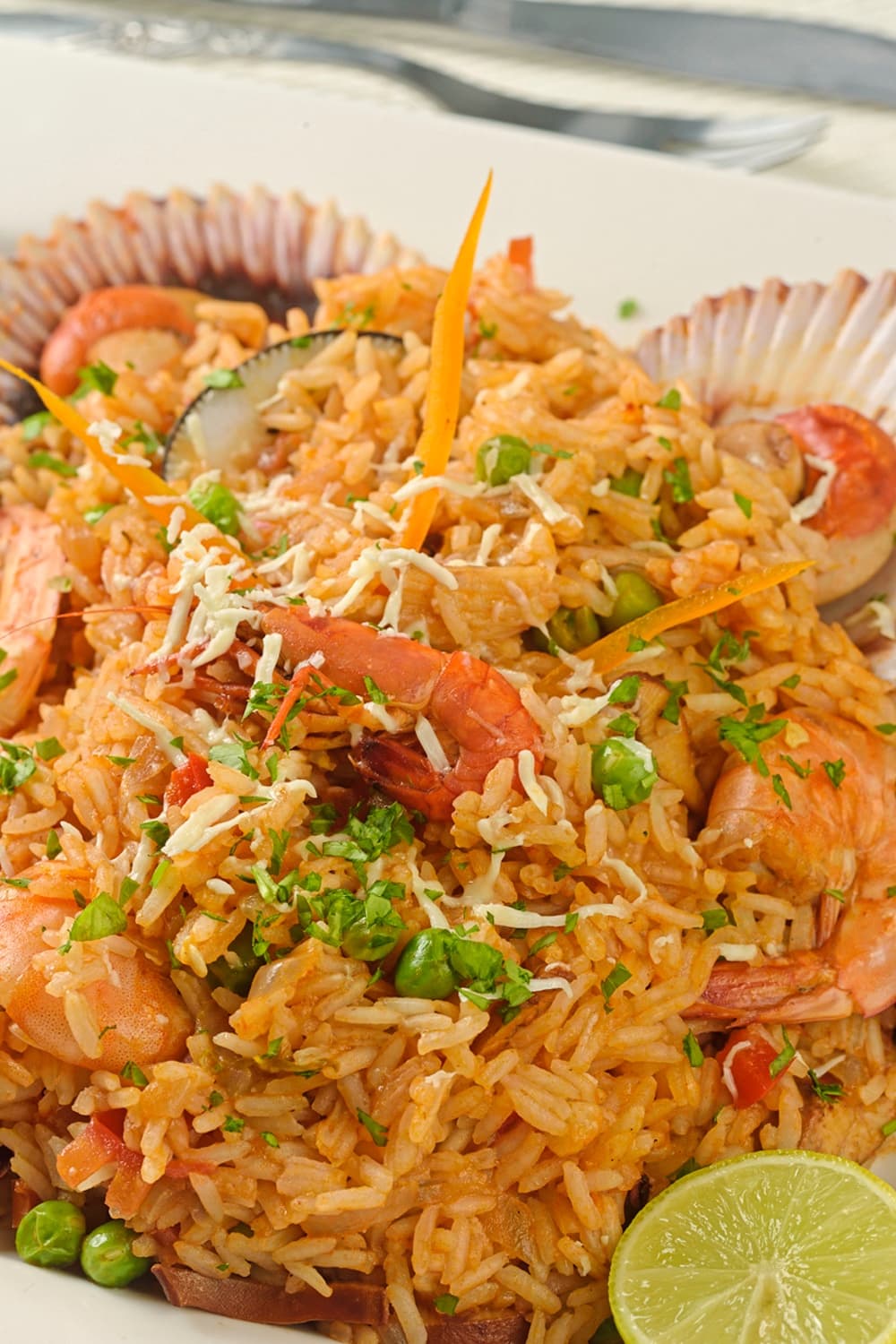 Foodies: Eat arroz con mariscos like a true Peruvian
The best place to have this dish is of course anywhere on the coast at one of the hundreds of cevicherías where it is almost as popular as raw fish dish called ceviche. It can be served and enjoyed on its own, but diners are often swayed to order a combined platter which consists of equally delicious portions of ceviche, arroz con mariscos and chicharrón de pescado.
This is called the trio marino, a seafood trio. Popular drinks to accompany this fiesta of flavors would be lemonade (which is actually lime-onade made with deliciously tangy limes), chicha morada or simply an ice-cold beer.
Now it's time to get out that bag of rice, fresh seafood and all the other ingredients to prepare our very own delicious seafood and rice stew.
Ingredients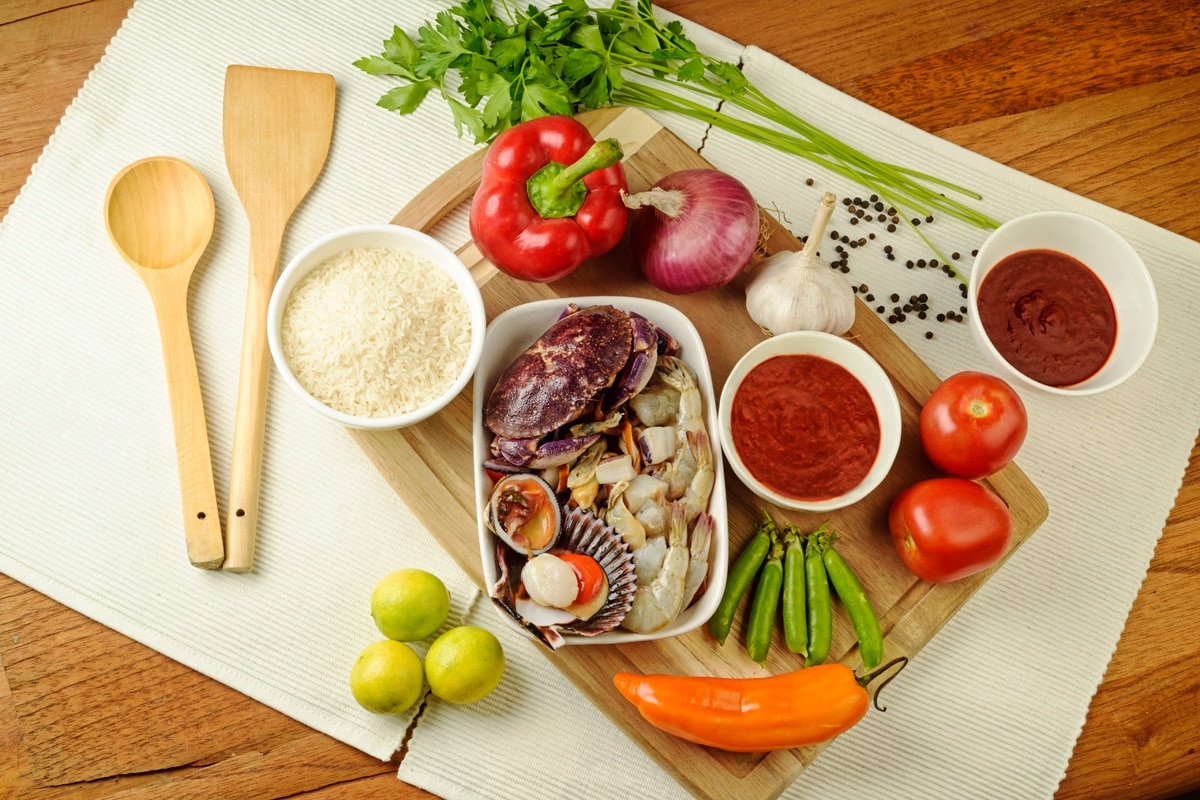 Arroz con Mariscos: Peruvian Rice with Seafood
Rice soaked with the flavors of squid, shrimp, mussels, and scallops, with ají amarillo chilli pepper, tomato paste, green peas, all topped with some grated Parmesan cheese.
Ingredients
½

pound

seafood mix

fresh, if possible

6

large

scallops

6

clams or mussels

1/2

pound

squid

1

small

crab

3

pounds

white long-grain rice

cooked

1/4

cup

parsley

finely chopped

1

tablespoon

garlic paste

1

onion

red, finely chopped

1

medium

tomato

1

small

red bell pepper

diced

1/2

cup

peas

3

tablespoons

ají panca chilli paste

3

tablespoons

ají amarillo chilli paste

3

tablespoons

tomato paste

2

limes

4

tablespoons

olive oil

1 1/2

cup

crab and mussel broth

or seafood broth

Salt and pepper

to taste
Notes
Weight per serving: 1 pound
Nutrition
Nutrition Facts
Arroz con Mariscos: Peruvian Rice with Seafood
Amount Per Serving (453 g)
Calories 1606
Calories from Fat 180
% Daily Value*
Fat 20g31%
Cholesterol 276mg92%
Sodium 916mg40%
Potassium 1384mg40%
Carbohydrates 299g100%
Protein 52g104%
Vitamin A 5273IU105%
Vitamin C 61mg74%
Calcium 215mg22%
Iron 7mg39%
* Percent Daily Values are based on a 2000 calorie diet.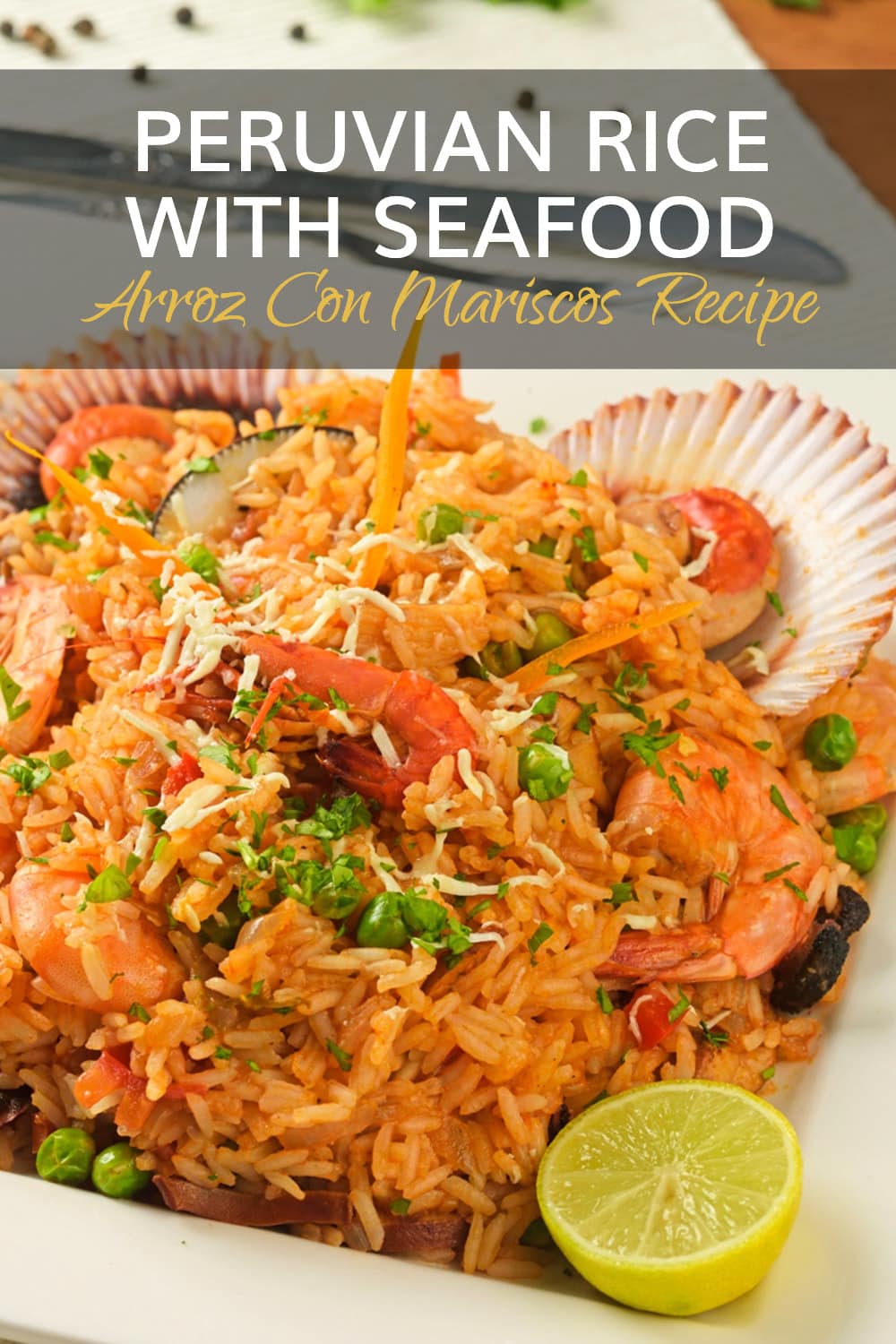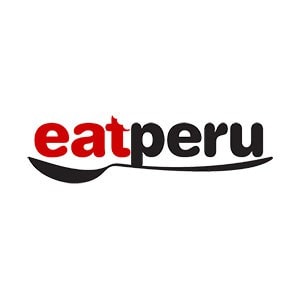 Peruvian foodie. I've been writing about the food of Peru for over 10 years. Read more about the Eat Peru team here