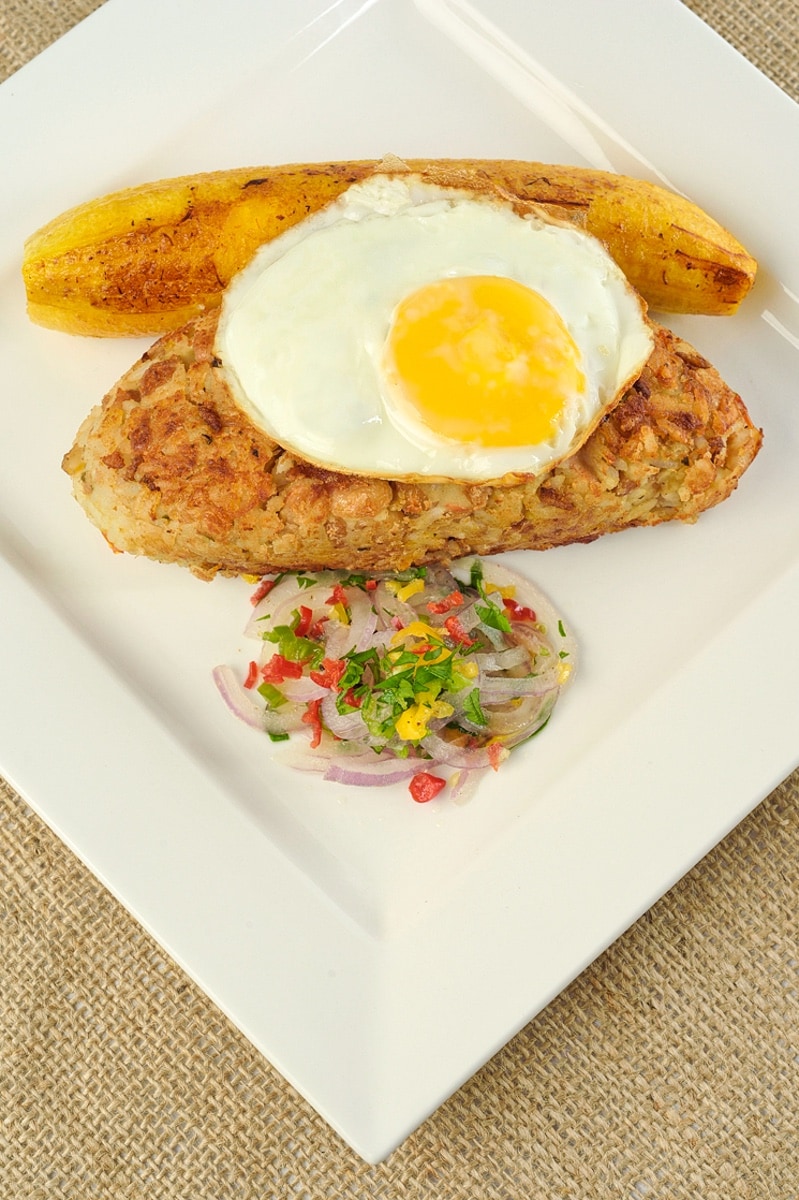 If there was ever a competition for recipes made with leftover ingredients, tacu tacu peruano would probably make it into the top 5! Let us introduce you to the deliciousness that is tacu tacu: leftover rice and beans jazzed up with a mix of onion, garlic, spicy ají amarillo and herbs, topped with a fried egg, a fried ripe plantains and accompanied with the Peruvian onion relish sarza criolla. No wonder even renowned British chef Jamie Oliver has lauded this quintessential Peruvian rice and beans recipe. Learn about its origins and many potential variations or scroll straight down to the recipe to get cooking!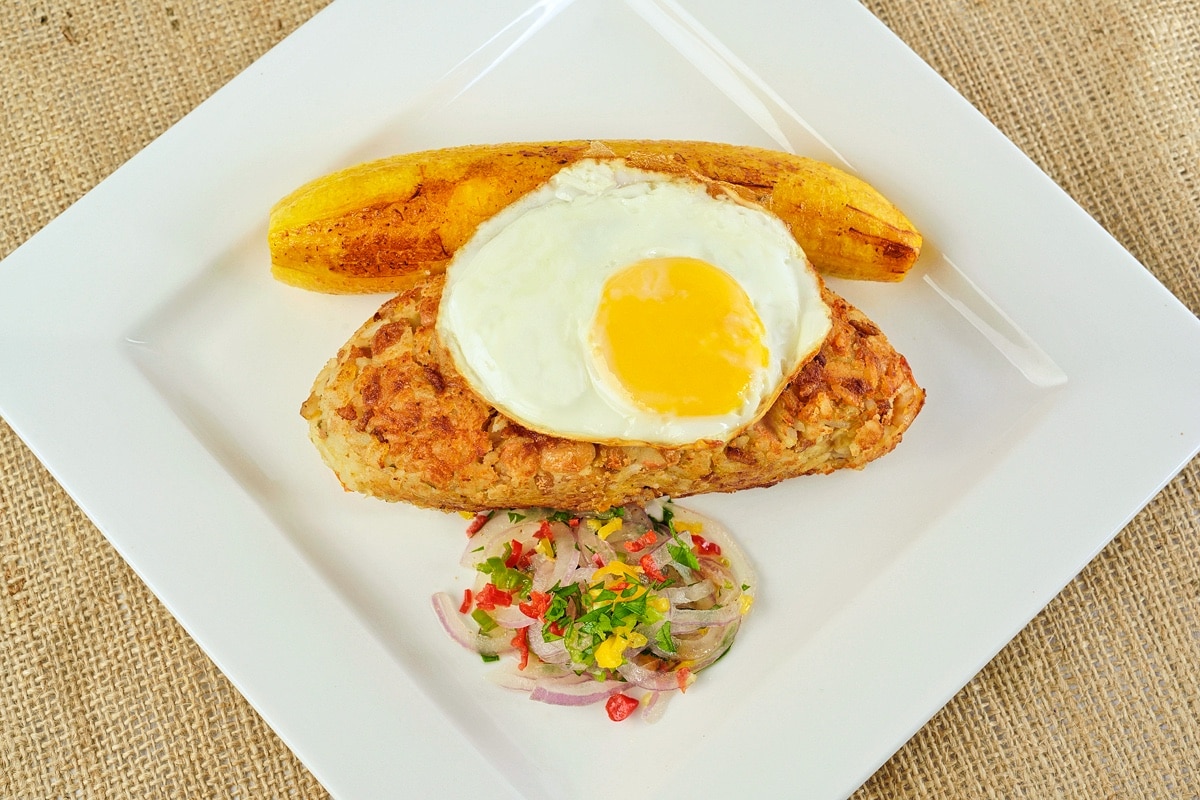 What's in tacu tacu?
Within Peruvian cuisine, there are many gastronomical sub-groups, usually classified according to the region of Peru they hail from. This dish is a prime example of what is known as cocina criolla, Creole cuisine, used to refer to dishes with influences from different parts of Peru. Cocina criolla often contains culinary traditions from other parts of the world.
The name tacu tacu is believed to be a form of the word takuy from the indigenous Andean language, Quechua, which means "to mix two things together". But the original recipe bearing this name is completely different than the present-day tacu tacu, created by the inventive hands of African slaves. The recipe came about when these workers improvised ways of using leftover rice and beans. They transformed them into a tasty new dish by adding some ingredients to improve the flavor (enter the garlic, onion, and Peruvian spicy chilli ají amarillo) and lightly sautéeing everything in a skillet. The recipe has probably survived all those years because it offers a practical and tasty solution to revive two leftover staples of Peruvian cuisine – beans and rice – and doesn't require additional ingredients.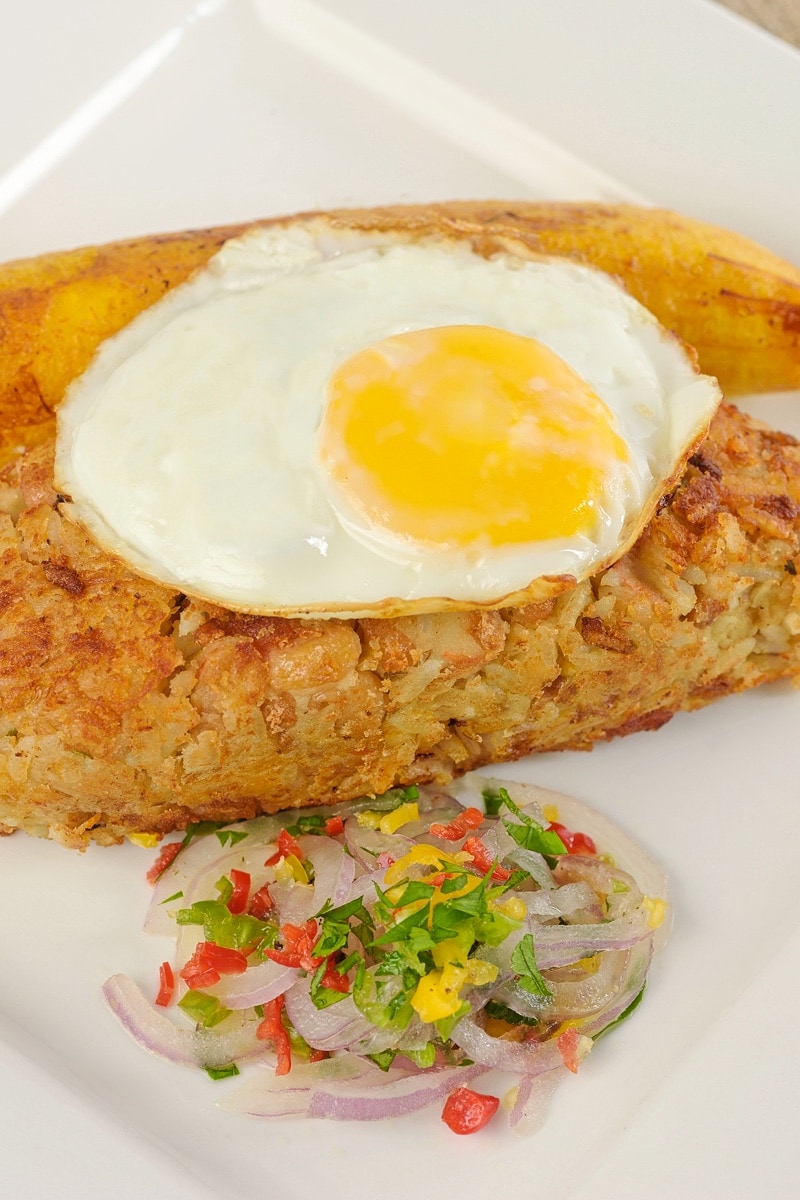 Highly versatile & Incredibly Tasty
Another reason why tacu tacu is likely to have become so popular is the fact that it is incredibly versatile. The ingredients of the most basic version are rice and Peruvian canary beans (also known as mayocoba beans), seasoned with a few simple ingredients and accompanied by fried plantain. But it's almost invariably served as tacu tacu montado, where the rice is topped with a fried egg, steak, fried fish, lomo saltado or even cabrito a la norteña.
If soaking and cooking beans sound too laborious, use canned beans. It's also not a problem to change the type of bean used: canary beans aren't available everywhere and they're easily replaced by navy beans, or lentils, pinto beans or black beans. Plus, if you wanted to make your tacu tacu vegetarian and vegan, you'd just omit the egg and meat altogether and still be left with a really delicious dish. Surely you're convinced by now that you have to give this recipe a try, so let's get a move on and make some tasty tacu tacu!

Tacu Tacu Recipe
Tacu Tacu: leftover rice and beans jazzed up with a mix of onion, garlic, spicy ají amarillo and herbs, topped with a fried egg, a fried plantain and accompanied with the Peruvian onion relish sarsa criolla.
Ingredients
2

cups

uncooked navy beans

or 4 cups of precooked canned navy beans (or mayocoba beans if available)

1½

cups

white rice

½

large red onion

1

large tomato

1

teaspoon

parsley

chopped

1

teaspoon

dried oregano

1 ½

tablespoon

garlic paste

2

teaspoons

ají amarillo chili pepper paste

4

eggs

4

plantains

4

fried steaks

optional

1

cup

olive oil

Salt and pepper to taste
Sarsa criolla relish (optional)
1

onion

jullienned

1

small limo chili pepper

finely chopped

1

teaspoon

parsley

finely chopped

1

tablespoon

olive oil

1

teaspoon

lime juice

Salt and pepper to taste
Instructions
Soak the raw beans for overnight, adding a tablespoon of salt. Change the water and boil until soft (cooking time here will depend on the type of bean and cooking pot used, usually 1 to 2 hours).

Set soaked beans aside to cool.

Finely chop the onion, tomato and parsley for the tacu tacu.

Measure the ají amarillo chili pepper and garlic paste.

Heat up 2 tablespoons of olive oil in a skillet over medium heat, add the onion and garlic. Sautée the ingredients for 2 minutes.

Add tomato and ají amarillo chili pepper paste to sautée for another 3 minutes or until cooked.

Turn off the heat, add the cooked beans, crushing them lightly, and mix well.

Add the rice, mix well. Leave the mixture to sit for at least 15 minutes for the ingredients to soak into the rice well (this is very important in order to achieve the right texture!).

Set aside the mixture, and for each individual serving, return about 2 cups of the mixture to a hot skillet with ½ a tablespoon of olive and lightly fry.

Make sure the mixture achieves a compact texture as you can see in the photo.

Prepare the sarsa criolla by mixing the jullienned red onion, finely chopped limo chili pepper, parsley, olive oil, lime juice and salt. Serve the tacu tacu, topped with a fried egg (or steak, chicken, fish fillet or any other topping of your choice), a fried plantain, and the sarsa criolla onion relish. Enjoy your wonderful tacu tacu!
Nutrition
Serving:
500
g
|
Calories:
1250
kcal
|
Carbohydrates:
146
g
|
Protein:
67
g
|
Fat:
47
g
|
Saturated Fat:
17
g
|
Cholesterol:
302
mg
|
Sodium:
197
mg
|
Potassium:
2195
mg
|
Fiber:
16
g
|
Sugar:
31
g
|
Vitamin A:
2652
IU
|
Vitamin C:
60
mg
|
Calcium:
159
mg
|
Iron:
9
mg
Nutrition Facts
Tacu Tacu Recipe
Amount Per Serving (500 g)
Calories 1250
Calories from Fat 423
% Daily Value*
Fat 47g72%
Cholesterol 302mg101%
Sodium 197mg9%
Potassium 2195mg63%
Carbohydrates 146g49%
Protein 67g134%
Vitamin A 2652IU53%
Vitamin C 60mg73%
Calcium 159mg16%
Iron 9mg50%
* Percent Daily Values are based on a 2000 calorie diet.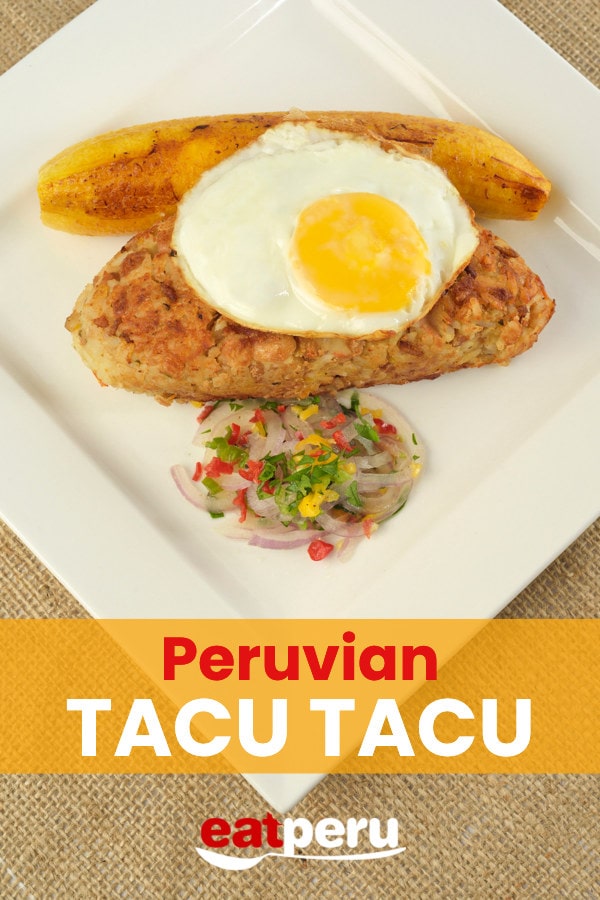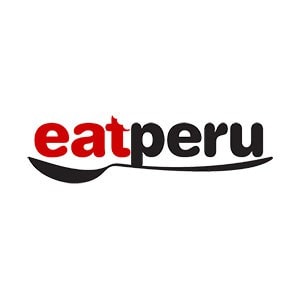 Peruvian foodie. I've been writing about the food of Peru for over 10 years. Read more about the Eat Peru team here