Perfect as a side dish or entire meal. It all depends on your tastes. Sliced and deep-fried in like French fries, this is an alternative starchy accompaniment for many a meal in Peru. One thing's certain, these Peruvian fried plantains are more-ish. It's hard to stop at one, or two, or even three. It's best to pair this dish with some protein or salad.
This is not a complicated dish, by any means. Making plantains (plátanos in Spanish) is straightforward so pretty much anyone can have a go. They are typically found in cuisines all over Central America and Latin America. Ten minutes before lunch, the chef of the household prepares them.
Fried plantains work really well as side dishes in different savory dishes. When selecting the base ingredient, the trick is to pick at the appropriate level of ripeness. If they are green, they are used for tostones. If they are ripe, they are used for fried plantains. Very ripe fruit is generally prepared as sweet fried plantains (maduros), sometimes with added sugar. Although, the sweet version can also accompany savory dishes.
You can also enjoy them just as they are for a little indulgence.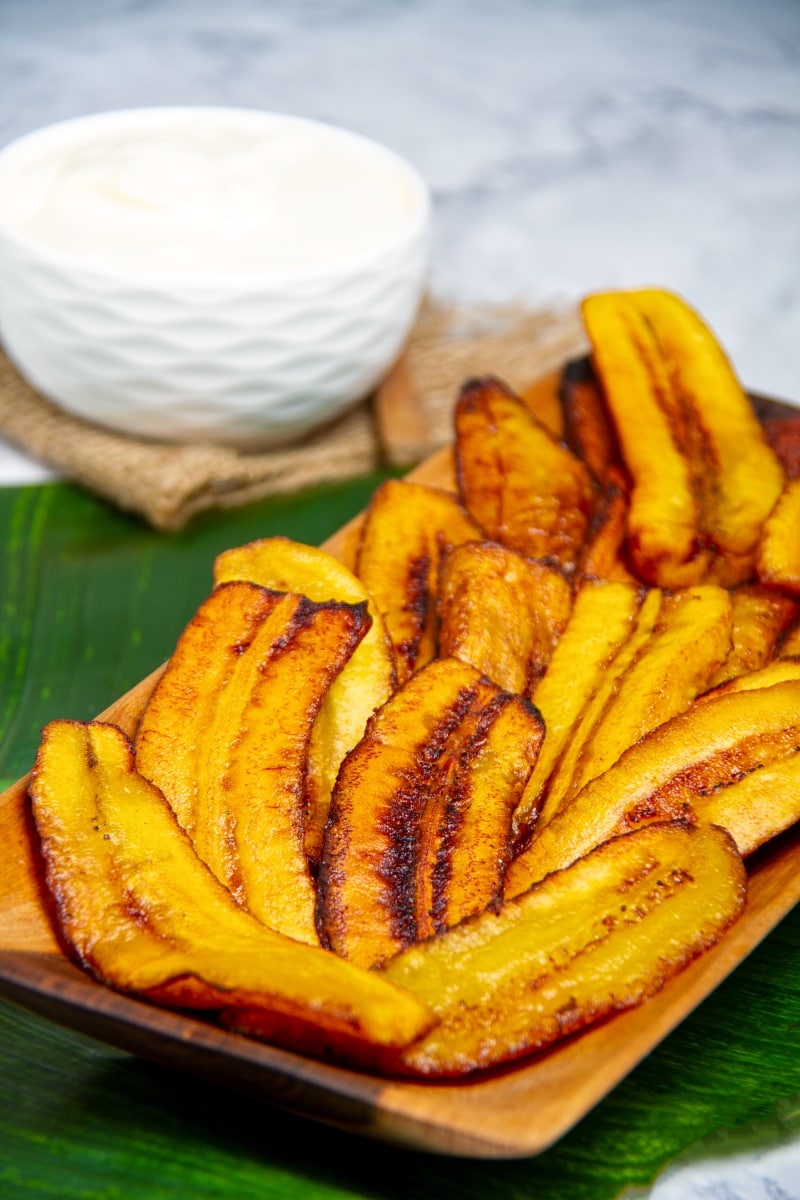 Recipe Steps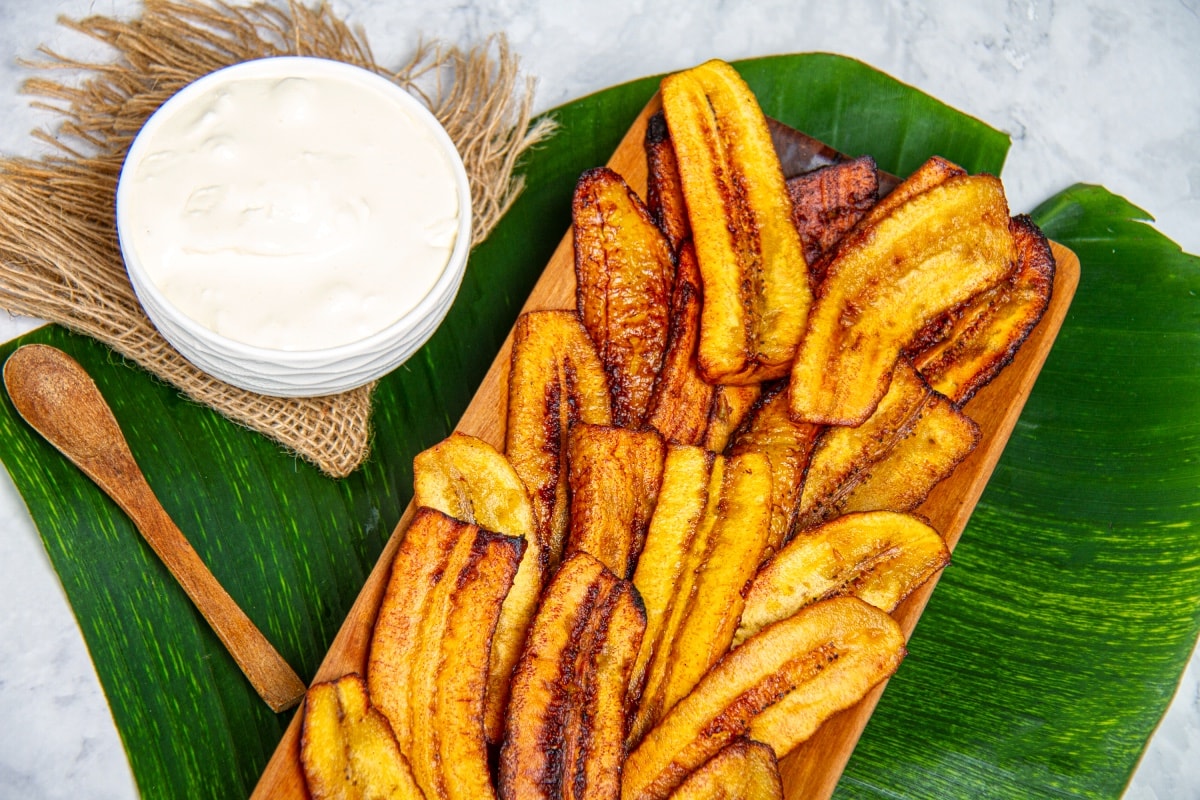 Alternatives & Tips
A healthier alternative to corn oil would be olive oil. But avoid extra virgin olive oil as this will not take the high heat of deep-frying. Coconut oil is another option. Remember that these variations will alter the taste of the plantains so try the recipe before you decide to serve them as snacks or starters at mealtimes.
In Peru, you might see the baked version sold as street food. Baked could be considered somewhat healthier as baked plantains don't soak up the oil used in frying. But the fried version is much tastier and well worth the extra calories.
This dish is vegan and vegetarian-friendly.
Make sure you slice the fruit so that each piece has a similar thickness. Cooked thoroughly. Plantains are not meant to be eaten raw.
While you might consider this is a sweet dish (plantains are classed as fruits but used more like a vegetable), it has decidedly more of a savory taste and should accompany savory foods.
Try them with lomo a lo pobre or ceviche de pulpo. Crispy plantains also work perfectly with arroz tapado and the African-influenced Creole dish called tacu tacu.
The Spanish word patacones is also used in certain parts of Peru (and Colombia) to describe flattened or mashed, fried, ripe plantains.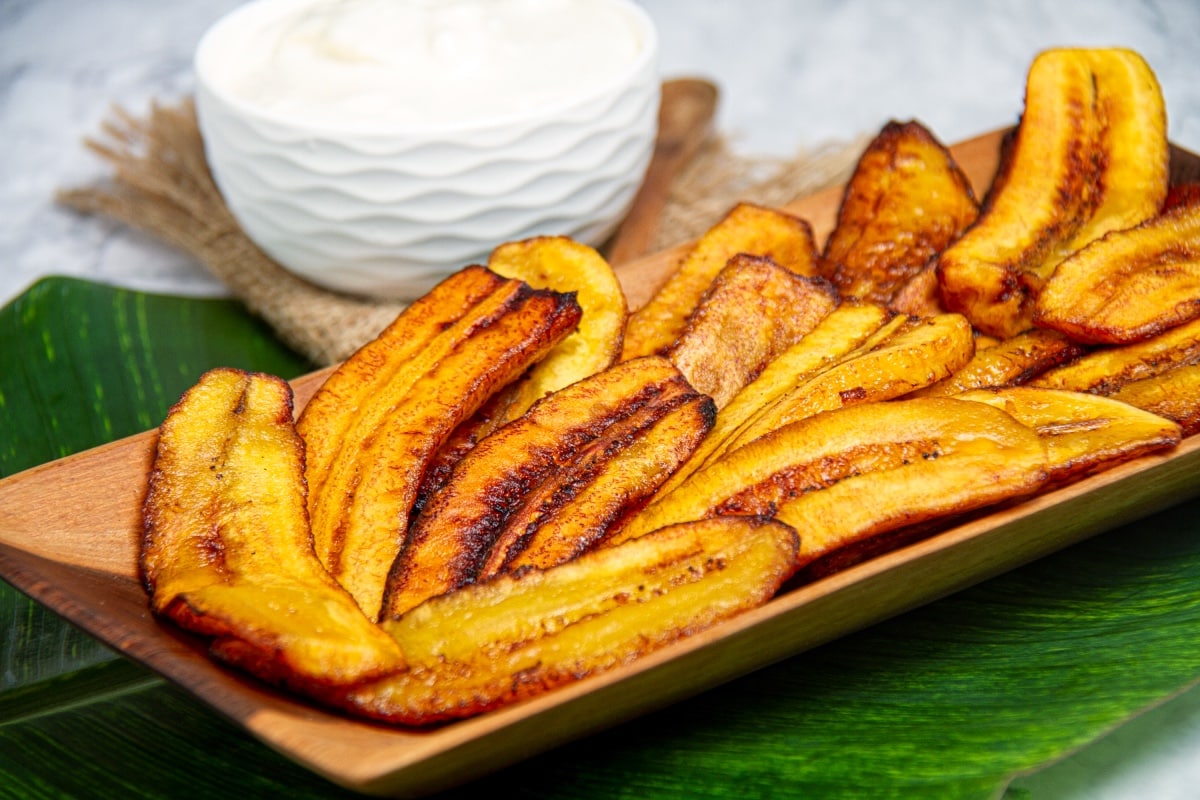 Ingredients
Couldn't be simpler.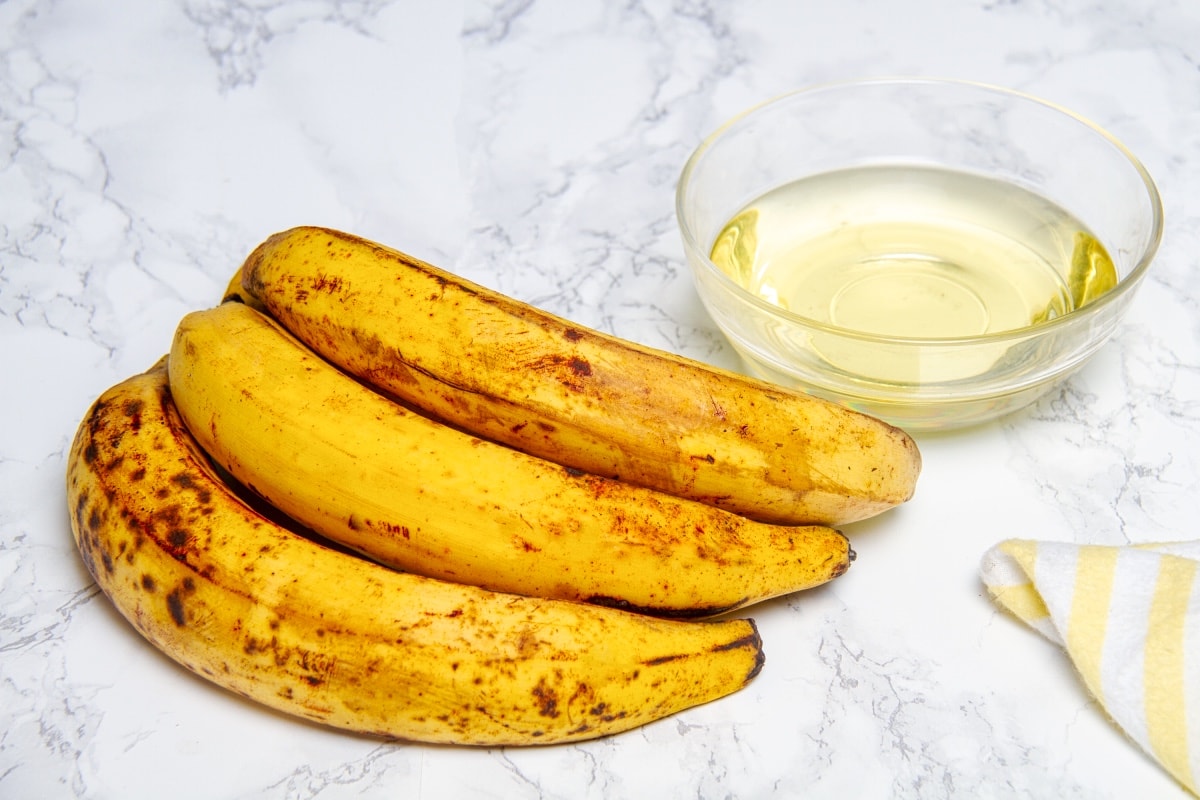 Large ripe plantains
1 cup of corn oil or any other vegetable oil.
Peruvian Fried Plantains
Flavorful, delicious, and cheap to make. The perfect snack or accompaniment to many savory Peruvian dishes. Made with healthy plantains (plátanos) and vegetarian friendly.
Ingredients
4

large

ripe plantains

approximately 2 Kg.

1

cup

corn oil

or any other vegetable oil

Absorbent paper
Instructions
Make sure the plantains are thick and firm, with some black spots. Cut the stems from the two ends. And with the tip of the knife make an incision along the skin of the plantain. Then peel the skin off the plantain. This fruit does not turn black like regular bananas, so don't hesitate in removing the skin. Repeat with the rest of the plantains.

Cut the plantains crosswise, into two equal parts.

Place each of the halves on a cutting board. And make three or four longitudinal cuts, depending on the thickness of the plantain to get the slices. Repeat with all the pieces. You should be able to get 6 to 8 slices from each. Don't worry if you don't, it doesn't be perfect. The important thing is that they all have a similar thickness so that they cook evenly. They should not exceed 8 mm thick to prevent any raw fruit left on the inside.

Pour the oil into a skillet, and turn the stove to medium-high heat. When you observe bubbles on the surface of the pan, place the slices in the hot oil and cook for three minutes on each side, until golden brown.

Continue until all slices are cooked. Place on a plate lined with absorbent paper or paper towel. Serve as an accompaniment to other dishes or enjoy with grated cheese, beans, sour cream, garlic dipping sauce, or butter. Yum!
Nutrition
Nutrition Facts
Peruvian Fried Plantains
Amount Per Serving
Calories 713
Calories from Fat 513
% Daily Value*
Fat 57g88%
Sodium 7mg0%
Potassium 893mg26%
Carbohydrates 57g19%
Protein 2g4%
Vitamin A 2017IU40%
Vitamin C 33mg40%
Calcium 5mg1%
Iron 1mg6%
* Percent Daily Values are based on a 2000 calorie diet.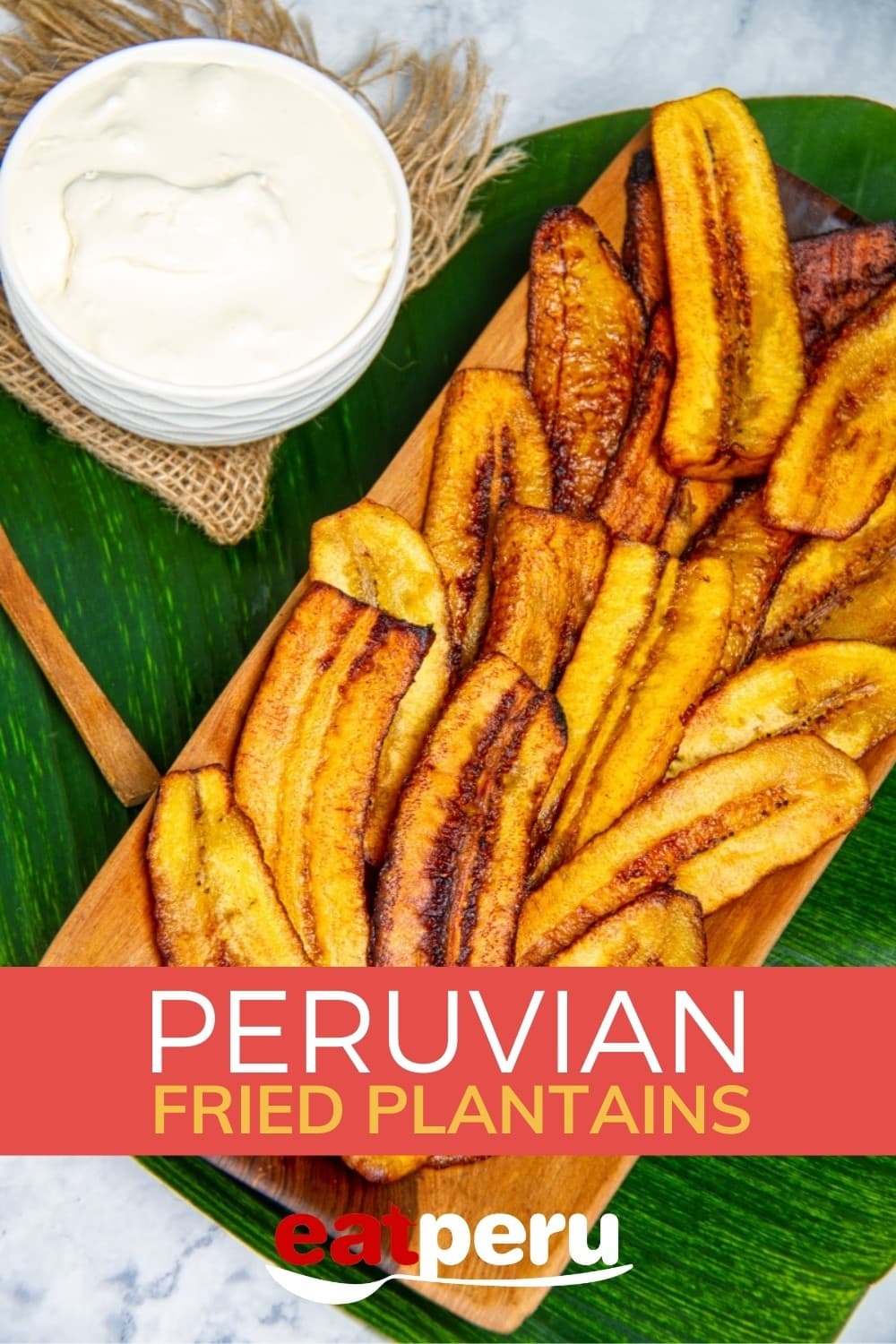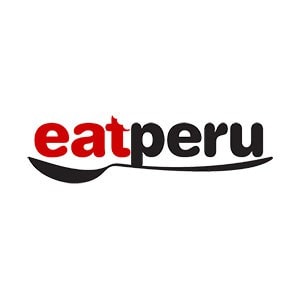 Peruvian foodie. I've been writing about the food of Peru for over 10 years. Read more about the Eat Peru team here