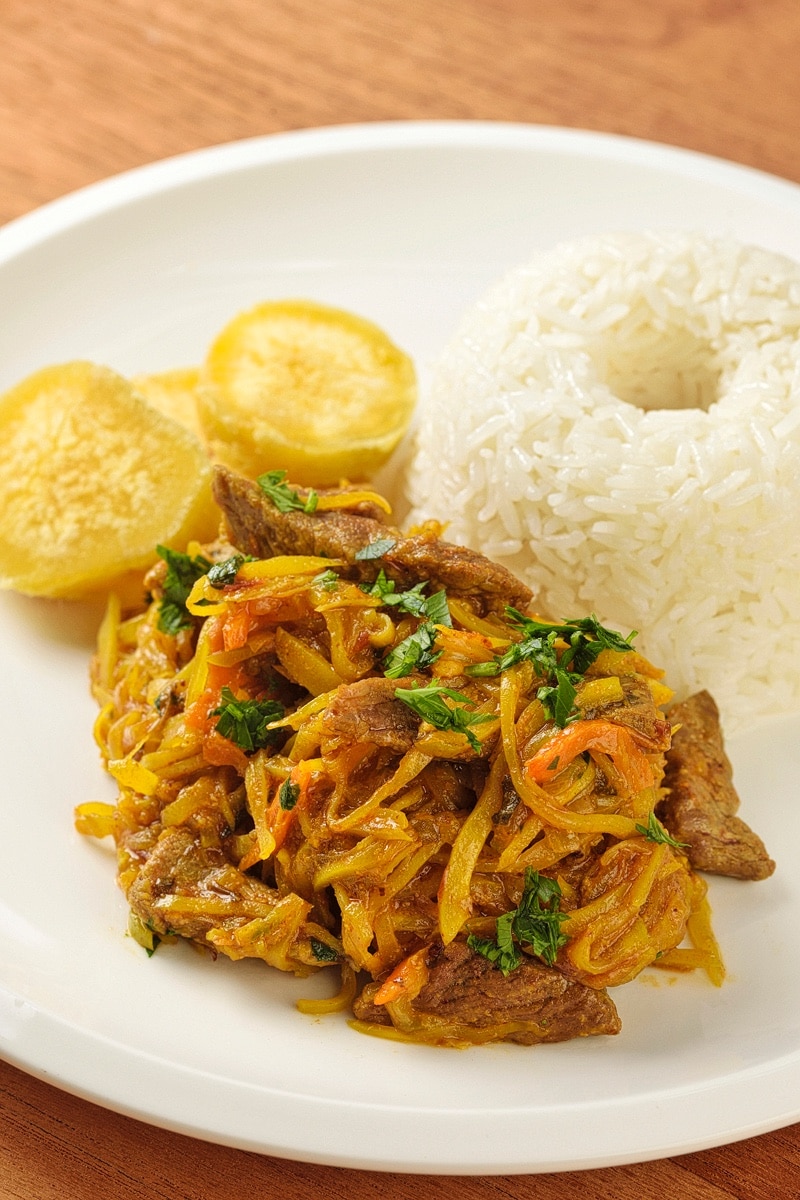 Few dishes in Peruvian gastronomy are more Andean than olluco con carne (also called olluquito con carne). Julienned olluco tubers cooked with juicy strips of meat, seasoned with the spicy Peruvian chilli pepper duo of ají amarillo and ají panca, accompanied with a generous serving of white rice and some sweet potato slices. Super quick and easy to make, the dish also needs very few ingredients to be delicious. And this explains why this dish is so ubiquitous across the Peruvian territory.
Olluco: an unsung hero hailing from the Andean highlands
The base of this dish is julienned olluco tubers. Ullucus tuberosus is a tuber native from the Andes where it has been cultivated for at least 4000 years. Unlike its cousin, the potato, this equally nutritional tuber is rarely cultivated outside the Andean region due to its very specific climate requirements. It's usually yellow, though it can also be purple or orange on the outside. Also known as papa lisa or simply lisa, it's consumed in soups, stews and of course this recipe, where it is the main ingredient.
Olluco is much less starchy than the potato, and it has a very palatable, soft texture. This is also why it can't be used for fries. The texture won't hold. For soups and stews, however, they're perfect because they cook quickly and add a lot of flavor. In terms of nutritional properties, it is also a winner: it has high levels of vitamin C and iron.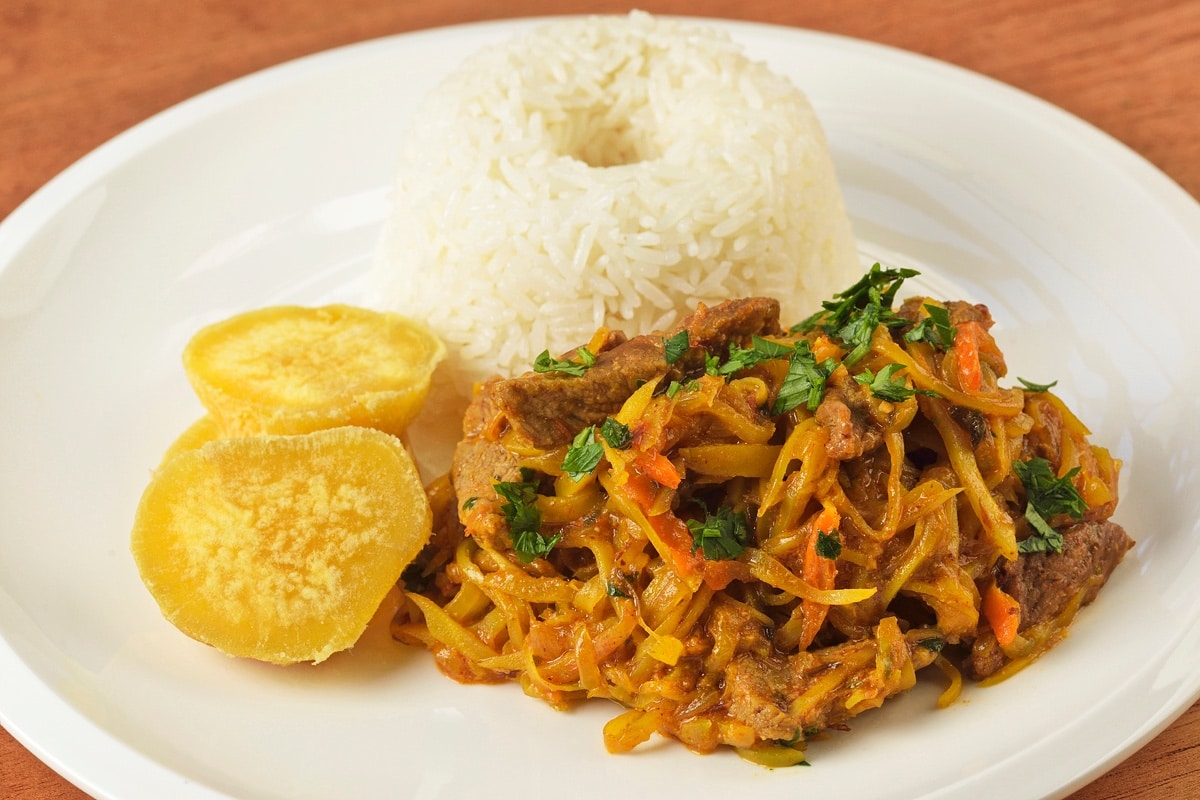 Charqui: dried salted llama meat
Today we're preparing the olluco stew with strips of beef, but we have to mention the dried llama meat known as charqui here, since olluquito is very frequently made with charqui rather than beef. Remember that this dish goes back hundreds of years, from before the Spanish conquistadors arrived, before cows were introduced to the Andes region. The Incas consumed llama, alpaca and guinea pig meats. One way of preserving these meats was by salt curing them. Charqui is salt-cured strips of llama or alpaca meat.
If you can find charqui and want to use it in this recipe, don't forget to soak it overnight in order to remove the salt. Fun fact: the English term "jerky" in beef jerky actually comes from the Quechua word charqui. A testament to how words and recipes travel through time and space.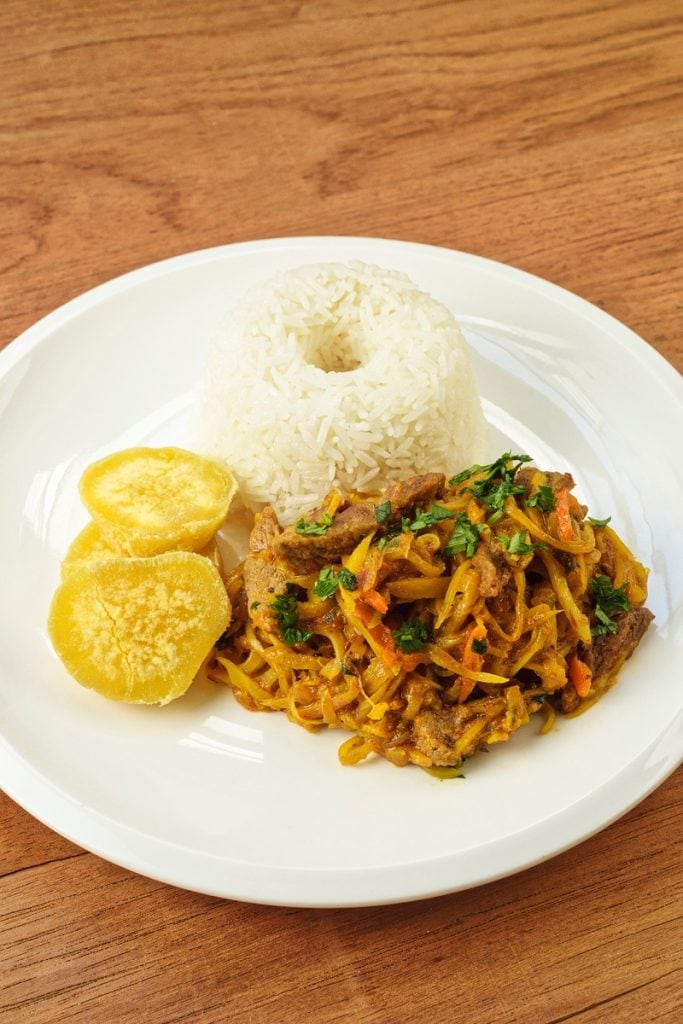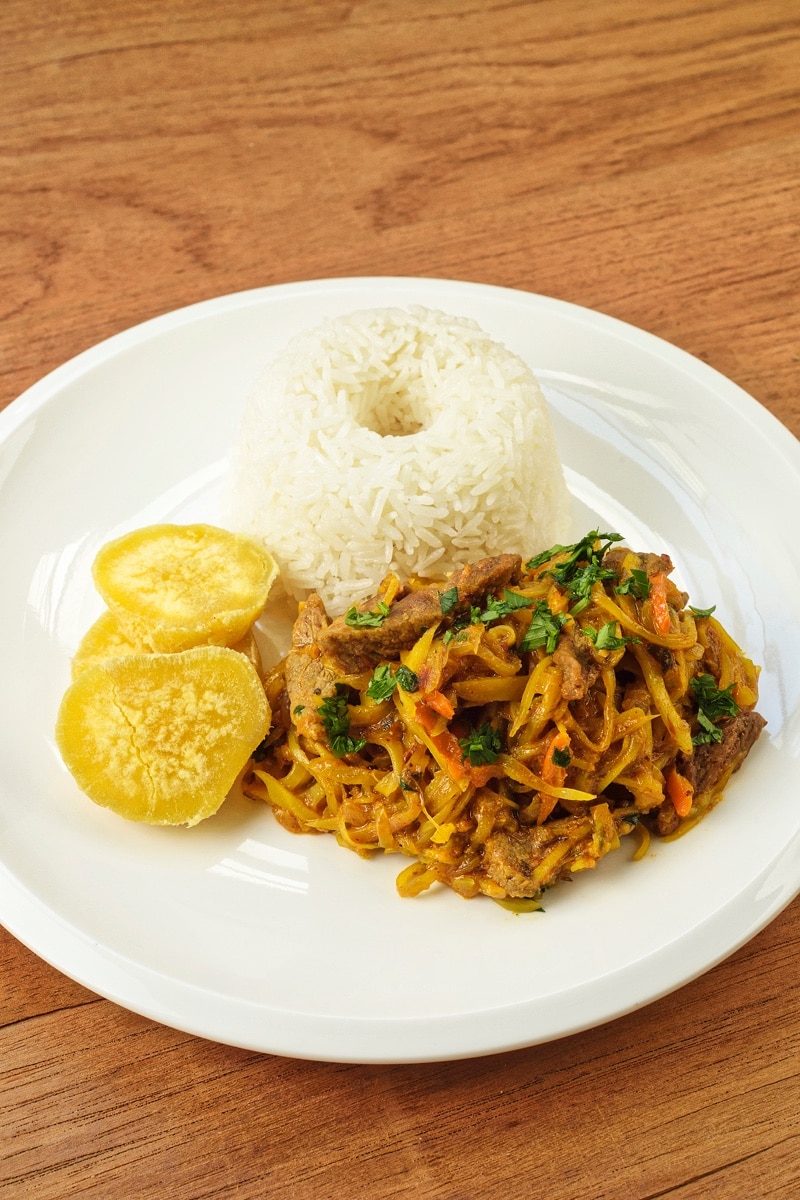 Vegetarian and low-calorie variations of olluco
The meat can easily be replaced with cubes of chicken breast, and for a vegan version, omit the meat altogether, or use soy meat. Tip for a lower calorie version: increase the amount of olluco stew and take out the rice and sweet potato entirely. Olluco consists of 80% water and has a fairly low amount of calories, so it'll fill you up but not fill you out!
We hope this little bit of history has given you an appetite, because it's time to get out the kitchen utensils and prepare this indigenous Andean delicacy ourselves!
Olluco Con Carne: Traditional Main Course
Super quick and easy to make, this dish very few ingredients to be delicious
Ingredients
2

tablespoons

vegetable or olive oil

1

onion

finely chopped

2

tablespoons

garlic paste

1

tablespoon

ají panca chilli pepper paste

½

teaspoon

cumin

1

teaspoon

dried oregano

1

pound

sirloin steak

cut into strips (or 1 pound charqui, soaked overnight)

1

fresh ají amarillo chilli pepper

veins and seeds removed, chopped into strips

2.2

pounds

ollucos

julienned into thin strips

2

large sweet potatoes

peeled and boiled

1

pound

long-grain white rice

boiled

2

tablespoons

fresh parsley

chopped

Salt and pepper to taste
Nutrition
Nutrition Facts
Olluco Con Carne: Traditional Main Course
Amount Per Serving (450 g)
Calories 944
Calories from Fat 117
% Daily Value*
Fat 13g20%
Cholesterol 69mg23%
Sodium 152mg7%
Potassium 2043mg58%
Carbohydrates 163g54%
Protein 41g82%
Vitamin A 16269IU325%
Vitamin C 64mg78%
Calcium 158mg16%
Iron 6mg33%
* Percent Daily Values are based on a 2000 calorie diet.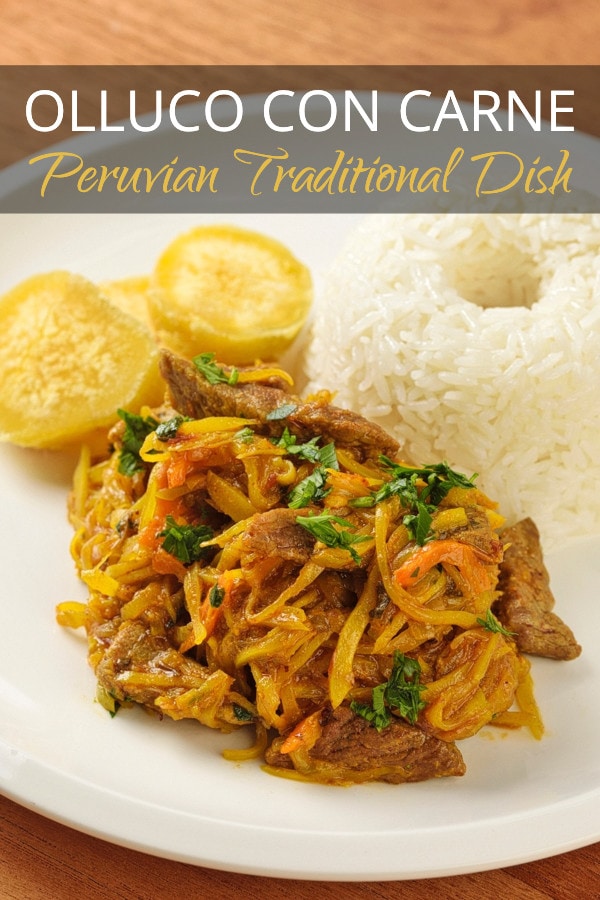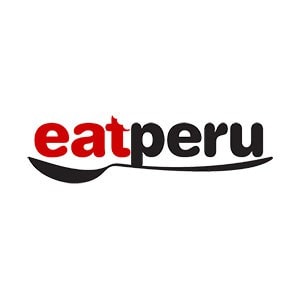 Peruvian foodie. I've been writing about the food of Peru for over 10 years. Read more about the Eat Peru team here