Discover the vibrant, rich flavors of Seco de Chabelo, a traditional meat and plantain dish hailing from Northern Peru. Bursting with taste, this dish has a fascinating origin story rooted in the region's culture and agricultural bounty.
It's the perfect example of how history and culture have shaped the region's cuisine. The roots of this lesser-known Peruvian dish go back to the Spanish colonization of South America, blending traditional and new ingredients and methods to create something truly unique.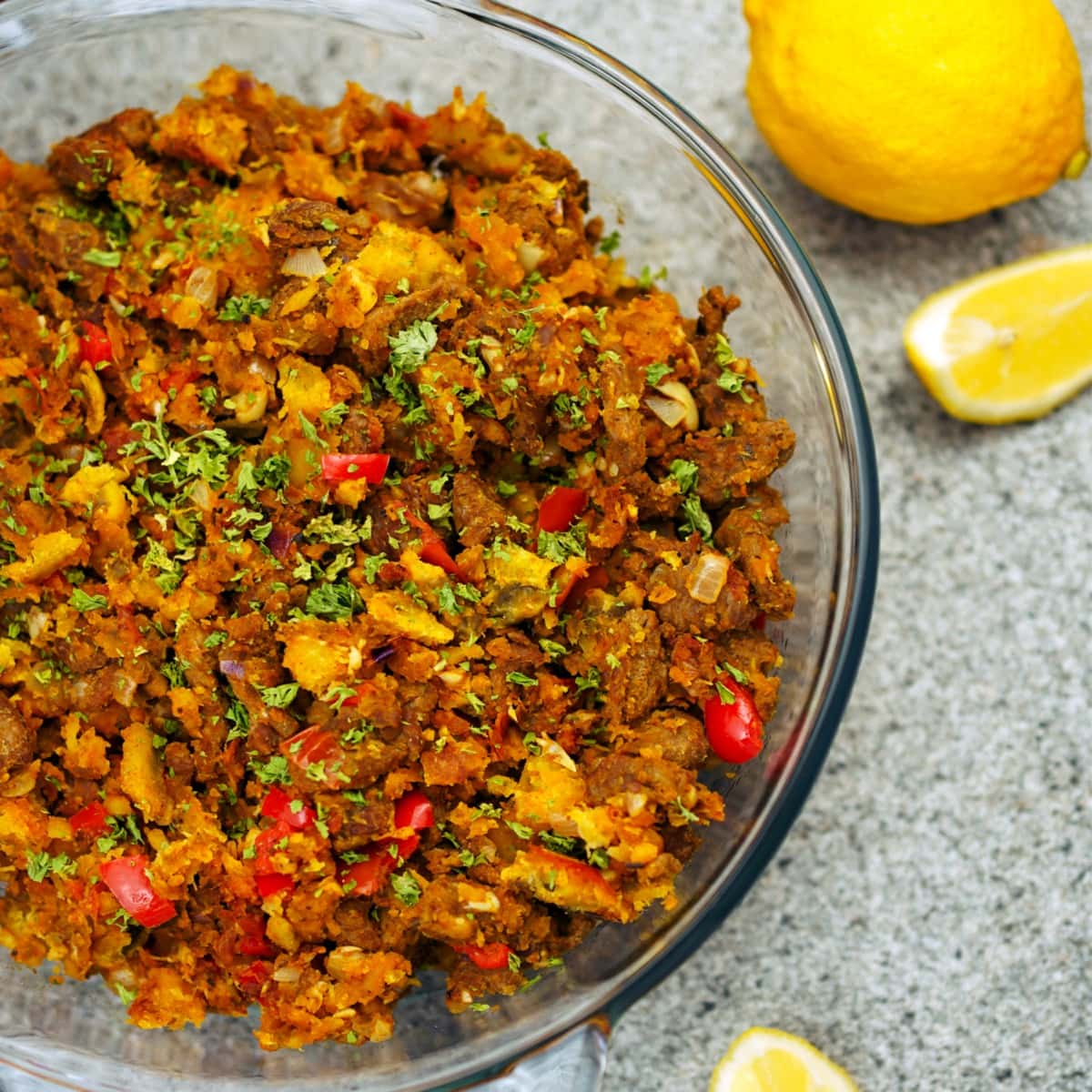 Seco de Chabelo, also written as 'seco de chavelo', is a traditional beef or pork based dish from the Piura region of Northern Peru, close to the border with Ecuador. Plantains are a main product of the Amazon region and people of this area developed a dish using them.
Plantains are one of the principal fruits grown in the Amazon and Piura regions of Peru, lending a regional flavor to this recipe.
This filling dish is typically made with well-seasoned or salted and dried meat (the word in Spanish is 'cecina' – In English, we might refer to it as 'jerky' – and it's a common way of preserving meats in mostly rural parts of Peru).
The dried meat is then added to a pan with fried plantains and everything is smashed with a mortar and pestle. The mix is then simmered with tomatoes, chili pepper paste, garlic, and onions to make a rich and dry stew.
Plantains, once they've been friend and mashed, add a particular kind of sweetness and texture to the dish that contrasts (in a good way) with the savory meat. Despite the fact that this typical dish is almost unknown outside of Peru, it's one of my favories and I recommend it to everyone.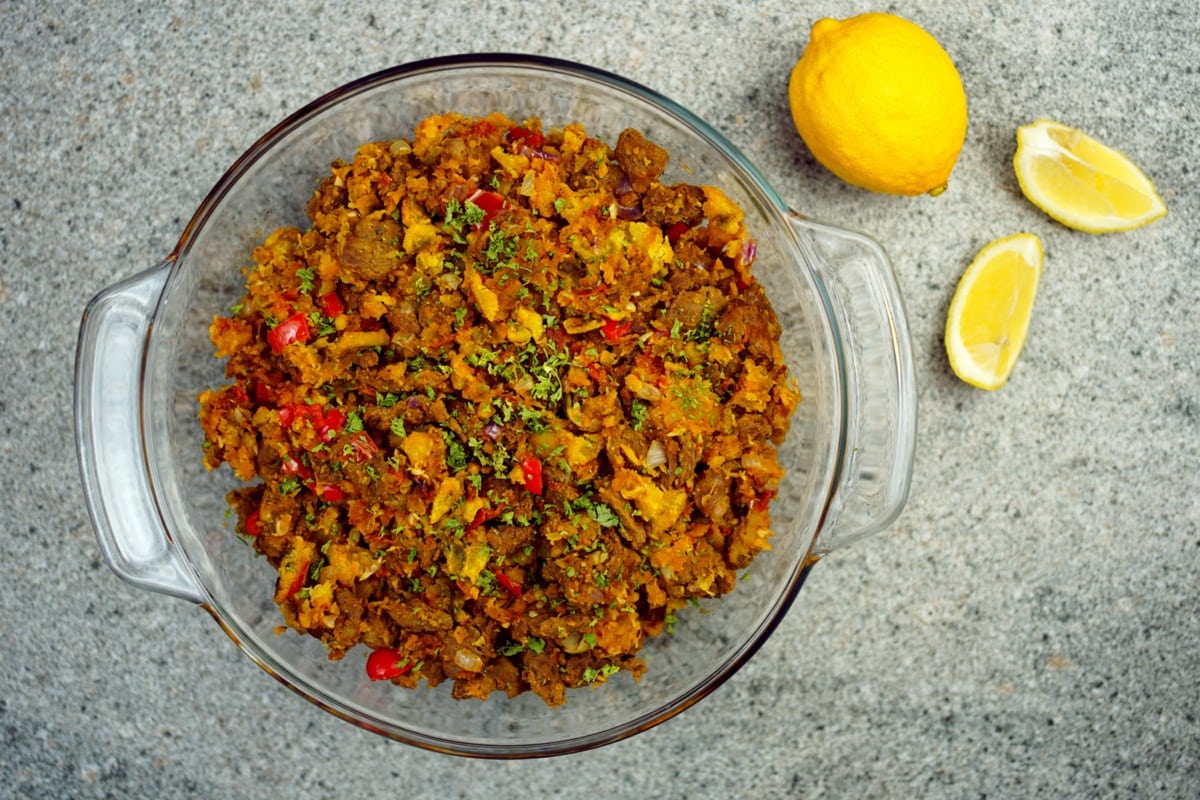 Locals take pride in this culinary gem, while foreign tourists are often charmed by its unique and delicious taste, making Seco de Chabelo a true crowd-pleaser that transcends borders.
Seco de chabelo is generally enjoyed (devoured, at least in my house) as a main course or as a snack.
Alternatives
What about some meat substitutes?
I invite you to expand your culinary horizons by experimenting with different protein options. Seafood or chicken offer a lighter, yet equally delicious take on the traditional recipe. For a vegetarian-friendly version, simply remove the meat altogether and savor the plant-based goodness.
What if plantains are not available?
Use very unripe bananas as an alternative to plantains – the greener the better. These need to be firm so that they can be fried and mashed easily. Unripe bananas and plantains also have a milder flavor, with almost no sweetness, making them a great choice for savory dishes. Also check the frozen foods section in your local supermarket.
The ingredients list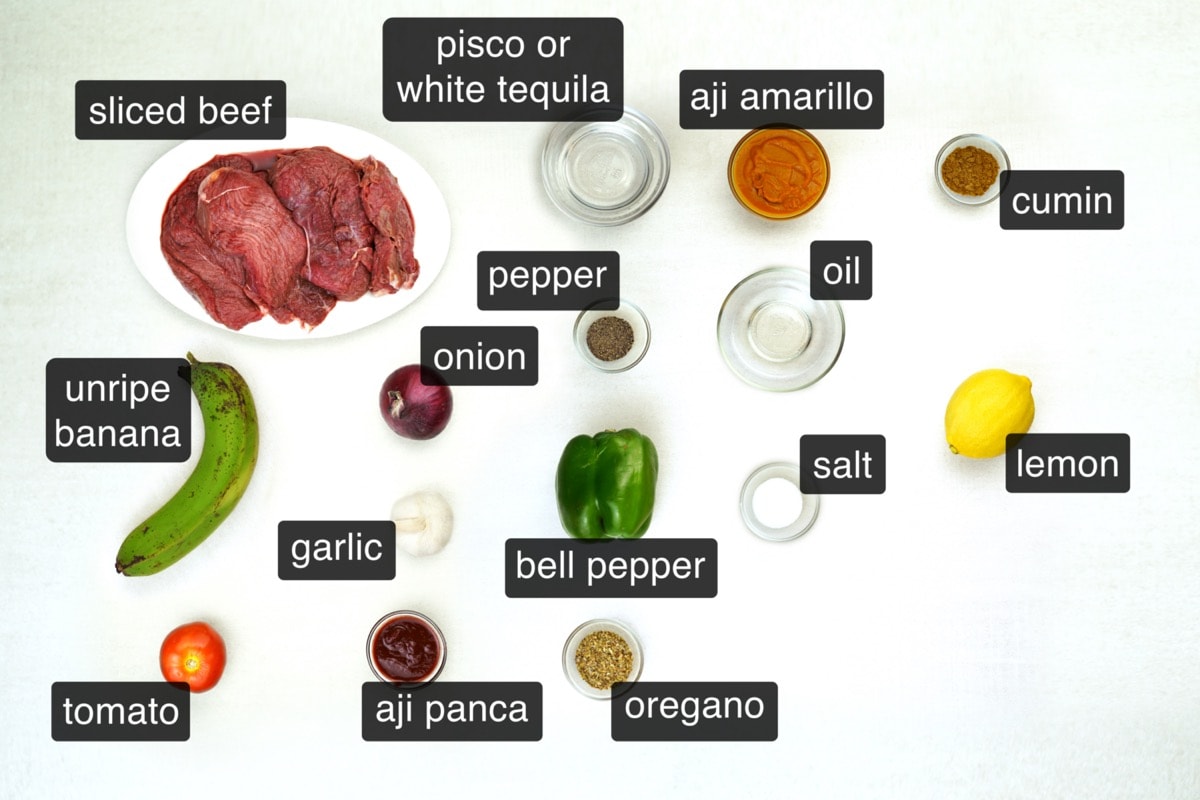 Beef – the cornerstone of the dish. Use good quality sirloin or tenderloin.
Salt and pepper – for taste.
Plantains (platanos) – a major influence on how this recipe tastes, feels, and looks. If you can't find good plantains, use green bananas which also have a milder more easily manipulated taste and texture.
Oil – for frying
Chicha de jora, pisco or white tequila – to enhance the flavor profile and aroma by adding subtle depth and complexity. Pisco adds a little Peruvian authenticity too.
Oregano, cumin, red onion, and garlic – adds warmth, heat, and flavor.
Ají amarillo paste and ají panca paste – for spiciness and a subtle fruity taste.
Tomatoes and bell pepper – act as fillers, bulking up the dish, but also bring delightful pops of color to the presentation. These also add a bit of savory richness into the dish.
Lemon – optional. As a garnish this citrusy addition can help to lift and enhance the flavor
Step by step recipe photos
Step 1: Begin by cutting the beef into ½-inch squares, then seasoning them with a generous pinch of salt and pepper. Place the seasoned beef in a bowl, cover, and let the flavors meld in the refrigerator for at least 30 minutes, or even overnight for a deeper flavor infusion.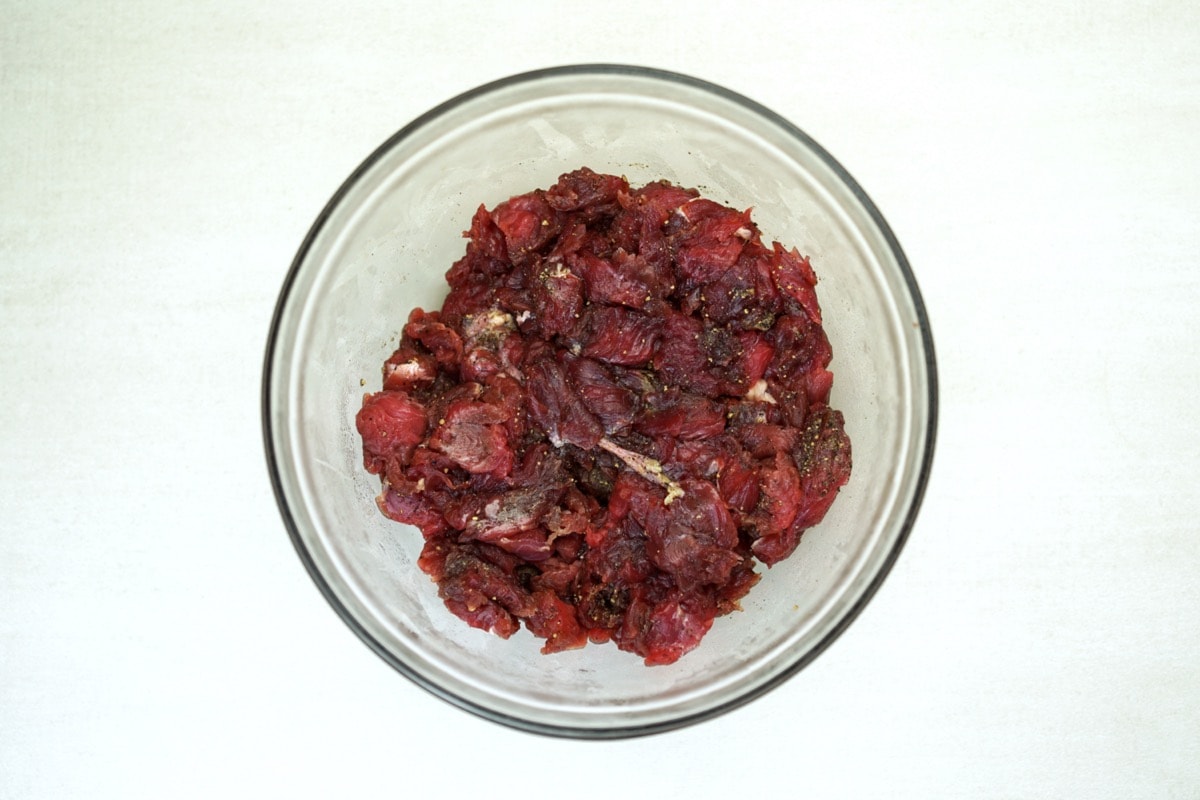 Step 2: Chop your plantains or unripe bananas into 2 inch pieces.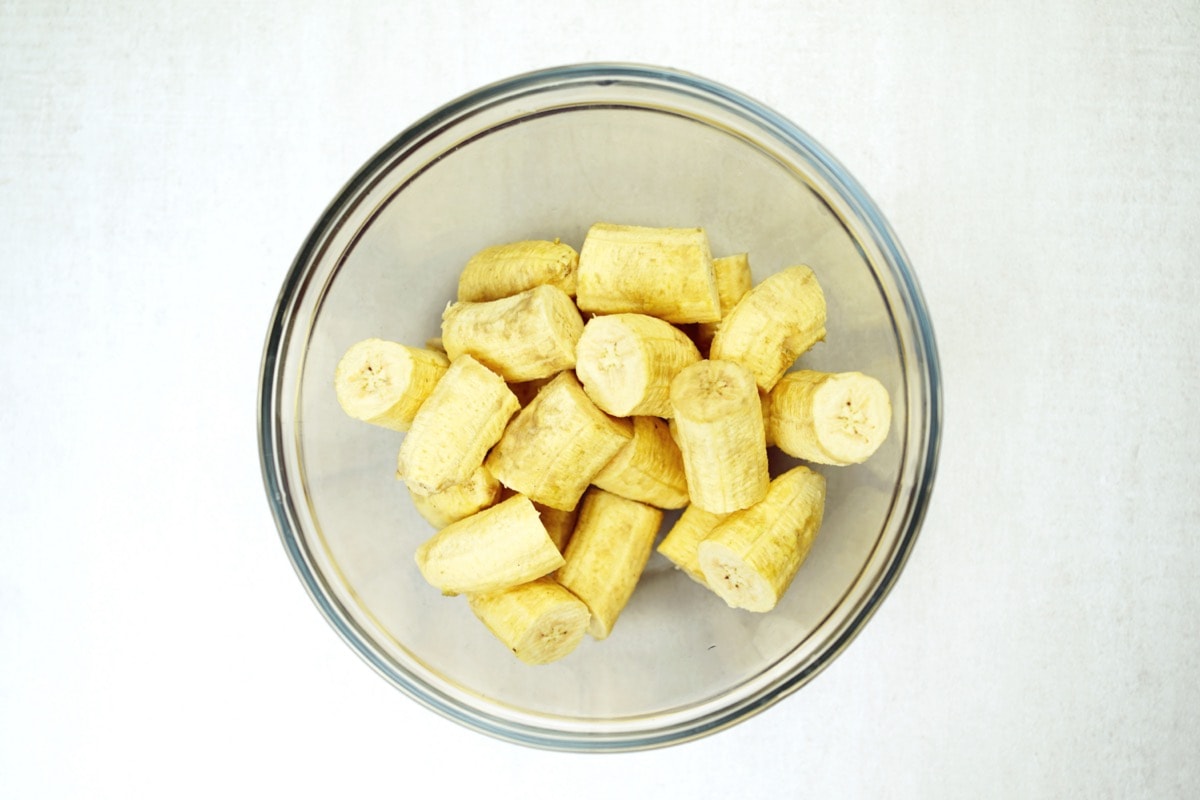 Step 3: Heat a pan over medium heat, adding just enough oil to coat the pan surface. Cook the plantain pieces until they turn bright yellow or golden brown.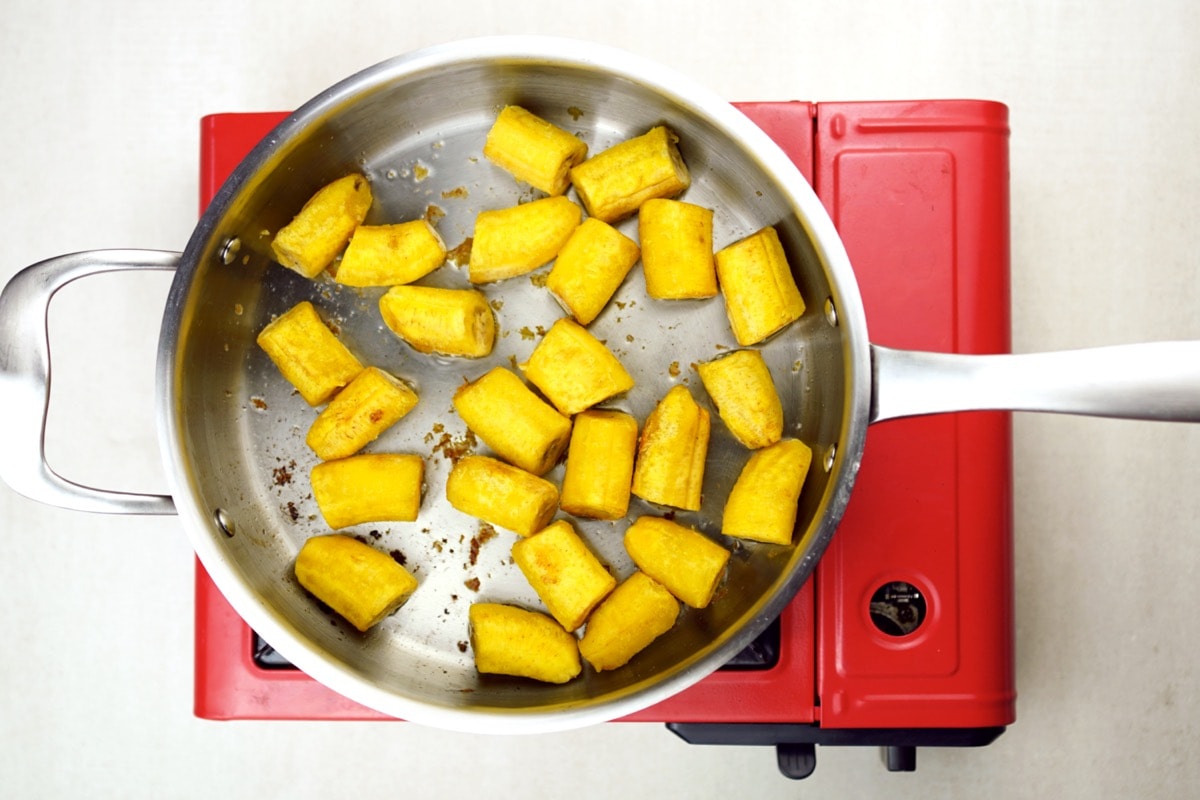 Step 4: Remove from the pan and place back in the bowl. Mash to your desired consistency and set aside.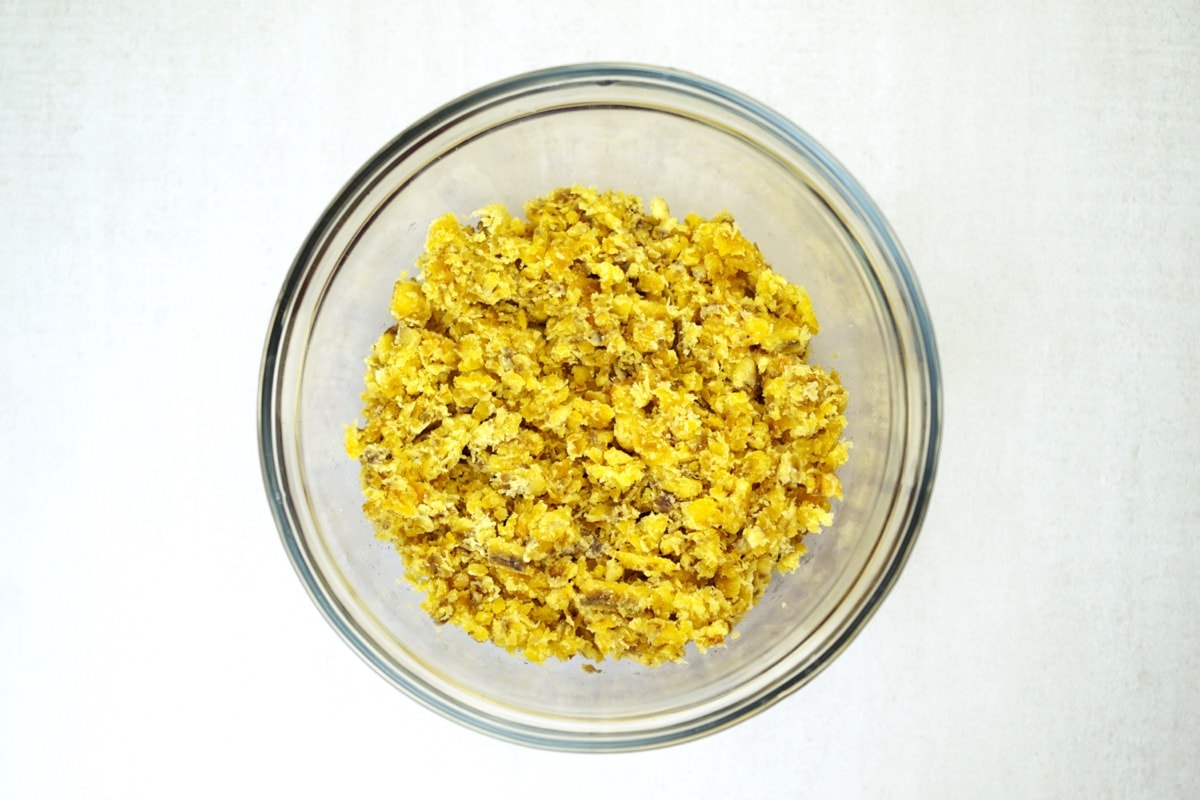 Step 5: In the same pan, cook the beef with a touch of oil, searing each side until they are browned and aromatic.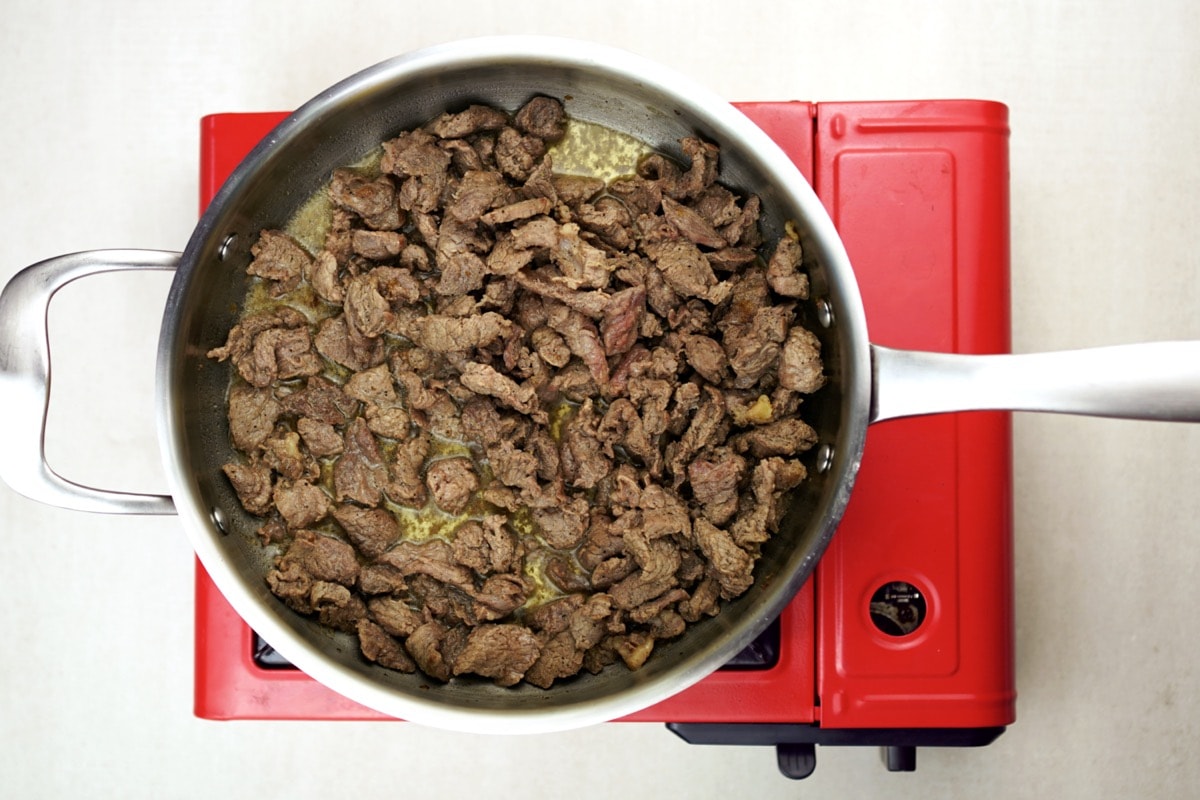 Step 6: Pour in the chicha de jora, pisco, or white tequila and stir continuously for 3-5 minutes, allowing the liquid to reduce by half.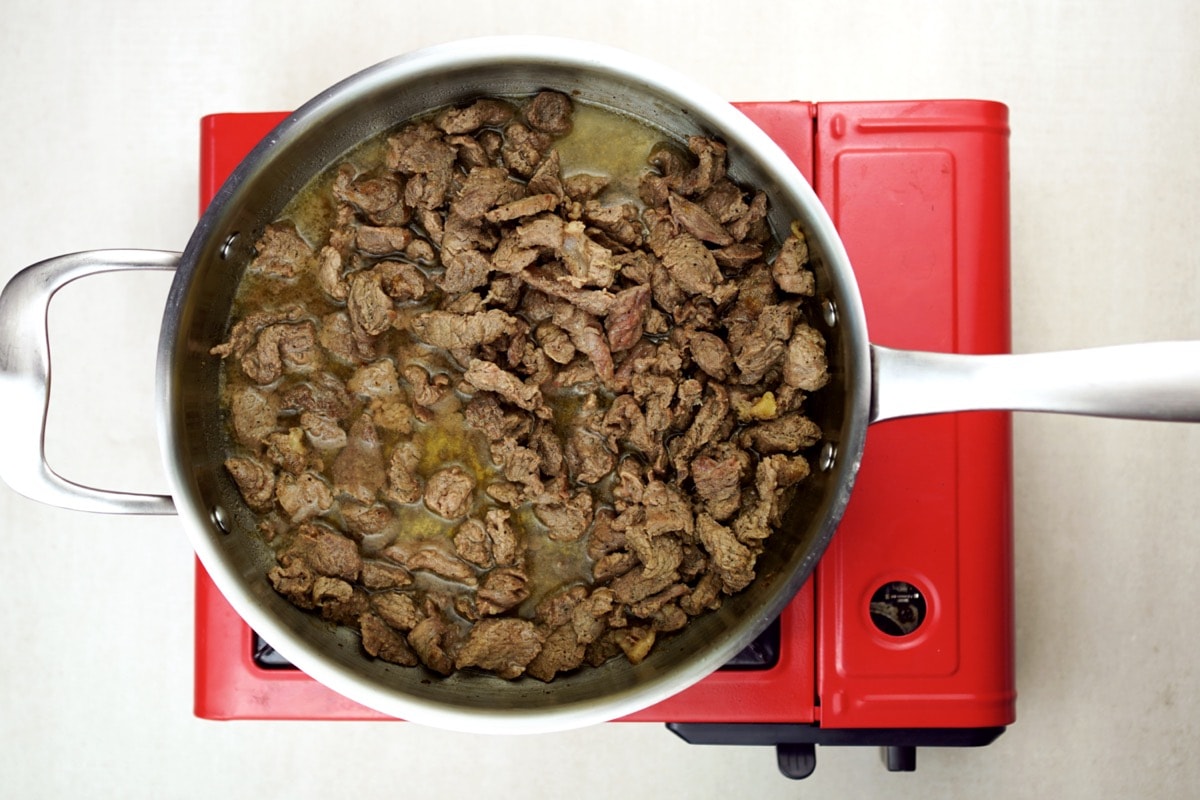 Step 7: Blend in the oregano, cumin, ají amarillo paste, and ají panca paste, ensuring the beef is thoroughly coated. Allow it to simmer for 3-5 minutes.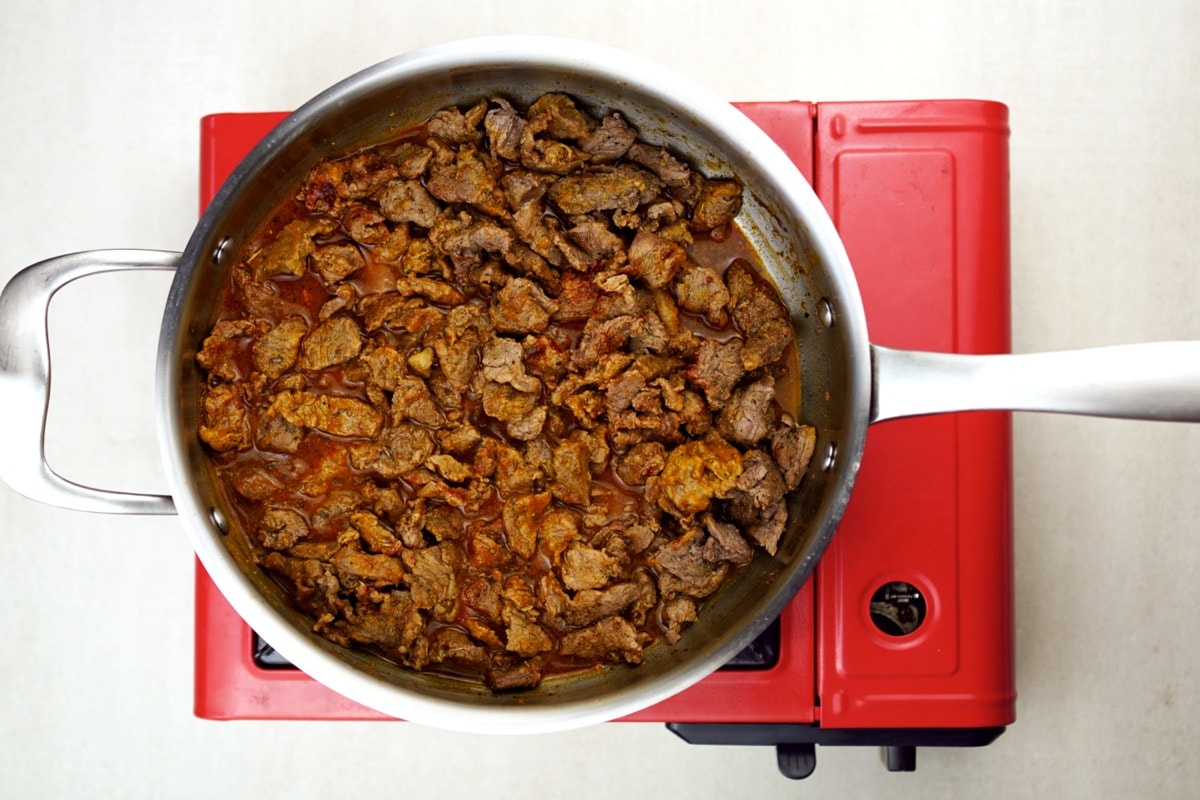 Step 8: Add the chopped red onions, garlic, tomatoes, and bell peppers, and cook until soft.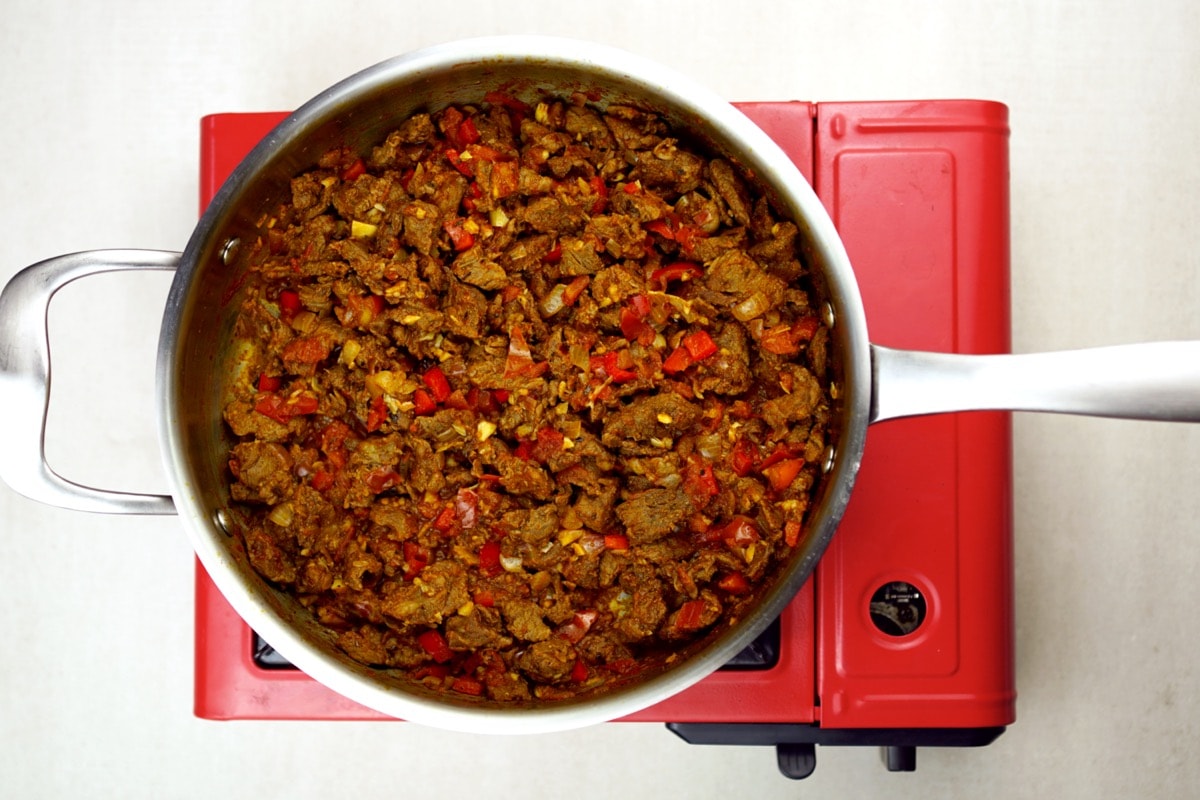 Step 9: Return the mashed bananas to the pan, mixing well and heating until warm.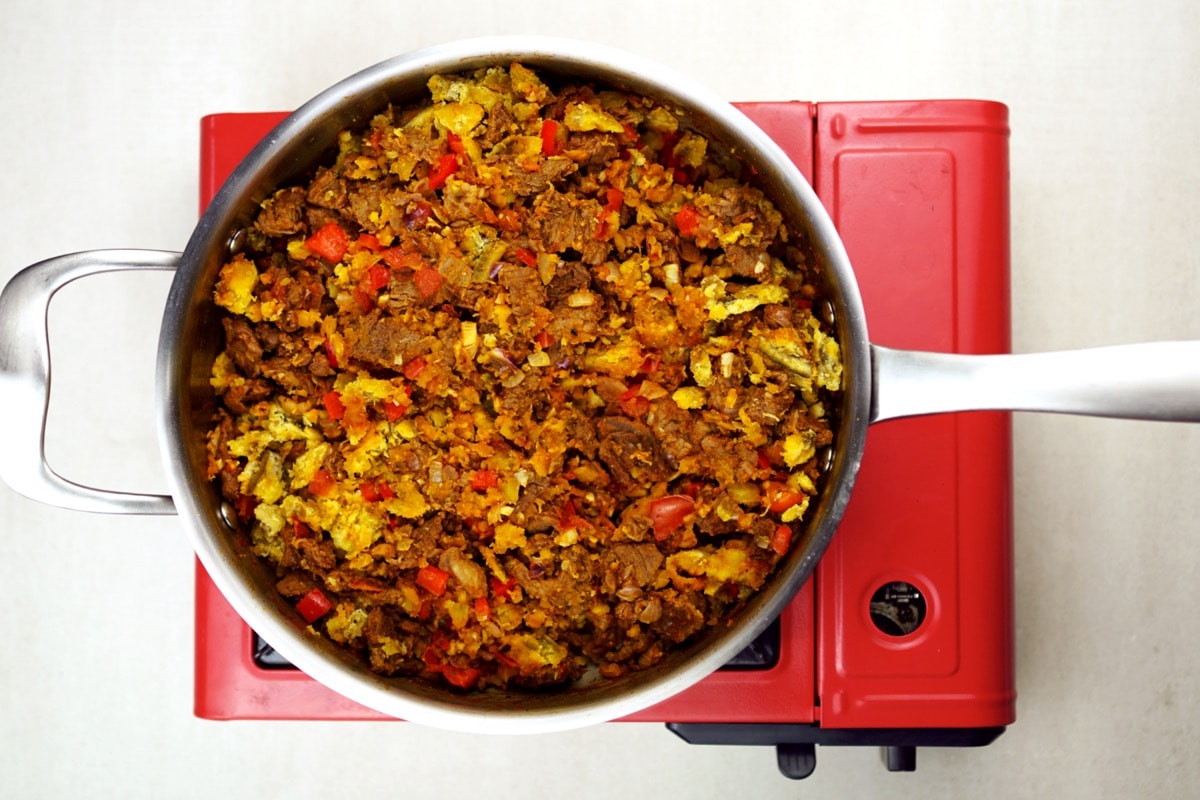 Step 10: Remove the pan from the heat, drizzle lemon juice over the dish, and stir gently. Garnish with parsley for a pop of color before serving.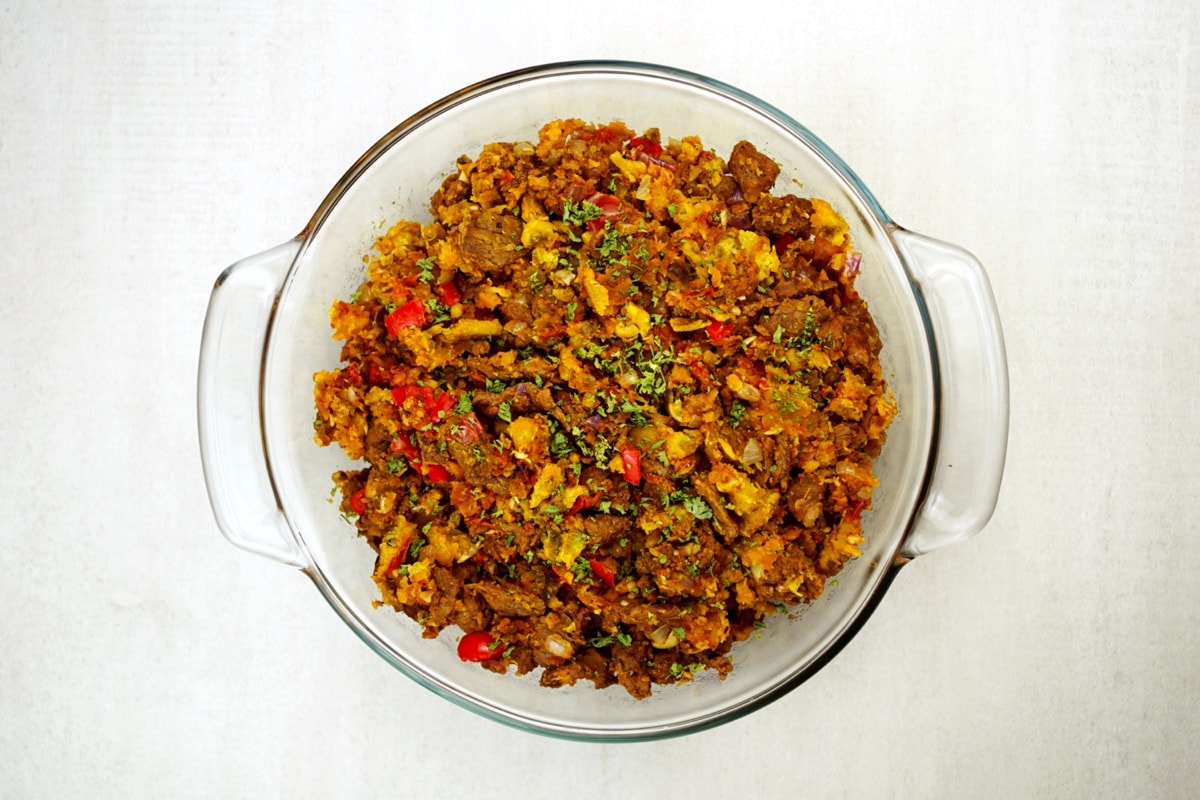 Tips
Storing leftovers:
Allow the dish to cool to room temperature.
Transfer the leftovers to an airtight container.
Store the container in the refrigerator for up to a week, or in the freezer for 2 weeks to a month.
Reheating instructions:
Allow the frozen leftovers to thaw for 10-20 minutes at room temperature.
Transfer the dish to a microwave-safe bowl and heat for 2-3 minutes, or until warm or hot.
Alternatively, preheat your oven to 300°F (150°C) or 350°F (180°C) and place the dish in an oven-safe container. Heat for 25-30 minutes or until fully warmed through.
Frequently Asked Questions
Is seco de chabelo gluten-free?
Yes there are no ingredients containing gluten in the typical dish's ingredients. The alcohol are also gluten-free but to be sure to use distilled white tequila made from blue agave that are considered gluten free. Ají panca and ají amarillo pastes are generally considered keto-friendly and gluten-free.
What to pair with Seco de Chabelo?
Enhance the dish with these accompaniments:
Crunchy banana chips for a textural contrast
A squeeze of fresh lemon to brighten the dish
Steamed rice to soak up the flavorful sauce
Tangy pickled onions for a burst of acidity
Tender boiled potatoes
A refreshing tomato, cilantro, onion, and chili dressing to add depth.
Seco de Chabelo
Experience the Vibrant Tastes of Northern Peru with Seco de Chabelo. Easy cook recipe of beef, plantains, peppers, tomatoes, and spices.
Ingredients
550

grams

sliced beef

2

teaspoons

salt

2

teaspoons

pepper

1 – 2

cups

plantains (platanos or very unripe bananas)

chopped

Cooking oil

½

cup

chicha de jora

pisco or white tequila

1 ½

tablespoon

oregano

1

tablespoon

cumin

3 – 4

tablespoons

ají amarillo paste

1 –

tablespoons

ají panca paste

1

medium

onion

red

4

large

garlic cloves

chopped

2 – 3

small

tomatoes

diced

1

bell pepper

1

lemon
Instructions
Slice the beef into ½ inch squares and mix in a bowl with salt and pepper. Cover and leave in the fridge for 30 minutes or overnight.

Cut the plantains or unripe bananas into approximately 2 inch pieces.

Prepare a pan at medium heat and add enough oil to cover surface. Cook the bananas until each side is bright yellow or slightly browned.

Remove it from the pan and place it back in the bowl. Mash as small as you like and set aside.

Cook the beef in the same pan with enough oil for sauteing, until almost all of it has browned.

Add in the chicha de jora, piso or white tequila. Continually mix for 3 – 5 minutes, or until the liquid evaporates to half.

Mix in the oregano, cumin, ají amarillo paste and ají panca paste. Make sure to fully coat the beef, simmer for 3 to 5 minutes.

Add the chopped red onions, garlic, tomatoes, and bell pepper. Cook until all these soften.

Add back the mashed bananas, mix well, cook till the bananas are warm

Take it off the heat, squeeze a lemon over the contents, mixing slightly before serving. Top with a garnish of parsley for color.
Nutrition
Nutrition Facts
Seco de Chabelo
Amount Per Serving
Calories 312
Calories from Fat 36
% Daily Value*
Fat 4g6%
Cholesterol 52mg17%
Sodium 2170mg94%
Potassium 1020mg29%
Carbohydrates 40g13%
Protein 23g46%
Vitamin A 2173IU43%
Vitamin C 106mg128%
Calcium 317mg32%
Iron 4mg22%
* Percent Daily Values are based on a 2000 calorie diet.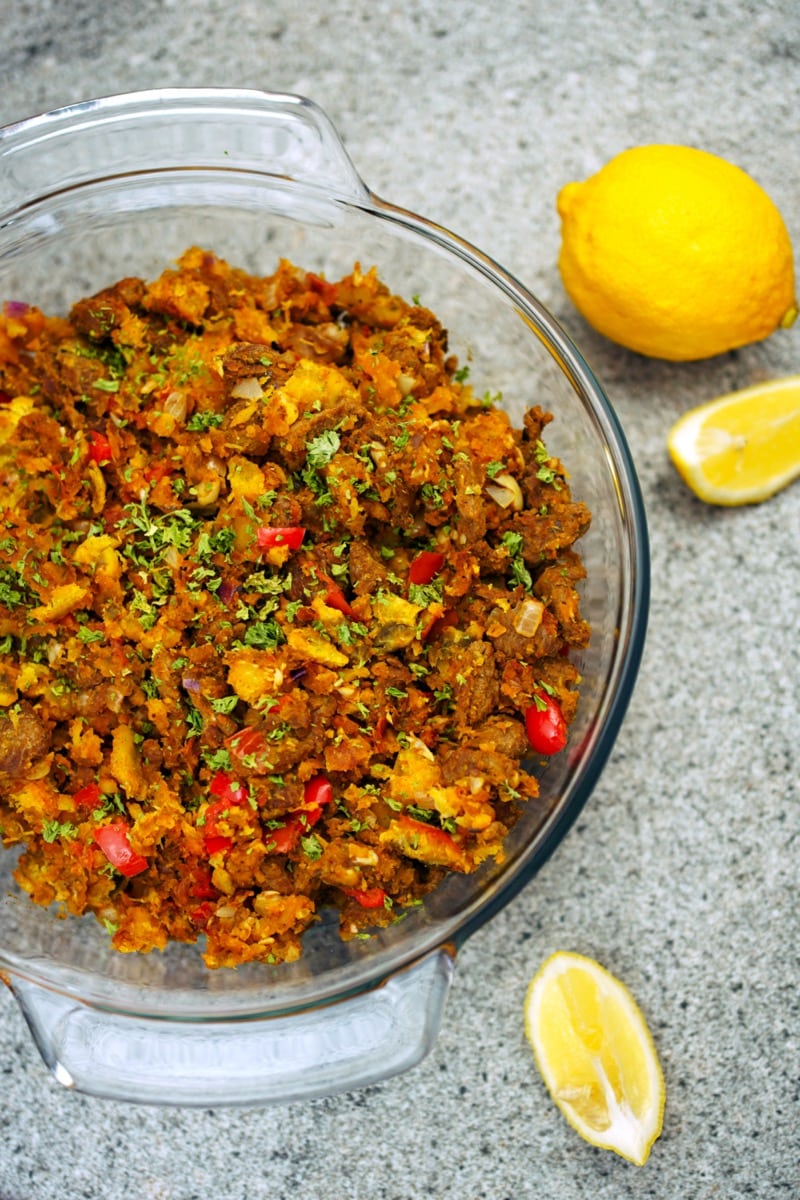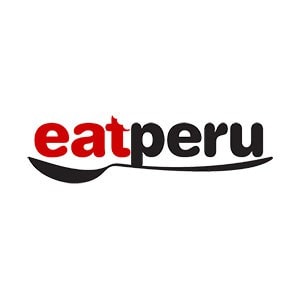 Peruvian foodie. I've been writing about the food of Peru for over 10 years. Read more about the Eat Peru team here