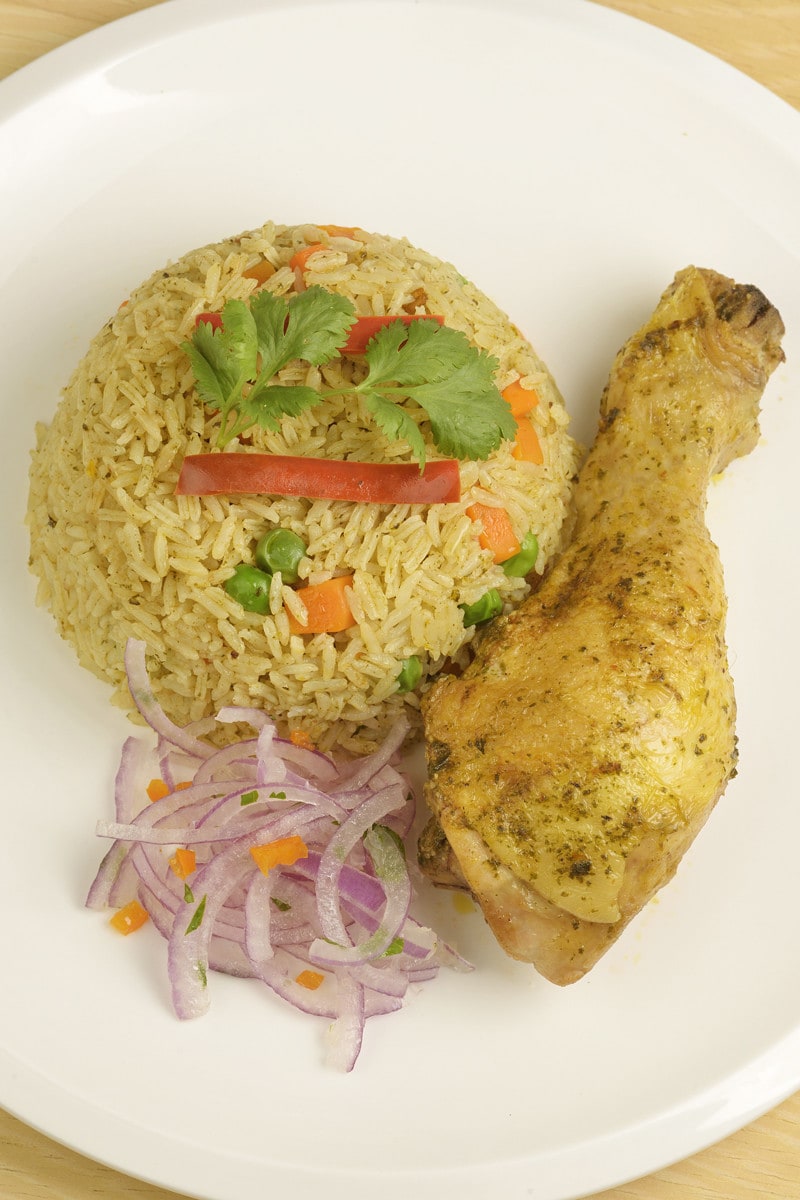 Peruvian Spanish is as rich in metaphors as its cuisine is varied, and arroz con pollo peruano can definitely be described as "more Peruvian than the potato itself". Crispy, fried chicken pieces lie on a mountain of rice speckled with carrot cubes, peas and red bell pepper. Finally, seasoned with generous amounts of cilantro leaves to give it that characteristically green color.
It's usually served with an onion and lime relish called salsa criolla or papa a la huancaína, and is a recurring item on the tables in Peruvian homes and restaurants.
Let's retrace its origins briefly and then follow the simple recipe so you can make your own mound of arroz con pollo!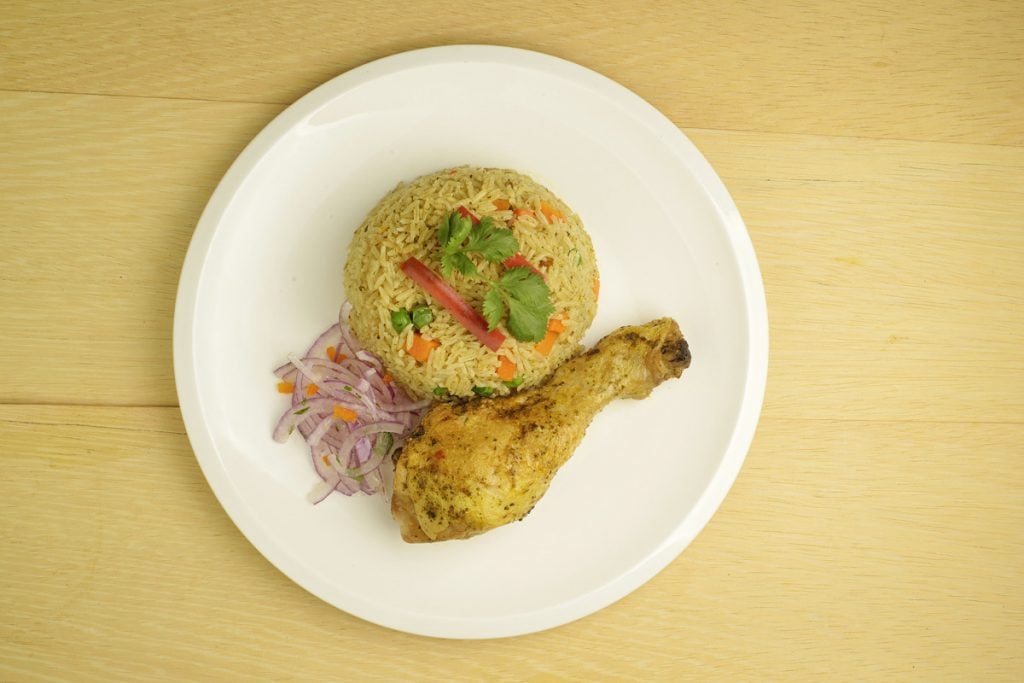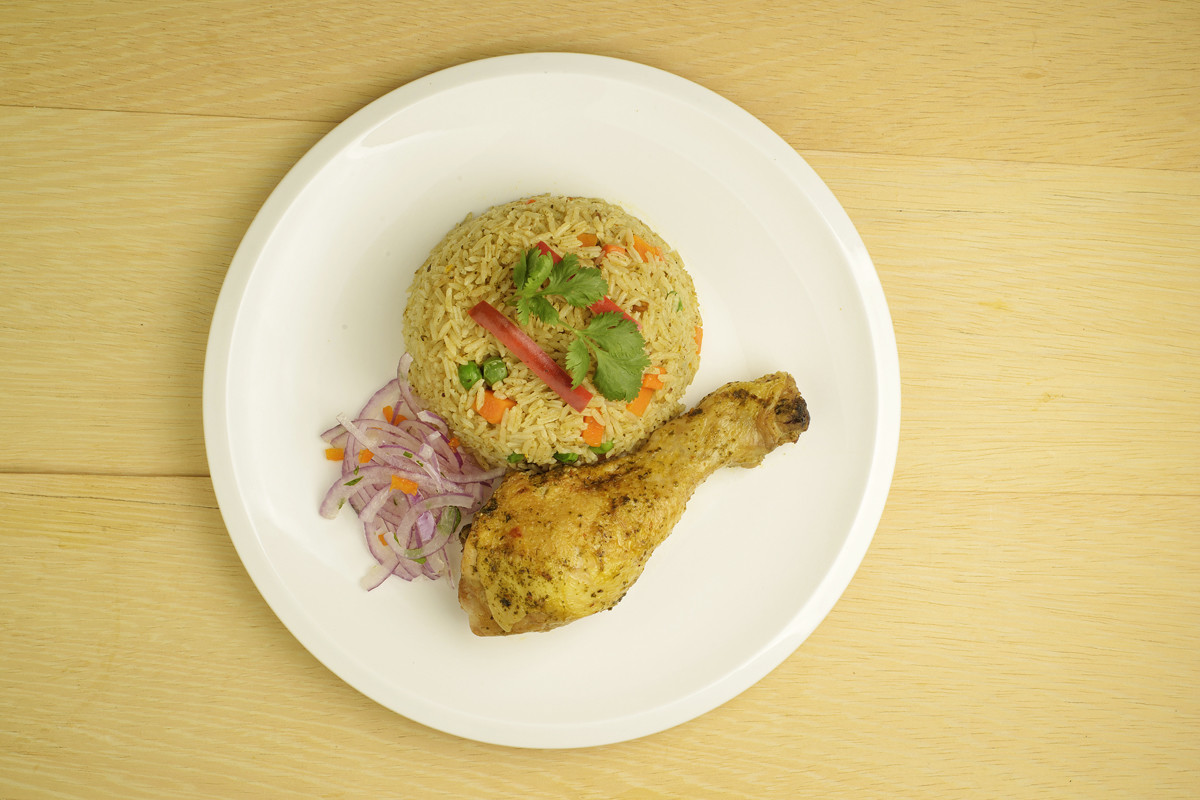 Origins of Peruvian arroz con pollo
The basis of this recipe hails from Spain, and it's certainly a dish that has put down roots firmly in all of the former Spanish colonies across Latin America, each country putting its own stamp on it according to their local cuisine and available ingredients.
The original Spanish version, which in turn is derived from the Iberian rice dish, paella, uses saffron and therefore has a yellow tinge. Whereas in Peru, the most traditional variant uses cilantro leaves, giving it not only its trademark green color, but also that distinct flavor that most diners expect. The other Peruvian versions are made with curcuma for a yellow arroz con pollo, or more of the smoky chili pepper ají panca, for a red arroz con pollo.
The most popular Peruvian rendition, which is most popular to this day, is known to come from the northern coastal city of Chiclayo and used to be served with duck rather than chicken.
It's important to note that a key ingredient in this original recipe is the local fermented corn beer, chicha de jora, but since this isn't so easy to come by in Lima, it's now usually replaced with some beer, especially malt beer.
Crispy, fried chicken pieces lie on a mountain of rice speckled with carrot cubes, peas and red bell pepper – Arroz Con Pollo Peruvian Dish
When large-scale poultry industry took off in the mid-twentieth century chicken became considerably cheaper than duck, and thus arroz con pollo started to secure its place in Peruvian cuisine, where it still stands strong to this day.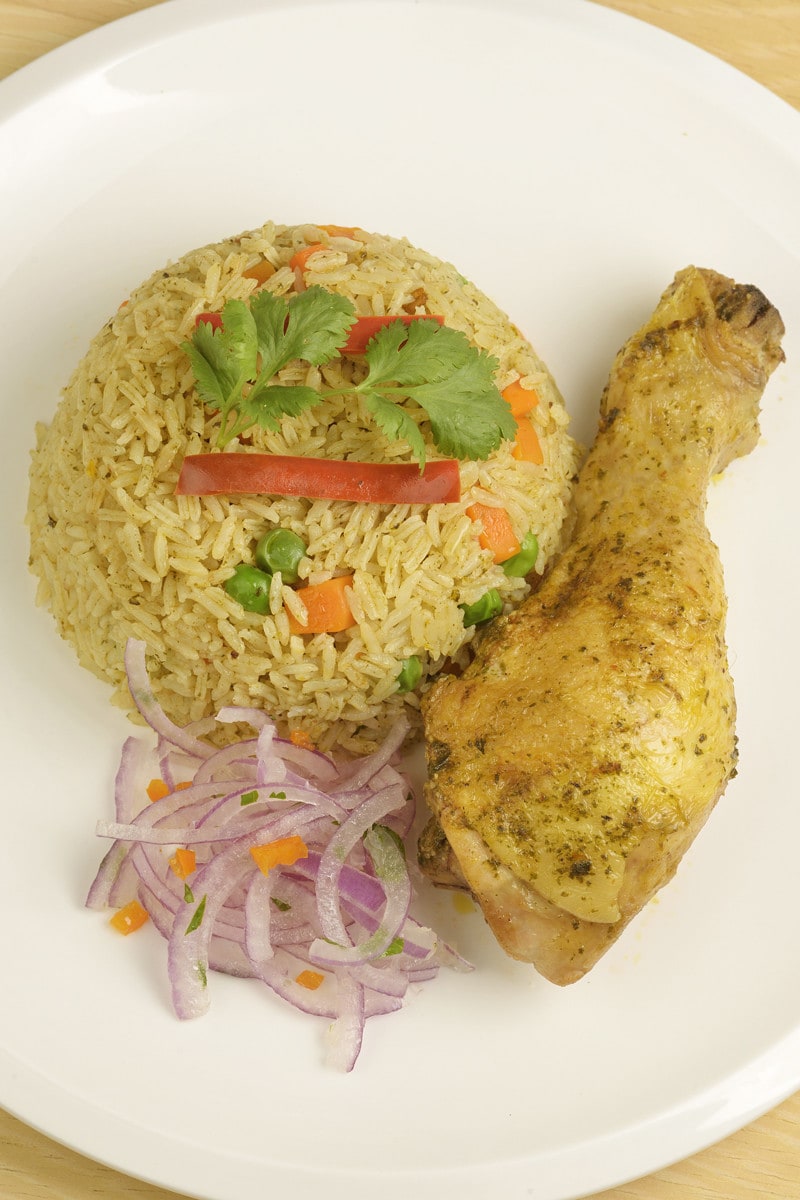 Why This Dish Is Crazy Popular
We believe the reason this dish is so tremendously popular for two reasons: flavor and practicality. It's probably not necessary to expand much further on the flavor component, but it's interesting to momentarily explore the context of practical component of this dish, specifically its low cost.
Even though Peru has enjoyed good economic growth over the last decades and there is now a decent-sized middle class that has a good standard of living, there are still millions of families that struggle to make ends meet on a daily basis.
Food is a basic necessity, of course, and homemakers are always on the lookout for filling, nutritious dishes that are that fit within their budget. Chicken and rice are quite affordable in Peru, which is why they appear in many of the most popular Peruvian dishes. The other ingredients are also inexpensive, and a massive pot of arroz con pollo can be whipped up for next to nothing.
This is also why this dish is so frequently found on the tables of the many thousands of restaurants that offer a set lunch menu, because it's easily prepared in large amounts and still allows the restaurant owner to make a little bit of a profit. Plus the cooking time is quite favorable too.
Arroz Con Pollo Peruano: Peruvian Rice With Chicken
Crispy, fried chicken pieces lie on a mountain of rice speckled with carrot cubes, peas and red bell pepper, seasoned with cilantro.
Ingredients
½

cup

olive oil

4

chicken legs

½

red onion

chopped finely

1

tablespoon

garlic paste

¼

teaspoon

cumin

1

tablespoon

ají amarillo chili pepper paste

1

cup

cilantro leaves

freshly processed

1

tablespoon

ají panca chili pepper paste

2

cups

white

long-grain rice

1

cup

malt beer

optional

½

cup

green peas

cooked

½

cup

carrots

cooked & diced

2 ½

cups

chicken stock or water

1

cup

salsa criolla

1

red bell pepper

julienned

Salt and pepper to taste
Salsa criolla relish (optional)
1

onion

julienned

1

small

limo chili pepper

finely chopped

1

teaspoon

parsley

finely chopped

1

tablespoon

olive oil

1

teaspoon

lime juice

Salt and pepper to taste
Instructions
Season the chicken with salt and pepper, and fry in a frying pan over a medium heat until sealed all over (not cooked inside). Remove the chicken and set aside.

Heat a tablespoon of oil in a pot, lightly fry the onion, garlic paste and ají amarillo paste, ají panca paste and cumin for two minutes over a medium heat.

Add the cilantro paste, mix well and let the ingredients cook for another five minutes, or until the onion is soft.

Add the chicken thighs (or chicken legs) to this mixture of seasoning and cook for 20 minutes or until the chicken is completely cooked inside. Remove the chicken pieces and set aside.

Add the rice to the same pot where you cooked the chicken, which still has more seasoning, and add the 2½ cups of chicken stock or water. Mix the ingredients well so the rice is covered with seasoning (otherwise it won't take on its characteristically green tinge). Bring to a boil over a high heat without a lid. As soon as it starts to boil, cover the pot and let the rice cook over a low heat for 15 minutes approximately. (In case you're using beer, which we omitted, replace half a cup of water or chicken stock for beer and add it in this step.)

Prepare the salsa criolla by mixing the julienned red onion, finely chopped limo chili pepper, parsley, olive oil, lime juice and salt. Add the cooked carrots and peas. Place a generous portion of rice on each plate, top with a piece of chicken and serve with salsa criolla.
Nutrition
Nutrition Facts
Arroz Con Pollo Peruano: Peruvian Rice With Chicken
Amount Per Serving (450 g)
Calories 806
Calories from Fat 477
% Daily Value*
Fat 53g82%
Cholesterol 124mg41%
Sodium 810mg35%
Potassium 1023mg29%
Carbohydrates 29g10%
Protein 29g58%
Vitamin A 4586IU92%
Vitamin C 76mg92%
Calcium 75mg8%
Iron 3mg17%
* Percent Daily Values are based on a 2000 calorie diet.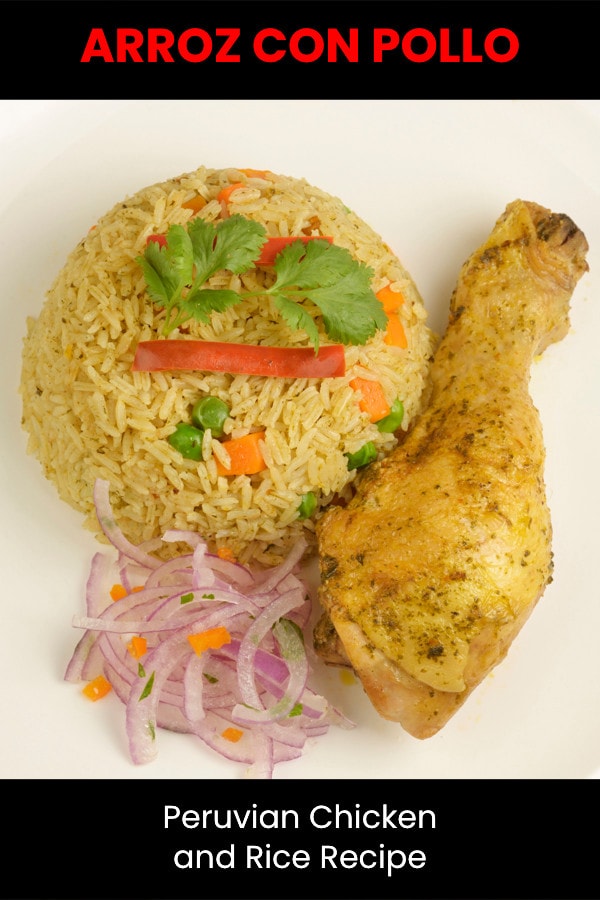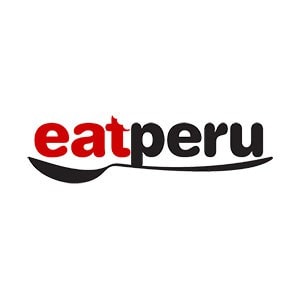 Peruvian foodie. I've been writing about the food of Peru for over 10 years. Read more about the Eat Peru team here