Looking for a hearty but healthy dish to warm you up this winter? Do you enjoy the aroma of warm, fresh herbs and sweet peppers? We've got the perfect dish for you. This amazing-looking soup will have you (or your guests) salivating in no time. And don't worry about getting that afternoon slump.
This dish is filling but it's not super heavy. You can safely enjoy this delicious Peruvian chicken soup at any time of day. It's also a good option for entertaining as it's reasonably easy to make and will impress your guests. So much better than a regular chicken soup.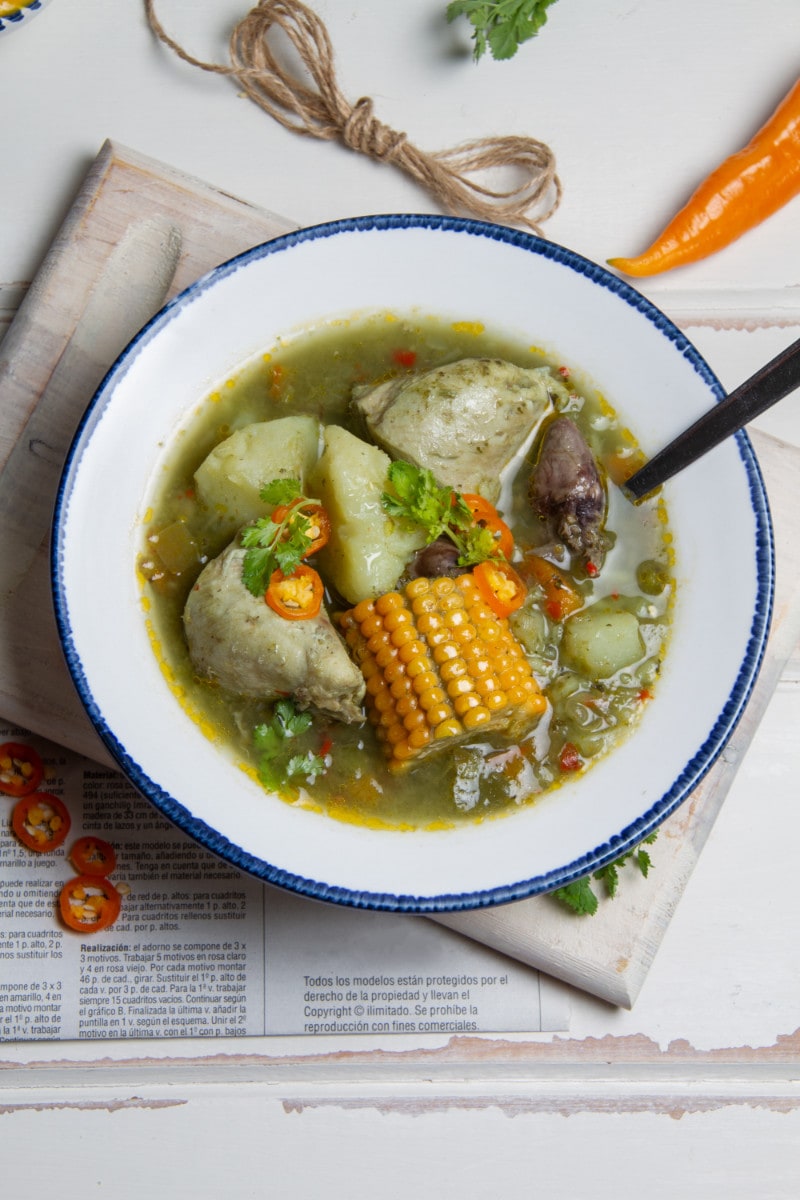 If it's an immune system-boosting meal you're after, you'd do quite well eating aguadito de pollo a couple of times a dish (at least using the nutritious recipe we've provided for you here). What's in it? Well, all the good stuff: aji amarillo peppers, onions, garlic, chives, chilli, carrots, coriander (cilantro leaves), and corn. That's just the vegetables.
But we also have some of the most nutritional meats on the planet in the mix. While offal is not everybody's favorite, we encourage you to try this particular recipe. The livers and chicken gizzards (mollejas de pollo) are packed full of nutrients so you don't need to use much.
Cooked in a soup, the texture that some people find off-putting is removed. What you're left with is a powerhouse soup full of nutrients that also tastes wonderful. If you like this soup, try our sopa a la minuta Peruvian beef and noodle recipe.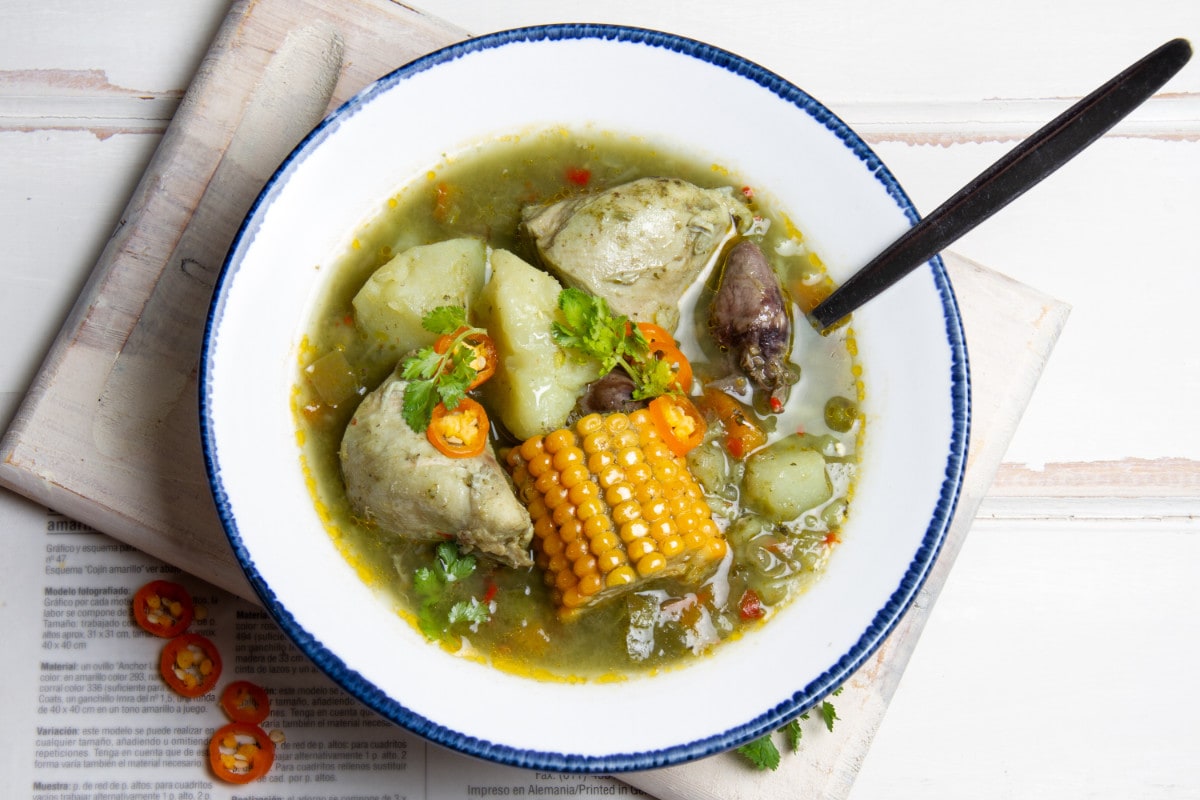 Many aguadito de pollo recipes use chicken breasts or chicken thighs, and while those are perfectly good ingredients to use, they are also a little bit bland. Well, very bland in fact. We prefer something a bit earthier, a bit more like the way the dish was originally made.
Chicken is not a native animal to Peru but once the bird was introduced by the Europeans, Peruvians and European immigrants didn't waste any part of the bird in their cooking. In fact, the highly wholesome and health-giving offal was the most prized part. 
If the gizzards (also known as sweetbreads) are too much, simply substitute with a little more liver. But trust us, the liver and sweetbreads add so much to the dish that once you try it, you'll never go back to plain old chicken breasts.
You also won't need to add chicken stock thanks to the rich juice and natural fats.
This is one of the most delicious dishes in Peruvian cuisine and if you like arroz don pollo, think of it as a chicken soup version of that dish. They have similar ingredients and both taste great.
Ingredients: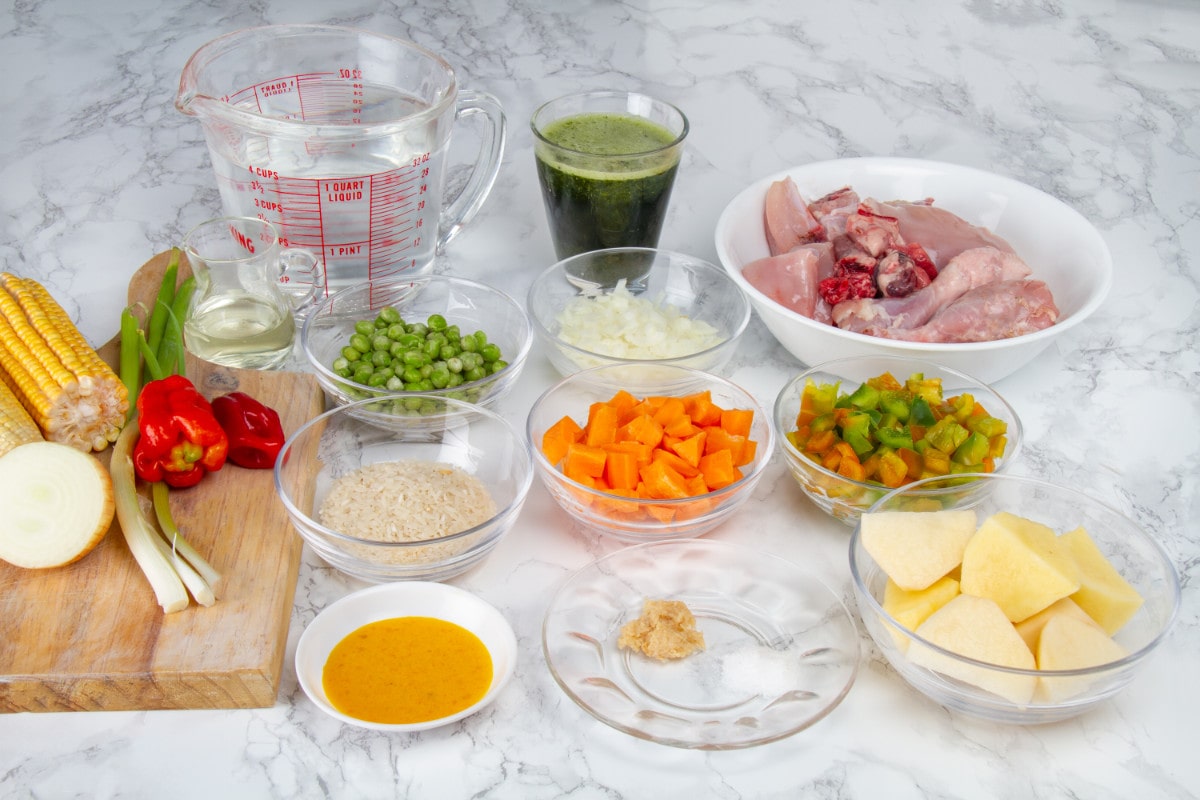 Aguadito de Pollo
Peruvian chicken and Rice soup – A delicious green-colored, vegetable-packed lunch or dinner recipe
Ingredients
For the chicken broth
6

cups

water

1

medium

chickens

cut into pieces

2

sweet red bell peppers

1

small

white onions

1

chive

Salt to taste
For the aguadito
3

tablespoons

olive oil

1

onion

cut into small pieces

3

garlic

peeled and crushed

1

green bell pepper

without veins and no seeds, cut into small pieces

2

tablespoons

aji amarillo yellow chili paste

1

large

carrot

1

cup

coriander leaves

cilantro blended

2

ears

corn

3

potatoes

yellow, peeled and diced

½

cup

rice

½

cup

chicken livers

½

cup

chicken gizzards

1

cup

peas

Salt
Instructions
To make the Chicken broth
Remove the stem and seeds from the chili pepper, cut it into two parts. Peel the garlic. Peel the onion and cut it in half. Cut the stalk of the chives and slice into large pieces.

Place the six cups of water in a large pot. Add a teaspoon of salt and the vegetables that you prepared in the previous step, and the chicken cut into pieces. Cook over medium heat for about 25 minutes, until the chicken is cooked.
To prepare the aguadito
Prepare the vegetables for the soup: peel the onion, and cut it into small squares. Cut the stem of the green bell pepper, extract the seeds and veins. Cut it into small squares. Peel the carrot and cut it into cubes. Peel the potatoes and cut each them into four pieces.

In another pot, place three tablespoons of oil. When it is hot, fry the garlic and onion. Then add the diced green pepper. Without stopping stirring, add the yellow chili paste. Lastly, add the carrots, cut into small squares. Cook for a couple of minutes before adding the other ingredients.

Add all the chicken broth, the cooked chicken, the cilantro juice, and the corns. Cook for about ten minutes over medium heat, uncovered.

Lastly, add the green peas and chicken gizzards. At this point, you should only cook for an additional five to ten minutes and turn off.

Taste and add salt to taste. If you wish, decorate with some coriander leaves.
Nutrition
Nutrition Facts
Aguadito de Pollo
Amount Per Serving
Calories 461
Calories from Fat 126
% Daily Value*
Fat 14g22%
Cholesterol 182mg61%
Sodium 116mg5%
Potassium 1271mg36%
Carbohydrates 66g22%
Protein 19g38%
Vitamin A 8865IU177%
Vitamin C 160mg194%
Calcium 80mg8%
Iron 6mg33%
* Percent Daily Values are based on a 2000 calorie diet.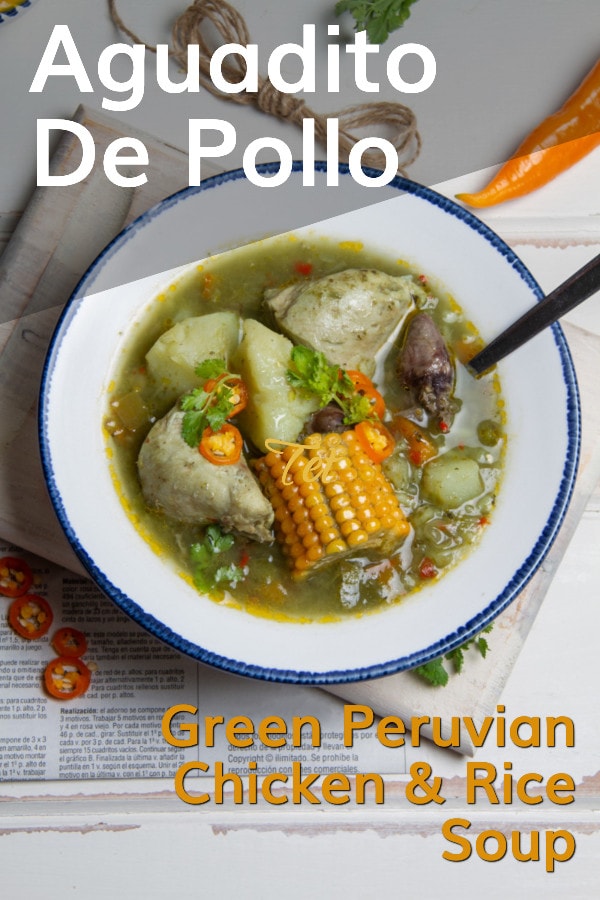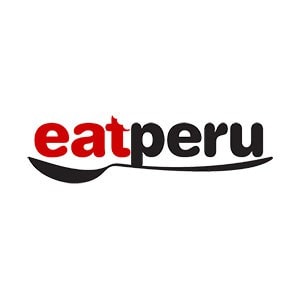 Peruvian foodie. I've been writing about the food of Peru for over 10 years. Read more about the Eat Peru team here