Bringing you back to the taste of home with an inviting, warming dish.
In Peruvian home cooking, this classic soup is known as sopa a la minuta, which means "minute soup", mainly because it can be made in only a few minutes. There are no complicated techniques, steps, or ingredients to prepare to make this Peruvian soup. All the flavors of this dish are brought out in just a few minutes of simmering.
Italian immigrants brought this hearty noodle soup to Peru, in addition to tomatoes and cheese, which they had in abundance. They also brought numerous recipes that were adapted to suit Peruvian tastes.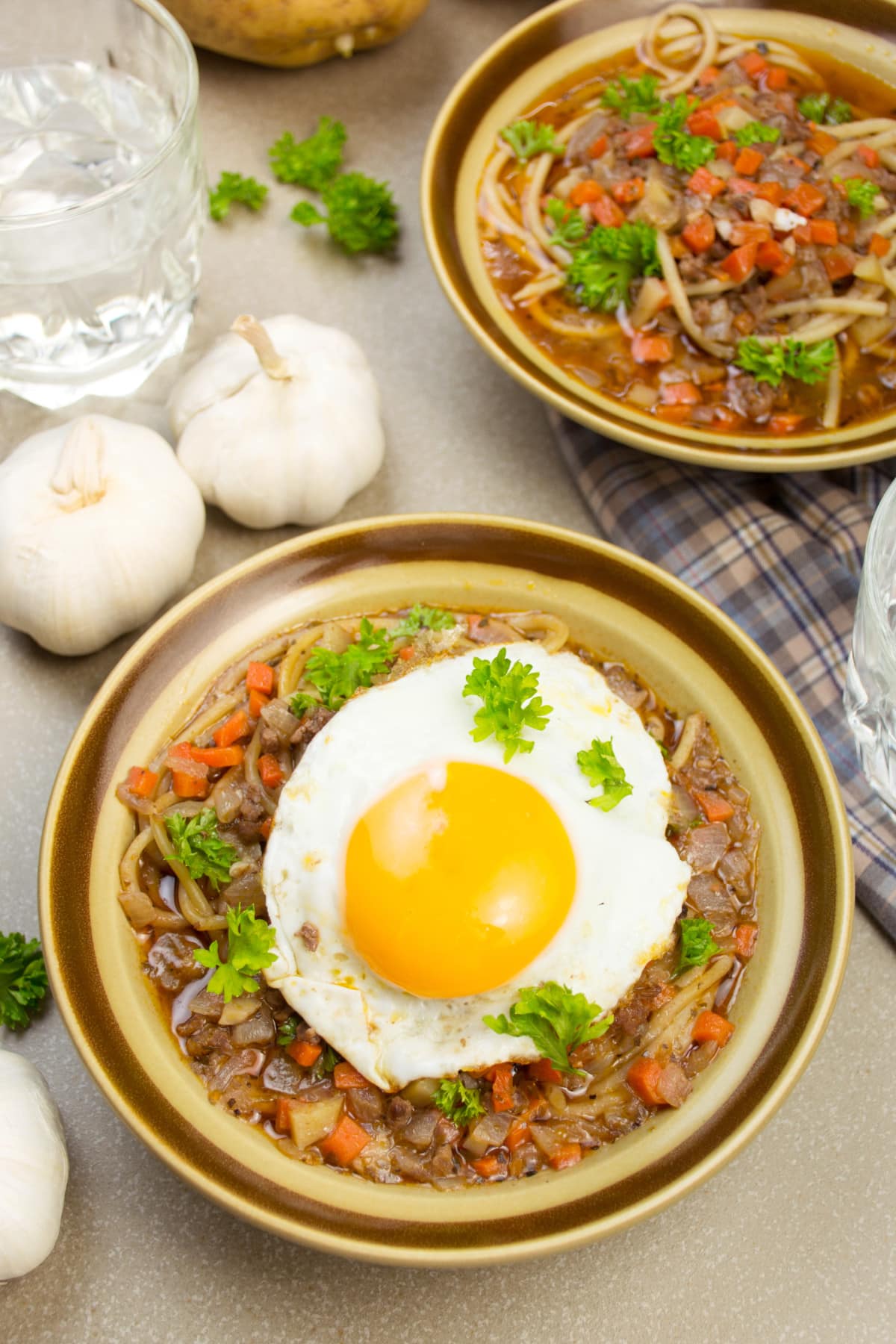 This recipe contains pantry ingredients that most people have in their home pantries. For instance, ground or chopped beef, aromatics like garlic and onion, and vegetables like potatoes and carrots are staples in many kitchens. Seasonings and flavors like tomato paste, aji panca paste, oregano, and bay leaves might require a trip to the specialty store or Amazon, but all are readily available.
Lastly, salt and pepper are added to simmering beef broth made thicker by adding spaghetti noodles instead of cooking them separately – this helps to release starch that emulsifies and thickens the broth. A bit of parsley is added to the soup to give it some color. It's a deliciously flavorsome clear soup tinted with a hint of red.
If you want the soup dish to have a sweet flavor, you can add milk, cream, or evaporated milk. Adding a fried egg to soup a la Minuta can create an interesting presentation. When the yolk of the egg breaks over the noodles, you get a creamy, indulgent bite. An all-around nourishing and revitalizing broth, it simply warms you up on a cold day.
Alternatives & Tips
Can I use other pasta noodles?
Sure. Sopa a la minute, with its pasta noodles, is a meal in itself. Angel hair and spaghetti noodles are the usual choices, with some people choosing to cut the noodles into thirds so they fit in the pot and cook evenly. The same goes for conchiglie, elbow macaroni, farfalle or bowties, fettuccine, fusilli, orecchiette with many more shapes to choose from. Just make sure to cook them to al dente. Remove them from the heat once they're done and serve warm.
What if beef broth is not available?
You can use beef bouillon powder or cubes to make 6 cups. Or use another available broth like chicken or pork for meat options. As a last resort, you can try a vegetarian option such as vegetable broth, mushroom broth, or liquid aminos for that savory umami flavor of meat. Liquid aminos have a similar taste to soy sauce.
Storing leftover Sopa la Minuta
Once the soup has cooled completely, store this in a small pot or airtight container, to be frozen in the freezer. To recook, make sure to thaw completely (to reduce cooking time). This is an important step because there are still noodles in the soup and overcooking these will make them soggy. Alternatively, you can remove these and cook new noodles.
Sopa a la Minuta tastes amazing the day it's made, but taste even better on the next day since all the flavors have now melded together.
The ingredients list
Ground beef – cooks fast which helps keep the cooking time under a few minutes.
Salt and pepper – added to taste.
Oil – for sautéing.
Yellow onion – to add sweetness
Garlic – a flavorful ingredient that adds aroma and an almost buttery flavor.
Tomato paste – one of the best ways to add a rich and umami flavor to any dish.
Oregano – an herb that has a bold, peppery, earthy and bitter taste.
Potatoes and carrots – colorful fillers for the soup. Carrots also act as a natural sweetener.
Bay leaf – adds fragrance and has a slightly floral, herbal taste.
Beef broth – a savory liquid made from boiling beef bones, beef cubes or beef powder. Adds a meaty flavor along with the ground beef.
Angel hair pasta or Spaghetti noodles – the dish's main source of carbohydrates, help make the dish fill you up like a complete meal.
Egg and parsley – for toppings
Step by Step Photos
Quick tips
For an authentic Peruvian flavored stew add a teaspoon of aji panca paste with or without a teaspoon or more of chili paste, depending on your preference for an additional kick.
If you like this beef and vegetable soup recipe, check out this sancochado recipe. Peruvian love soups so try our aguadito de pollo recipe or sopa de quinoa. Both are very popular. For something a little different, inchicapi is a chicken and peanut soup that is creamy and delicious.
If you like this recipe, try another beef and vegetable soup classic called menestrón.
Peruvian Sopa a la Minuta – Minute Soup
Bring your family together for a tasty, nutritious meal by preparing this classic soup, packed with fresh vegetables. Fill a generous bowl with a satisfying helping of this taste of Peru. An easy to prepare crowd pleaser
Ingredients
½

pound

ground beef

¼

teaspoon

salt

¼

teaspoon

pepper

1

tablespoon

oil

1

large

yellow onion

1

large

bay leaf

or 2 small bay leaves

2

cloves

garlic

1

potato

peeled

2

medium

carrots

1-2

tablespoons

oregano

2

tablespoons

tomato paste

6

cups

beef broth

¼

pound

angel hair pasta

or spaghetti noodles

egg

for topping

parsley

for topping
Instructions
Season the ground beef with salt and pepper. Set aside.

Chop the onions, potatoes, and carrots to small bits. Mince the garlic.

In a pot at medium heat, add oil and sauté the onions and bay leaf till the onions are slightly translucent, add the garlic and cook till aromatic.

Add in the chopped potatoes and carrots, sautéing till these soften.

Mix in oregano and the ground beef, cook till these change in color or have turned a darker brown.

Add the tomato paste, and beef broth. Stir and let this simmer for 7-10 minutes. After, have a taste and add salt and pepper as needed.

To cook the noodles, simple add them into the pot and cook al dente per packaging instructions. Remembering to mix this often.

Serve with a fried egg on top, or decorate with parsley.
Nutrition
Nutrition Facts
Peruvian Sopa a la Minuta – Minute Soup
Amount Per Serving
Calories 309
Calories from Fat 117
% Daily Value*
Fat 13g20%
Cholesterol 32mg11%
Sodium 1291mg56%
Potassium 714mg20%
Carbohydrates 32g11%
Protein 16g32%
Vitamin A 4194IU84%
Vitamin C 14mg17%
Calcium 71mg7%
Iron 3mg17%
* Percent Daily Values are based on a 2000 calorie diet.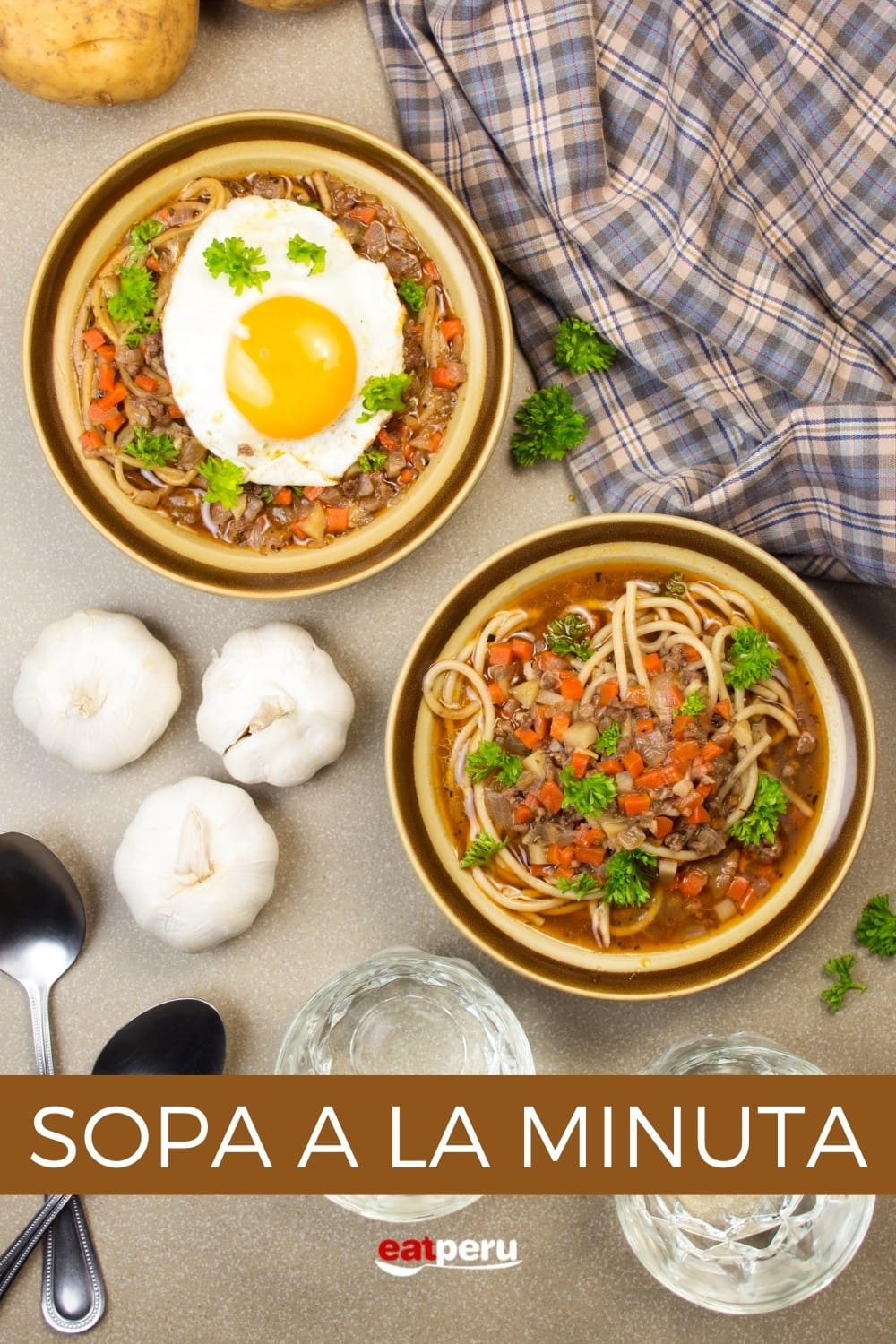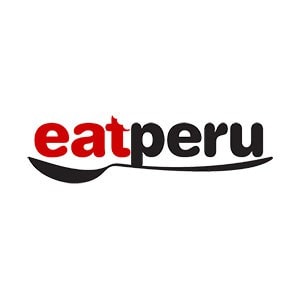 Peruvian foodie. I've been writing about the food of Peru for over 10 years. Read more about the Eat Peru team here