It's hard to describe this dish as there are several ways of preparing it. One way is to make a thick soup with the beef, vegetables and liquid. Another way to prepare this lunchtime favorite is as a plate of boiled meats and veggies with a side of delicious broth. A plate of steaming hot meat with a bowl of soup or broth? On a cool day, what's not to love? Nothing beats sancochado as a comfort food.
Sancochar means to parboil in English. There's no direct English language translation for sancochado but the verb "to boil" gives a hint. We like to call this dish, "Peruvian beef and vegetable soup" (note that Peruvian minestrone soup could also use that title)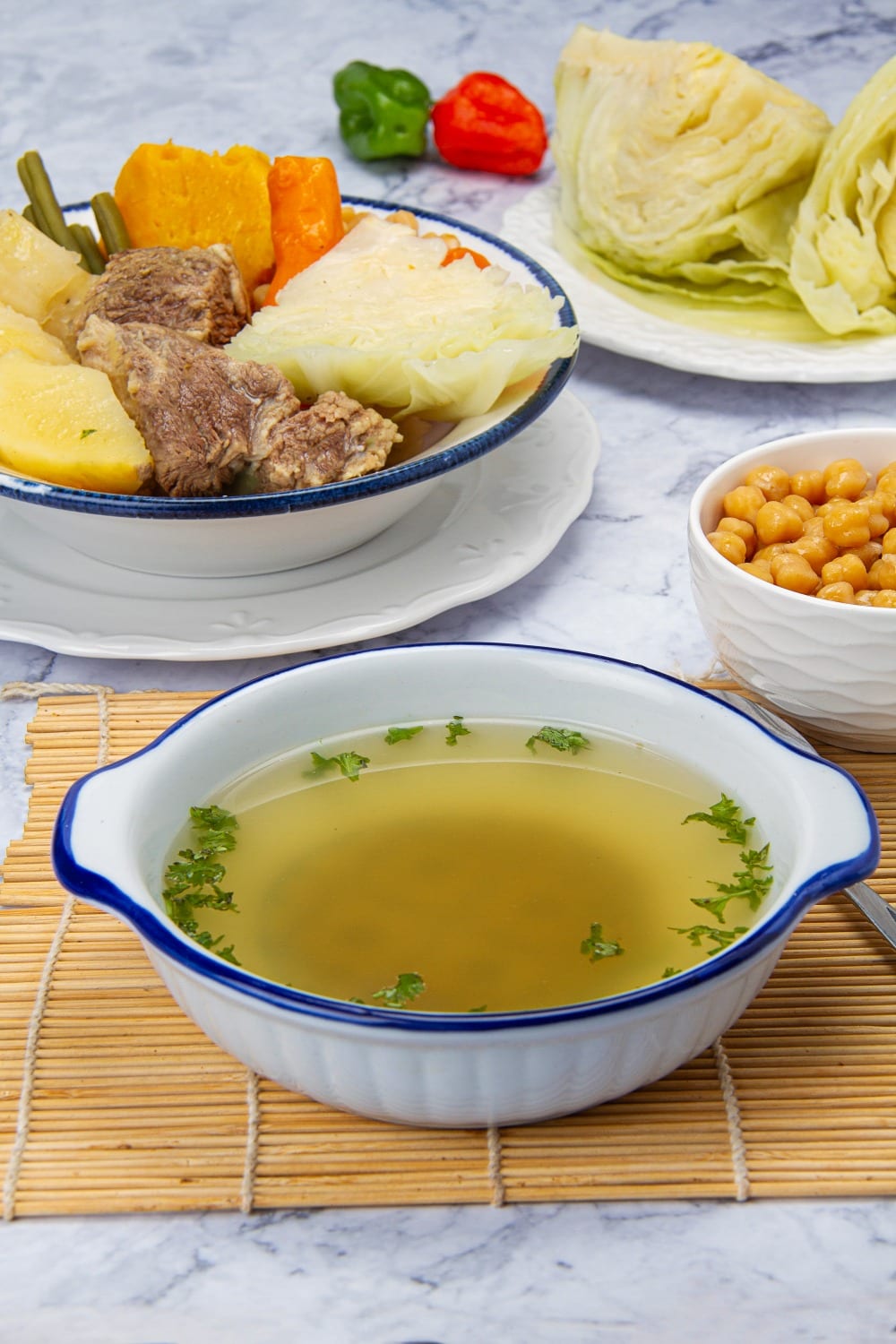 Don't let the long list of ingredients scare you off, this is actually an easy dish to make. It is well worth the effort. Especially when it's cold and you're looking for a savory, hot dish like a soup. The slow-cooked meat, spices, tasty vegetables, and filling tubers are always winners. Try it for lunch or on the weekend.
This is one of the most popular Peruvian dishes for beating the "day after" feeling from a night of drinking piscos, Pilsen Callao or Cusqueña beers.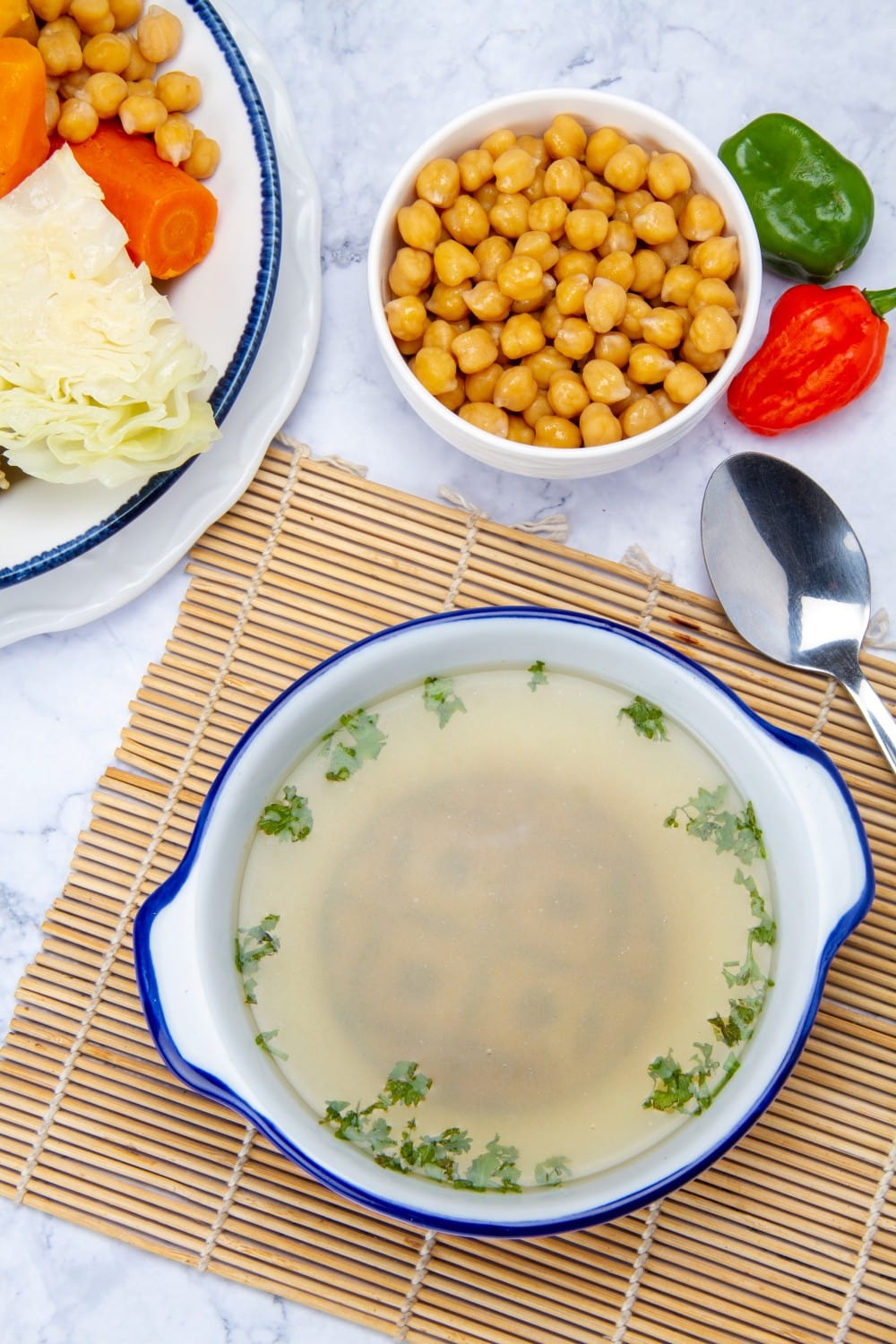 Feel free to experiment with the preparation. You can substitute chicken for the beef and add and remove vegetables as you like. This recipe is packed full of flavor. There are a lot of ingredients to source and it will take a few hours to cook.
But if you're feeding a family or impressing friends on the weekend, the aroma and taste of sancochado will always get the thumbs up.
Ingredients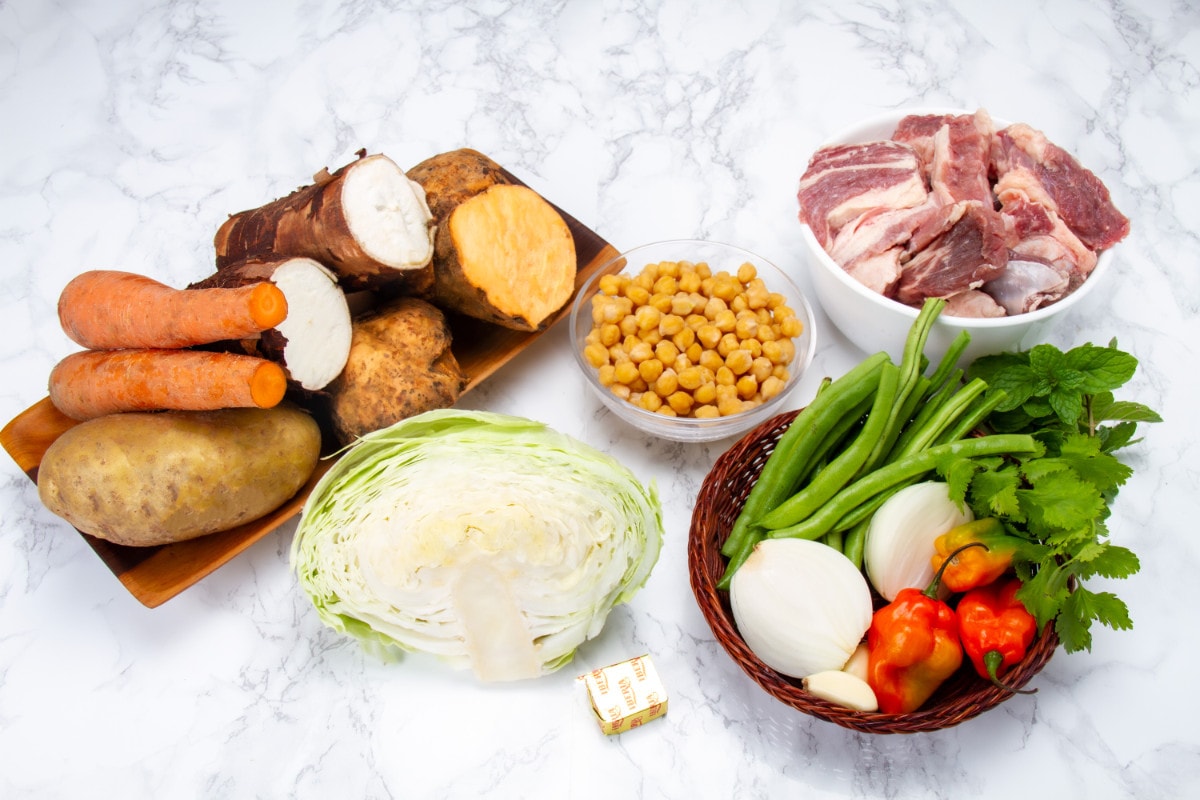 Preparation & Serving Tips
🌶 Tip 1: To serve, remove all tubers and vegetables from the pot. Let the soup rest for about fifteen minutes. To serve the sancochado you must use two plates, a first deep plate for the broth, and a second flat plate for the side dishes. Serve two cups of liquid in a bowl, add a little chopped cilantro on top.
If you prefer, you can use mint or parsley. And on a flat plate, place a large piece of each of the tubers and vegetables: yellow potato, sweet potato, yucca, carrot, green beans, and cabbage. Serve with a large piece of meat and two tablespoons of cooked chickpeas. You can drizzle a little olive oil on top.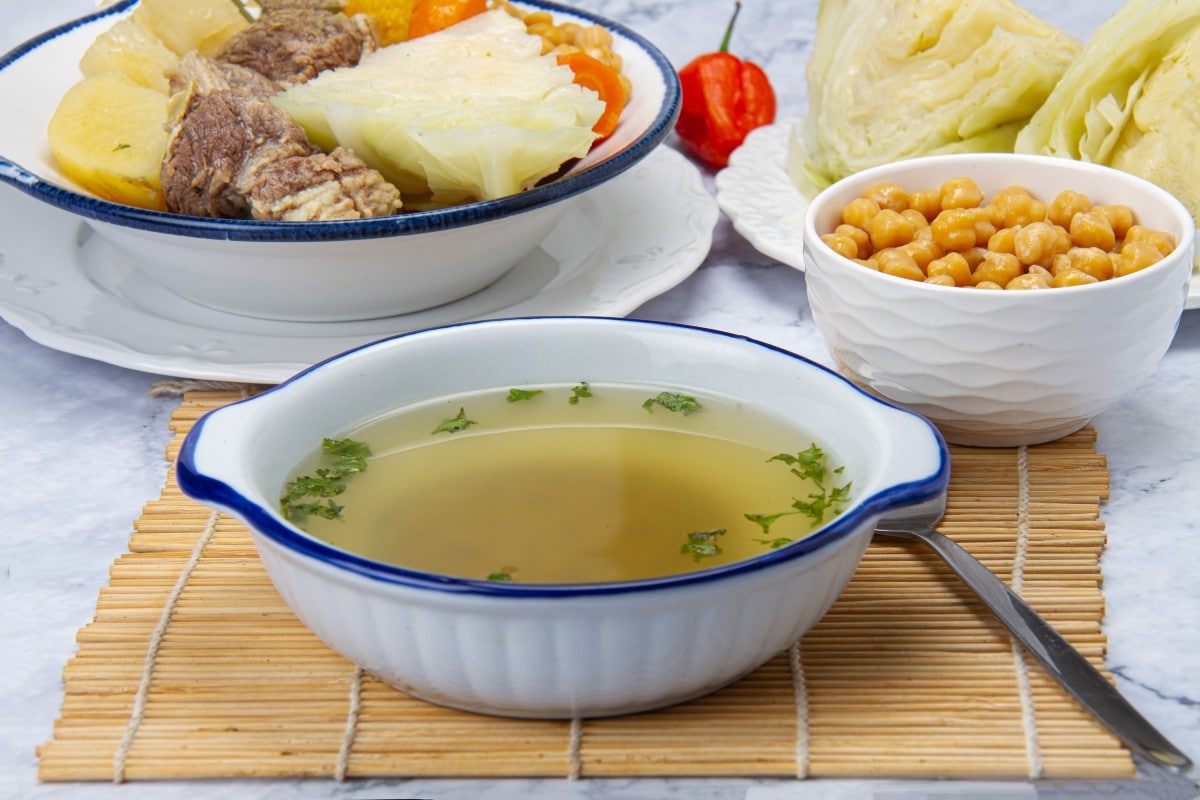 🌶 Tip 2: The chunks of the vegetables and meat in this recipe are usually large. This will keep the broth clear. Chopping the tubers too small will release more starch into the potatoes and make a thick, dense soup-like mixture.
Similarly, some people prefer to de-fat the broth a bit. This is also optional.
Accompany this dish with corn or salsa criolla.
Peruvian Sancochado Recipe
Sancochado is a traditional Peruvian hot pot style meal of boiled meats and veggies with broth
Ingredients
1.5

kg

beef brisket

or ribs

10-12

cups

water

1

white onion

100 g.

2

large

garlic cloves

3

habanero peppers

1

small bunch

mint

1

small bunch

coriander

1

beef bouillon cube

1

tablespoon

salt

1

large

yellow potato

2 cups, 200 g.

2

sweet potatoes

2 ½ cups, 350 g.

2

large

yuccas

3 ½ cups, 500 g.

2

small

carrots

150 g.

15

green bean

100 g.

½

white cabbage

500 g. + 3 tablespoons vinegar to wash the cabbage

1

cup

cooked chickpeas

to accompany
Instructions
Rinse the meat and cut it into pieces of a maximum of four inches. The pieces should be fairly big.

Peel the garlic and onion. Cut the onion in two. Cut the peppers into two parts and extract the seeds.

In a large pot, place the beef, chopped onion, garlic cloves, chili, mint, and cilantro. Add the salt, the bouillon cube, and the water. Cook over low heat for about two hours. In our case, we used a pressure cooker and after one hour of cooking the meat was soft. Cook until meat is soft. If required, you can add additional water.

When the beef is soft, remove it from the broth. If you wish, remove a little of the excess fat from the meat. Then strain the broth, and discard all the vegetables that you used for cooking, and return the broth to the pot to cook the tubers.

Peel the potato and cut it into four parts. Do the same with sweet potatoes. Peel the yuca and cut it into pieces at least two inches long. Peel the carrots, if you wish, cut them in two crossways. Remove the stems from the green beans. Wash the cabbage well with water and vinegar, and chop the cabbage into wedges or quarters. Remember to immerse the yellow potato, and the sweet potato in water, immediately after peeling them to prevent them from turning dark.

In the pot with the broth, place the pieces of yellow potato, sweet potato, yucca, carrots, and green beans. Cook for about thirty minutes until the vegetables are soft.
Nutrition
Nutrition Facts
Peruvian Sancochado Recipe
Amount Per Serving
Calories 786
Calories from Fat 180
% Daily Value*
Fat 20g31%
Cholesterol 155mg52%
Sodium 1633mg71%
Potassium 1975mg56%
Carbohydrates 91g30%
Protein 60g120%
Vitamin A 13919IU278%
Vitamin C 101mg122%
Calcium 140mg14%
Iron 8mg44%
* Percent Daily Values are based on a 2000 calorie diet.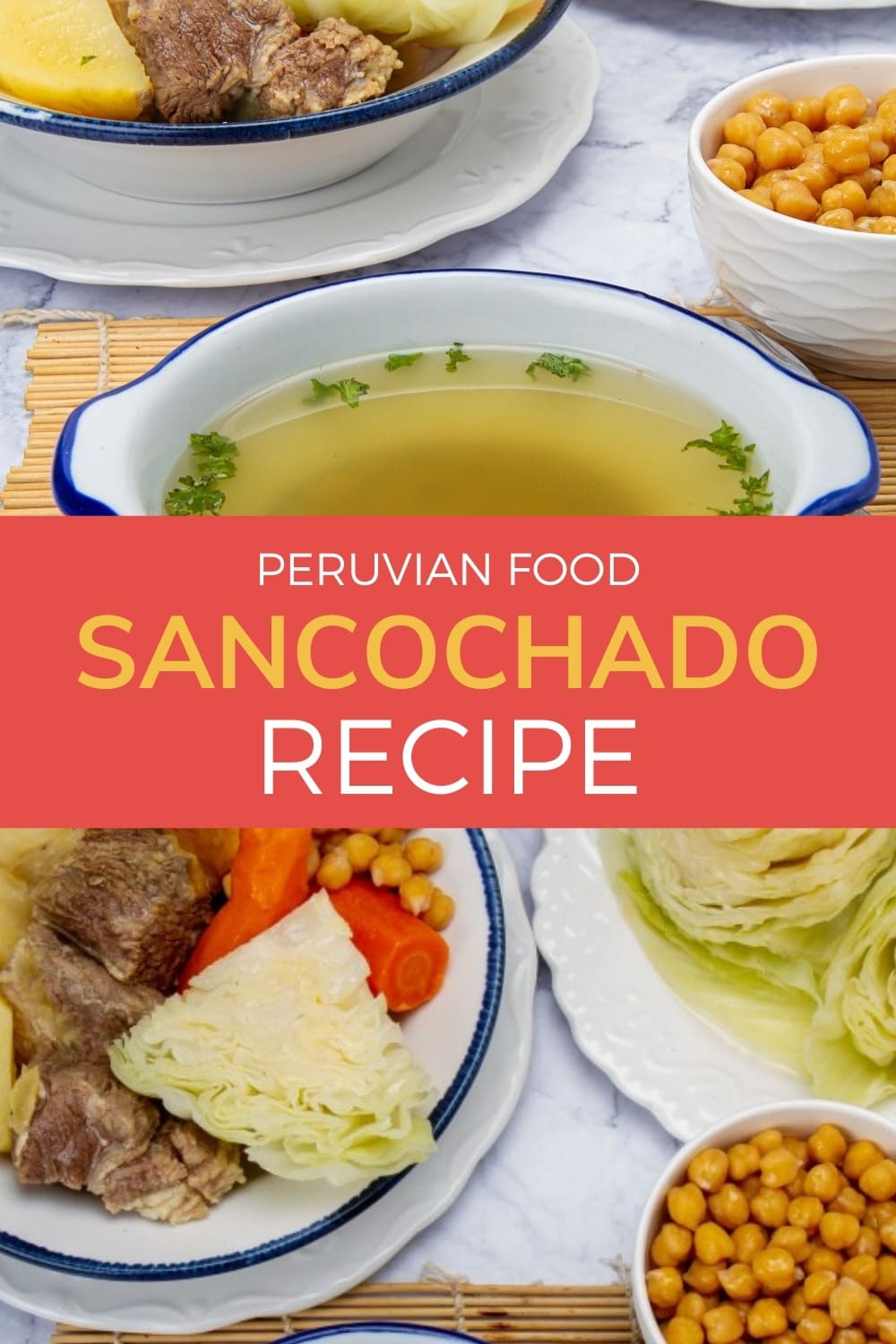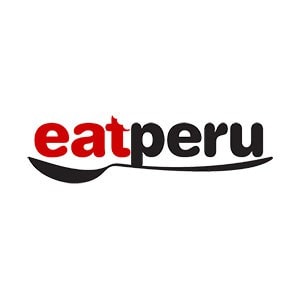 Peruvian foodie. I've been writing about the food of Peru for over 10 years. Read more about the Eat Peru team here