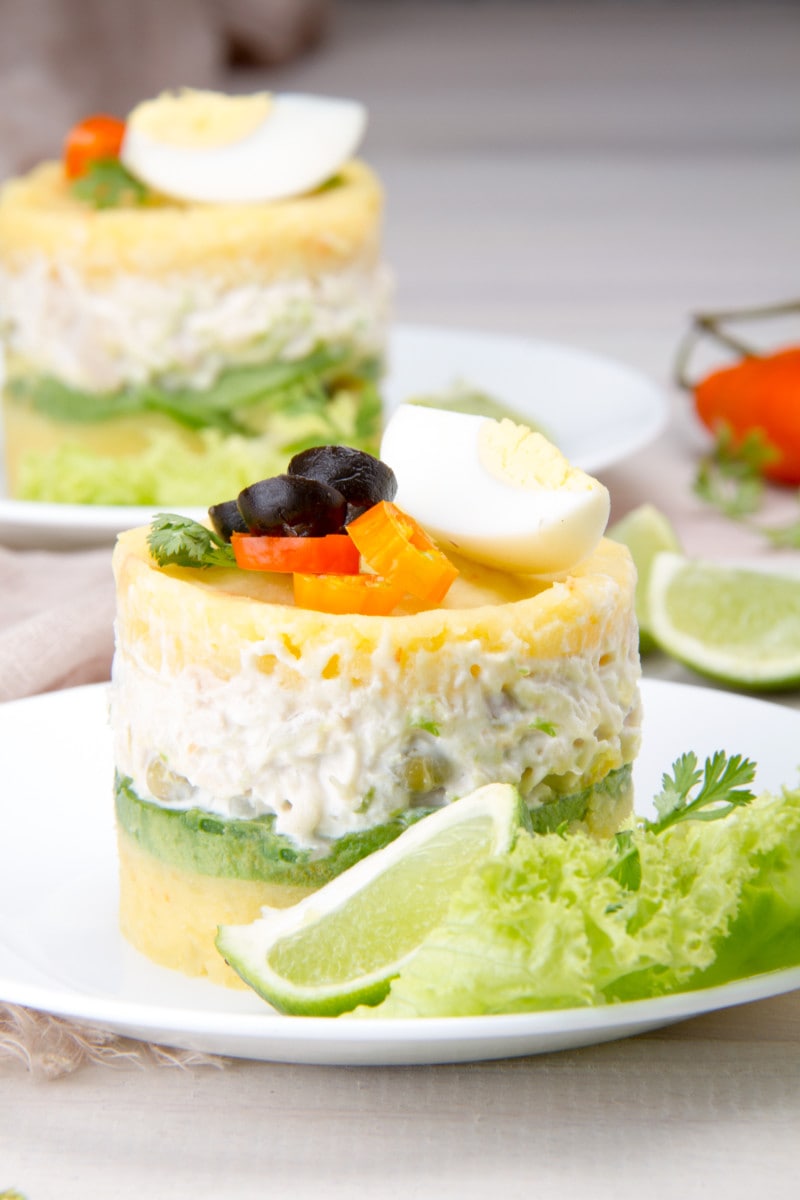 Also known as Peruvian Causa Rellena (rellena meaning filled in English), Causa de Pollo is a simple, satisfying starter dish similar to causa de atún, the more common version of this yummy, creamy dish.
Mashed potatoes with mayonnaise, avocados and limes give this dish a fresh flavor. Add in ají amarillo, the famous yellow pepper from Peru, and you've got a side dish that shines. It's the perfect starter or large snack and the recipe is easy to make.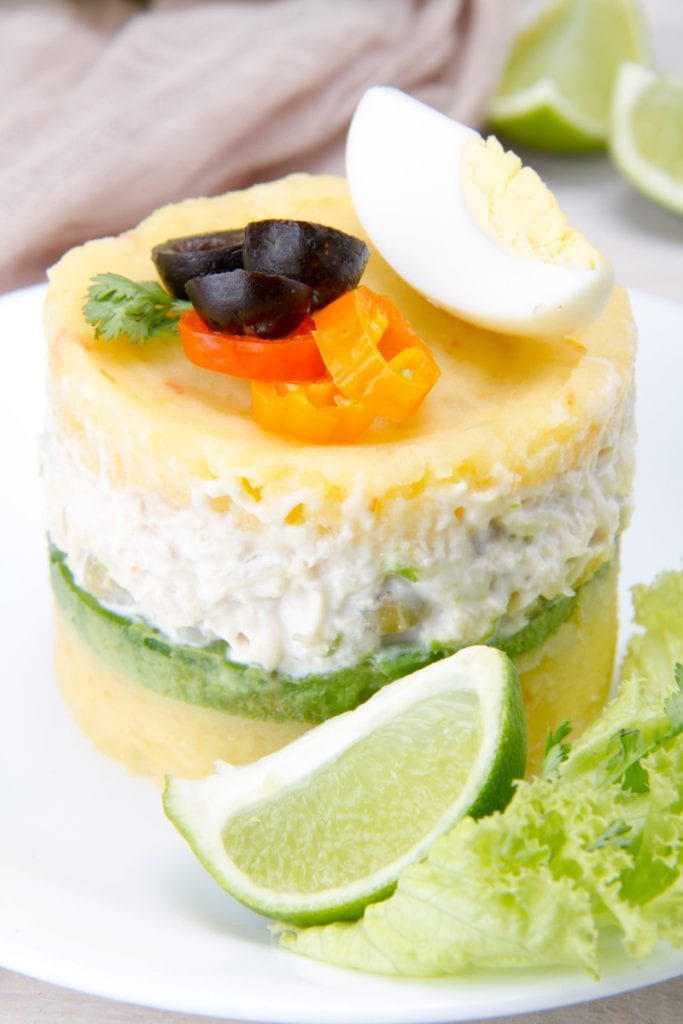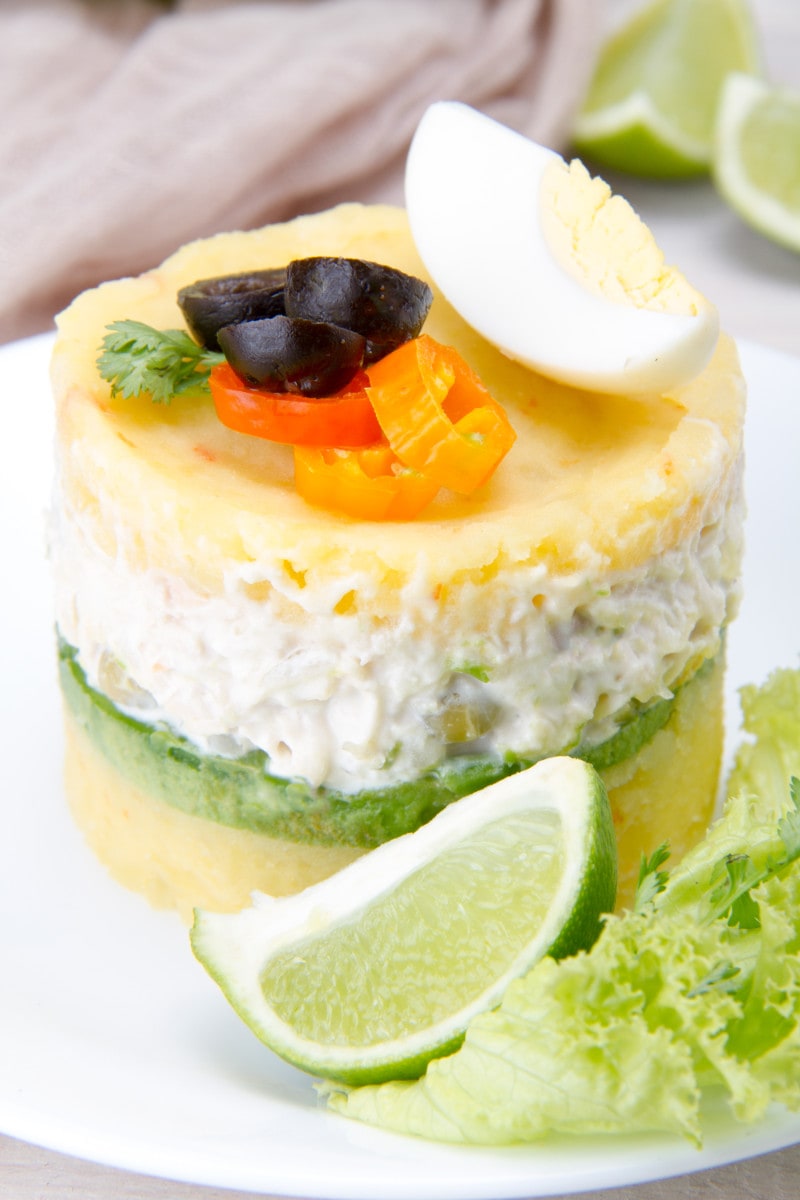 Causa Limeña – Delicious Cold Appetizer From Peru
A starter dish of chicken, layered potatoes, limes, with a topping of olives, peppers, and egg. Perfect for hot summer days.
Ingredients
4

cups

yellow potatoes

700 g.

4

cups

water

1 liter

1

teaspoon

salt

2

cups

chicken

cooked and minced, 300 g.

¾

cups

mayonnaise

150 g.

2

tablespoons

black olives

½

cup

peas

75 g.

1

egg

½

cup

onion

60 g.

3

yellow peppers

ají amarillo, 1/8 cup, 40 g.

¼

cup

olive oil

½

avocado

200 g.

2

limes

40 g.
Instructions
Wash the potatoes with plenty of water and peel with a vegetable peeler. Cut them into four or six parts according to their size. You should get pieces of (at most) 5 cm.

Place them in a large saucepan with 4 cups of water and a teaspoon of salt. Cook half covered for at least 15 minutes until potatoes are soft. The way to test them is to prick them with a fork. If your fork meets little resistance, they are soft enough to puree.

Strain the potatoes, let them drain for a few minutes.

The best Causa Limeña meat is chicken breast. A small chicken breast gives around 300 grams of shredded chicken. Roast or boil the chicken according to your taste. Remember to add a pinch of salt and a little pepper for cooking.

Peel the onion and chop finely.

Boil the egg in plenty of water, and remove the shell. Cut it into thin slices.

While the potatoes are still warm, place them in a large bowl, and with a potato masher, mash them until there are no lumps left.

Wash the chili peppers and place them on a cutting board. Remove the stem with a sharp knife, cut crosswise and remove all the veins and seeds. Cut the chili peppers into large pieces. Don't worry about size because they will liquefy later.

Put the oil and peppers into the blender glass. Beat for about three minutes. The mixture will not be completely homogeneous.

Pour the chili sauce over the mashed potatoes with a pinch of salt and mash again for a few minutes until the chili is fully blended into potatoes. Taste and if necessary, rectify with salt.

In a mixing bowl place the shredded chicken. Make sure that all the chicken is finely chopped. Add mayonnaise, chopped onion, lime juice, and peas. Stir until all ingredients are well mixed.

Remove the seed from the avocado, peel the skin away and cut the soft flesh into thin slices. Sprinkle a few drops of lime over the avocado slices to prevent it from turning brown.

For the next step, the assembly of the causa rellena, use an empty can with the base and lid removed (using a can opener). If you wish, you can use a round mold or a square mold or even a glass container.

Place the can on a flat plate and add two tablespoons of mashed potatoes. With a spoon or any other utensil that you consider convenient, press the mashed potatoes towards the bottom of the plate and flatten.

Add a layer of avocado pieces.

Then add three tablespoons of chicken with mayonnaise. Press down gently.

Cover with a second layer of mashed potatoes and flatten once more. Very carefully remove the can by pulling it upwards. Repeat this procedure until you run out of ingredients. We make 6 Causas Limeñas with the ingredients listed above.

On top of each Causa Limeña place an egg slice, a few black olives and some thin slices of yellow chili.
Nutrition
Nutrition Facts
Causa Limeña – Delicious Cold Appetizer From Peru
Amount Per Serving
Calories 386
Calories from Fat 198
% Daily Value*
Fat 22g34%
Cholesterol 45mg15%
Sodium 682mg30%
Potassium 996mg28%
Carbohydrates 41g14%
Protein 9g18%
Vitamin A 342IU7%
Vitamin C 155mg188%
Calcium 53mg5%
Iron 2mg11%
* Percent Daily Values are based on a 2000 calorie diet.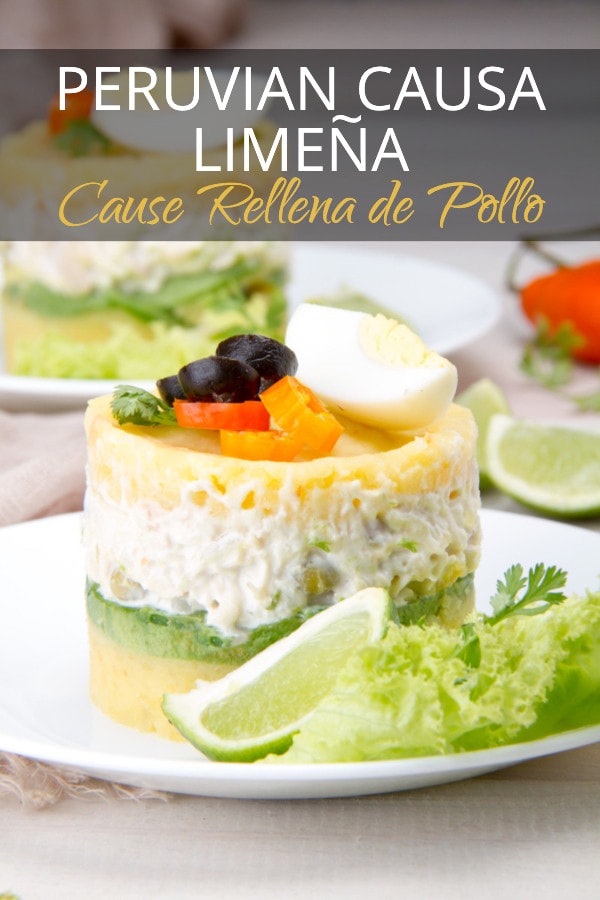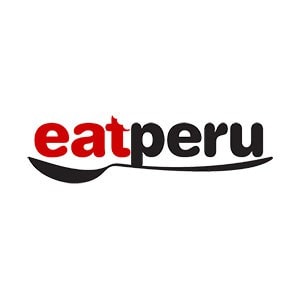 Peruvian foodie. I've been writing about the food of Peru for over 10 years. Read more about the Eat Peru team here