Ceviche is one of the healthiest and most refreshing main courses or entreés you can find in any cuisine. Once you've tasted it, you'll likely agree that it's satiating and delicious. You might have tried traditional Peruvian ceviche already but would like to experiment with the type of fish. We have the perfect recipe for you!
As you may know, ceviche is a raw fish dish. Yes, it's safe eat raw tilapia, as long as it's ultra-fresh (avoid if it has been left outside of the refrigerator for any period of time). There is some cooking involved, but not in the traditional sense. Lime juice, an ingredient intrinsic to Peruvian cuisine, is a powerful acid that dissolves the delicate flesh of the white fish. Marinating the chunks of fish in juice ensures that it is more digestible and can also help neutralise bad bacteria.
Cucumbers, tomatoes, pepper, and onion go very well with lime and seafood. This dish is equally as tasty as the better known ceviche recipes that use saltwater fish. But as variety is the spice of life, it's good to mix things up from time to time and experiment with different main ingredients.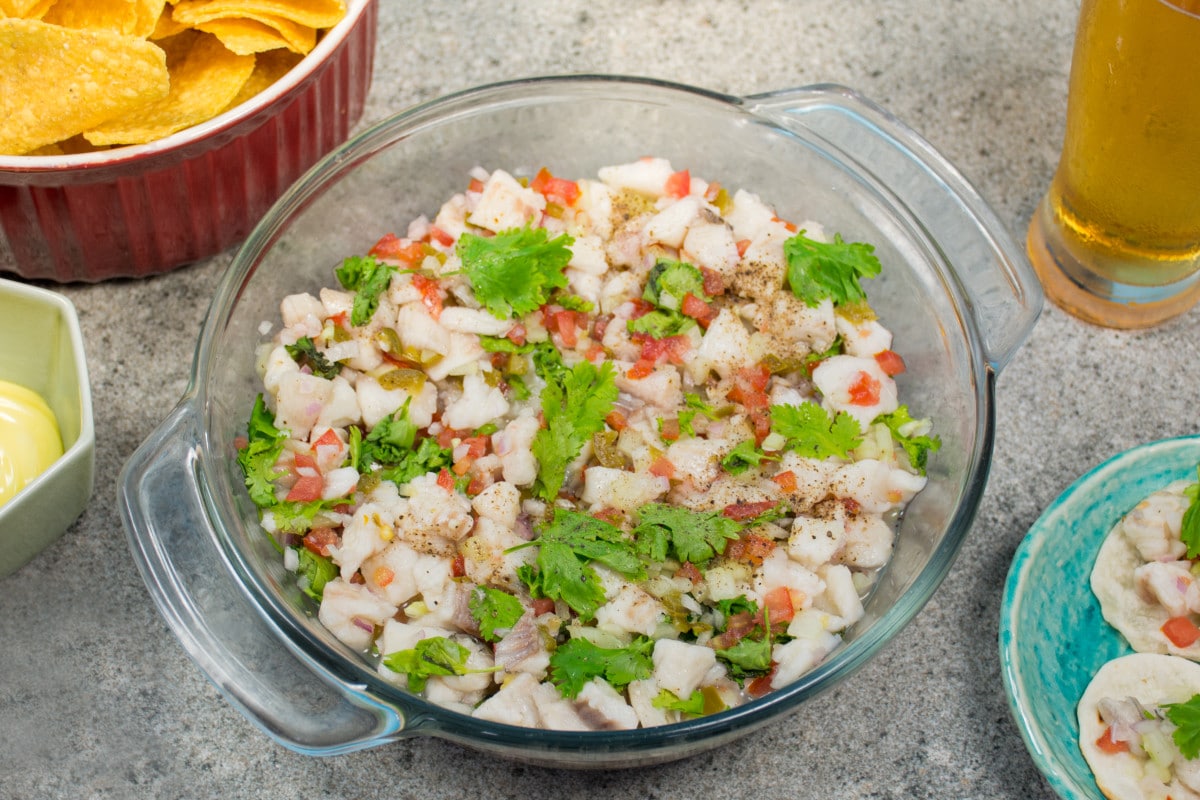 Fresh and Eye-Catching
Using fresh fish as opposed to the commercially processed or frozen ensures that you get the best tasting ceviche. Freshwater blue tilapia (raw) is our recommendation for this recipe. The flesh of this fish has a fresh and vibrant look and it's got a lovely flavor profile. Take care of where you buy it. Buy from a trusted fish seller and enjoy a healthier meal. This ceviche recipe will become one of the most popular dishes amongst your friends.
If you want a kid-friendly variety of the dish, we recommend that you quickly boil the fish before marinating. The fish should be boiled halfway so that the acid does not overcook the fish once it has been applied. Also, boiled tilapia may be the best option for your children as they would not be able to wrap their heads around eating raw fish.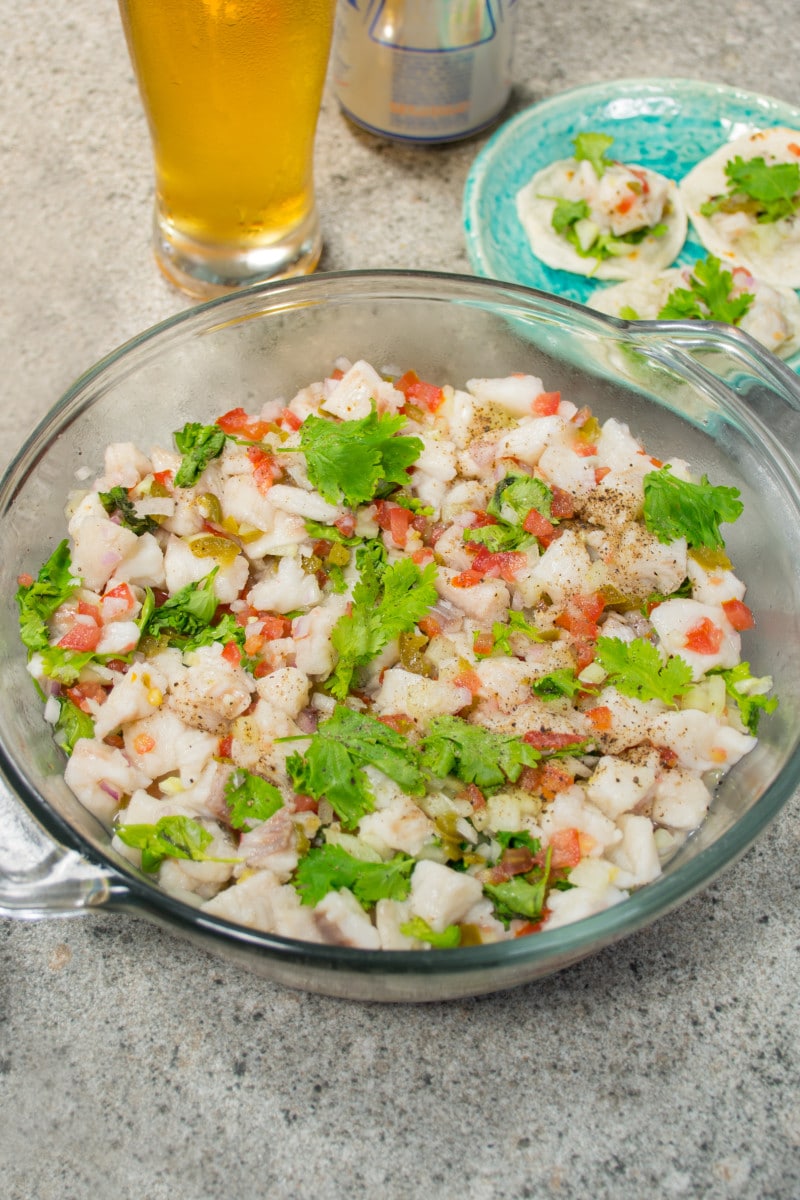 The ingredients are available at any local supermarket. As a starter or as finger food, it's a healthful option at a dinner party. Serve at your next BBQ or cookout as an appetizer and see how it instantly becomes a crowd-pleaser.
Drink Accompaniment
We find that mojitos go best with tilapia ceviche as the sweetness from the mojitos is perfect to cut across the tanginess of the ceviche. To make this ceviche more typically Peruvian, enjoy with a nice cold glass of Pilsen Callao, Cosqueña, or Cristal.
Tilapia Ceviche
An easy-to-make version of the iconic fish ceviche recipe. Talapia is a delicious freshwater fish with delicate flavors that work well with this Peruvian classic.
Ingredients
1

pound

tilapia fillets

cubed

15

juice of

limes

(1 cup)

½

cup

tomatoes

seeded and finely chopped

1

large

red onion

finely sliced

½

cup

cucumber

peeled, seeded and finely diced

¼

cup

cilantro

finely chopped

¼

cup

Jalapeno pepper

(or habanero pepper)

salt and pepper seasoning to taste
Instructions
Chop the tilapia filets into small pieces, place them into a large bowl and cover them with lime juice. The lime juice should be enough to cover the fish, but not cause them to float in a pool of juice.

Mix the chopped tomato, red onion, cucumber and cilantro into the bowl. Add salt and pepper to taste.

Now, it's just a waiting game! Allow the tilapia to marinate in the lime juice for at least an hour. The key is to find the right amount of time for marination as anything less would mean your tilapia is left raw, and anything more would cause your tilapia to overcook. Taste for a check of the salt and pepper amount before serving and adjust if necessary.
Nutrition
Nutrition Facts
Tilapia Ceviche
Amount Per Serving
Calories 103
Calories from Fat 18
% Daily Value*
Fat 2g3%
Cholesterol 45mg15%
Sodium 50mg2%
Potassium 371mg11%
Carbohydrates 4g1%
Protein 19g38%
Vitamin A 227IU5%
Vitamin C 11mg13%
Calcium 14mg1%
Iron 1mg6%
* Percent Daily Values are based on a 2000 calorie diet.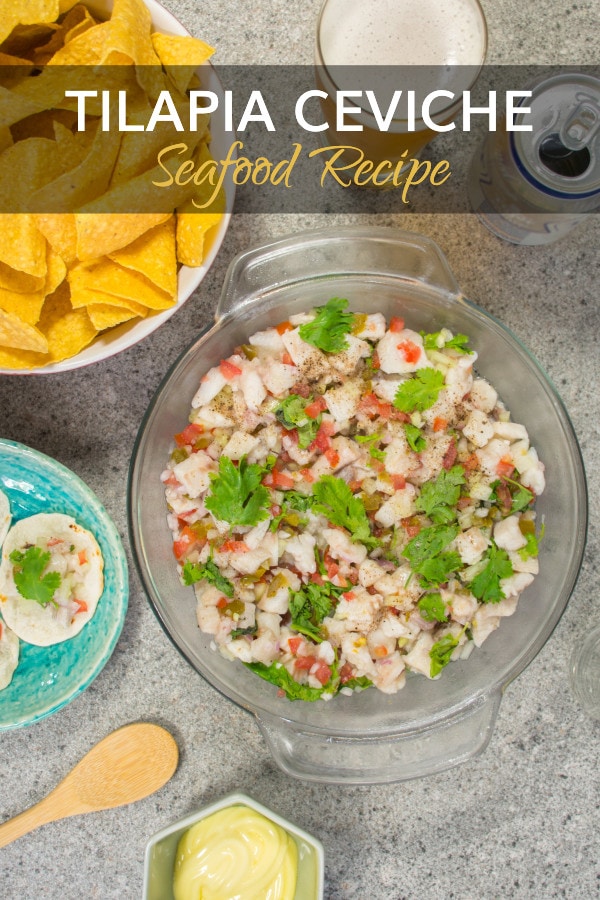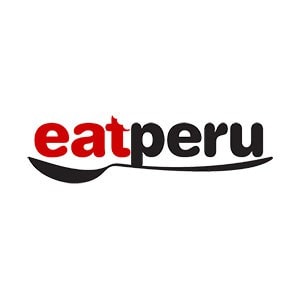 Peruvian foodie. I've been writing about the food of Peru for over 10 years. Read more about the Eat Peru team here