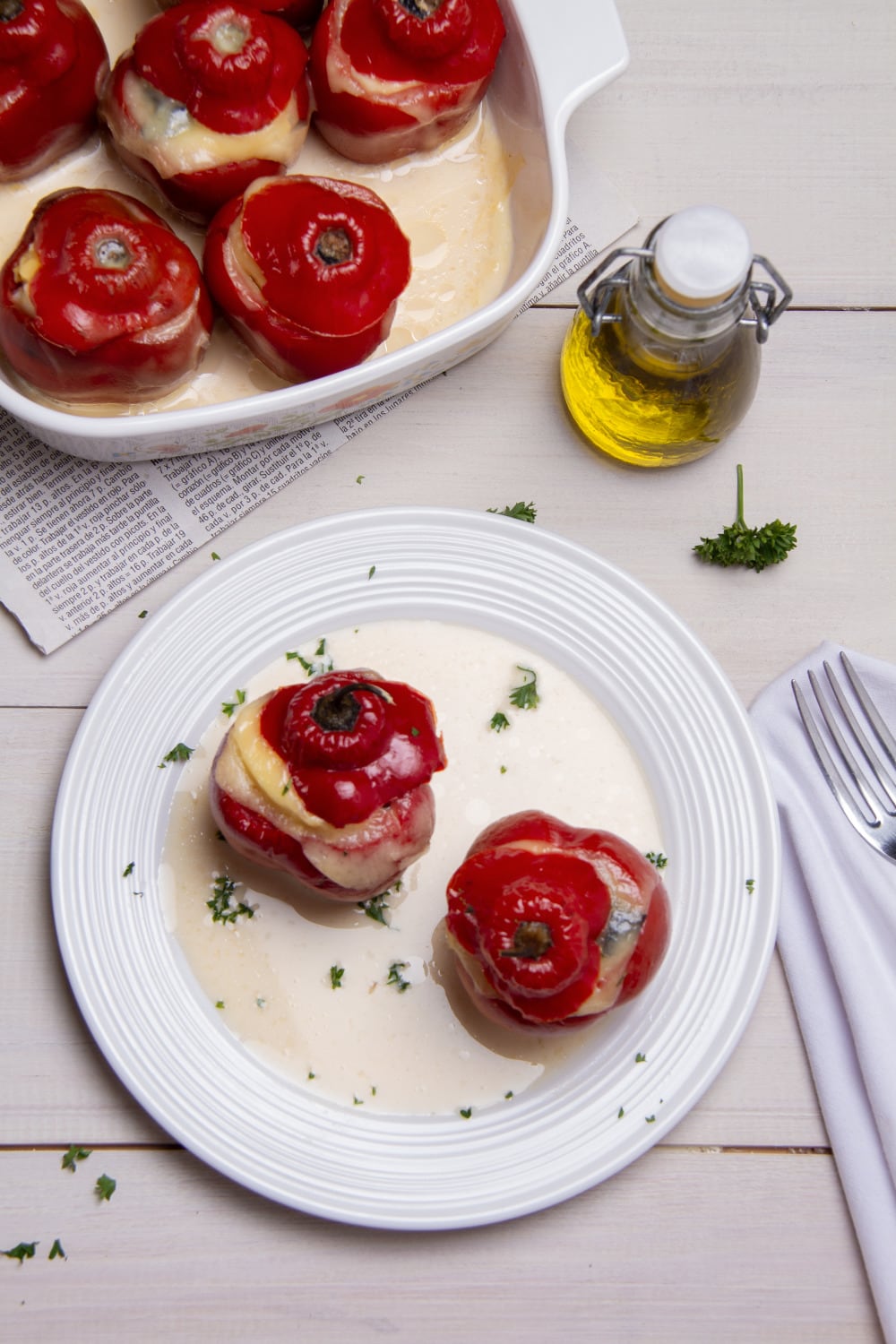 It might look sweet and innocuous and you could be tempted to take a bite out of this Peruvian pepper, but be warned. It packs a punch. Eye-watering is a word I'd use to describe it, especially if you're not used to hot food.
According to the PepperScale website, which measures this kind of thing, the rocoto is considered "medium heat", bordering on extra hot. The heat level gets up to Habanero or Scotch Bonnet for some variations. It's a lot hotter than a Jalapeño, for example.
These little tomato-shaped peppers are thick and juicy. This makes them the perfect pepper to stuff with beef, garlic, hard-boiled eggs, raisins, and cheese. It's a combination that might look odd on paper, but tastes divine (and did I mention hot?) in the mouth.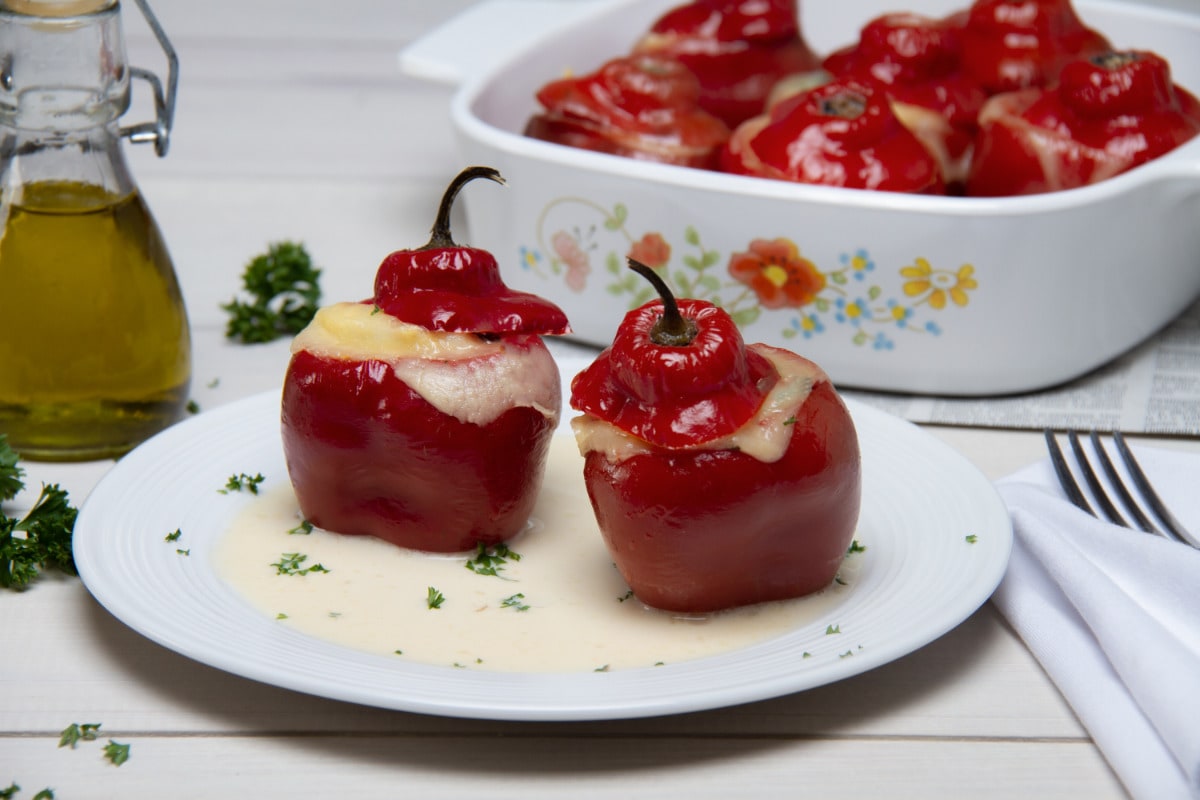 Rocoto Relleno is what we call a classic and is originally from the beautiful city of Arequipa. Juicy peppers filled with seasoned meat, egg and vegetables, along with cheese (queso fresco) are baked with a covering of milk sauce to create a taste sensation. In this recipe, we've also added peanuts and black olives for an even more flavorsome version of this classic Peruvian dish.
In Peru, and elsewhere, most notably Bolivia, rocotos are used in soups, stews, and hot sauces.
Rocoto is sometimes considered a substitute for red bell pepper, but it's worth keeping in mind that bell peppers are sweet, with just a mild peppery heat. Rocoto is on a different level completely. Use with care. One way to reduce the heat is to soak the peppers in water (and even vinegar).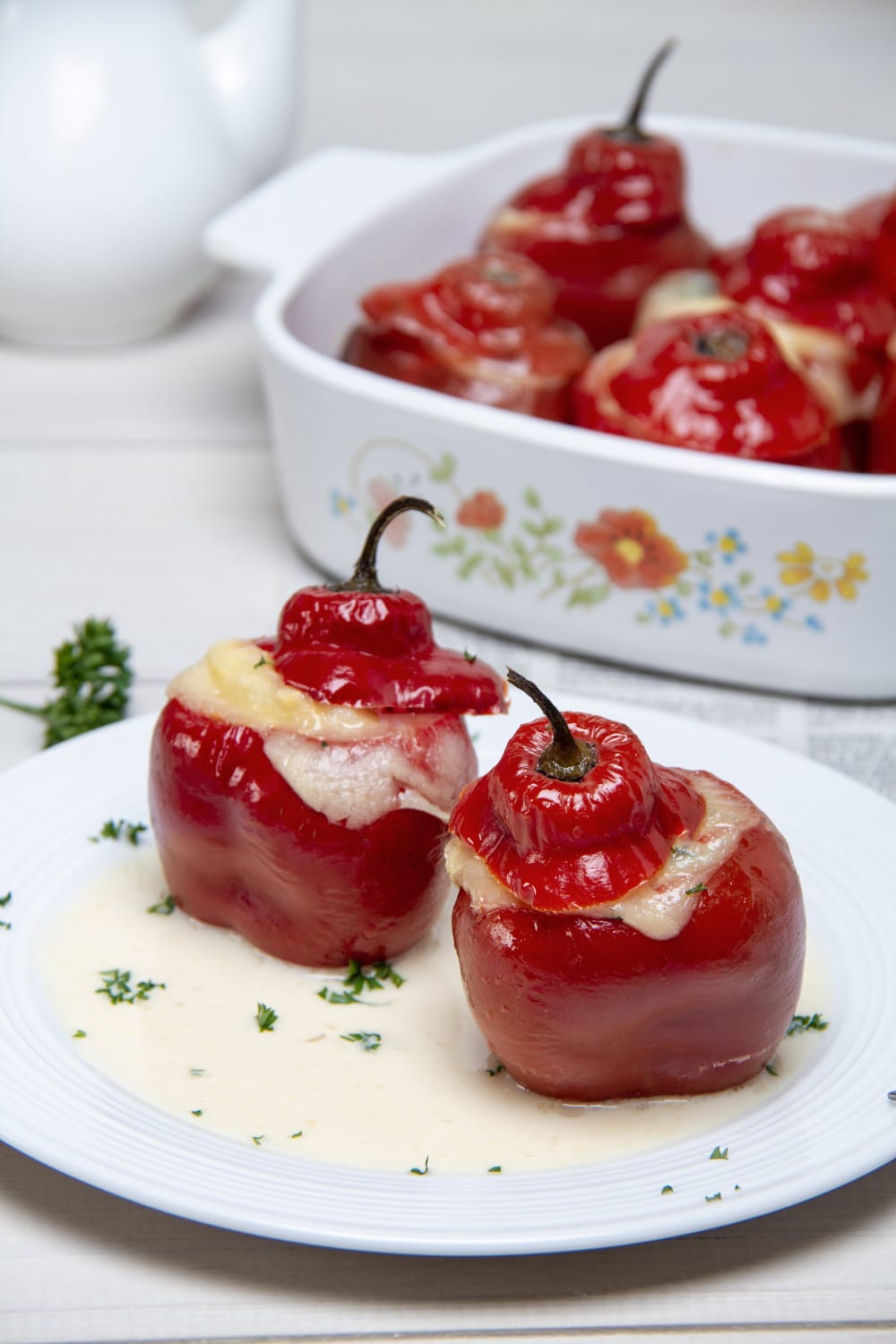 This is a rich, savory dish that really needs to be experienced. It's hard to give an accurate representation of the taste but just know that it's very popular in Peru, and much-loved around the world by people fortunate enough to have tried it. If you find yourself with some leftover ground beef, you could make the Peruvian rice-covered beef dish called arroz tapado.
Try it and let us know what you think!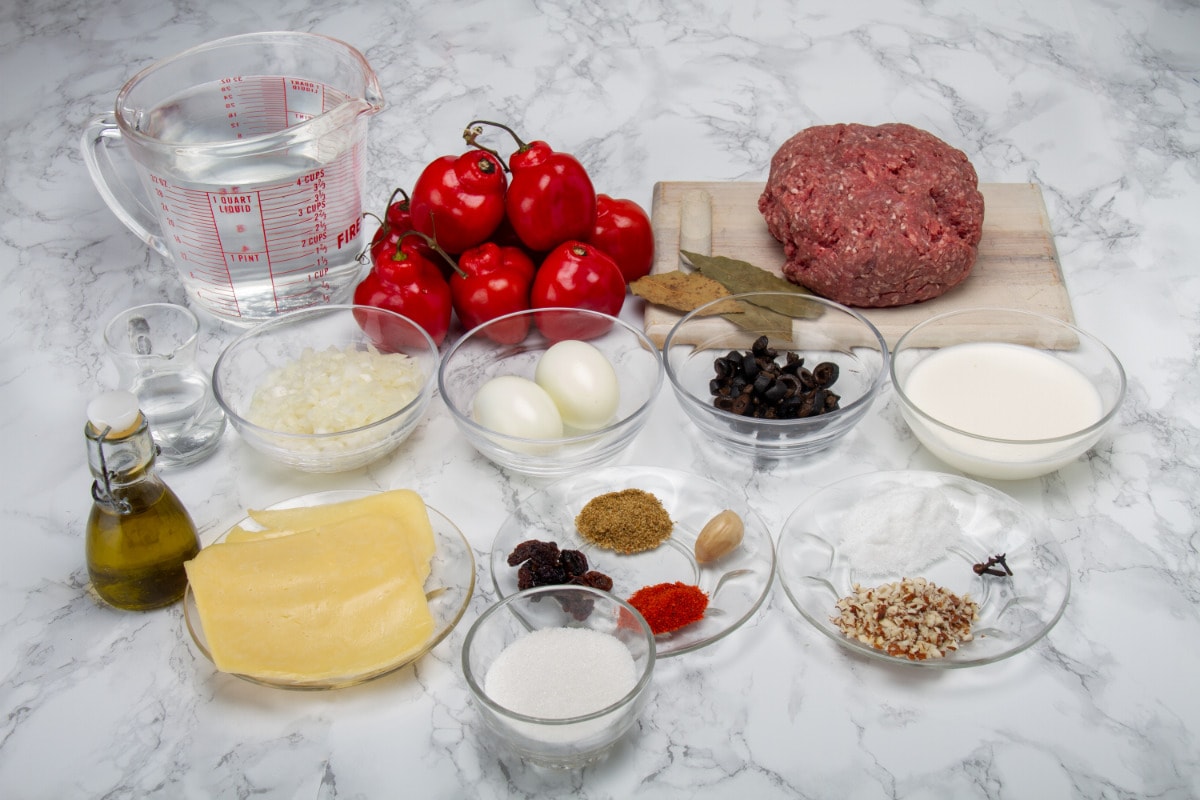 Rocoto Relleno – Peruvian Stuffed Peppers
Rocoto Relleno is one of the most popular dishes in Peruvian food. This recipe shows you how to make a delicious variation that is both spicy hot and truly flavorful.
Ingredients
8

large

red rocoto peppers

12

cups

water

3

teaspoons

salt

3

tablespoons

sugar

3

tablespoons

vinegar

3

medium

cloves

3

bay leaves
For the filling
3

tablespoons

oil

200

g.

ground beef

1

medium

onion

finely chopped

1

clove

garlic

1

tsp

cumin powder

1

tsp

paprika

50

g.

ground peanuts

50

g.

raisin

1/4

cup

black olives

seeded

1

medium

boiled egg

4

slices

fresh cheese

Salt and pepper to taste
For the sauce
1

medium

egg

1/2

cup

evaporated milk

1

pinch

salt and pepper
Instructions
Make sure to wear a pair of gloves and goggles – fresh rocoto peppers are very spicy. Place the peppers, one by one, on the cutting board, and with a sharp knife, remove the top of the pepper and the seeds and veins. Rinse under running water and set aside.

Put four cups of water in a medium saucepan on high heat. When it starts to boil, add a tablespoon of sugar, a teaspoon of salt, a clove, a bay leaf, and a tablespoon of vinegar. Place the rocotos in the pot, cook for three minutes. Turn off the stove, drain the water, and drain. Repeat this procedure two more times. The purpose of this is to eliminate the excess of natural spice. Be very careful not to overcook them. Set them aside while you prepare the filling.

Preheat the oven to 150°C/300°F.

Next, In a pan add three tablespoons of oil, when it is very hot, add the finely chopped onion and crushed garlic. Cook, stirring occasionally until the onion turns transparent.

Then add the ground beef, stirring little by little until the meat loses its deep pink color. Add the cumin, paprika, raisins, and ground peanuts. Stir and turn off the stove.

Arrange the rocotos inside a baking tray, and with the help of a spoon fill half the pepper with meat stew. Add olive and a piece of hard-boiled egg. Complete the filling with meat. Press with the spoon so that there is no air or spaces without filling inside the pepper. Finally, cover with a piece of fresh cheese, and close with its "lid".

In a bowl, beat the egg with the milk and a pinch of salt. Pour this mixture over the rocotos. And take them to the oven. Cook them for 10 to 15 minutes.

Serve with potato cake.
Nutrition
Nutrition Facts
Rocoto Relleno – Peruvian Stuffed Peppers
Amount Per Serving
Calories 577
Calories from Fat 306
% Daily Value*
Fat 34g52%
Cholesterol 133mg44%
Sodium 2043mg89%
Potassium 1213mg35%
Carbohydrates 48g16%
Protein 21g42%
Vitamin A 10558IU211%
Vitamin C 424mg514%
Calcium 188mg19%
Iron 4mg22%
* Percent Daily Values are based on a 2000 calorie diet.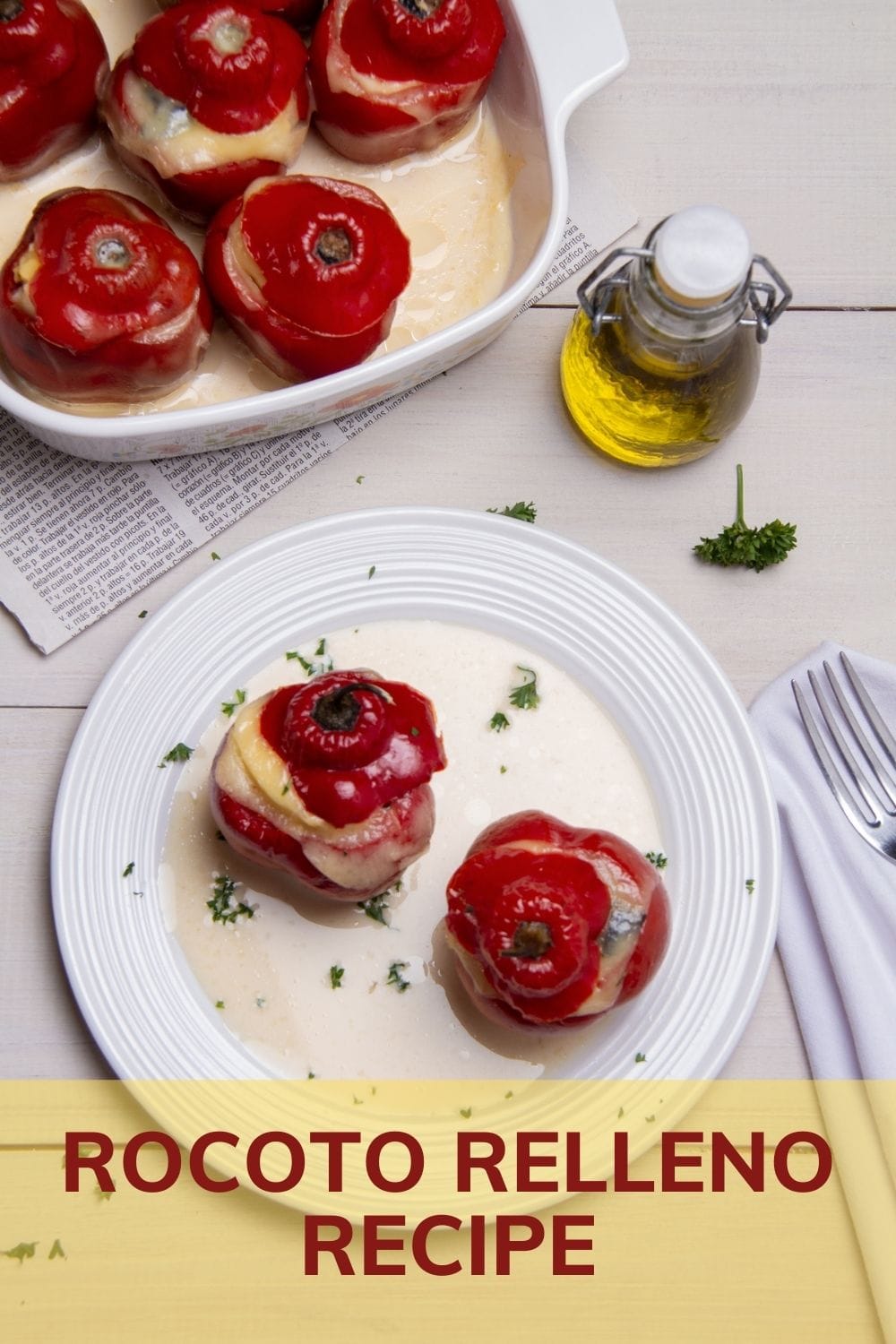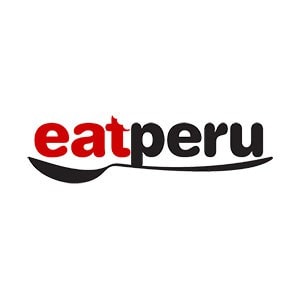 Peruvian foodie. I've been writing about the food of Peru for over 10 years. Read more about the Eat Peru team here