Chicken soup is a tried-and-true classic when you're looking for a healthy and low-calorie meal, but we've taken the healthy chicken soup game to a whole new level with this Peruvian twist on the recipe.
This chicken and quinoa soup is the perfect light meal when you're looking for something healthy and delicious. Packed with protein and full of flavor, this chicken soup will leave you feeling satisfied and satiated.
This time, we're bringing you a trendy broth from Peru that mixes our traditional Peruvian chicken soup with the superfood called quinoa.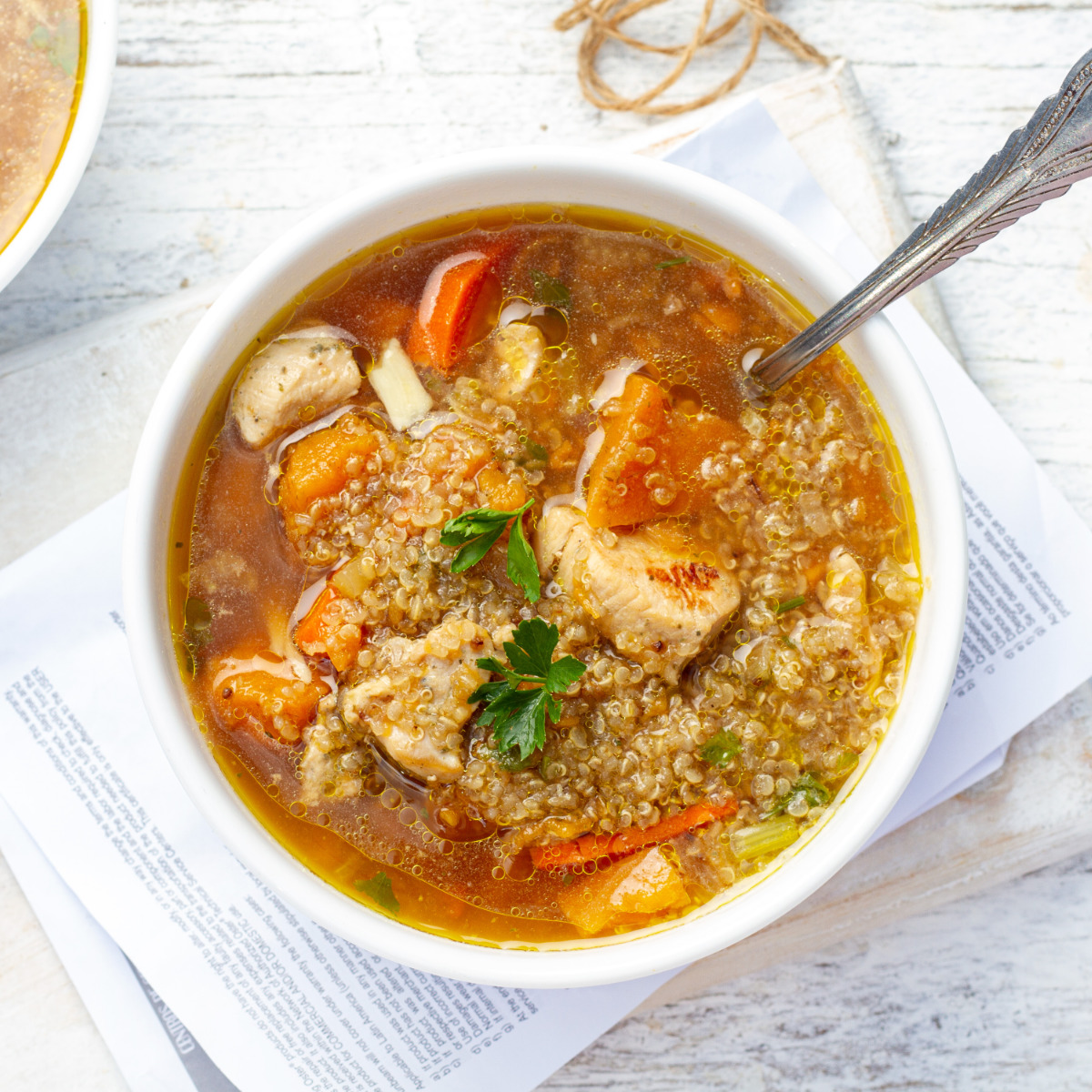 Quinoa is a staple in the Andes and is highly valued for its high protein content, fiber, minerals, and vitamins. Native to the region, it has been used in Peru since ancient times.
It's a breeze to cook quinoa – simply give it a good rinse under cold running water before preparing. Quinoa is best used as part of a nutrient-rich dish with other ingredients such as veggies, beans or fruit. Add a bit of flavor with spices like cumin, coriander, cinnamon, or turmeric.
Quinoa is an amazing vegetable with unique properties that make it a perfect choice for vegan diets. It's what's called a pseudocereal that can be classified as a whole grain, and is one of the few non-meat foods that can be considered a complete protein. Quinoa is native to Latin America, and its consumption is pre-Columbian.
Cubed chicken breast is used in this recipe, similar to the famous "Chupe de Pollo Peruano" recipe. Bone-in pieces—such as thighs or wings—are used to make broth or are shredded into the soup. However, it is recommended to use only chicken breast and a strong chicken broth or chicken stock mix.
Chicken Quinoa Soup Ingredients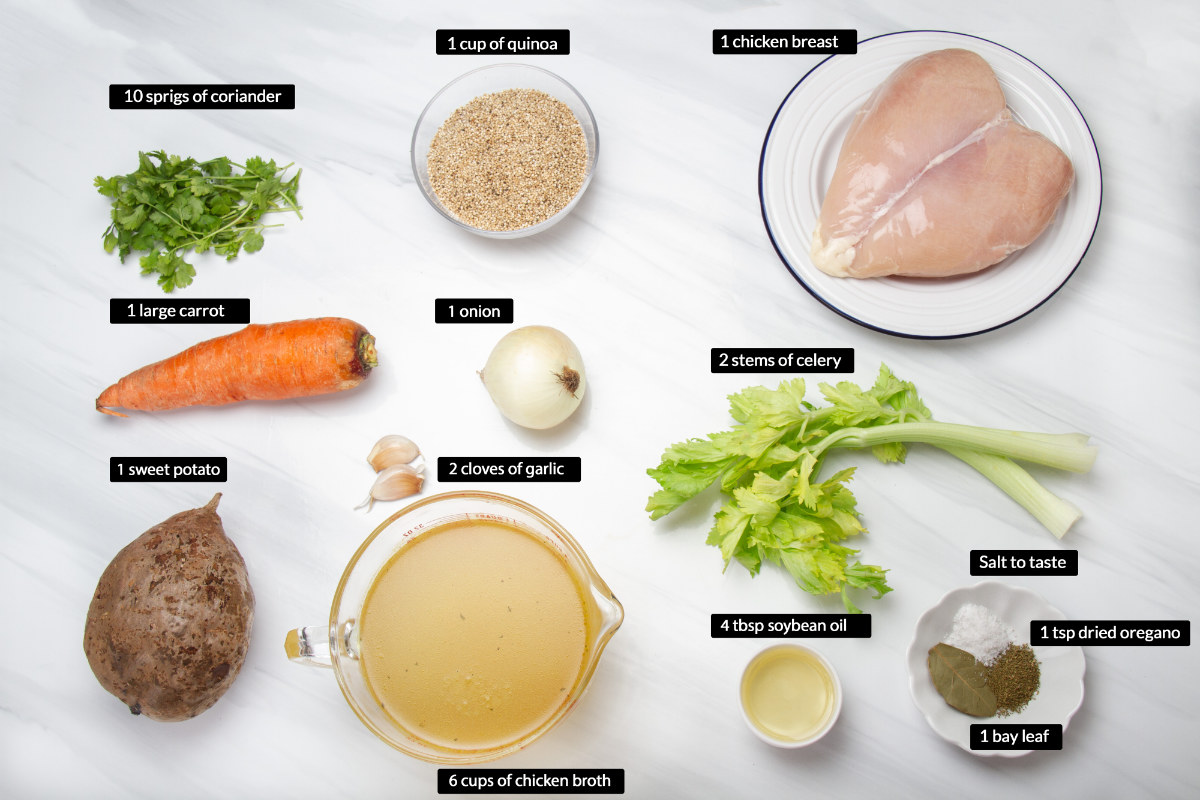 Step by Step Photos
Step 1: Rinse the uncooked quinoa in a strainer under running water until the water is clear. Soak the quinoa in a bowl with two cups of water for a couple of hours before starting the rest of the recipe.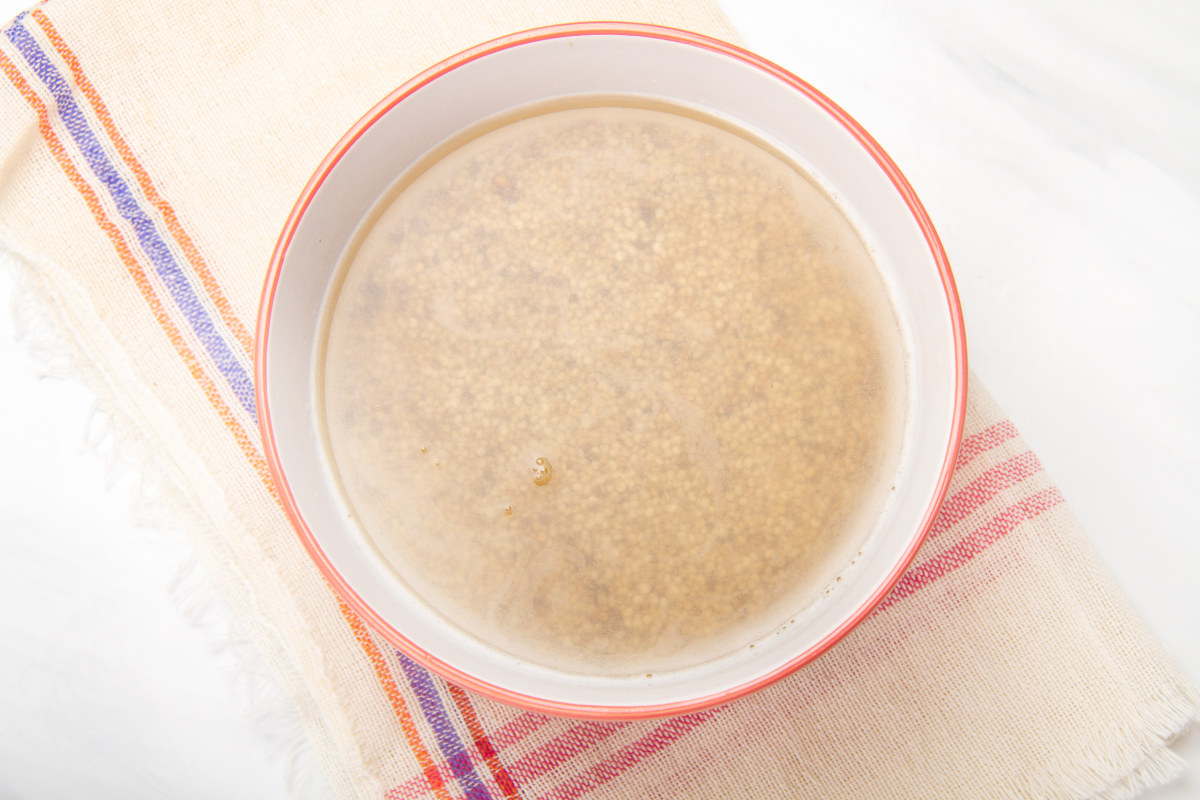 Step 2: Peel and finely chop the yellow onion. Crush the peeled garlic using a mortar and pestle.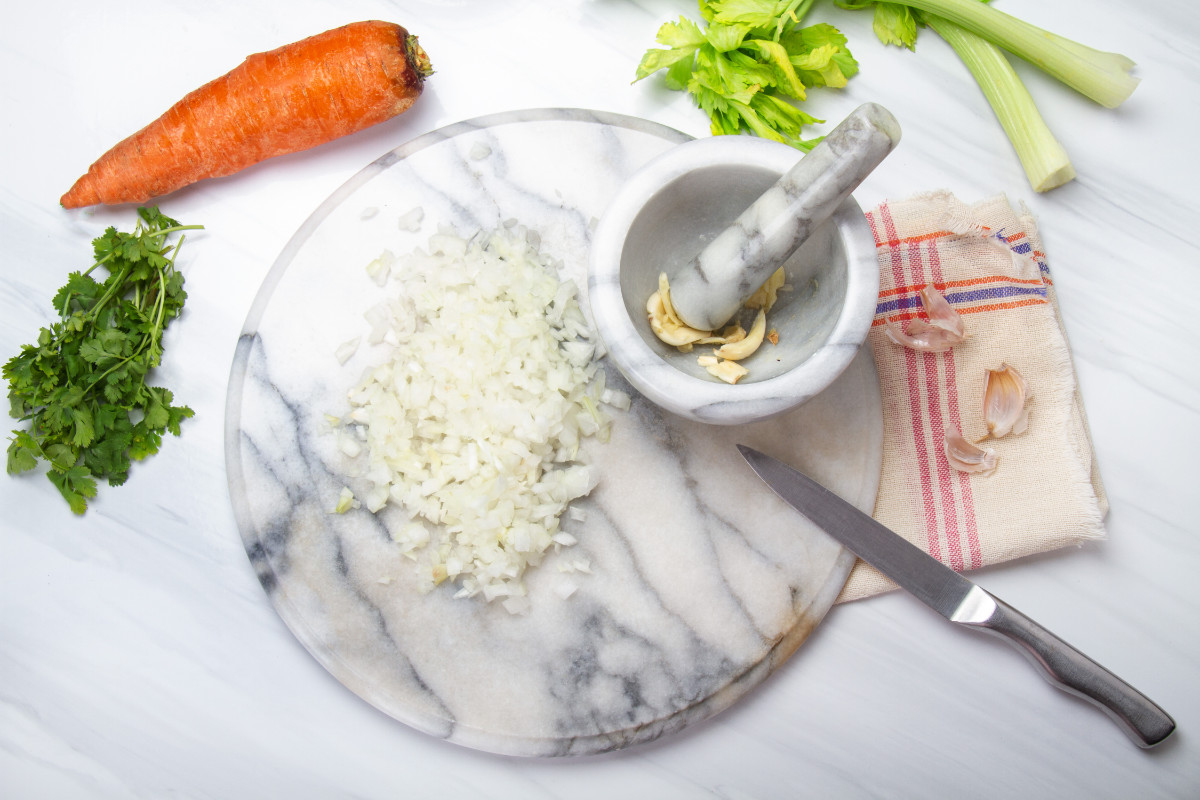 Step 3: Peel the carrot, cut it in half lengthwise, and slice it. Wash and slice the celery.  Lastly, peel the sweet potato, cube it, and place it in water to prevent discoloration.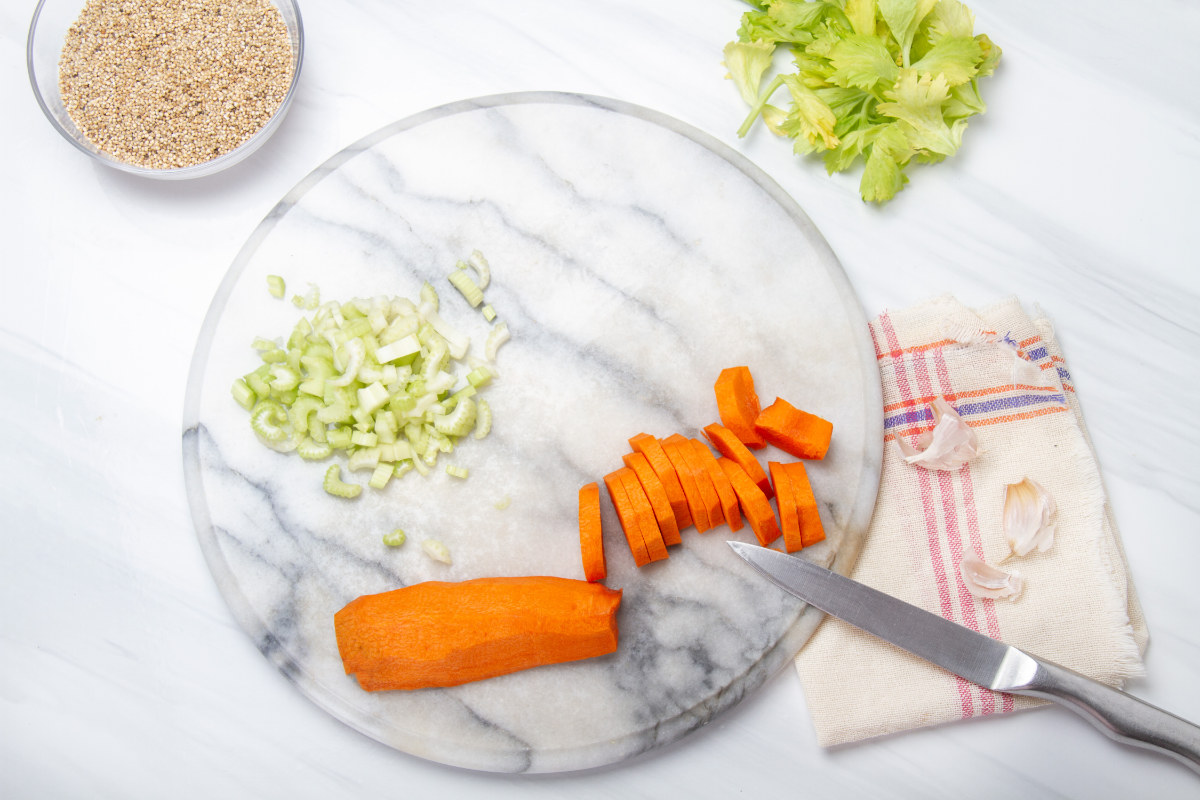 Step 4: Clean the skinlesss chicken breast and pat it dry with a kitchen towel. Cut it into two-centimeter cubes on a cutting board using a sharp knife (you can also used shredded chicken if you prefer). Season with salt and oregano, then let the meat marinate while you prepare the vegetables.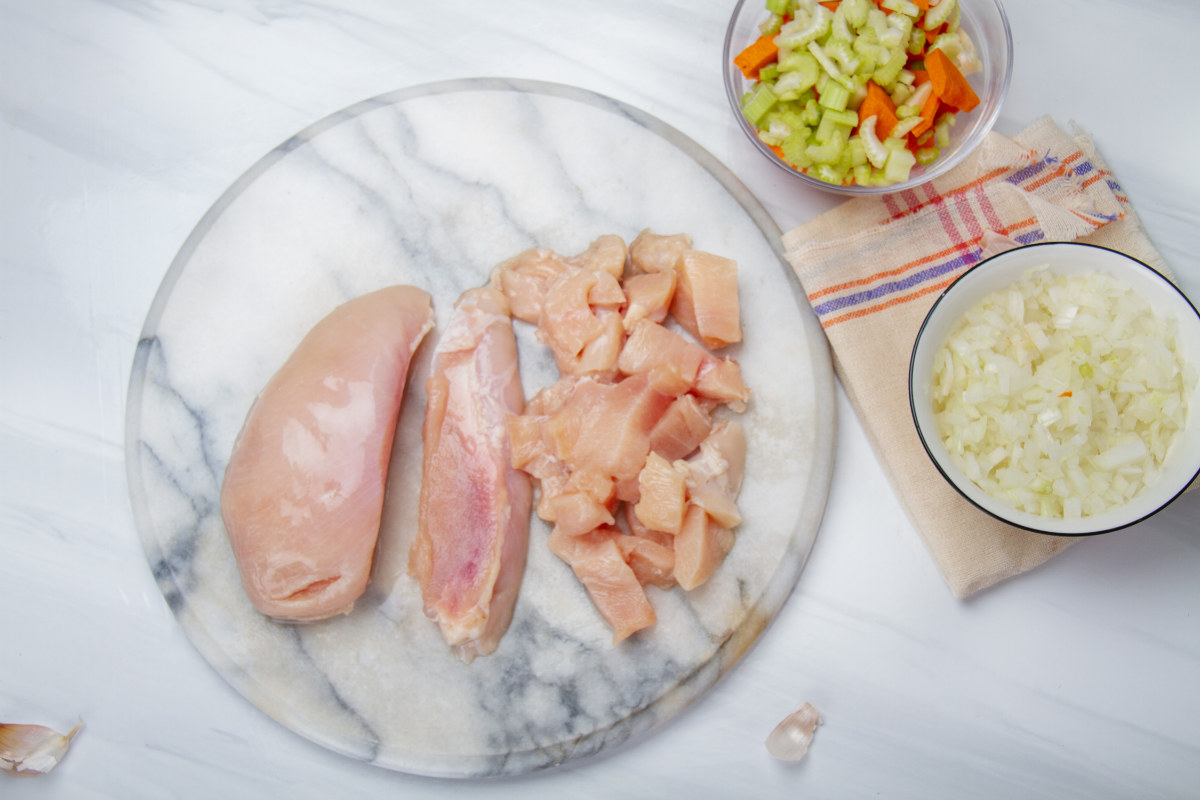 Step 5: Heat oil in a medium-sized pot over medium-high heat. Once the oil is hot, add the chopped onion and crushed garlic cloves. Sauté for about five minutes until the onion becomes translucent.
Step 6: Add the cubed chicken to the pot and sauté for another six minutes, stirring occasionally.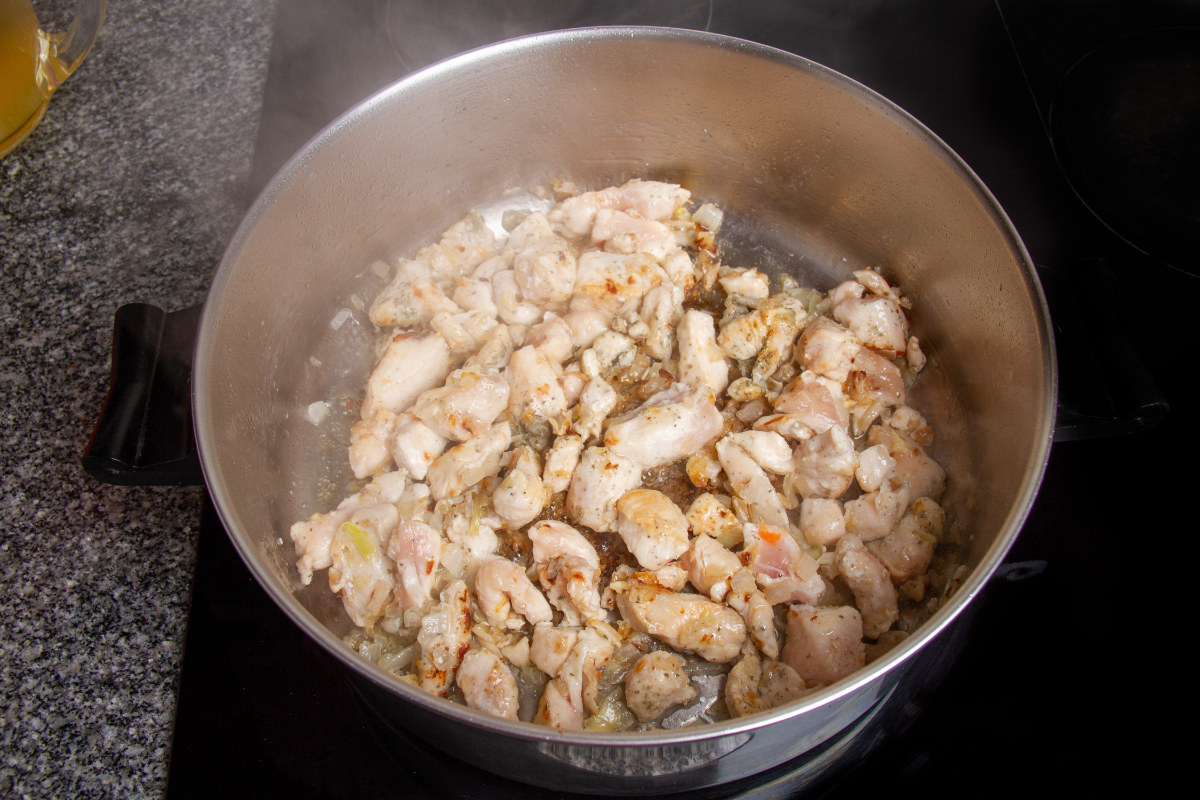 Step 7: Mix in the sliced carrots, celery, and cubed sweet potatoes, making sure to stir well.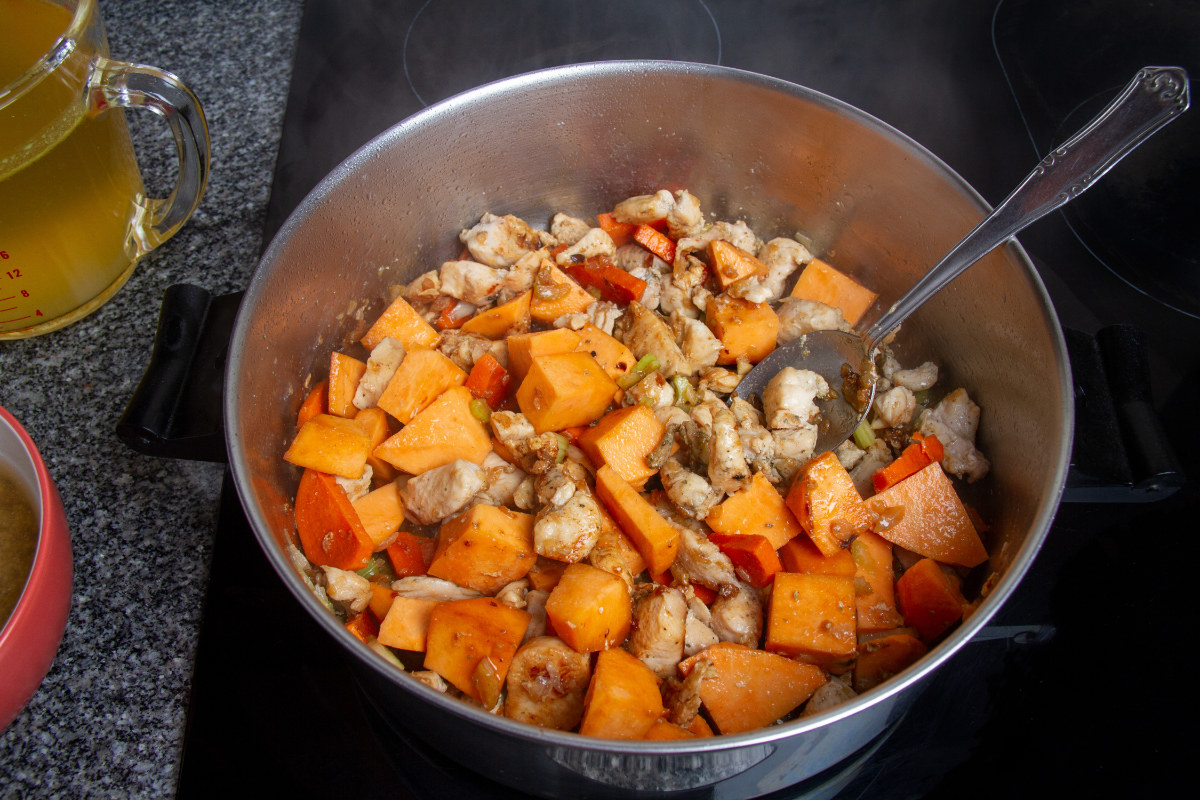 Step 8: Drain the soaked quinoa and add it to the pot. Immediately pour in the broth and add the bay leaf. Cook on high heat for 10-15 minutes until the carrots are tender.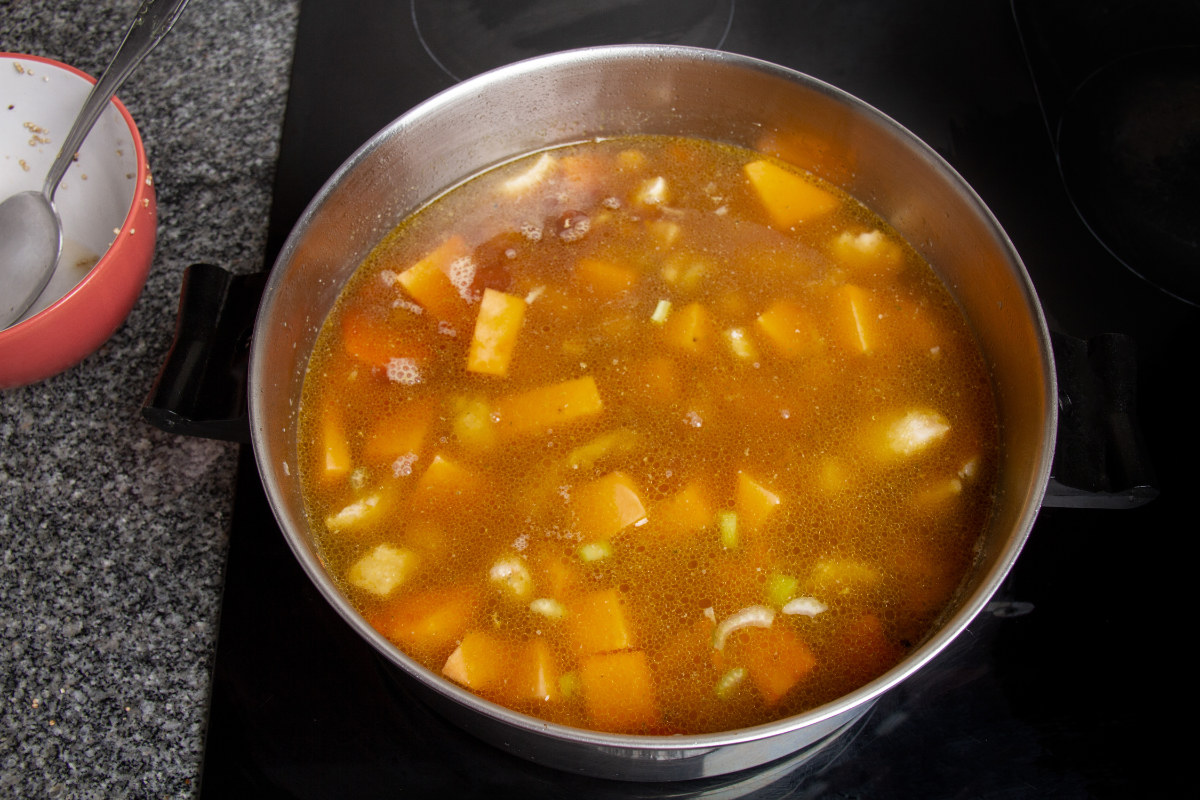 Step 9: Stir in the chopped coriander and turn off the heat. Taste and adjust the salt as needed. Remove and discard the bay leaf. Serve the delicious chicken quinoa soup hot with bread or corn chunks on the side.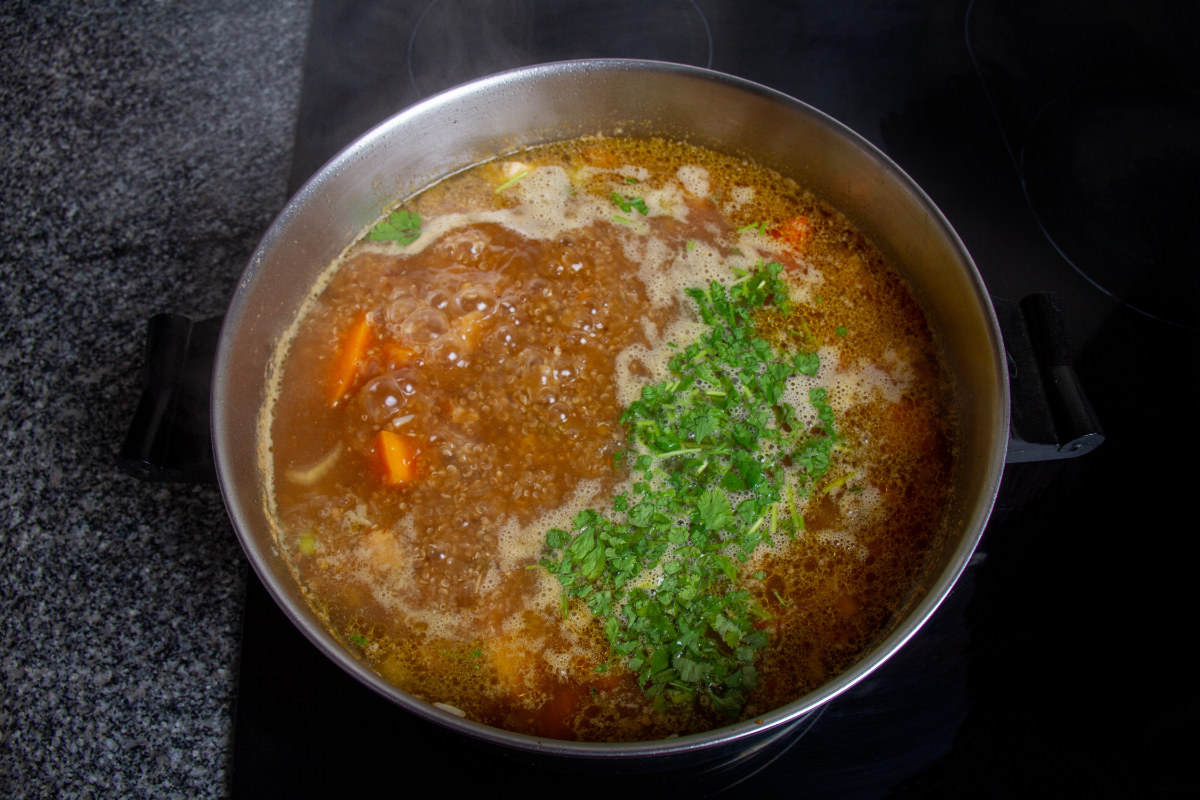 Frequently Asked Questions:
Does quinoa get soggy in soup?
Cooked quinoa adds a lovely texture and flavor to soups and does not get soggy or break down.
What sides go well with quinoa chicken soup?
Serve this dish with toasted whole wheat bread, plantain chips, avocado slices, or a small cup of cooked corn.
Is it possible to freeze leftovers?
Yes, it is possible to freeze chicken quinoa soup. The soup is best frozen the same day that it is made. It can then be stored for two or three months. Then, it should be thawed in a water bath.
What other vegetables can you put in chicken quinoa soup?
Potatoes, cauliflower, broccoli, mushrooms, or beans are common vegetables that work well with this dish.
How to make the soup thicker?
To make the soup thicker, add potatoes. It is a good idea to cut the potato into very small pieces, as this will release the starch more easily and help the potato break apart while boiling.
Alternatives & Substitutions
Cream and cheese can be substituted for the chicken. It is a delicious and ideal option for colder climates.
You can also prepare it with only vegetables and omit animal products. This version is much closer to the quinoa soup originally consumed in the Andes.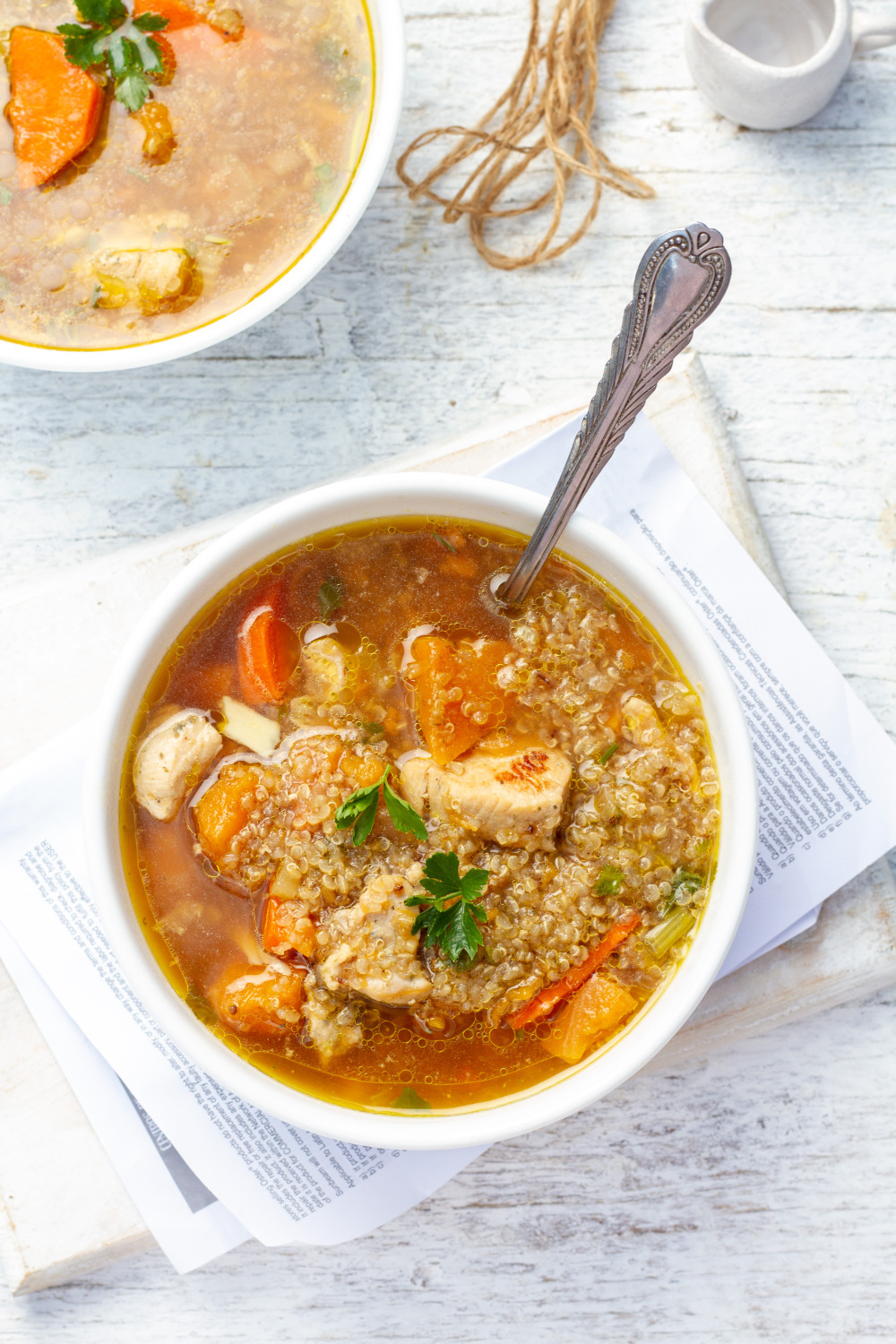 Chicken Quinoa Soup
Easy Peruvian Chicken & Quinoa Soup Recipe is a bowl of hearty homemade soup filled with colorful vegetables and flavorful chicken. A healthy and delicious meal in about one hour.
Ingredients
1

cup

quinoa

160 g.

1

white onion

120 g.

2

cloves

garlic

1

large

carrot

120 g.

2

stalks

celery

60 g.

1

sweet potato

500 g.

1

chicken breast

without skin and without bone, 650 g.

1

teaspoon

dried oregano

1

teaspoon

salt

4

tablespoons

soybean oil

you can also use sunflower, canola, or corn oil

1

bay leaf

6

cups

chicken broth

1.5 liters

10

sprigs

coriander
Instructions
Put the quinoa in a strainer, and rinse under running water until the water runs clear. Next, pour two cups of water into a bowl, and add the quinoa. Let it soak for a couple of hours before beginning the rest of the recipe preparation.

Peel the yellow onion and finely chop. Peel the garlic and crush with a mortar.

Next, peel the carrot and cut it in two, lengthwise. Then slice the carrot. Wash the celery well, and slice it too. Finally, peel the sweet potato, and cut it into cubes. To prevent the sweet potato from turning black, soak it in water until ready to cook.

Wash the chicken breast, and dry it with a kitchen towel. Place it on a cutting board, and with a very sharp knife, cut it into cubes of approximately two centimeters. Then season with salt and oregano. Let it marinate for a few minutes while you fry the vegetables.

Pour the oil into a medium pot where you will make the soup. Turn on the stove over medium-high heat. Wait for the oil to bubble, then immediately add the onion and crushed garlic cloves. Sauté the vegetables for about five minutes until the onion turns transparent.

Next, add the cubed chicken. Sauté for another six minutes, stirring occasionally.

Stir in carrots, celery, and sweet potatoes. Stir very well.

Drain excess water from quinoa, and add to pot. Immediately add the broth and bay leaf. Cook over high heat for about ten to fifteen minutes until carrots are tender.

Lastly, add the chopped coriander and turn it off. Taste and adjust for salt. Extract the bay leaf and discard it. Serve hot with bread or corn chunks.
Nutrition
Nutrition Facts
Chicken Quinoa Soup
Amount Per Serving
Calories 298
Calories from Fat 117
% Daily Value*
Fat 13g20%
Cholesterol 29mg10%
Sodium 1347mg59%
Potassium 594mg17%
Carbohydrates 31g10%
Protein 15g30%
Vitamin A 7660IU153%
Vitamin C 5mg6%
Calcium 59mg6%
Iron 2mg11%
* Percent Daily Values are based on a 2000 calorie diet.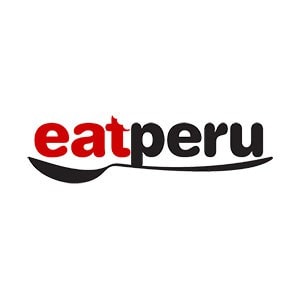 Peruvian foodie. I've been writing about the food of Peru for over 10 years. Read more about the Eat Peru team here