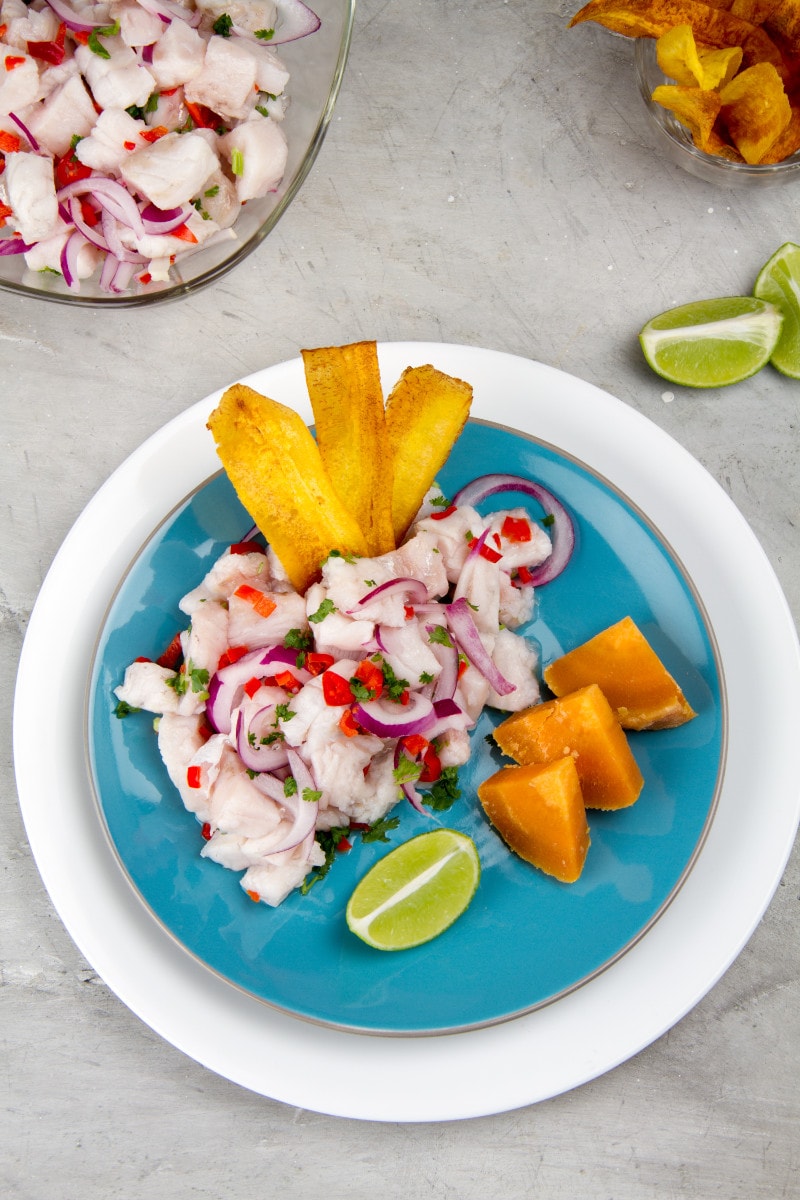 Ceviche is the most famous Peruvian dish. This popular seafood dish claims origins in Lima, Peru but is found in many coastal areas throughout Latin America such as Ecuador, Chile, Mexico, and Colombia. Ceviche is also known as cebiche and sometimes spelled seviche. In its simplest form Ceviche consists of raw fish and fresh lime juice with some chili, or hot peppers.
We're talking about classic Ceviche (Peru's national dish) or Ceviche Peruano in particular, but the overall cooking methods, preparation, and ingredients are similar to other forms of this dish such as Mexican ceviche or ceviche with shrimp, prawns, octopus, or ahi tuna.
Ceviche – Limes and Legend
Ceviche, pronounced "say-beach-chay," is a style of cuisine that comes from coastal areas of Central and South America. It combines traditional foods eaten by natives of the region and foods brought by the Spanish the 1600s. This culinary tradition has quickly grown in popularity around the world.
Ceviche is not difficult to prepare but it requires attention to detail and fresh ingredients.
Let's take a look and see why this wonderful food is gaining in popularity throughout the world. I'll explain some of the myths about its preparation.
History Of Ceviche
An interesting theory about ceviche is that the delicious seafood dish originated by the Moche of Peru some 2000 years ago. The Moche used the fermented juice from local banana passionfruit to marinate their raw seafood. The Spaniards, upon arrival, modified the dish slightly. Ceviche then spread to other Latin America nations as local populations added their own take on ceviche recipes.
Recently, historians have discovered that fish was marinated in chicha, an Andean fermented beverage during the rule of the Inca. However, this is only one of the many theories behind the origination of this much-loved dish.
The term "ceviche" may come from several sources. It could come from a Latin term, cibus, meaning "food for men and animals." It may also originate from Arabic words for vinegar or soup, or just the Spanish word "escabeche," which means "pickle." Ceviche may also be spelled seviche or cebiche. In Spanish, these words are pronounced the same.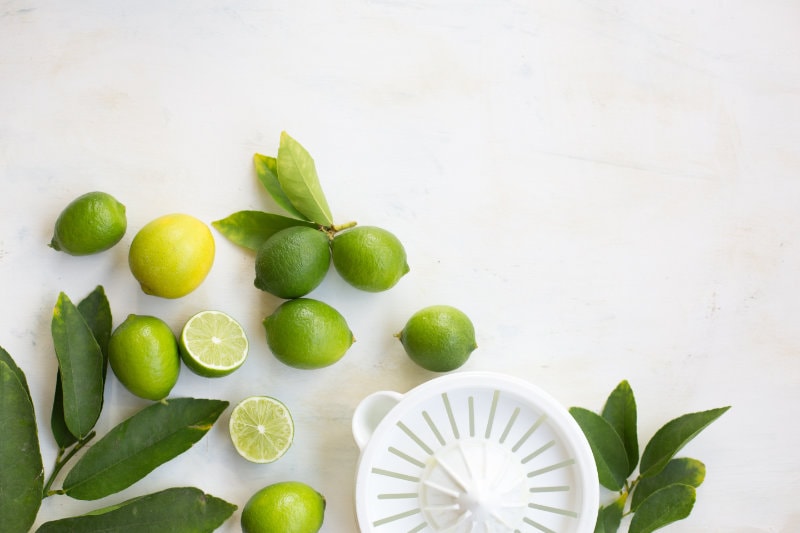 Authentic Peruvian Ceviche Ingredients
Although ceviche recipes spread to countries all over the Caribbean, Peru lays claim to the original. Fans of ceviche are familiar with the name Gaston Acurio. He's the Peruvian chef who made this dish famous by touting its traditional flavours. He also created several varieties of ceviche in his restaurants in Peru and all over the New World.
Without Acurio, ceviche would probably remain a regional dish to South America. Acurio says there are three ingredients you must have in this Peruvian delicacy.
The first us you need is raw fish. Your favorite type of fish will work, but traditional dishes contain sea bass or shark. Ancient Peruvians caught these fish from the ocean and then served them as ceviche after the salt brine-cured the meat after several hours. Once you have the raw fish, you chop it into tiny chunks before adding liquid.
The next ingredient you need is some kind of citrus juice. The traditional ceviche recipe uses fresh lime juice (or lemon juice) ever since the Spanish imported the lime around 400 years ago. Until the limes came around, ceviche consisted of salt, raw fish, and chili peppers.
The third ingredient you need is an aji (pronounced "ah-hee") chili pepper. These yellow and orange-coloured peppers grow all over Peru. In terms of hotness, the most popular kind of yellow aji chilis are 40,000 to 50,000 on the Scoville scale. For a comparison, jalapeño peppers are 2,500 to 8,000 Scovilles. Several varieties of aji grow all over Peru, and they have varying degrees of hotness. They're also a great source of vitamin C.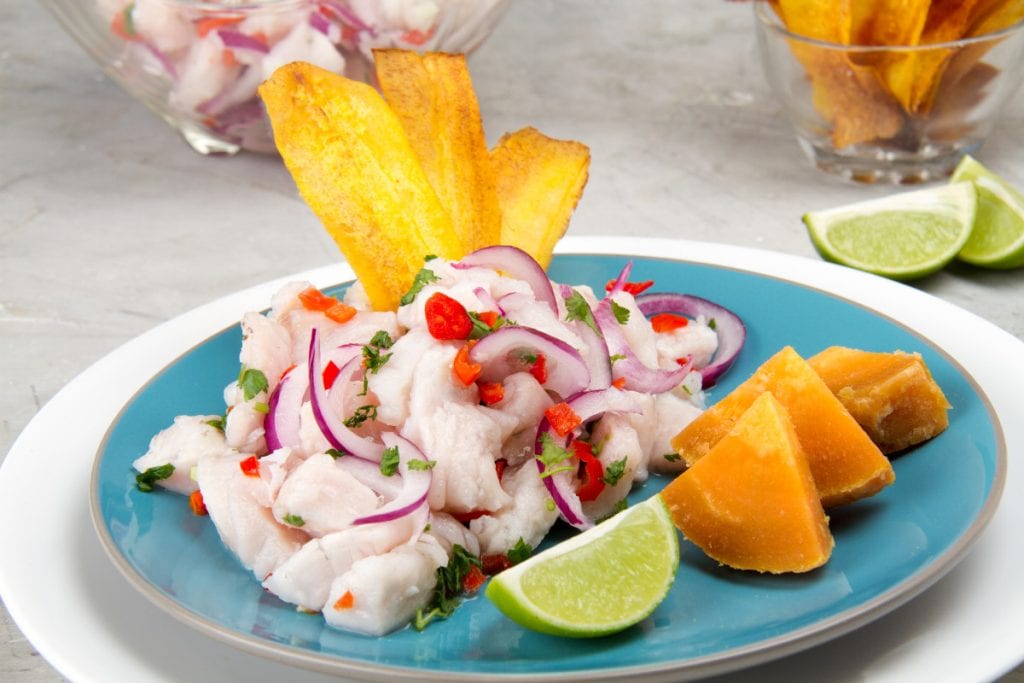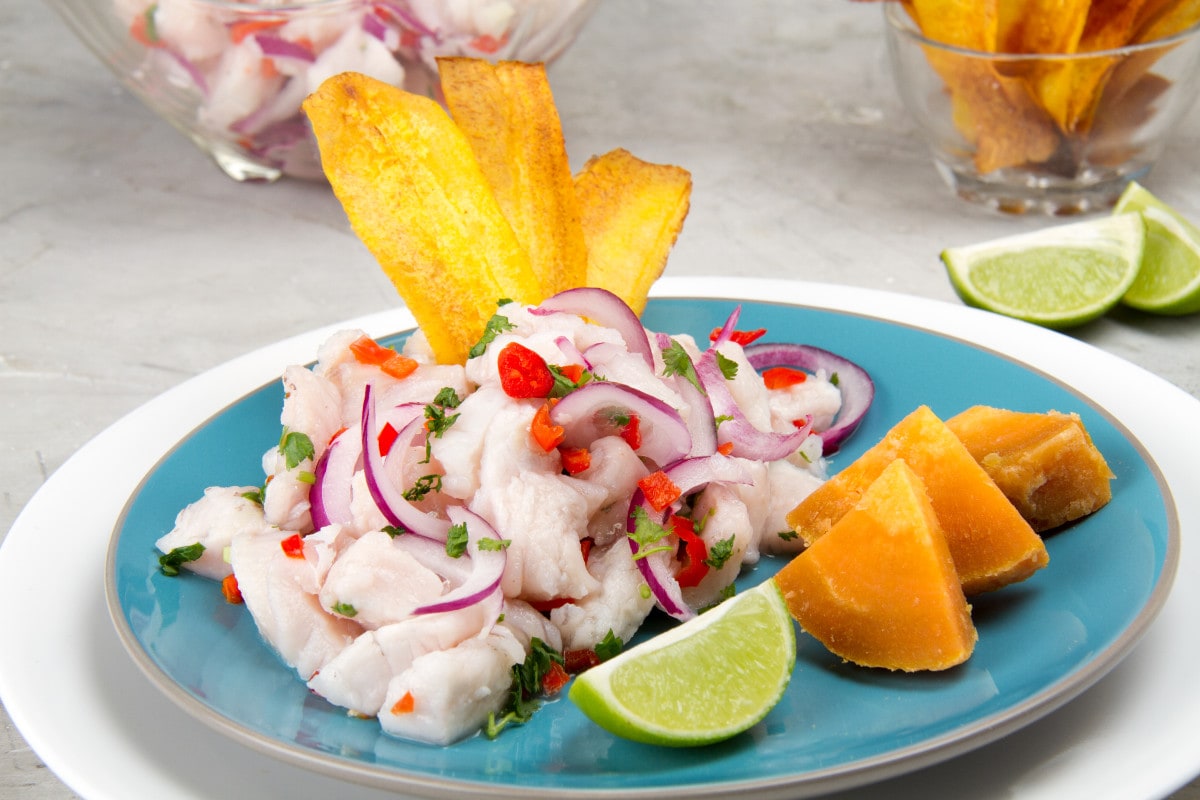 What Are Some Ceviche Myths?
Myth: The fish in ceviche is completely raw. Truth: Lime juice cooks the fish without heat.
Limes contain citric acid (side note: limes also contain flavanoids which have antioxidants and anti-carcinogenic properties). The PH level of fresh lime juice is between 2 and 3 (Below 7 is acidic and above 7 is alkaline).
Some chefs believe that the taste of lime gets better with age, suggesting that the extracted liquid is better when extracted and stored for a few hours before use, especially if used in drinks.
Myth: Consuming lime juice is bad for your stomach. Truth: on the contrary, lime is alkaline and can help return the average over-acidic western stomach to normal levels of acidity.
Lime juice is a digestive aid and the smell alone causes digestive juices to flow and an increase in saliva. Pick limes that are heavy for their size, indicating more flesh and liquid. Discard brown coloured limes.
Ají Amarillo is a type of chili used in many authentic ceviche dishes. It's also a popular addition to any Peruvian food that requires a bit of a spicy kick. As it's a pretty fiery pepper it's worth plunging the peppers into boiling water (blanching) a few times to remove the heat for your first ceviche. The heat can be increased for later versions. You can use the chili as a paste or chopped very finely. I prefer the paste. Buying the ají amarillo paste is also an option for people not keen on handling chili and for convenience.
Red onions add color and sweetness to the dish. Finely-sliced or roughly chopped, it's up to you. But we prefer loner, thinner slices of red onion rather than the white variety or shallots.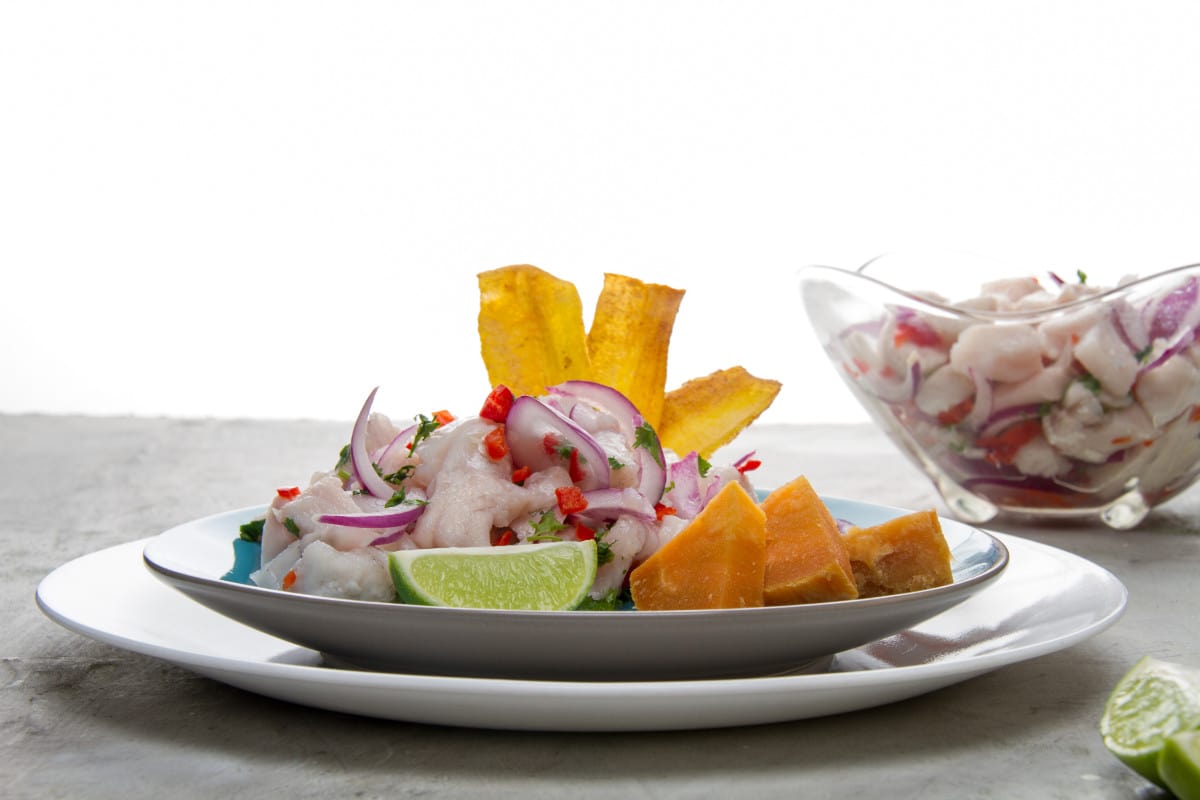 Cooking Ceviche
The normal process of heating food to cook it involves denaturing, which refers to the changing of the structure of the proteins in the food. A common example of this is when you cook an egg and the 'white' changes from clear to a solid colour. Another way of denaturing a protein is to apply citric acid. Citrus juices essentially denatures the raw fish or any raw seafood.
The most important part is the freshness of the fish and the right acidity of the lemons
The question of cooking time for ceviche is an important one. Some chefs leave the fish for a minute in the juice and others prefer ten minutes or hours. The problem is that fish can become quite rubbery if "cooked" or marinated in lime juice for a long time.
The quality of the fresh fish is also important as marination will not kill all bacteria the same way cooking with heat will do.
One option is to quickly cook the fish in boiling water before marination. Many pathogens cannot survive in the acidic environment of the marinade but others can survive, so it's especially important to choose high-quality fresh fish. The fresher the fish the better it will taste and the less likely it will have any disease. Cutting the raw fish into smaller pieces is another good way of ensuring the raw fish is cooked.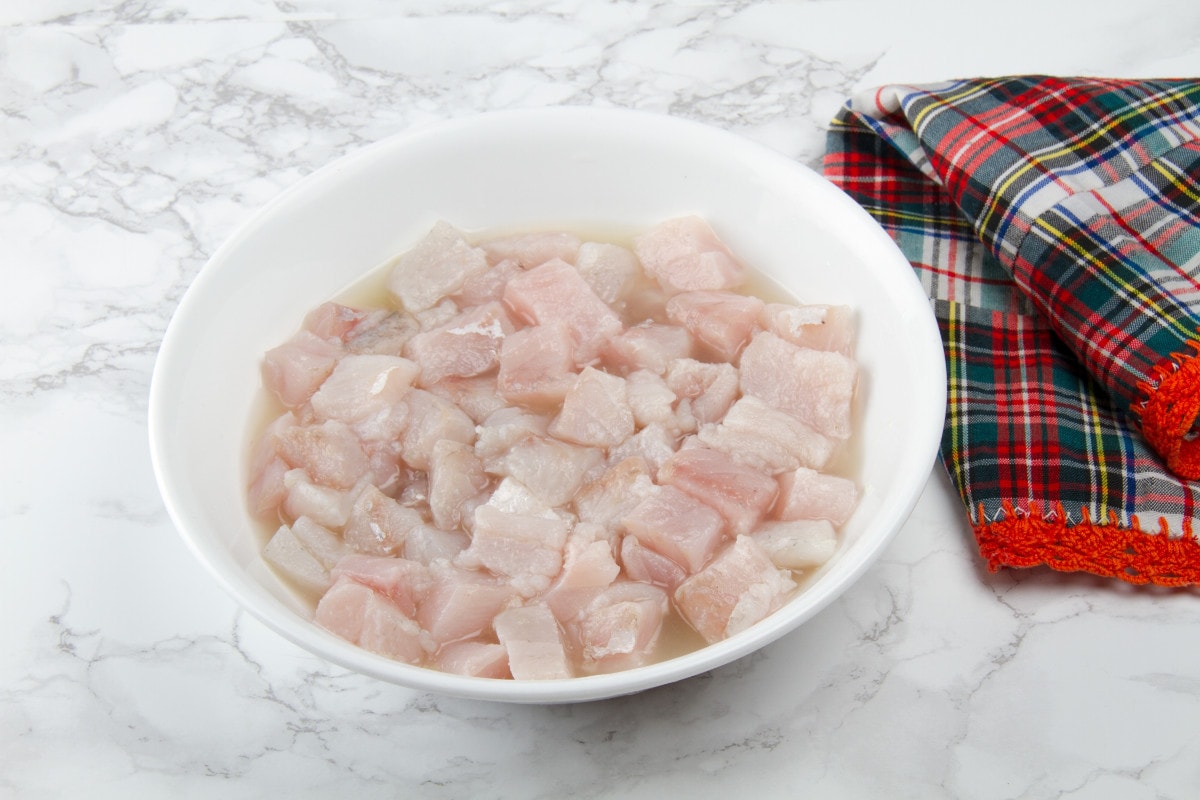 Try experimenting with marination times as longer cooking times can affect the flavour in a negative way. Citrus juices can overpower the natural flavour of the fish. The delicate, fresh flavour of a high-quality fish is easily ruined by a strong citrus marinade.
The best types of fresh fish to use for ceviche are:
Sea Bass
Grouper
Halibut
Sole
Bream
Polack
Flounder
Oily fish are not generally recommended for ceviche although some chefs offer ceviche made with salmon.
Red onions feature prominently because Spaniards introduced Peruvians to this vegetable at the same time they brought limes. Feel free to experiment with other spices and vegetables.
Marinate ceviche with clam juice to add a little flavour to the seafood.
Ceviche chefs in Peru experiment with the process of denaturation to get the perfect dish. Denaturation is a chemical reaction between the acid in the citrus juice and the fresh fish meat. The acid changes the composition of the meat. Instead of a soft, pliable flesh, the fish turns firm and opaque, and it looks just like it has been cooked.
Centuries ago, the Moche people put fish in a bath of salt for many hours. Up until the 1970s, fish was normally placed in a bath of lime juice for a long time before it was served to a hungry guest. Chefs in Peru decided to shorten the marination time. They found that small chunks of fish, bathed in fresh lime juice for just a few minutes, made the outside of the fish firm while the inside remained soft and tender.
Make no mistake. Cooking with lime juice doesn't cook meat the way heat does. In fact, it doesn't completely kill the bacteria. Fishmongers and fish experts try to pick out fresh and contaminant-free fish for preparing the dish. Fish that haven't been properly handled or fish that is not fresh should not be used.
The acid in the lime works just perfectly to denature the fish. Other citrus fruits simply don't have the same results. If you want to be truly adventurous, add some squeezed passion fruit to the marinade for a true taste of Peru. Ceviche is great if you want a hearty, nutritious meal without a lot of effort.
Typical Menu
A typical ceviche menu includes sweet potatoes and corn-on-the-cob for side dishes when you order ceviche as the main course. Regional variations in contemporary Peru add garlic, seaweed and other types of peppers, depending on the chef at the ceviche restaurant. Local and seasonal ingredients may change, but the basic recipe remains the same no matter what side dishes come with ceviche.
Peruvian cevicherías, or ceviche restaurants, serve appetisers in a glass. These appetisers contain small chunks of fish and the marinade that helped make the raw fish palatable. These appetisers are called leche de tigre or leche de Pantera. Those terms translate to "tiger's milk" or "panther's milk."
The marinade is extremely important in both the appetiser and the main dish. The critical thing you need to know about ceviche is how the liquid from the lime works its magic on the raw fish.
What Kind Of Fish To Use For Your Ceviche Recipe?
Shop at a market that you trust, or a fishmonger that maintains a good reputation is good practice when purchasing fresh fish for ceviche. Fresh-caught fish should be stored on top of and underneath solid ice, not melting ice, or in a refrigerated container at the market.
Follow your nose when it comes to picking out fresh fish. You shouldn't smell anything when you pick out the freshest fillets at your local fish market. If you smell a fishy smell, it's been sitting there too long.
The appearance of the fish should give you a clue as to the freshness. The flesh is firm to the touch and translucent, which means some light comes through the flesh. When you poke the fish, the flesh should return back into shape. Examine the eyes of the fish–they should look bright, clear and moist. If the eyes are clouded over, that's not a good sign. Avoid those fish altogether.
You can use whatever type of fish you want, but you have to monitor the time it takes to make the opaque layer on the outside of the fish.
Softer, flakier fish takes less time to marinate compared to denser, tougher fish. Our favourite is Sea Bass, and this would be a Peruvian favourite also. Snapper, sole or flounder may need just 15 minutes of marinating time before they are done. Tuna or salmon might take 50 minutes to an hour to marinate because these fish have tougher muscle structures. Raw shellfish, such as mussels, clams or oysters, are tender enough for just 15 minutes.
Storing Fresh Fish
The best way to make ceviche at home is to make it fresh once you get the fish back from the market or fishmonger. If you have to store it for any length of time before making your masterpiece, the best way to do that is to place it on some ice. Lay your fish fillets flat in between two layers of ice. Make the layers by putting ice on a plastic tray and then covering the ice in plastic wrap. Do the same with another tray, and put the fish in between the layers of plastic wrap. Then place this entire setup in plastic wrap itself.
This storage method lasts for two to three days for fresh fish. If you have to use frozen fish, that's a possibility as well. Freezing fish solid for a week a few degrees below freezing kills all of the bacteria and parasites that might inhabit the fish. This makes the fish healthier to eat if you're worried about foodborne illnesses.
However, you increase your prep time when it comes to frozen fish, and the ceviche might not as tasty. Instead of cooking the fish straight from the freezer, try blanching it in boiling water for up to two minutes. This loosens the flesh enough for the squeezed lime to penetrate the flesh. The best part about ceviche is that you can try your recipe with whatever types of fresh fish you can find in your local market. The possibilities are endless.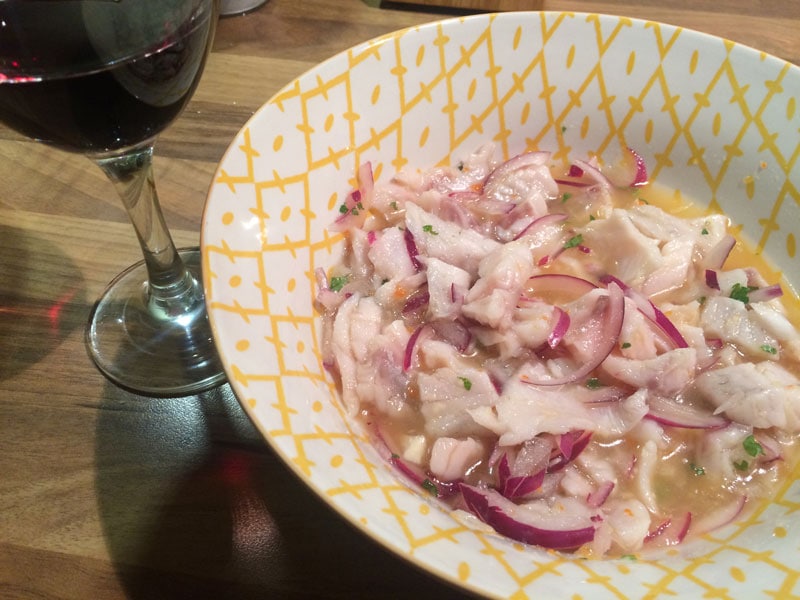 Preparation times fish marination/cooking
0-1 minute: the fish will be still pretty raw and will have a strong 'fish' smell and flavor.
1-2 minutes: Only minor changes in the texture of the fish. Some infusion of lime flavor.
2-3 minutes: This is a favourite length of time for cooking for many chefs. Experiment with this as for many people it's still not quite enough.
3-10 minutes: The amount of time I prefer to marinate fish for ceviche. Not overcooked, not raw.
10-15 minutes: Depending on the fish, this can also be a good amount of time for marination.
15-60 minutes: For many chefs this is overkill. For some chefs, this is not enough, so try two variations!
Experiment with preparation times, and always use the freshest produce. Ice the fish and use chopped red onion. Serve with a pisco sour to get the digestive juices flowing!
As this is a raw food dish the 'shelf life' of ceviche is quite short. Don't store the dish for any length of time. An hour after adding lime and the texture of the fish will have changed quite a lot. Some chefs leave the fish to marinate for hours but once you add the other ingredients it's not wise to keep the dish too long.
For those concerned about food safety, serve the dish at room temperature for the best taste and the safest in terms of food hygiene.
Want to learn how to make Ceviche? Read our recipe for authentic Peruvian Ceviche
The best ceviches recipes are the ones that most appeal to your taste. When in Lima, try as many different variations as you can and try to perfect the one you like the most at home.
As with any recipe, you can alter your ceviche based on your own preferences. If you don't want it spicy at all, just leave out the aji pepper. Substitute your favorite pepper in its place, instead. The same goes for fresh herbs and seasonings. If you don't want cilantro, go for parsley, rosemary, fennel, bay leaves or thyme. Any of these herbs go well with fish recipes.
How Long Does Ceviche Last?
Ceviche tastes best and is best for you when it is prepared and eaten fresh. You can store leftovers, but the marinade continues to work on the flesh of the fish even after you get as much of it off as possible. After remaining submerged in a bowl of lime liquid bath for two hours, fish generally start to fall apart. In the fridge over the span of a few days, this process happens much slower because you remove the fish from the lime.
If you can't eat the leftovers in a few days, consider throwing out the ceviche or repurposing it for compost. After just a few days in the fridge, raw fish starts to breaks apart and it loses its cohesion.
What is Ceviche Served With?
As a drink try a classic Pisco Sour, the national drink of Peru and one of the tastiest cocktails on the planet. As an accompaniment, I like some sweet potato or corn. Ceviche is often served as a starter so may not require a 'side dish'.
What is the difference between Peruvian Ceviche and Mexican Ceviche?
The question of which is better, Peruvian or Mexican is an eternal debate. They are both great. The biggest difference between the two styles is the amount of time that fish is left to marinate in citrus juices. Mexican fish ceviches recipes generally recommend a much longer marination time.
Some Peruvian chefs leave the fish in lime juice for as little as a minute. Ceviche is typically served in Mexico with tortilla chips, something you won't see in the South American version. It's also much more common to serve corn kernels as an accompaniment in Peru than in Mexico.
Fish Ceviche Recipe
Delicious sea fish marinated in lime juice and chilli, with red onion, hot peppers, thinly sliced plantain, and wedges of sweet potato.
Ingredients
For the Ceviche
1

kg

white fish fillet

Mahi-Mahi

1/2

kg

lemon

1/2

kg

lime

1

small

purple onion

3

medium

peppers

habanero red peppers

1/2

cup

fresh coriander

1

teaspoon

ginger

grated

Salt to taste
For accompaniment (optional)
2

medium

sweet potatoes

1

cup

yellow corn

plantain chips
Instructions
Cut the fish into cubes of approximately 2 cm. Remove any remaining skin, scales or spines. It is important that you only have cubes of lean meat similar in size.

Squeeze the lemons and limes into a large glass bowl.

Put the fish cubes into the juice marinade. Make sure that all the flesh is covered by the juice. Cover the container and store in the fridge for about 20 to 30 minutes.

While the fish cooks, prepare the garnish. Wash the sweet potatoes with a brush and place in a steamer for about 30 minutes, until they are tender. When the potatoes are soft, remove from the steamer, remove the skin and cut into large pieces.

Wash the habanero peppers and onion. Remove the seeds and veins from the peppers and cut into small squares. Peel the onion and cut it into thin strips. Finely cut the coriander.

Remove the ceviche from the refrigerator – the flesh should be opaque and about to fall apart. Add onion, chili and coriander, ginger, a pinch of salt and stir. Cover the ceviche again and leave it in the fridge for about 10 more minutes.

Remove the ceviche from the refrigerator and place in cups or small plates. Sprinkle with some coriander and ají limo chili pepper.
Nutrition
Nutrition Facts
Fish Ceviche Recipe
Amount Per Serving
Calories 403
Calories from Fat 45
% Daily Value*
Fat 5g8%
Cholesterol 83mg28%
Sodium 136mg6%
Potassium 1202mg34%
Carbohydrates 57g19%
Protein 40g80%
Vitamin A 12700IU254%
Vitamin C 148mg179%
Calcium 97mg10%
Iron 4mg22%
* Percent Daily Values are based on a 2000 calorie diet.
Further Reading: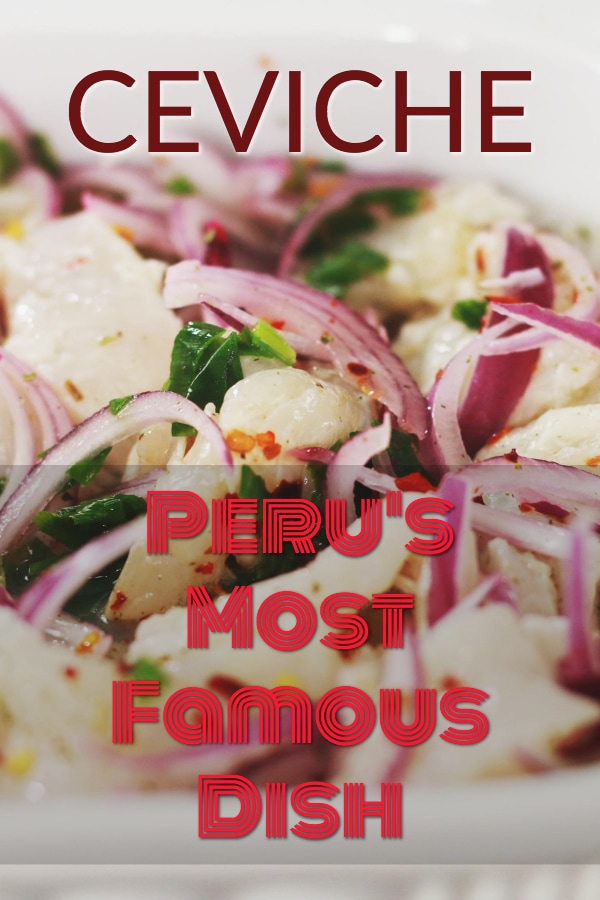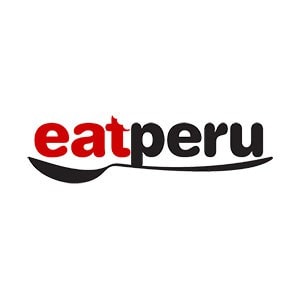 Peruvian foodie. I've been writing about the food of Peru for over 10 years. Read more about the Eat Peru team here